New Day, New Exhibition
I had my eye on this exhibition for days, but when I passed by, the gallery was closed, even though it was during opening hours. So I had to schedule another visit as I did not want to miss it. Through the window I could see there were some interesting pieces, so today I went back.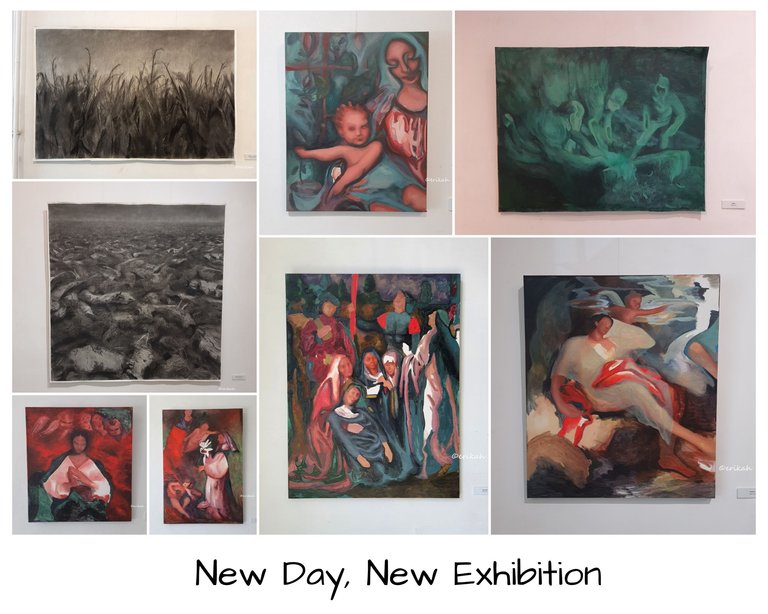 The exhibition is called The Eternal Dogma and there were two artists exhibiting, Imola Szilágyi and Dávid Lehel Miholcsa. Pairing the two artists up was an excellent idea and you'll see why as soon as you have a look at the exhibition.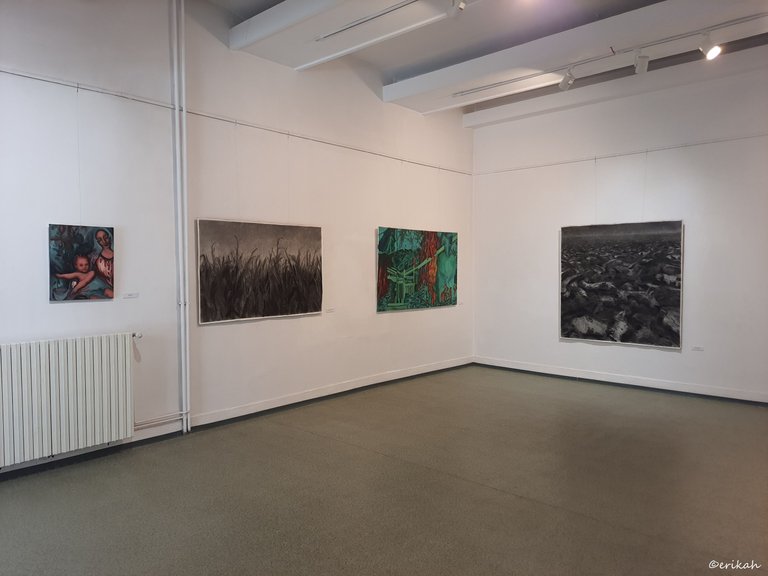 Let's see, do you see what I meant above? Why was a good idea for these two artists to held the exhibition together?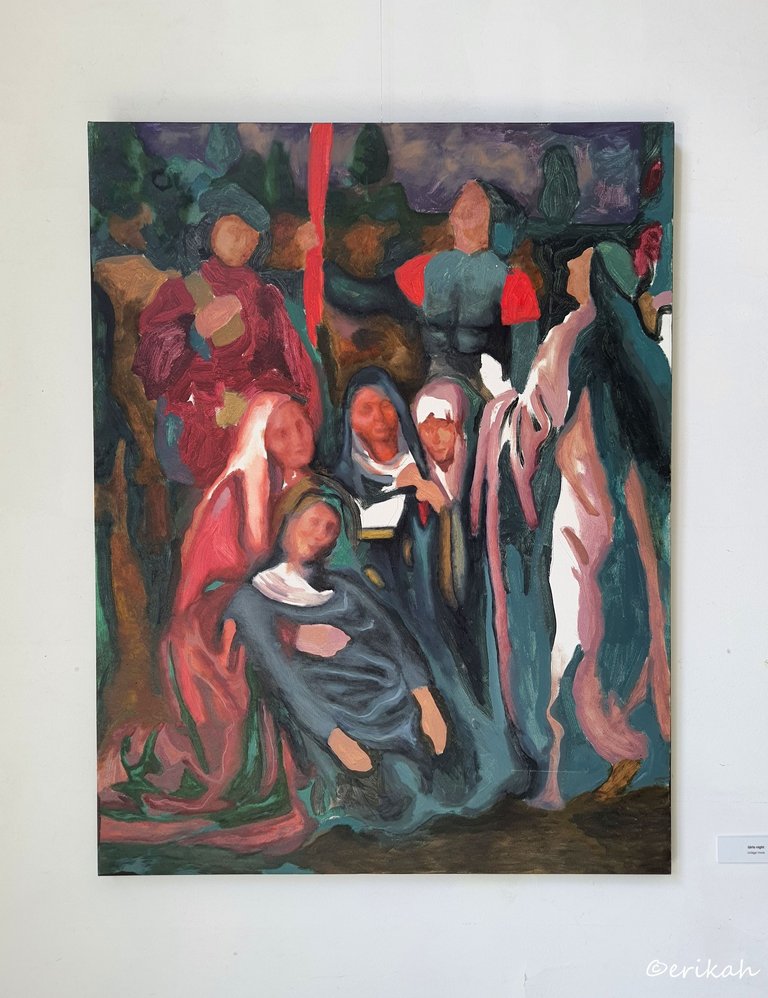 Imola Szilágyi - Girls Night
I wouldn't call these ladies girls, but I liked the painting.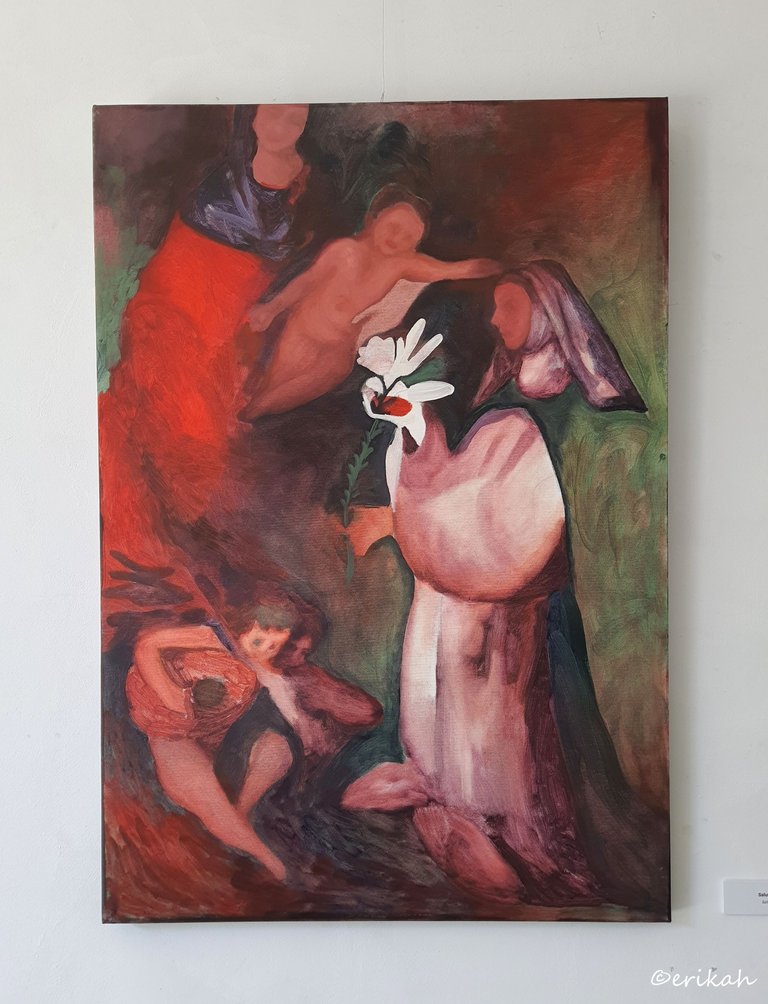 Imola Szilágyi - Saluti Angelici
This was the second painting I saw at the gallery, from the same artist and already noticed the similarities in style. Blurry, not well defined figures, which is not a bad thing, on the contrary. It's a unique style and it's nice.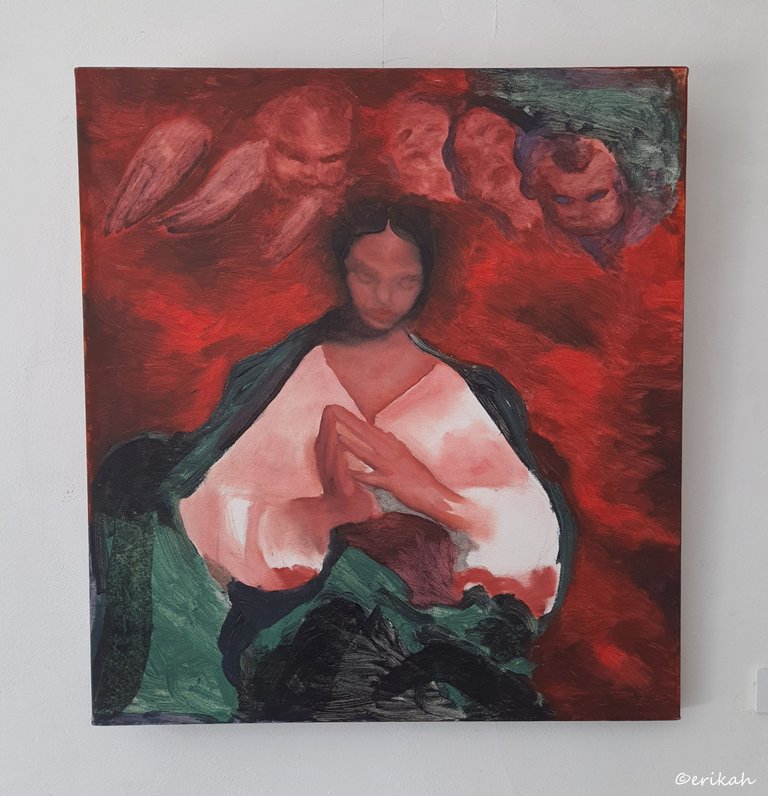 Imola Szilágyi - Madonna
By the third painting I was able to see another important detail that will be evident if you look at all the paintings. By that I'm referring to the colors. Most if not all the paintings have red and and that specific petrol green color. Bear with me and you'll see.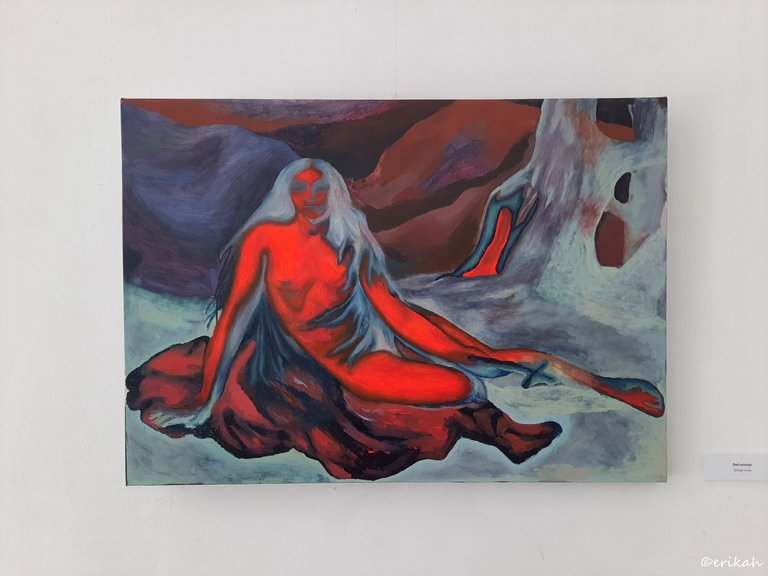 Imola Szilágyi - Red Woman
I had the impression that I've seen this painting before, but I'm not sure. It's a lovely one though, how the woman's hair covers some parts of her body. The color combination is also a good one. I like how the gray/silver surrounding highlights her red body.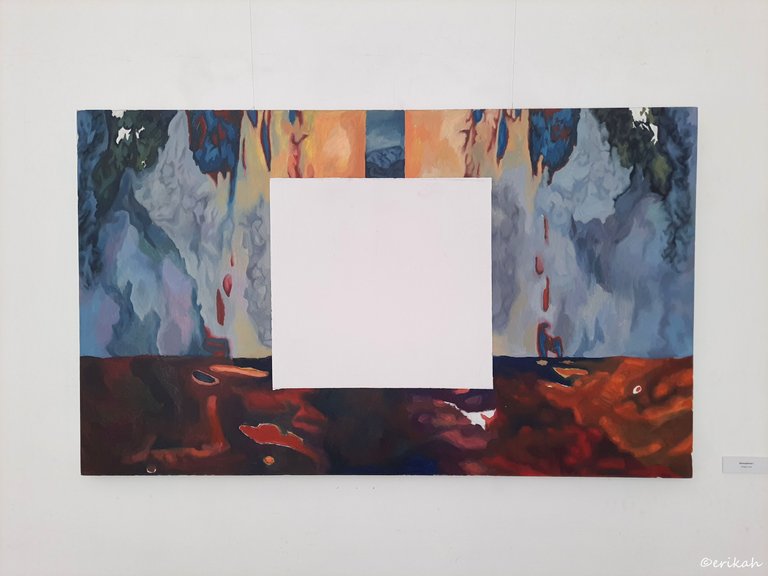 Imola Szilágyi - Atmospheres
Same artist, different stye. This was a series of a few paintings with the same title. The style is very different from the ones I posted above, but I liked this one too. It gives you a bit of a thinking.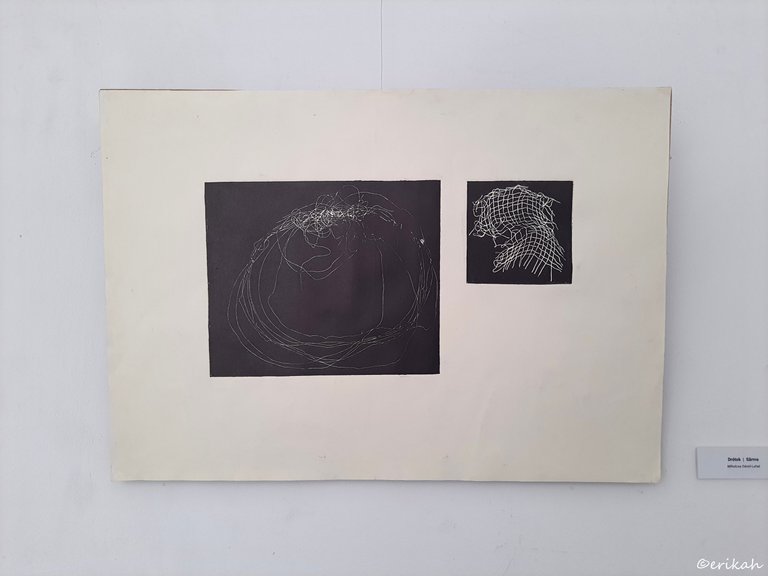 Dávid Lehel Miholcsa - Wires
Who would have thought that wires can be illustrated in artworks? These two were not only interesting, but lifelike too, I mean that's how the wires look like and choosing black and white was an excellent idea. At that phase I was trying to figure out what medium it was but had no answer to my question yet.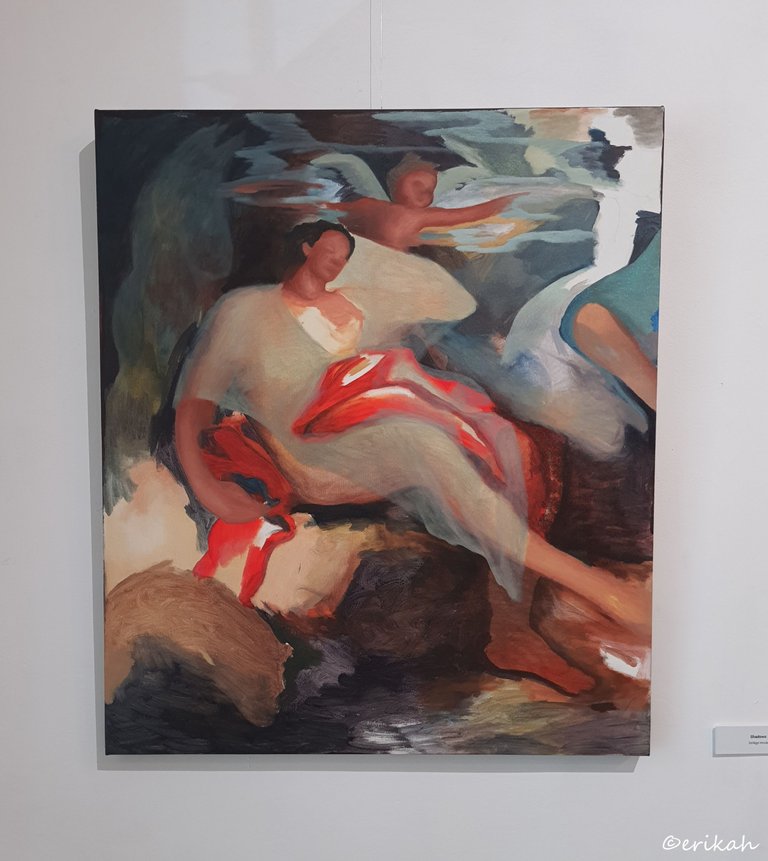 Imola Szilágyi - Shadows
Mother and child maybe and the same specific colors, red and petrol blue or green.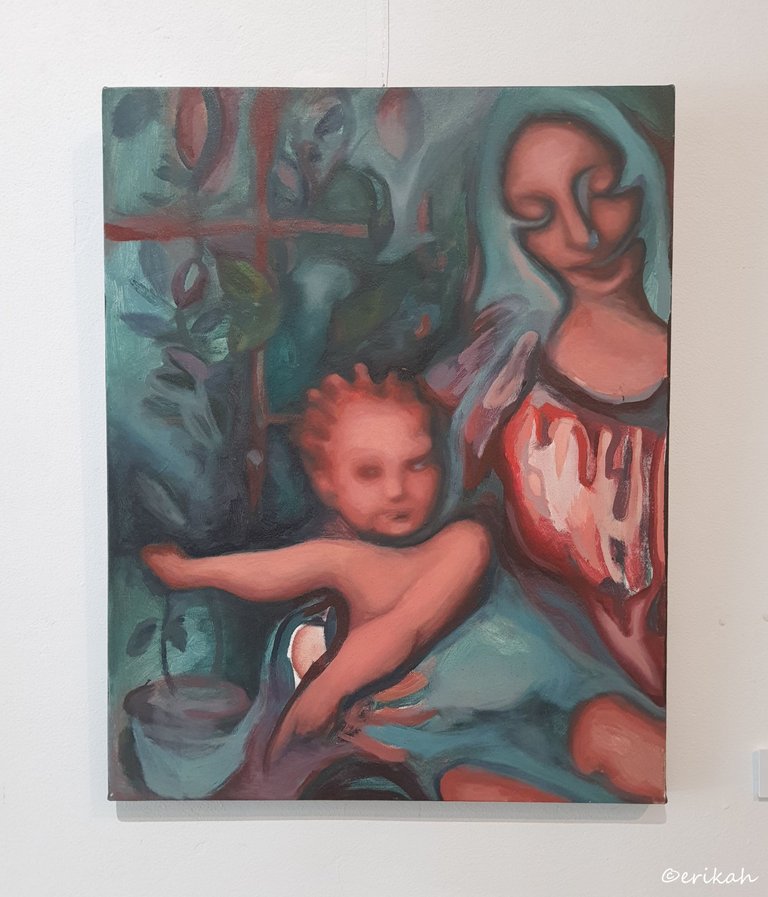 Imola Szilágyi - Madonna with J.
If you scroll back the the Red Woman, you can see some similarities. Now in many cases, similarities repetitiveness is not good as you have the impression that you see the same painting but not in this case. here maybe a face and the colors are a bit similar, which is not a bad thing at all.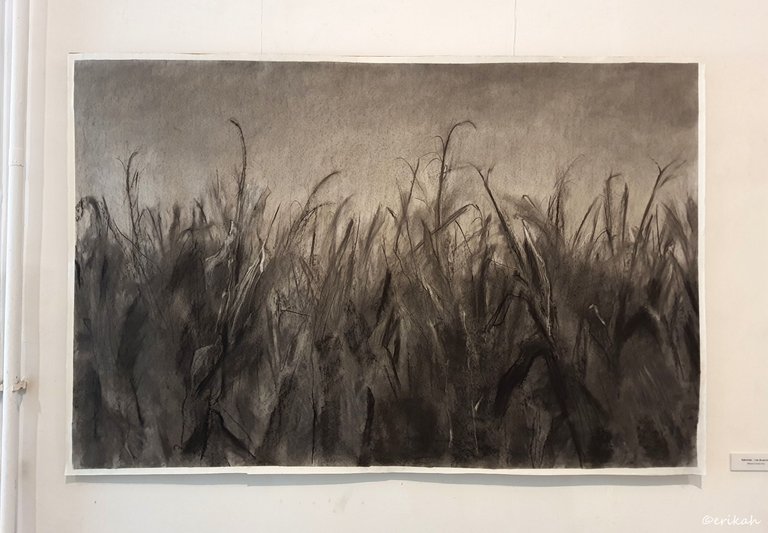 Dávid Lehel Miholcsa - Cornfield
Now, looking at this artwork, it feels like it's even more beautiful and meaningful. I remember I was standing in front of it,looking at it from close, trying to figure out what is it. But I couldn't. I saw it's made on paper, but that was all. So I asked the gallery lady, who was very nice and told me it's charcoal. At that point my admiration for the artist grew quite a lot.
Now imagine having a huge paper like this (these charcoal artworks were all of a considerable size by the way) and a piece of charcoal. This means you have to work with one color, make the shades in a way to look like this. I've never worked with charcoal but I bet it's not easy.
Despite of the dark tone, I love this. If you've ever seen a cornfield, you know it looks like this.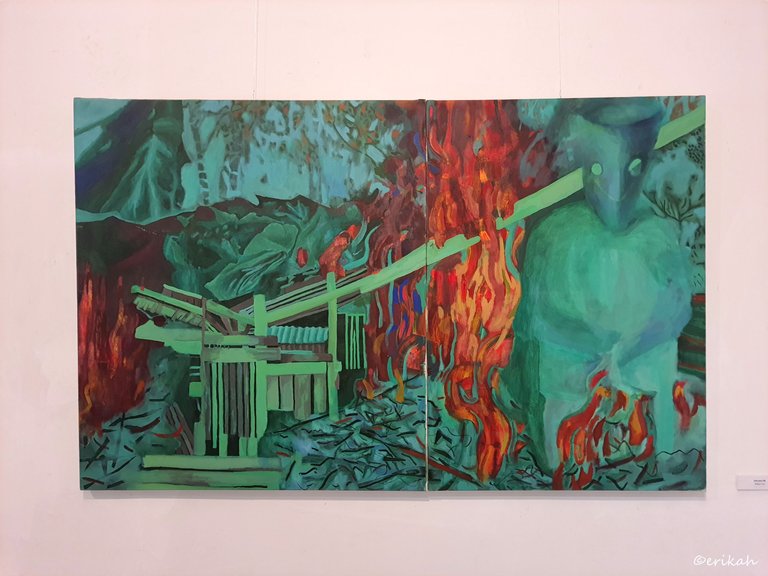 Imola Szilágyi - Live Your Life
This made me thinking and looking to see what the artist meant. I mean we all know we have to live our lives, but what this artwork shows us? I see a green ghost on the right, surrounded by a fire, some wooden construction I thin, and that's all. Maybe it says live your life and something unexpected can happen. I like it. If you look at the colors, there are two colors, red and green and different shades of these. maybe a little yellow and blue as well. But the two colors are predominant.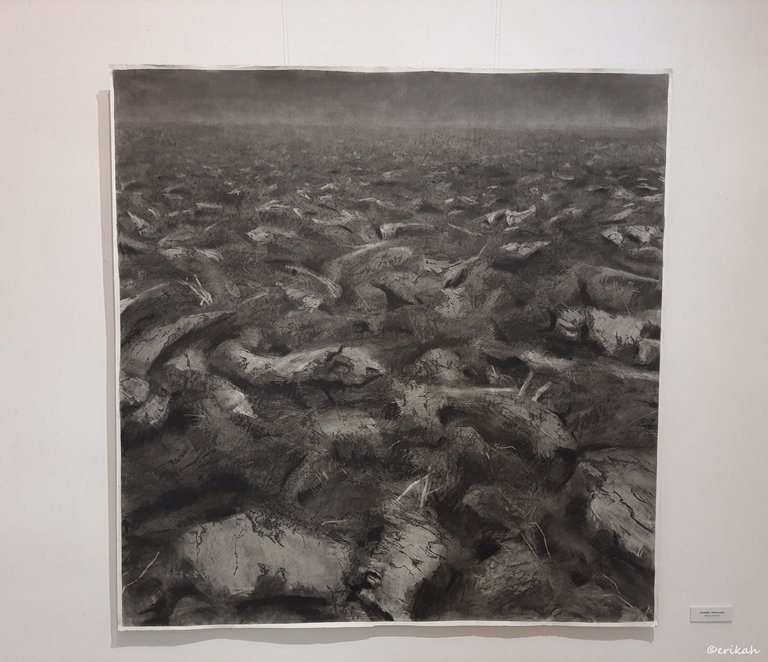 Dávid Lehel Miholcsa - Arable Land
And indeed, arable land looks like this. It's very interesting that looking at these charcoal works, it feels like I can appreciate them more from home.
One of the interesting thing I noticed at this exhibition was the lack of frames. None of the artworks were framed. You know very well that the frame counts a lot, but it can add or even take away from the value of the artwork and I'm not referring to the monetary value here, but to the artistic value. A nice frame can make the painting more likable, more wonderful, but if there's one you don't like ... it gives you the opposite feeling. Not framing them was a very good idea as you can focus only on the artwork, without distractions.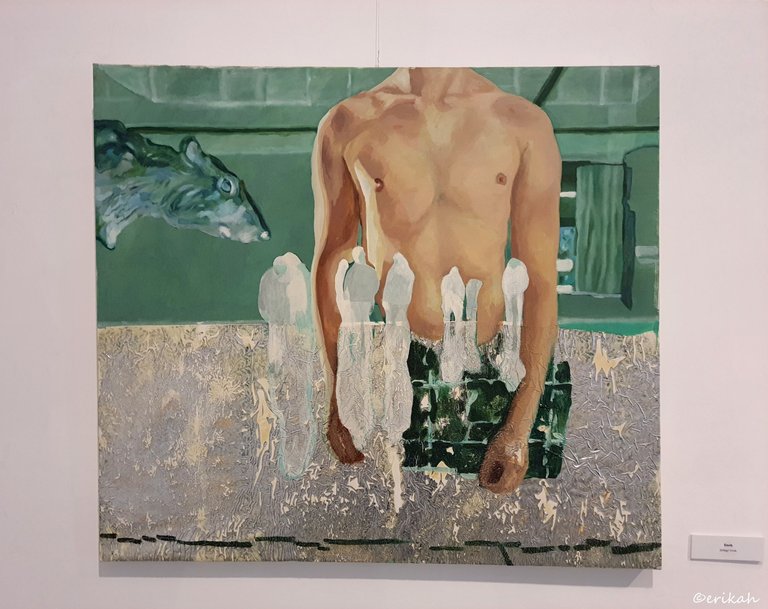 Imola Szilágyi - Souls
This was a totally different style, but I liked it. Look at how the light is illustrated on the body and those silhouettes surrounding the body.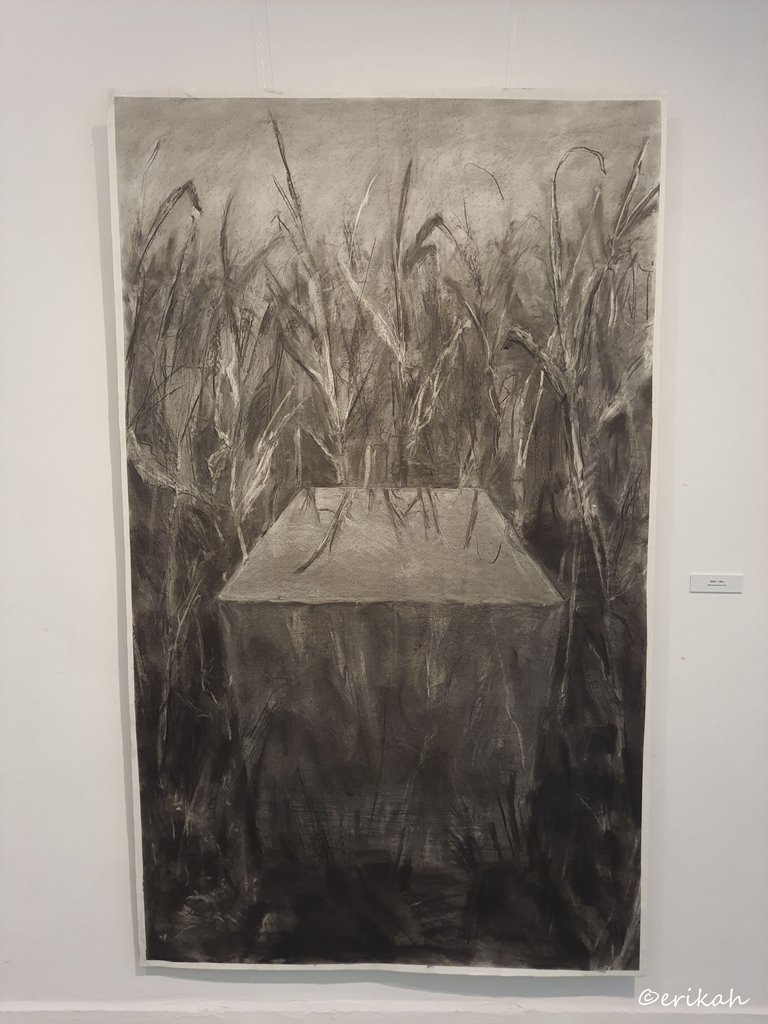 Dávid Lehel Miholcsa - Block
A big block in the middle of the cornfield? Possible. Nice on in any case.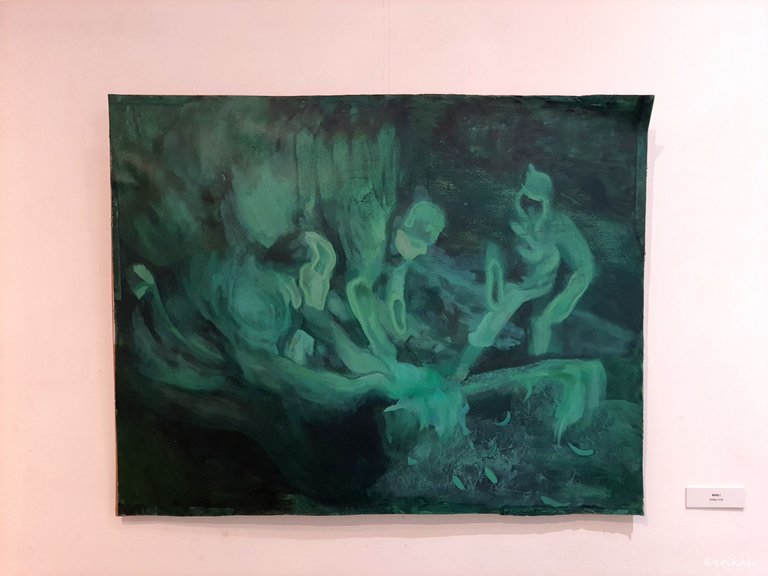 Imola Szilágyi - Pirig I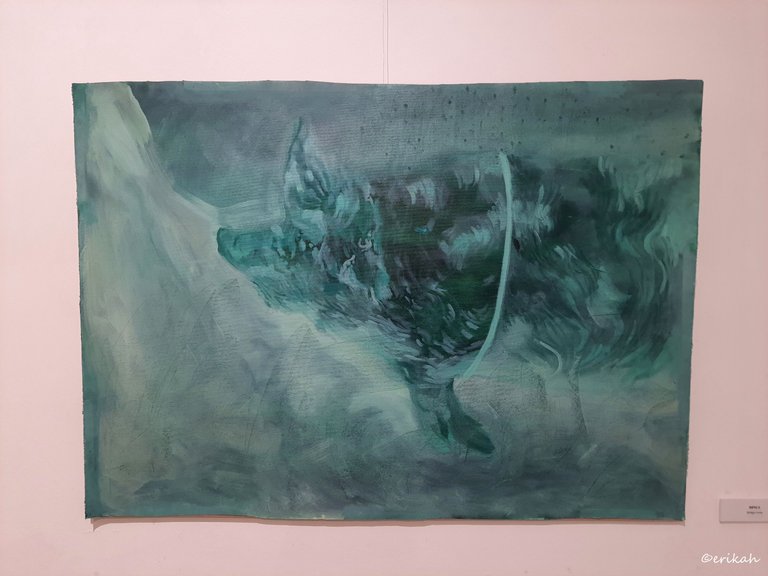 Imola Szilágyi - Pirig II
This is a series of two pieces. The titles of artworks of this artist were given in English. However, I don't know what pirig means as it has no meaning in English, or Hungarian or Romanian.
Regardless, the first one is the coolest. Looking at it had the impression of seeing a science fiction movie with some shady aliens. It's very cool and using that green just makes it look more like science fiction or ghosts. The second is a mystery for me.
So, which one is your favorite today?

If you're a newbie, you may want to check out these guides:

---
---