Universe / Universo (Digital Art) (Esp/Eng)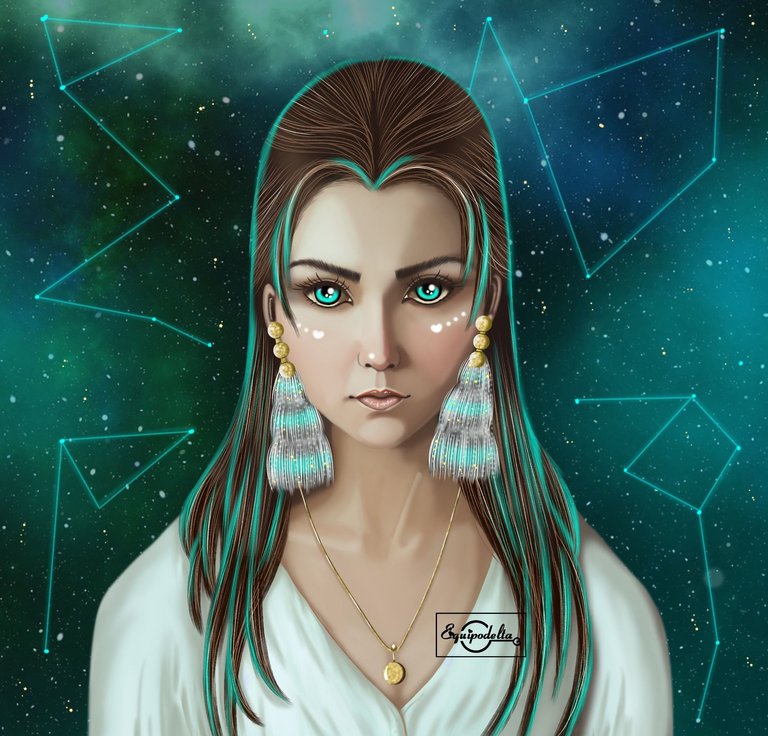 💜💜💜
[Esp]
Hola mi gente linda. Aquí me encuentro, inspirada dibujando y compartiendo, haciendo las cosas que más me gusta gracias a Dios.
Tengo días tratando de reunir stickers con temática de universo para mi scrapbook, entre ellos vi constelaciones y signos del zodiaco, por supuesto que mi signo Leo, es el que más me atrajo, resulta que esta inspiración me llevó a otra, a mi dibujo actual.
Rápidamente busqué una chica con las características de una persona de mi signo, segura, fuerte, profunda, decidida, enigmática, misteriosa y con una gran melena, procedo a recrearla a mi estilo y me hizo feliz el resultado.
He usado los colores que tanto me gustan, por eso puede que sea algo de costumbre verlos en mis diseños. Espero sea de tu total agrado.
! [English version]
[Eng]

**Hello my beautiful people. Here I am, inspired drawing and sharing, doing the things I like the most, thanks to God.


I have days trying to gather universe themed stickers for my scrapbook, among them I saw constellations and zodiac signs, of course my sign Leo, is the one that attracted me the most, it turns out that this inspiration led me to another, to my current drawing.


I quickly looked for a girl with the characteristics of a person of my sign, confident, strong, deep, determined, enigmatic, mysterious and with a big hair, I proceeded to recreate her in my style and I was happy with the result.


I have used the colors that I like so much, so it may be something of a habit to see them in my designs. I hope you like it.

Step by Step / Paso a Paso

Step 1️⃣/ Paso 1️⃣
| | |
| --- | --- |
| | |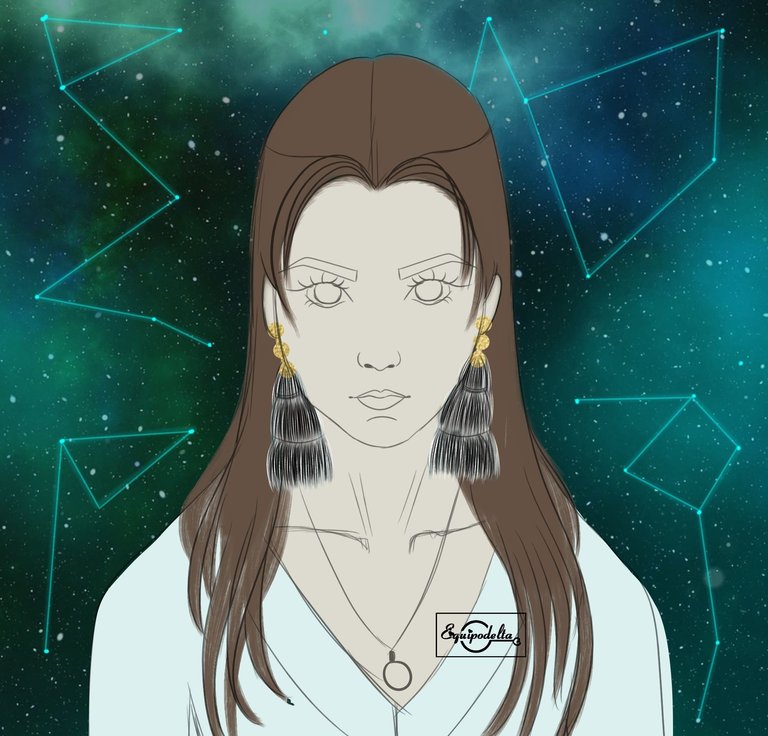 [Esp]
En la medida que practico y veo mejoría, siento más seguridad en mí, por lo cual, me abro a la posibilidad de realizar comisiones en mi estilo. Me ha ido bien trabajando en fondos planos o degradado de color que hacer escenarios cargados.
Luego de ver la referencia de una mujer voluptuosa (al final de este post dejaré el enlace) proceso a recrearla a mi estilo, modifiqué muchas cosas, me sirvió de inspiración.
El siguiente paso realizo el color base y el fondo.
Al fondo le apliqué unos efectos y modificaciones, los que luego dibujé como especies de constelación zodiacal.
Lo siguiente fue ir trabajando poco a poco en los sarcillos con hilos de los cuales, no tenía mucha idea de cómo recrearlos, al verlos terminados me pareció logrado.
! [English version]
[Eng]

As I practice and see improvement, I feel more confident, so I open myself to the possibility of making commissions in my style. I have done better working on flat backgrounds or color gradient than doing loaded scenarios.


After seeing the reference of a voluptuous woman (at the end of this post I will leave the link) I process to recreate it in my style, I modified many things, it served me as inspiration.


The next step I made the base color and the background.


I applied some effects and modifications to the background, which I then drew as a kind of zodiacal constellation.


The next step was to work little by little on the twines with threads of which I didn't have much idea of how to recreate them, but when I saw them finished, I thought I had succeeded.
Step 2️⃣/ paso 2️⃣
| | |
| --- | --- |
| | |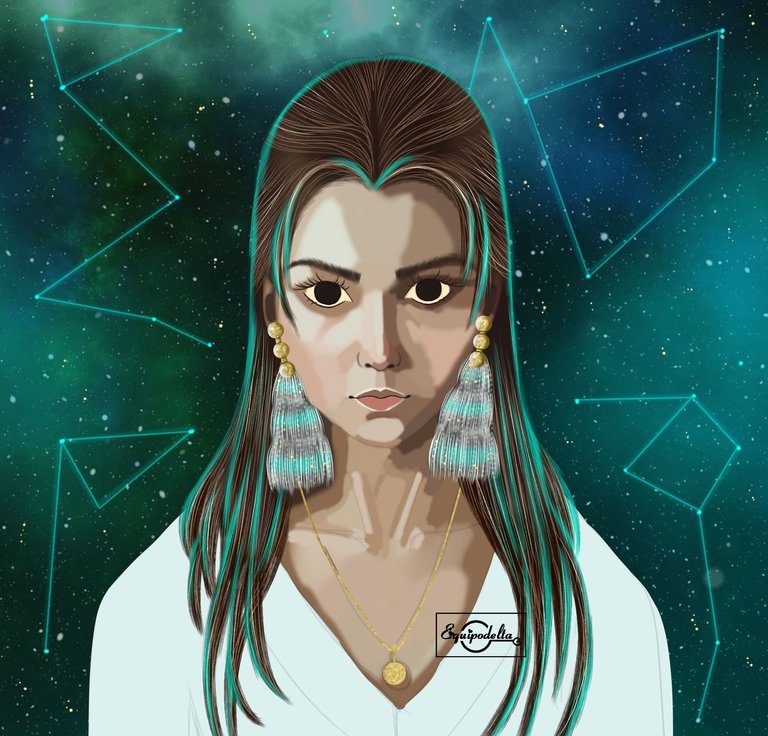 [Esp]
Realizo el efecto en el cabello de la forma acostumbrada con mi pincel pelo, al final, me di cuenta que debía tener unos reflejos del mismo color neón del fondo, por lo que apliqué unas luces en aerografía.
Los sarcillos los seguía trabajando hasta que lograra una apariencia mejor.
Aplico el color base de los ojos y los labios para prepararme para el sombreado de piel y realizo una cadena de oro con mi pincel del mismo nombre, al que le aplico sombreado y luz para darle un mejor efecto 2D.
La aplicación del sombreado de piel lo realicé con el pincel aerógrafo fuerte.
! [English version]
[Eng]

I made the effect on the hair in the usual way with my hair brush, at the end, I realized that I had to have some reflections of the same neon color of the background, so I applied some airbrushed highlights.


I kept on working on the tendrils until I got a better look.


I applied the base color of the eyes and lips to prepare for the skin shading and made a gold chain with my brush of the same name, to which I applied shading and light to give it a better 2D effect.


The application of the skin shading was done with the strong airbrush.
Step 3️⃣/ paso 3️⃣
| | |
| --- | --- |
| | |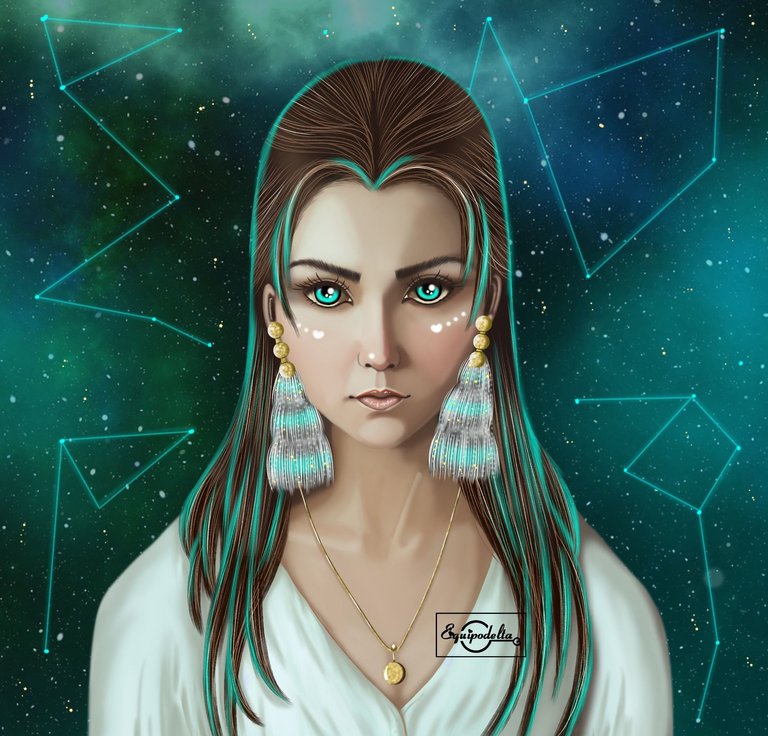 [Esp]
Difumino la piel y trato de integrar los colores lo mejor que puedo con el pincel acuarelas.
En el siguiente paso realicé los detalles dela camisa, todo en aerografía.
Para finalizar la expresión de los ojos, mantuve la paleta del diseño, por lo cual dejé que el color de los ojos fuera neón. De la misma forma y aplicando siempre la misma técnica realizo los labios, todo gracias a las sutiles y cuidadosas aplicaciones del pincel aerógrafo.
El universo me inspira hoy, mas las constelaciones zodiacales.
Qué el universo te bendiga en plenitud, gracias por visitarme.
! [English version]
[Eng]

I blurred the skin and tried to integrate the colors as best as I could with the watercolor brush.


In the next step I did the details of the shirt, all in airbrush.


To finish the expression of the eyes, I kept the palette of the design, so I let the color of the eyes be neon. In the same way and applying always the same technique I made the lips, all thanks to the subtle and careful applications of the airbrush.


The universe inspires me today, but the zodiacal constellations.


May the universe bless you in fullness, thank you for visiting me.

Credits / Créditos.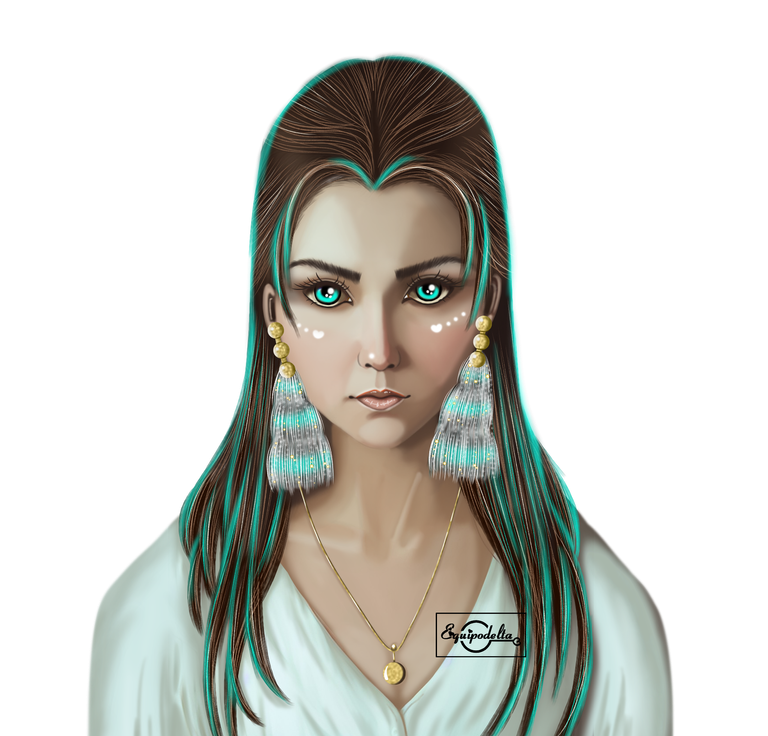 💜💜💜


💜💜💜
👉

👉

👉


Here / Bríndame un café

---
---