Queen, mistress and lady / Reina, ama y señora (Digital art) (ENG/ESP)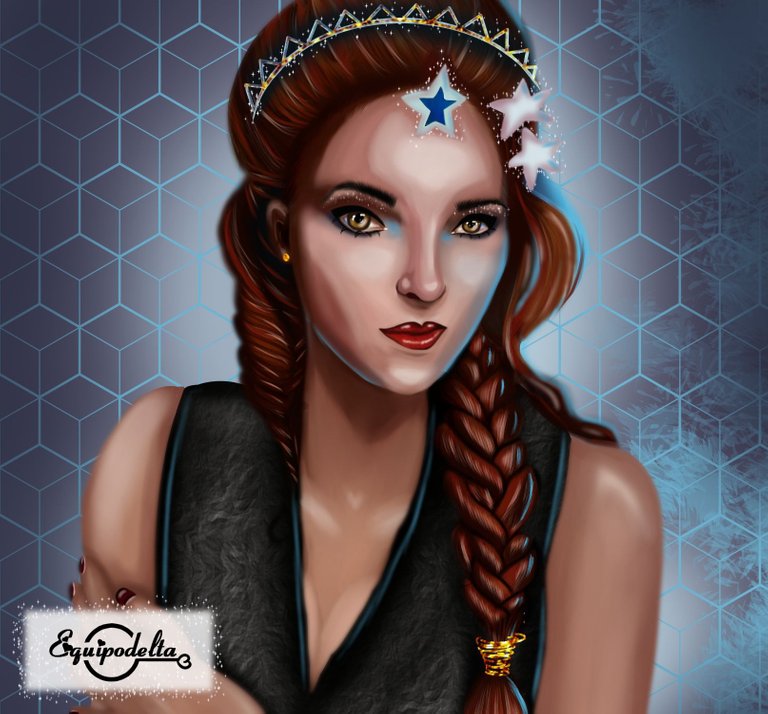 Greetings Community! My first digital art of the year, I take this opportunity to wish you a year full of success and beautiful surprises, may goodness, love and prosperity always be with you all.
¡Saludos Comunidad! Mi primer arte digital del año, aprovecho para desearles un año lleno de éxitos y bellas sorpresas, que la la bondad, el amor y la prosperidad esté siempre con todos ustedes.
Queen, mistress and lady
When I saw the reference image (link at the end of the post, in the credits section) I loved how powerful she looks, a bit rebellious and I wanted to use her pose, but modify many things to make her look more stylish, to be linked with my personality. I loved it, she has light eyes like mine, I drew her a tiara, and some clinejas to practice.
Unbelieving look, for that's how I have become now, analytical, scrutinizing people's true feelings and intentions. A half smile on my face, maybe a bit thoughtful, with some stars to decorate, these symbolize the universe, wishes, your thoughts of good vibes to share.
This design was a little bumpy, I had serious problems with my hand, I think I will have to practice my hands, it came out terrible, after so much time dedicated to the design I got exhausted, I got tired and after editing it many times I found no improvement, so for now I rolled my logo to cover the imperfection that ruined my design, in the step by step, you will see it in detail.
I wanted to work with neon lights, but after finishing I wondered the light comes from somewhere and I modified the background. After I transformed the background, I was super delighted with the finish.
Making a review of what was 2022 in terms of design, I consider that I have had a remarkable improvement compared to my cartoon drawings, and little by little I have been improving the proportions, postures, techniques, thanks to watching many tutorials and I try as hard as I can.
This 2023 I only plan to maintain the growth but I want to enjoy it more, not to demand so much, to have fun while I do it.
Reina, ama y señora
Cuando vi la imagen de referencia (link al final del post, en la sección créditos) me encantó lo poderosa que se ve, algo rebelde y quise usar su postura, pero modificar muchas cosas para que tuviera más estilo, que estuviera ligada con mi personalidad. Me encantó, tiene ojos claros como los míos, le dibujé una tiara, y unas clinejas para practicar.
Mirada incrédula, pues así me he convertido ahora, analítica, escudriñando los verdaderos sentimientos e intensiones de las personas. Media sonrisa en el rostro, quizá algo como pensativa, con unas estrellas para decorar, estas simbolizan el universo, los deseos, sus pensamientos de buenas vibras para compartir.
Este diseño estuvo un poco accidentado, tuve serios problemas con la mano, creo que tendré que practicar manos, me salió terrible, a conciencia, luego de tanto tiempo dedicado al diseño me agoté, me cansé y tras editarlo muchas veces no encontré mejoría, por lo que por ahora rodé mi logotipo para cubrir la imperfección que arruinaba mi diseño, en el paso a paso, lo verás con detalle.
Quise trabajar con luces de neón, pero luego de terminar me pregunté la luz viene de alguna parte y modifiqué el fondo. Luego de haber transformado el fondo, me super encantó el acabado.
Haciendo un recuento de lo que fue el 2022 en cuanto a diseño, considero que he tenido una mejoría bastante notable en comparación con mis dibujitos en caricaturas, y poco a poco he ido mejorando las proporciones, posturas, técnicas, gracias a que veo muchos tutoriales y me esfuerzo lo más que puedo.
Este 2023 solo pienso mantener el crecimiento pero quiero disfrutarlo más, no exigirme tanto, divertirme mientras lo hago.

Step by step / Paso a paso

Step 1️⃣ / Paso 1️⃣
I make the sketch, at first I wanted to draw some flowers on the clothes, but then I thought I was going to overload it.
I apply the base color and there I remember a lot when I used to draw caricatures, they are still a base for my designs and using the same techniques of the program in the handling of its resources and tools.
I apply the shading and illumination of the skin with the watercolor brush, then with the same brush I blur until the color is well blended or at least integrated. This helps to give shape to the face. Here I had already realized that the hand would be a problem.
Realizo el boceto, al principio quería dibujarle unas flores en la ropa, pero, luego pensé que la iba a sobrecargar.
Aplico el color base y allí recuerdo mucho cuando dibujaba caricaturas, siguen siendo una base par amis diseños y usando las mismas técnicas del programa en cuanto al manejo de sus recursos y herramientas.
Aplico el sombreado e iluminación de la piel con el pincel acuarelas, luego con el mismo pincel voy difuminando hasta mezclar bien el color o al menos lograr integración. Esto ayuda a darle forma al rostro. Aquí ya me había dado cuenta que la mano sería un problema.

Step 2️⃣ / Paso 2️⃣
I begin the application of the base color of the eyes and lips.
In the next step I draw an eye and then copy it and put it on the other side.
The next step corresponds to the hair, today I didn't have much skill with my brush, my hands are a little stiff due to the cleaning activities I've been doing at home, so I chose to only use that brush a little and apply airbrush and some strands with a pencil brush.
Comienzo la aplicación del color base de los ojos y los labios.
En el siguiente paso dibujo un ojo para luego copiarlo y ponerlo en el otro lado.
El siguiente paso corresponde al cabello, hoy no tuve mucha destreza con mi pincel, mis manos están algo rígidas dado las actividades de limpieza que he estado haciendo en mi hogar, así que opté por solo usar poco ese pincel y aplicar aerografía y algunas hebras con un pincel lápiz.

| | |
| --- | --- |
Step 3️⃣ / Paso 3️⃣
For the tiara, I only used airbrushing and my custom gold brush.
I apply airbrush in the background and after realizing the detail of the light, I decided to modify it using Medibang default brushes, which I always put at the end of the publication in the credits section, all the brushes and tools used, maybe it can be useful for someone who starts in this program.
I hope you like it, see you in my next publication, I love you very much, blessings to all of you.
Para la tiara, solo usé aerografía y mi pincel personalizado oro.
Aplico aerografía en el fondo y luego de darme cuenta del detalle de la luz, decidí modificarlo usando pinceles predeterminados de Medibang, los cuales siempre los coloco al final de la publicación en la sección créditos, todos los pinceles y herramientas utilizados, quizá pueda ser de utilidad para alguien que comienza en este programa.
Espero sea de su agrado, nos vemos en mi siguiente publicación, los quiero mucho, bendiciones para todos vos.

Credits / Créditos.

Time lapse: 2 Days
Program: MediBang Paint Pro.
Graphics tablet: Huion (Usb Pen Tablet). Model 420.
Pinceles: Lápiz, acuarela, aerografía, Pluma (gruesa), Dedo, acrílico, Personalizado Pelo, pulverización, borroso, Bokeh, azulejos hexagonales, chalk, papel.
Herramientas: Carpetas, recorte, elipse, ajuste paralelo, línea curva (elipse), borrador, texto, relleno.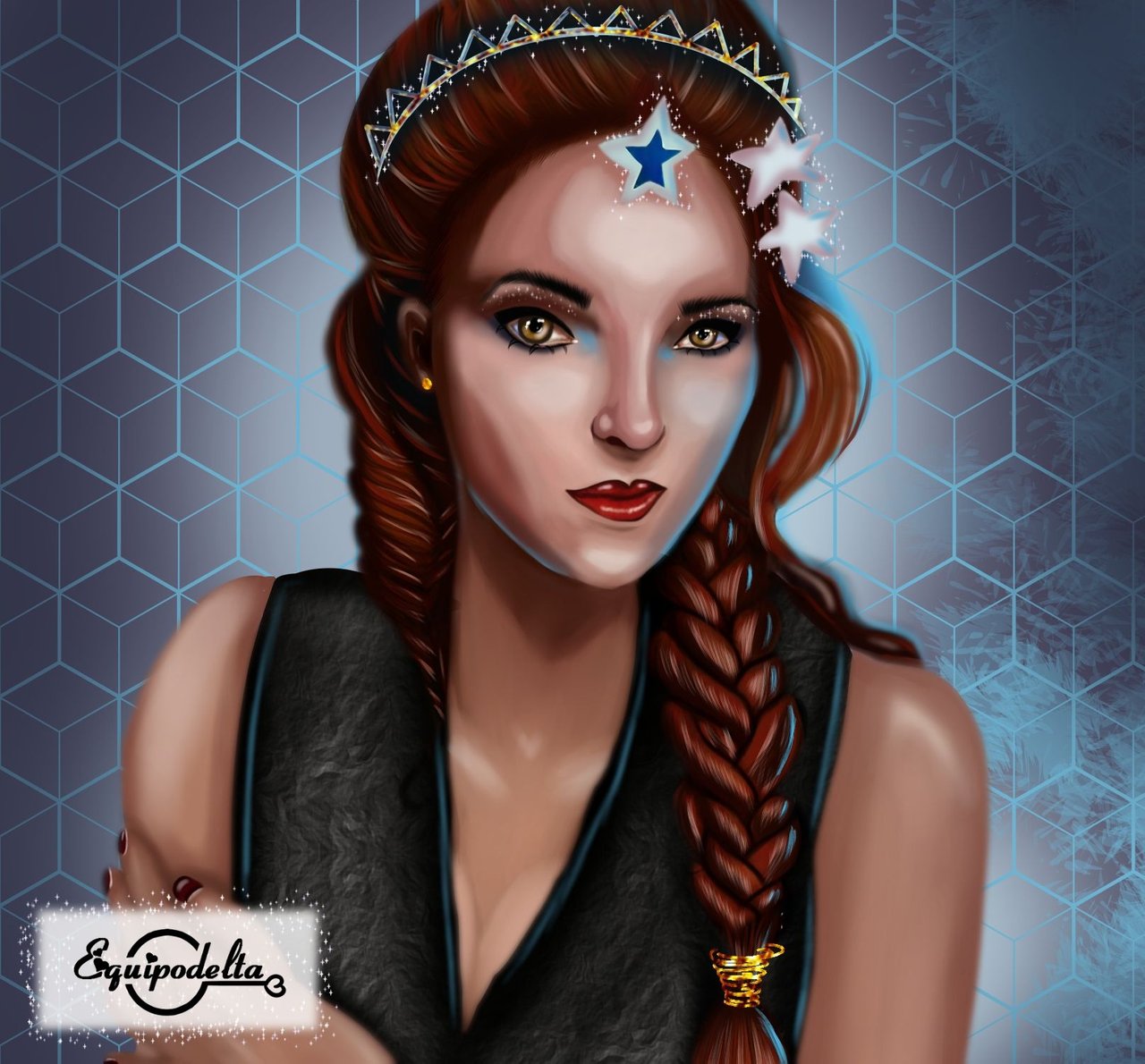 Queen, mistress and lady / Reina, ama y señora


Vote la-colmena for witness
By @ylich



Hacks, DIY, Crafts, handmade arts Community


---
---