Another nice lens. / Otros lindos lentes. (ENG/ESP)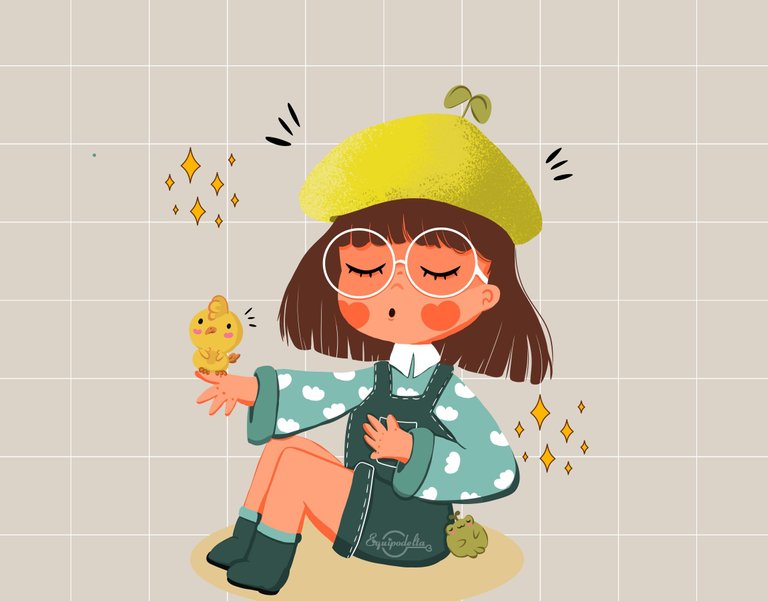 How nice it is when others inspire us!
Greetings dear, I found this challenge out there and you know that I do not miss the opportunity to participate if it is about glasses.
I really liked your style, it has certain French airs and I loved its simple details, it's a fresh and uncomplicated design that I knew I was going to achieve in my style.
The design of the challenge has no shading, I insisted on doing it, I feel weird without it, also the hair, it has no details, I did the sitting posture because I am reflecting my current emotions, I feel at peace.
This character is enjoying the simple things, life, nature and the affection that his little animal friends give him.
I changed some colors that were difficult to see, like the background, it's a darker tone and the skin color.
I am very happy to practice this way, it helps me a lot to polish my style and improve.
Now that we are here, my version, may well be a fantastic vinyl to decorate the wall of a children's room, to lower the intensity of the design and create a worn or vinyl print look I lowered the opacity of the as you can see below:

¡Qué lindo es cuando otros nos inspiran!
Saludos queridos, encontré este reto por ahí y ya saben que no pierdo la oportunidad de participar si se trata de lentes.
Me gustó mucho su estilo, tiene ciertos aires franceses y amé sus sencillos detalles, es un diseño fresco y descomplicado que sin duda sabía lo iba a lograr en mi estilo.
El diseño del reto no tiene sombreado, insistí en hacerlo, me siento rara sin él, también el cabello, no tienen ningún detalle, le hice la postura sentada porque estoy reflejando mis emociones actuales, me siento en paz.
Este personaje está disfrutando de las cosas sencillas, de la vida, de la naturaleza y el afecto que le brindan sus amiguitos animales.
Cambié unos colores que se me hicieron dificultosos a la vista como el fondo, es un tono más oscuro y el color de piel.
Estoy super encantada de practicar de esta manera, esto me ayuda mucho pulir mi estilo y mejorar.
Ahora que estamos aquí, mi versión, bien puede ser un vinil fantástico para decorar la pared de una habitación infantil, para bajar un poco la intensidad del diseño y crear un aspecto desgastado o de impresión vinil bajé la opacidad de la como podrán ver a continuación: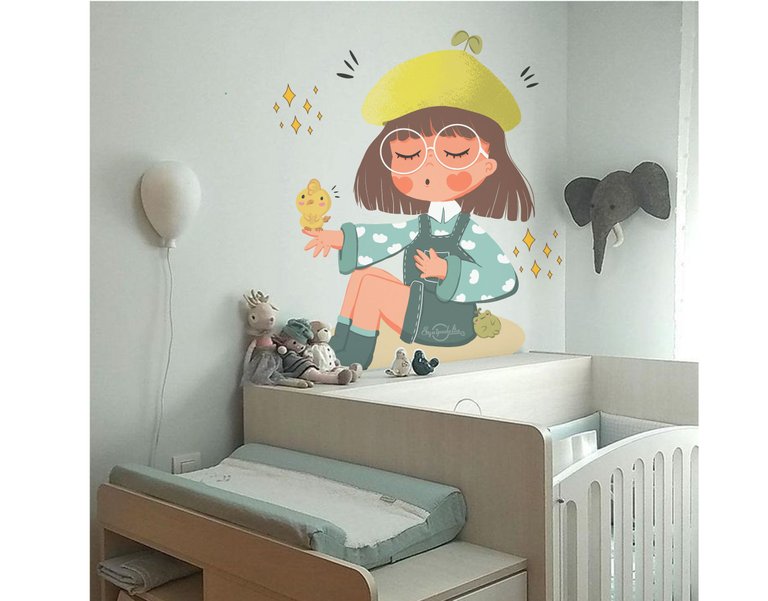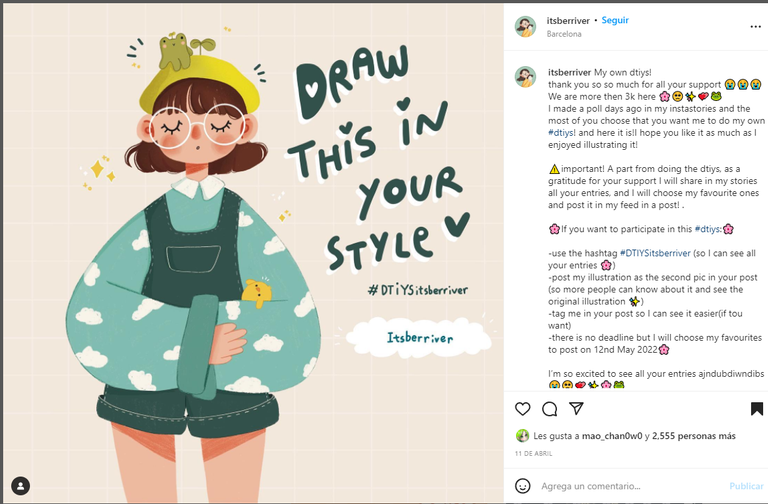 Draw this in your style @itsberriver (Jessica Berriver🌱🌻)


I like to show good artists, who draw beautifully and whose style I love, I find them by chance because I follow the tag #drawthisinyourstyle and there I filter many interesting challenges of artists in the social network Instagram. So I write a little of what I find out from her biography and what her works are about.
Jessica Berriver (@itsberriver on Instagram) is a student developer, graphic designer who lives in Barcelona - Spain although her birthplace is Colombia.
In her projects we can see that they highlight the pastel colors and a lot of harmony, we also notice certain features of cartoon and kawaii style.
Among her hobbies besides drawing she likes to dance, relax listening to music, go for walks and she is very curious and explorer by nature, she is very interested in going beyond her designs and take risks with new themes all while drinking the emblematic elixir of many of us cartoonists and writers, our eternal companion, keeper of secrets: Coffee.
Jessica is a growing artist, she has a total of 3,686 followers and I invite you to visit her work and follow her if you are a lover of jovial designs. I also like her because she is very original in her proposals.
Now I invite you to the step by step of my version that I hope you also like.

Me gusta dar a conocer artistas buenos, que dibujan lindo y de los cuales amo su estilo, los encuentro por ahí de mera casualidad ya que sigo el tag #drawthisinyourstyle y allí de filtran muchos retos interesantes de artistas en la red social de Instagram. Por lo cual escribo un poco de lo que indago de su biografía y de lo que tratan sus trabajos.
Jessica Berriver (@itsberriver on Instagram) es una estudiante desarrollador, diseñadora gráfica que reside en Barcelona - España aunque su lugar de nacimiento es Colombia.
En sus proyectos podemos ver que destacan los colores pasteles y mucha armonía, también notamos ciertos rasgos de estilo caricatura y kawaii.
Entre sus pasatiempos además de dibujar le gusta bailar, relajarse escuchando música, salir a pasear y es muy curiosa y exploradora por naturaleza, le interesa mucho ir más allá de sus diseños y arriesgarse con nuevos temas todo mientras bebe el emblemático elixir de muchos de nosotros los dibujantes y escritores, nuestro eterno compañero, guardián de secretos: El Café.
Jessica es una artista en crecimiento, cuenta con un total hasta hoy de 3.686 seguidores y yo los invito también a visitar sus trabajos y seguirla si eres amante de los diseños joviales. Me gusta además porque es muy original en sus propuestas.
Ahora te invito al paso a paso de mi versión que espero también sea de tu agrado.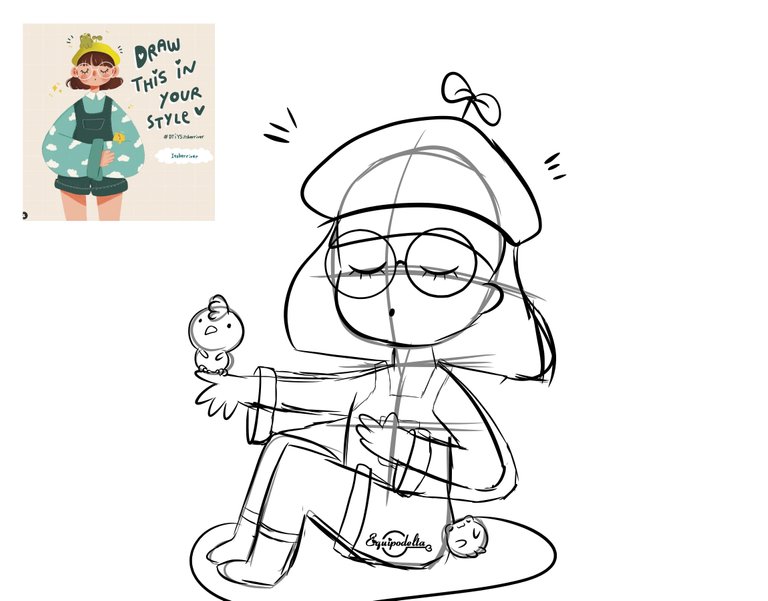 Due to the simplicity of this design I only achieved it in five small steps:
The first one consists of the lineart as you can see in the image above. To make the toad and the chick I followed the inspiration of the shape of the bird from my previous design, this way I keep my style.

Dado a la sencillez de este diseño tan solo lo logré en cinco pequeños pasos:
El primero consta del lineart como aprecias en la imagen anterior. Para elaborar el sapito y el pollito seguí inspirándome en la forma del ave de mi diseño anterior, de esta manera mantengo mi estilo.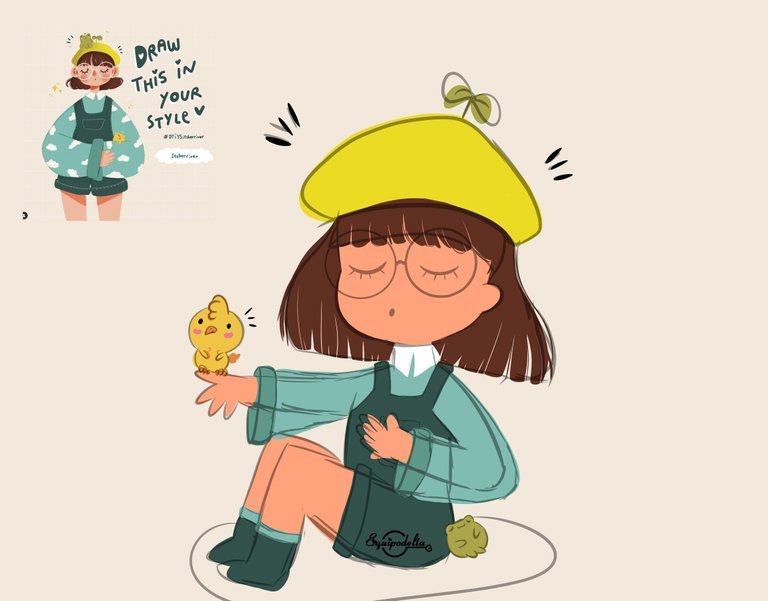 To draw without lineart we always work with the sketch in front of us and we start creating our first folder and inside it we open a canvas that will belong to the base color of a certain section.
In my case I started with the hair. Then I created more folders for the rest.

Para dibujar sin lineart trabajamos siempre con el boceto en frente y comenzamos a crear nuestra primera carpeta y dentro de ella abrimos un lienzo que pertenecerá al color base de una determinada sección.
En mi caso comencé por el cabello. Luego fui creando más carpetas para el resto.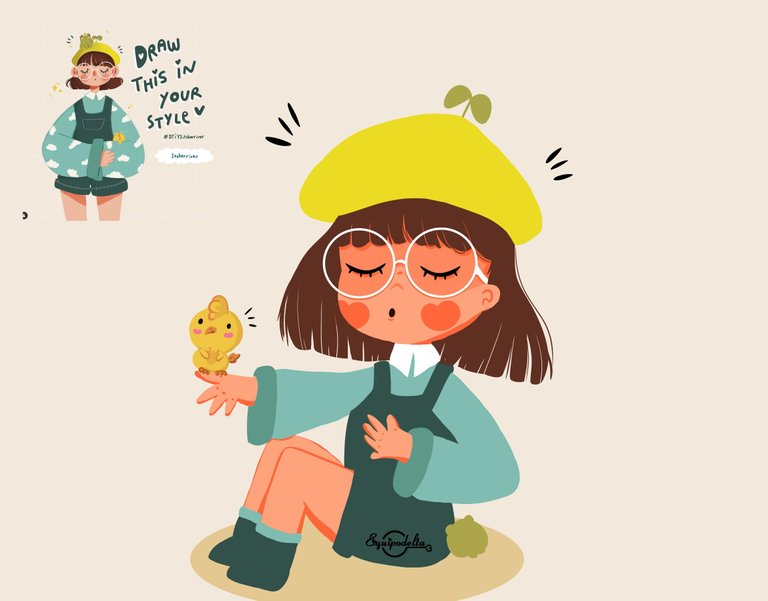 As I always work in an orderly way I apply the fur shading, I position myself in the corresponding folder and start to apply the details on the fur and manipulate the opacity of those layers.
I also took advantage of this step to give some details to the chick.
Sometimes it is necessary to hide the sketch layer because sometimes the lines can confuse us and we make a mistake.

Como siempre trabajo de una forma ordenada aplico el sombreado de piel, me posiciono en la carpeta correspondiente y comienzo a aplicar los detalles en la piel y manipulo la opacidad de esas capas.
También aproveché este paso para darle algunos detalles al pollito.
A veces se hace necesario ocultar la capa del boceto pues de vez en cuando las líneas pueden confundirnos y cometamos algún error.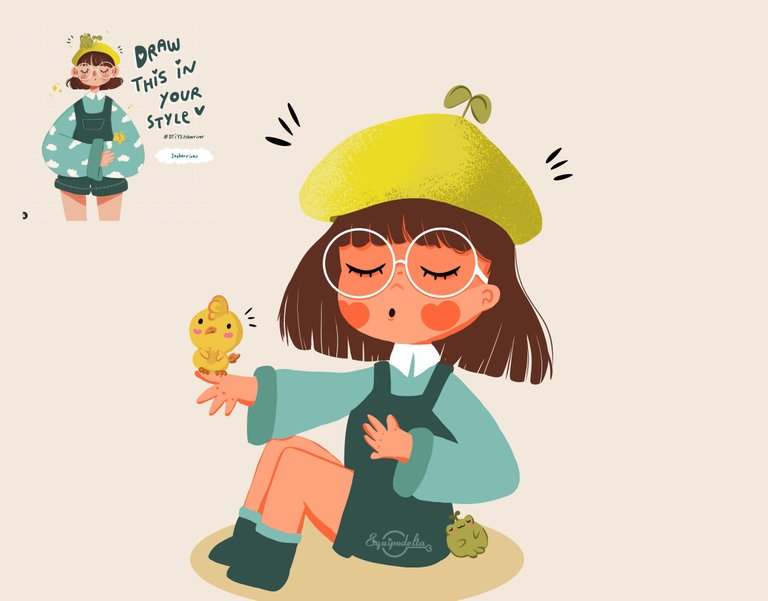 As the details are very scarce or rather uncomplicated or I don't know if I am acquiring practice and I see it simpler, in the following one I applied some shading on the cap, this with the spray brush.
Likewise, I added the details to the little frog, as it was so simple I wanted to add more things but I felt remorse and I left it simple as the image of the challenge.
The last steps were dedicated to the clothing and the background.
I recreated a cloud and then reproduced it several times moving it to certain random places. I then applied the light shading in separate layers, culminating with the stitching details.
This is when I decided to darken the background color a bit and apply the squares which were perfect using the Grid brush.
My beloved ones, I am happy to be with you once again. I hope to fill you with lots of love. See you in my next post.

Como los detalles son muy escasos o más bien descomplicados o no se si es que voy adquiriendo práctica y lo veo más sencillo, en el siguiente apliqué algo de sombreado en el gorro, esto con el pincel pulverización.
Así mismo, agregué los detalles al sapito, como era tan sencillito quise agregarle más cosas pero sentí remordimiento y lo dejé sencillo como la imagen del reto.
Los últimos pasos los dediqué a la vestimenta y al fondo.
Recreé una nube y luego la reproduje varias veces moviéndola a ciertos lugares al azar. Luego apliqué el ligero sombreado en capas separadas, para culminar con los detalles de costura.
Aquí fue cuando decidí oscurecer un poco el color de fondo y aplicar los cuadros que quedaron perfectos usando el pincel Grid.
Es todos amados míos, estoy contenta de estar con ustedes una vez más. Espero llenarlos de mucho cariño. Nos vemos en mi siguiente publicación.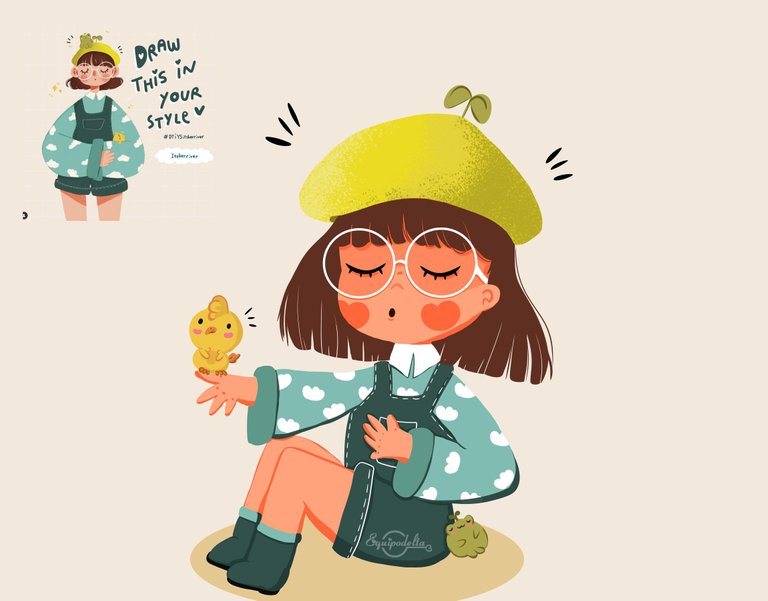 PNG Format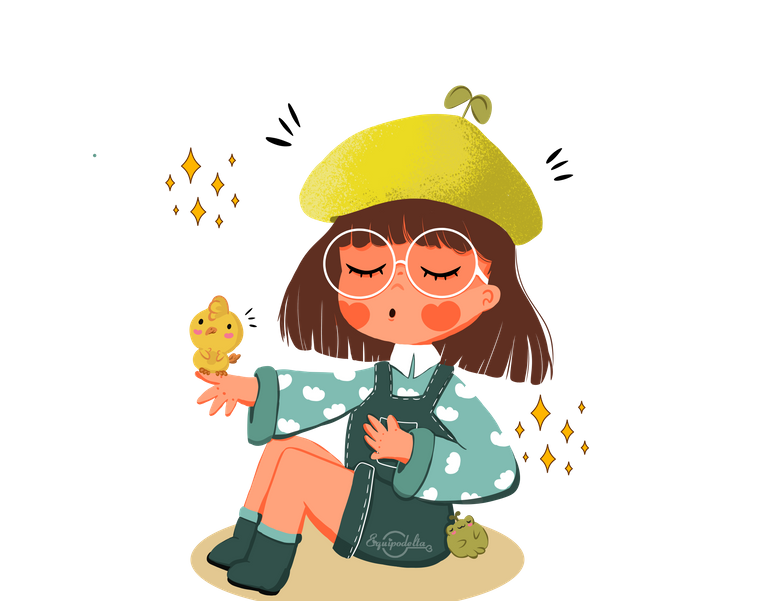 Dreaming does not cost anything, but we must always work and be constant to be able to turn our dreams into reality, do not stay dreaming, move energies, make things happen.
Soñar no cuesta nada, pero debemos siempre trabajar y ser constantes para poder convertir nuestros sueños en realidad, no te quedes soñando, mueve las energías, produce.
💚​💚​💚​💚​💚​💚​💚​💚​💚​💚​💚​💚​💚​💚​

I'm a contributor of royalty-free images
Soy contribuyente de imágenes libres de derechos de autor



Hacks, DIY, Crafts, handmade arts Community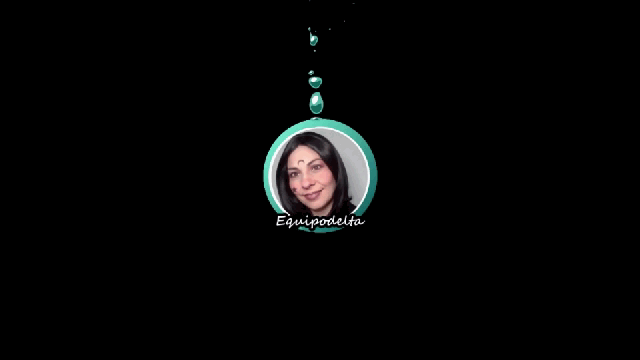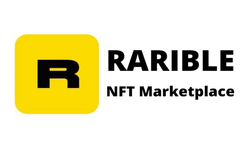 ---
---