DCity: A game that keeps on giving
         It's been almost two years since I started dCity. In fact, I remember when I received my first card from @gerber.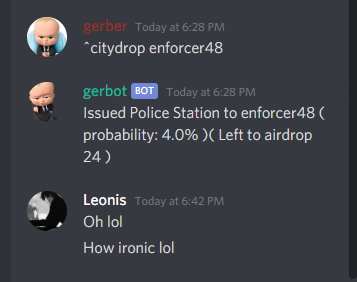 For reference, the timestamp of that conversation was back in February of 2020. That was before the formation of Hive. I didn't take advantage of the early entry due to the uncertainties surrounding the chain. In hindsight, I should have went in harder, but alas, it was not so.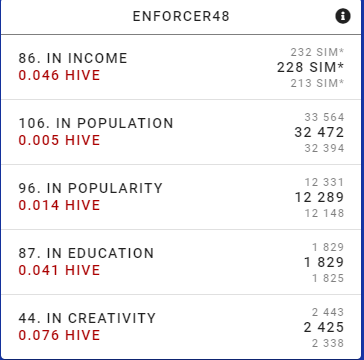 Over the course of 21 months, I managed a more or less top 100 city. I used to write several roleplay fiction involving dCity, but haven't kept up with it as I ran out of materials. One could say people aren't as fun as they used to. Or, they got better things to do.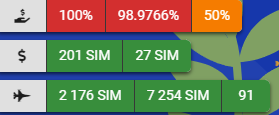 These days, it's harder to earn from your city without thinking through your set up. Taxes can be overbearing for newbies who don't know what they are doing. The main attributing factor is the fallen price of SIM against HIVE (or STEEM depending on who you talk to). But, don't let that fool you, though. While the value of SIM was 0.005 HIVE back then, it was against a $0.16 HIVE. SIM is around 0.001 HIVE right now against an $0.80 token.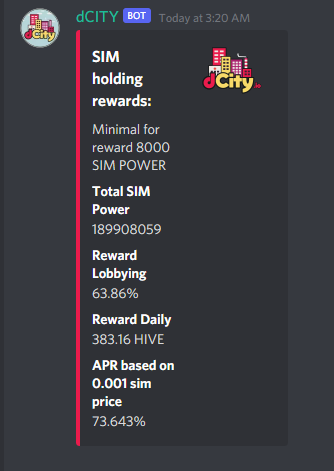 You don't actually have to play the game to earn. After all, dCity resembles more of a gamified DeFi than a literal game. One can do pretty well by holding SIM in their wallet. A 70%+ return is not bad for sitting around doing nothing. The best part, as you can see from the screenshot, the SIM you hold equates to governance power. You could influence where the rewards go with other players. If you don't care about all that, you could always participate in the Diesel Pool instead.

         So, what do I do these days? I try to obtain more war-related buildings and collect police stations. They are no longer in print, so I decided to grab as many as I can for no reason other than personal amusement. Now I've said that, someone is going to buy up all the listings on the market.
---
         At this moment, dCity is pretty low key. I am waiting for the next gameplay tweak involving popularity. This means, the population bonus from the said popularity will receive a nerf. This will give population cards more value again, especially individual citizens. It will also address the weirdness where our base population is tiny compare to the bonus given out. For example, my city of over 32K people has a base population of 3700 before the bonus. How's that for making sense?
         If you haven't tried out https://dcity.io/ already, you should. As long as you read the information listed there, you'll gain a basic understanding of the game.
---
---