Un dibujo en 3D y 13 consejos para hablar de la creatividad [Esp- Eng]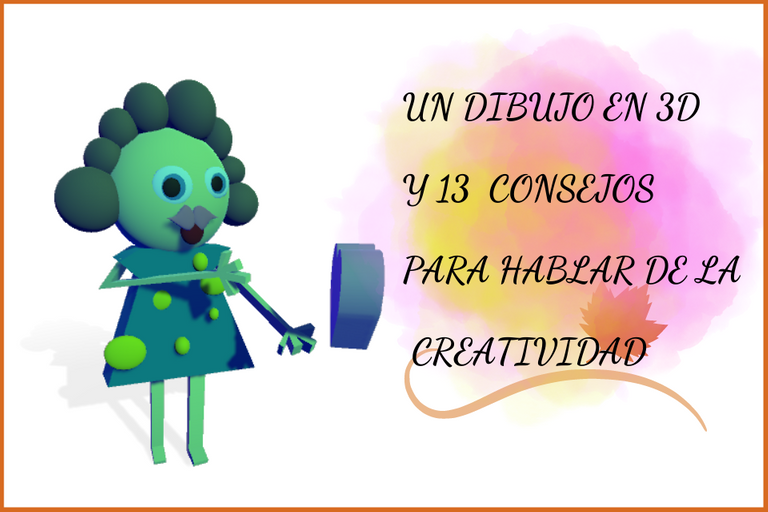 Hace unos meses se me ocurrió una idea un poco desorbitada. Se trataba de escribir un ebook para tesistas. Lo bueno fue que terminé de escribir y me sentí orgullosa de poder terminarlo. En un futuro espero poder compartirlo de manera gratuita. El punto es que ahí necesitaba ser creativa en lo que escribía y hacer que los estudiantes resolvieran sus problemas a la hora de comenzar su tesis. Mi objetivo fue crear algo que no pareciera una literatura difícil de digerir como se suele encontrar en los libros. Fue entonces cuando aprendí algunos consejos para ser creativo. Lo cual me ayudó muchísimo cuando se trata de escribir o producir algo decente. Ya que para mí la creatividad está directamente relacionada con el hecho de crear y dejar nuestra originalidad en cualquier aspecto que vayamos a ofrecer.
Estas son las 13 cosas que me han ayudado para no tener un bloqueo creativo en la escritura o en cualquier aspecto que requiere resolver un problema.
1.Estoy de acuerdo que es mejor trabajar 2 u 8 horas al día de manera pausada, que pasarme un día entero sin tener un descanso.
2.Escojo las horas en las que más productiva soy para indagar en temas que desconozco.
3.Tomo notas de las ideas que me han llegado después de mis pequeñas investigaciones.
4.Nunca me siento a escribir cuando estoy cansada o con problemas de estrés. Es decir, si suelo escribir estos pensamientos negativos, pero nunca los comparto, lo hago como un proceso de desahogo.
5.El movimiento vence a la inercia. Efectivamente, hay veces que suelo ir con mi mascota a caminar, hago oficios en la casa. Mientras estoy haciendo actividades me concentro en lo que hago y cuando llega un pensamiento, flash o relámpago al que le llaman inspiración rápidamente lo anoto.
6.Suelo planificar en la noche mis actividades del día siguiente.
7.Me permito tomarme momentos de descanso sin llegar a sentirme un holgazán.
8.Al inicio de escribir primero hago un desastre, plasmando rápidamente las ideas que llegan. Luego me doy el debido tiempo para la ortografía.
9.El tiempo de calidad y tener prioridades. Es decir, menos tiempo en la limpieza de mi casa y más tiempo para leer un libro. Primero debo cumplir con el trabajo que es prioritario y luego si ya puedo ver redes sociales o hablar por teléfono.
10.Cuando se me acaba la energía definitivamente la recargo haciendo actividades que disfruto: como salir a comer, ver una película o visitar a alguien. Trato de recompensar mis horas de trabajo.
11.La mejor forma de vencer el bloqueo del escritor es escribiendo, aunque sea una escritura que después termine desechada.
12.Escuchar música que no tenga que solo tenga sonidos como el agua, piano, violín y un poco de Mozart.
13.Oxigenar nuestro cerebro con agua y respiraciones.
---
Bien, ahora les comparto el resultado que obtuve al hacer un dibujo 3D en la aplicación Paint, de manera fácil y rápida. Por lo que decidí tomar esta imagen, debido a que tiene formas muy fácil de emplearlas al momento del modelado. Comencé pegando la imagen de referencia en el lienzo para así poder guiarme con el diseño del dibujo.
Lo más difícil del diseño es la parte de la unión de las piezas, cabeza, ojos, boca, brazos y piernas, ya que cada pieza se la crea por separado y al final se une todo. Para ser una segunda vez que uso Paint en resultado no fue tan desastroso. El tiempo que me llevo este trabajo fue aproximadamente 3 horas.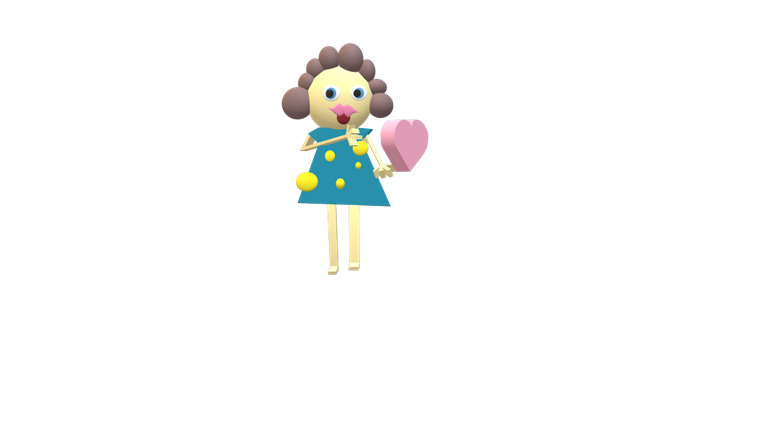 ---
Este es el resultado de mi dibujo 3D, la niña quedo un poco cabezona, pero tiene estilo. Espero que esta pequeña creación sea de su agrado, realmente hacer estos diseños los disfruto aunque no sean tan experta, espero seguir mejorando.
---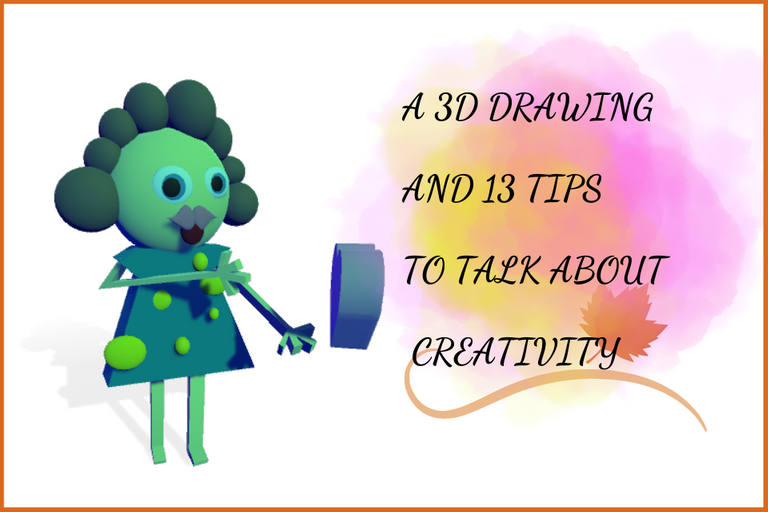 A few months ago I came up with an idea that was a bit far-fetched. It was to write an ebook for thesis writers. The good thing was that I finished writing it and I was proud to be able to finish it. In the future I hope to be able to share it for free. The point is that there I needed to be creative in what I was writing and make the students solve their problems when starting their thesis. My goal was to create something that didn't feel like hard to digest literature like you usually find in books. That's when I learned some tips on how to be creative. Which helped me a lot when it comes to writing or producing something decent. Since for me creativity is directly related to the fact of creating and leaving our originality in whatever aspect we are going to offer.
These are the 13 things that have helped me not to have a creative block in writing or in any aspect that requires solving a problem.
1.I agree that it is better to work 2 or 8 hours a day in a leisurely manner, than to spend a whole day without having a break.
2.I choose the hours when I am most productive to research topics I don't know.
3.I take notes of the ideas that have come to me after my little researches.
4.I never sit down to write when I am tired or stressed. That is, if I usually write these negative thoughts, but I never share them, I do it as a venting process.
5.Movement beats inertia. Indeed, there are times when I go for a walk with my pet, I do chores around the house. While I am doing activities I concentrate on what I am doing and when a thought, flash or lightning comes to me I quickly write it down.
6.I usually plan my next day's activities in the evening.
7.I allow myself to take moments of rest without feeling like a slacker.
8.At the beginning of writing I first make a mess, quickly capturing the ideas that come to me. Then I give myself time for spelling.
9.Quality time and having priorities. That is, less time cleaning my house and more time to read a book. First I must accomplish the work that is a priority and then if I can already see social networks or talk on the phone.
10.When I run out of energy I definitely recharge it by doing activities that I enjoy: like going out to eat, watching a movie or visiting someone. I try to make up for my work hours.
11.The best way to overcome writer's block is to write, even if it's a piece of writing that ends up being discarded.
12.Listen to music that doesn't have only sounds like water, piano, violin and a little Mozart.
13.Oxygenate our brain with water and breathing.
---
Well, now I share with you the result I got by making a 3D drawing in the Paint application, in an easy and fast way. So I decided to take this image, because it has very easy shapes to use when modeling. I started by pasting the reference image on the canvas in order to guide me with the design of the drawing.
The most difficult part of the design is the part of the union of the pieces, head, eyes, mouth, arms and legs, since each piece is created separately and at the end everything is joined together. For a second time using Paint the result was not so disastrous. The time that this work took me was approximately 3 hours.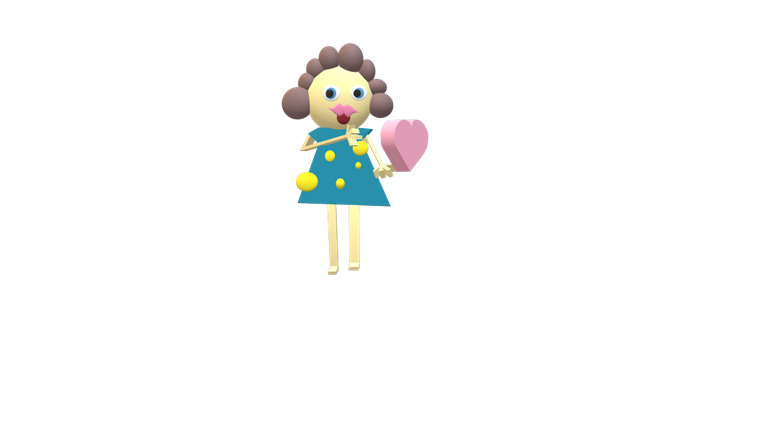 ---
This is the result of my 3D drawing, the girl is a little bit big headed, but she has style. I hope this little creation is to your liking, I really enjoy making these designs even if they are not so expert, I hope to keep improving.
---
---

¡THANKS FOR VISITING MY BLOG!

Separadores hechos en Canva
---
---