Thanks for being here, honey [ESP-ENG]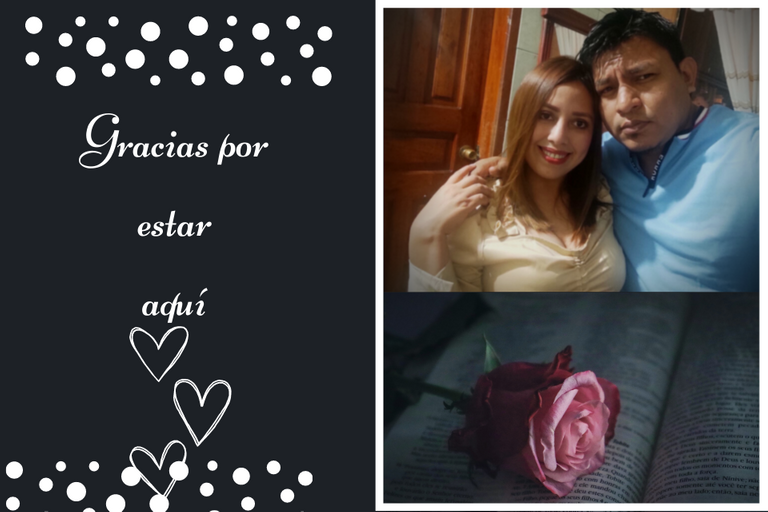 Imagen propia editada en canva
Own image edited in canva

Escribiré un poema al amor de mi vida, uno que ha provocado que mi tonto corazón palpite como loco al escribir, y no, no exagero ahora mismo, está emocionado de decir lo que siente. Quiero que sepas que es una aventura hacer esto, improvisar y buscar en mi diccionario las palabras más bonitas y conmovedoras, para decirte cuanto te amo. Por cierto, nuestro querido gato está por aquí, queriendo aportar con algunas palabras.

Desde siempre este universo se hizo y se pensó
para que estemos juntos, aunque podías haberme
ignorado, no lo hiciste. Y entonces lo arriesgamos
todo sin importar cuál sería el final de esta historia.
Le diste un cielo de flores y una casita a mi mundo
solitario, reconstruiste lo quebrado, por eso yo te amo.
Toma mi mano y vamos donde el viento nos lleve,
esto está empezando, la magia, el sol y la luna quiere
que estemos juntos, lo digo porque ahora los sueños
se hacen realidad.
Sé mi amor eterno y todo estará bien,
Sé ese primer rayito de sol en cada mañana,
Sé mi inspiración y construiré un mundo para los dos,
Gracias por estar aquí, cariño.
La mejor decisión que he tomado en mi vida ha sido amarte.
Con Cariño Johana.
Aprendí que el amor no siempre tiene que ser doloroso, algunas veces hace que sanemos y que salga la magia que hay en nuestro interior, en un día como hoy solo quise escribir algunas palabras del corazón, parece ser un poco tarde, pero aquí estoy, ¡Feliz san Valentín!.

I will write a poem to the love of my life, one that has caused my silly heart to pound like crazy as I write, and no, I'm not exaggerating right now, it's excited to say what it feels. I want you to know what an adventure it is to do this, to improvise and search my dictionary for the most beautiful and poignant words, to tell you how much I love you. By the way, our dear cat is around, wanting to contribute some words.

This universe has always been made and thought for us to be together
for us to be together, although you could have ignored me
ignored me, you didn't. And so we risked
everything no matter what the end of this story would be.
You gave a sky of flowers and a little house to my lonely world.
You rebuilt what was broken, that's why I love you.
Take my hand and let's go where the wind takes us,
this is just beginning, the magic, the sun and the moon want us to be together.
to be together, I say this because now the dreams
come true.
Be my eternal love and all will be well,
Be that first ray of sunshine in every morning,
Be my inspiration and I will build a world for both of us,
Thank you for being here, baby.
The best decision I ever made in my life was to love you.
With love Johana.
I learned that love doesn't always have to be painful, sometimes it makes us heal and brings out the magic inside us, on a day like today I just wanted to write some words from the heart, it seems a little late, but here I am, Happy Valentine's Day!
---

¡THANKS FOR VISITING MY BLOG!


---
---