Mis perspectivas del perdón en la sociedad [ESP-ENG]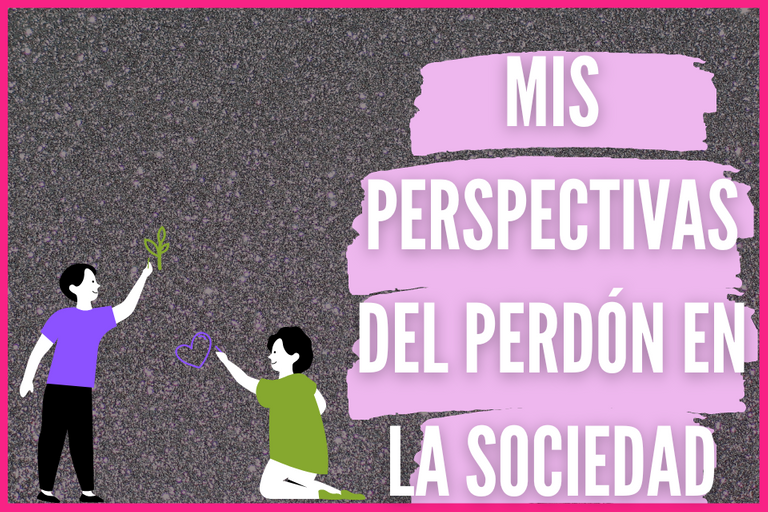 Imagen diseñada en Canva
ESPAÑOL
En los últimos días me he sentido muy cansada, hoy en especial no he querido levantarme de la cama, estoy escribiendo desde aquí, me veo al espejo y parezco un ser apagado con ojeras y mal humor. Hace unos meses solía ser productiva, tenía mi día planificado, incluso hacía ejercicio físico. Pero ahora últimamente siento que estoy retrocediendo, en realidad no entiendo qué está sucediendo conmigo y el mundo entero. Debo decir que no estoy triste ni feliz, solo algo confundida por todo el caos que se ha generado en mi mente.
El tema de la semana que se debatirá hoy, es sobre el perdón, respecto a eso puedo decir que estoy libre de rencores conmigo misma y con todos, puedo perdonar con facilidad a las personas que me han ofendido. Cuando te das cuenta de que hay tantas cosas por hacer y realmente miras a tu alrededor, puedes entender el actuar de cada persona y perdonar.
Luego de esto, estar bien emocionalmente es más importante que cargar a todos lados el pasado que te ha hecho mucho daño, así que empiezas a darte el tiempo y el valor que mereces. La vida me ha enseñado que cada quien hace lo que su capacidad intelectual le permite, entonces puedes ofrecer amor y perdón por aquella persona que ha sentido los mismos agobios que tú en el pasado. Perdonar es lo más liberador que existe, desde que, ya no me tomo muy en serio la opinión de los demás y dejo que cada quien haga lo que tiene que hacer es increíblemente aliviador.
Sin embargo, tomar la decisión de perdonar no fue fácil, era alguien rebelde que se peleaba consigo mismo, nunca he hablado con nadie de los traumas y culpas que he tenido que superar, lo hecho completamente sola, por mucho tiempo pase ahogándome en mi propio lodo. Aquellos momentos, por supuesto que sufrí, no entendía por qué me pasaban tantas cosas malas, y aunque suene aterrador para mí, tan solamente recordar de todo lo que viví; este sufrimiento que he tenido que pasar ha trascendido mi ser.
Ahora que por fin siento que soy alguien mejor desde que he venido a este planeta, me han surgido otras incógnitas que resolver. ¿Cómo perdonar a los banqueros, a las élites? ¿Cómo perdonar a los que nos han tratado como esclavos haciéndonos creer que somos libres? ¿Cómo perdonar a quienes imponen miedo y control? Justamente ayer vi en un documental llamado "Zeitgeist addendum" en el que se menciona la forma en que se crea el dinero, me resultó preocupante saber que el dinero que tenemos ahora mismo es deuda, es decir, todo el dinero que existe supera a la deuda que hay que pagar a los bancos, es una forma inteligente para mantenernos siempre ocupados y trabajando hasta el día de nuestra muerte.
Es difícil no sentir decepción por toda la miseria y la manera que hemos sido condicionados por quienes controlan la economía, los alimentos y hasta nuestro modo de pensar, comprendo que todos somos uno y que la mayoría de nuestros errores se ven reflejados en las personas que más detestamos. Quisiera cerrar los ojos y hacer que nada está pasando, pero me es imposible. El día de hoy en mi país se ha evidenciado el odio de la oligarquía hacia los indígenas, quienes han salido a manifestar por los altos precios de la canasta básica, el desempleo y el costo de vida en general, por eso digo que no somos malos son las circunstancias que hace que las personas se corrompan y terminan haciendo daño a los demás.
Fotografía propia tomada con un Xiaomi Redmi note 9 pro en la ciudad de Latacunga-Ecuador
La única esperanza es que algún día se sabrá toda la verdad, las cosas mejoraran, cada vez somos más los que nos preocupamos por el bienestar social. Por ejemplo, desde que estoy en Hive me ha hecho entender las posibilidades que hay para todos sin importar que tengas un estatus social o algún denominado, lo único válido es tus aptitudes, por ahora nos queda seguir batallando con uñas y dientes, así las cosas, no estén de nuestro lado. Aprender a jugar y ser un excelente jugador en este juego de la vida.
El perdón es algo que nos hace mejores, nos permite amar por completo. Si alguien no hace daño es mejor tener paciencia, las cosas siempre suceden para que evolucionemos, quizás esa persona vino hacer el papel de malo y tú el bueno no lose, pero todos estamos aprendiendo, y alguna vez también hemos sido malos. Lo importante es no caer en el papel de víctima e ir construyendo mejores oportunidades. Si llegaste hasta este momento de la lectura, déjame saber si compartas o no mis ideas, me despido muy agradecida por tu tiempo, será hasta en una próxima oportunidad.
---
ENGLISH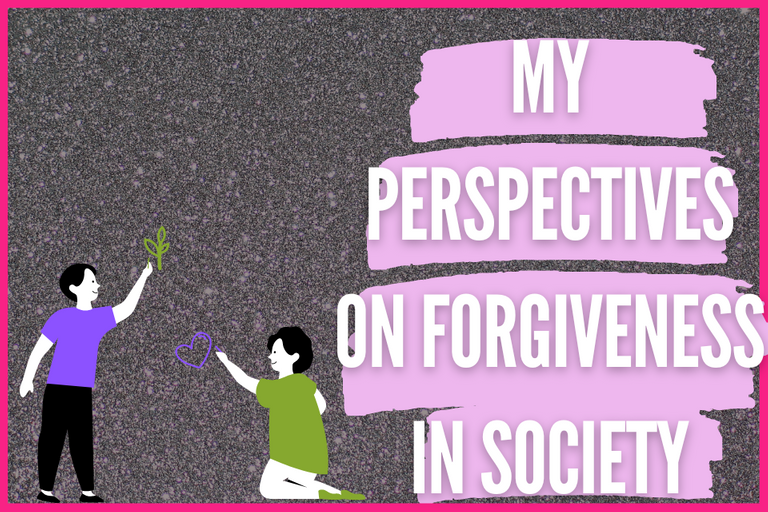 Image designed in Canva
In the last few days I have been feeling very tired, today in particular I have not wanted to get out of bed, I am writing from here, I look at myself in the mirror and I look like a dull being with dark circles under my eyes and bad mood. A few months ago I used to be productive, I had my day planned, I even did physical exercise. But now lately I feel like I'm regressing, I don't really understand what's going on with me and the whole world. I must say I'm not sad or happy, just a bit confused by all the chaos that has been generated in my mind.
The topic of the week to be discussed today, is about forgiveness, regarding that I can say that I am free of grudges with myself and with everyone, I can easily forgive people who have offended me. When you realize that there are so many things to do and you really look around you, you can understand the actions of each person and forgive.
After that, being emotionally well is more important than carrying around the past that has hurt you so much, so you start to give yourself the time and value you deserve. Life has taught me that everyone does what his or her intellectual capacity allows, so you can offer love and forgiveness for that person who has felt the same burdens as you in the past. Forgiving is the most liberating thing there is, since I no longer take other people's opinions too seriously and let everyone do what they have to do, it is incredibly relieving.
However, making the decision to forgive was not easy, I was a rebel who fought with myself, I have never talked to anyone about the traumas and faults I had to overcome, I did it all alone, for a long time I spent drowning in my own mud. Those moments, of course I suffered, I didn't understand why so many bad things happened to me, and although it sounds terrifying to me, just remembering all that I lived through; this suffering that I have had to go through has transcended my being.
Now that I finally feel that I am someone better since I have come to this planet, I have other questions to solve. How to forgive the bankers, the elites? How to forgive those who have treated us as slaves making us believe that we are free? How to forgive those who impose fear and control? Just yesterday I watched a documentary called "Zeitgeist addendum" in which the way money is created is mentioned, I found it disturbing to know that the money we have right now is debt, that is, all the money that exists exceeds the debt to be paid to the banks, it is a clever way to keep us always busy and working until the day we die.
It is hard not to feel disappointment at all the misery and the way we have been conditioned by those who control the economy, food and even our way of thinking, I understand that we are all one and that most of our mistakes are reflected in the people we detest the most. I would like to close my eyes and pretend that nothing is happening, but it is impossible.
Today in my country the hatred of the oligarchy towards the indigenous people has become evident, who have come out to demonstrate because of the high prices of the basic food basket, unemployment and the cost of living in general, that is why I say that we are not bad, it is the circumstances that make people become corrupt and end up hurting others.
Own photograph taken with a Xiaomi Redmi note 9 pro in the city of Latacunga-Ecuador.
The only hope is that someday the whole truth will be known, things will improve, there are more and more of us who care about social welfare. For example, since I am in Hive has made me understand the possibilities that exist for everyone regardless of social status or any denomination, the only valid thing is your skills, for now we must continue to fight tooth and nail, even if things are not on our side. Learn to play and be an excellent player in this game of life.
Forgiveness is something that makes us better, it allows us to love completely. If someone does not hurt, it is better to be patient, things always happen for us to evolve, maybe that person came to play the role of the bad guy and you the good guy, but we are all learning, and sometimes we have also been bad. The important thing is not to fall into the role of victim and build better opportunities. If you made it this far in your reading, let me know if you share or not my ideas, I am very grateful for your time, I will see you again in the next opportunity.
¡THANKS FOR VISITING MY BLOG!



Baneer hecho en Canva | Baneer made in Canva
---
---