Basic Makeup To Go Out [ENG-ESP]
Saludos comunidad Hive
---
Hace unos meses entre al mundo del maquillaje, todavía no se muchas cosas, solo se maquillar súper básico, como hacer un delineado, colocar la base, colocar el rímel, muy pocas cosas, y me gustaría ir aprendiendo más cada día.
A few months ago I entered the world of makeup, I still do not know many things, I only know how to do super basic makeup, such as making an eyeliner, placing the base, placing the mascara, very few things, and I would like to learn more every day.
---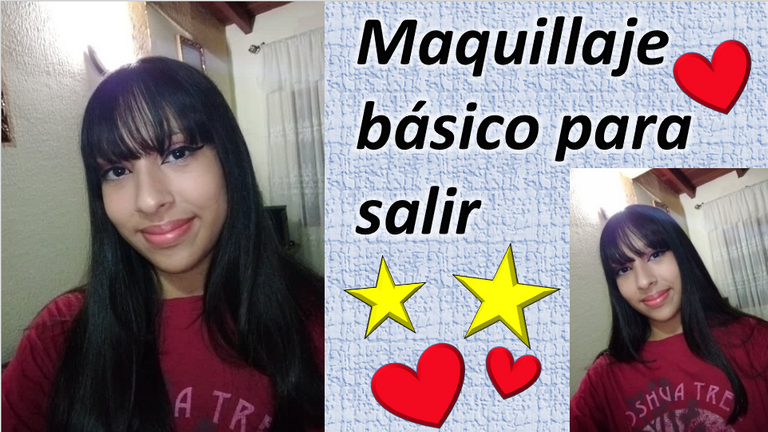 ---
Hoy les quiero mostrar el paso a paso de un maquillaje que me realice, todavía no soy experta haciendo delineados, pero creo que es lo que mejor hago de todo, me he hecho delineados de varios tipos, pero con mucha practica y paciencia. Voy a explicar el paso a paso, lo mejor que pueda, porque es muy nuevo para mí esto JAJAJA.
Today I want to show you the step by step of a makeup that I do, I am not yet an expert doing outlines, but I think that is what I do best of everything, I have done outlines of various types, but with a lot of practice and patience. I'm going to explain the step by step, as best I can, because this is very new to me HAHAHA.
---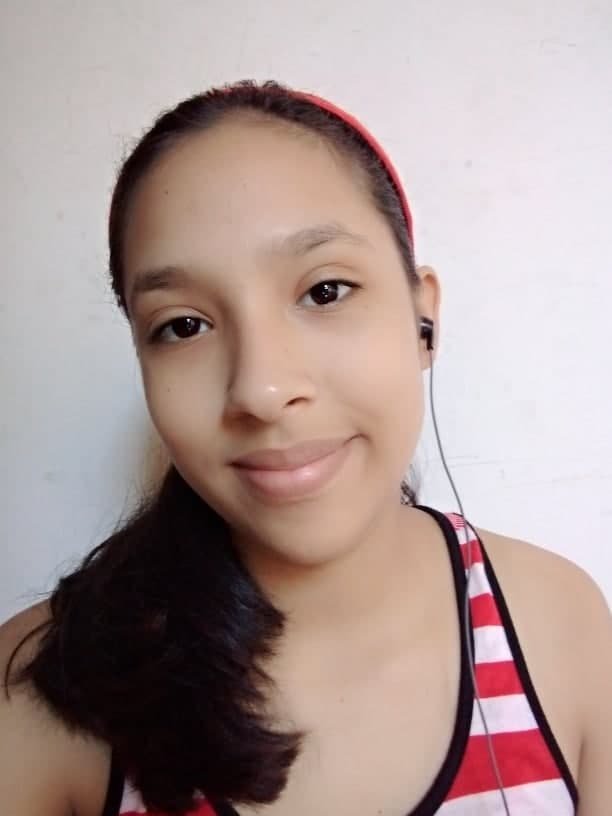 ---
Primero empiezo aplicando el primer por el rostro, para ir preparando la piel y suavizarla.
First I start by applying the primer on the face, to prepare the skin and soften it.
---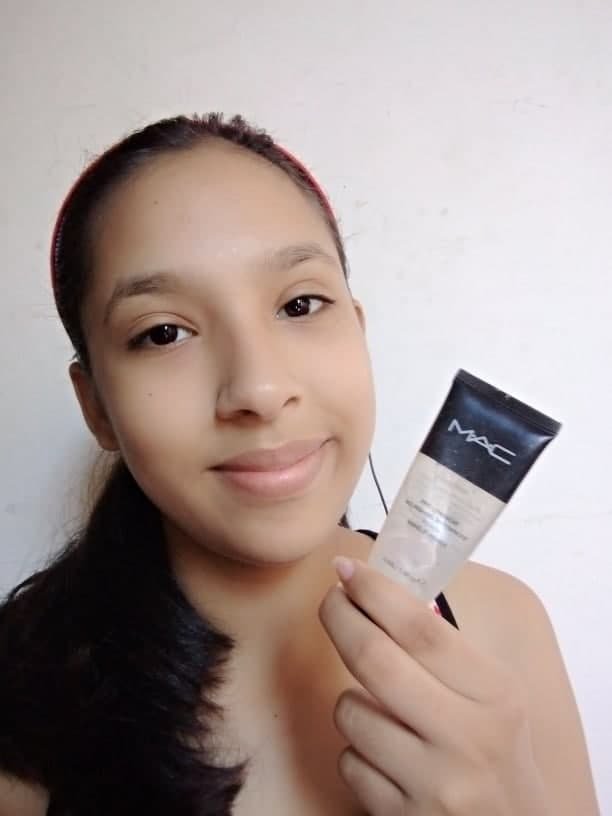 ---
Luego voy aplicar corrector en las ojeras, para disimularlas un poco más, donde con el dedo voy dando toques suaves, hasta que se absorba en la piel. El tono que utilizo de corrector es 02 medio, de la marca Valmy.
Then I am going to apply concealer in the dark circles, to hide them a little more, where with my finger I give soft touches, until it is absorbed into the skin. The shade I use as a concealer is 02 medium, from the Valmy brand.
---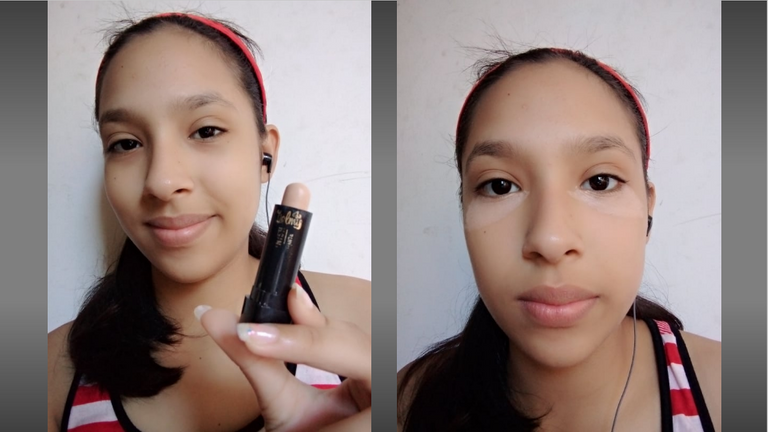 ---
Con un poco de base, voy agarrando de cantidades pequeñas y colocándolas en todo el rostro, y con la esponja voy difuminando, hasta tener que se absorba. Mi base es tono almendra de la marca Valmy.
With a little base, I take small amounts and place them all over the face, and with the sponge I blend, until it is absorbed. My base is almond tone from the Valmy brand.
---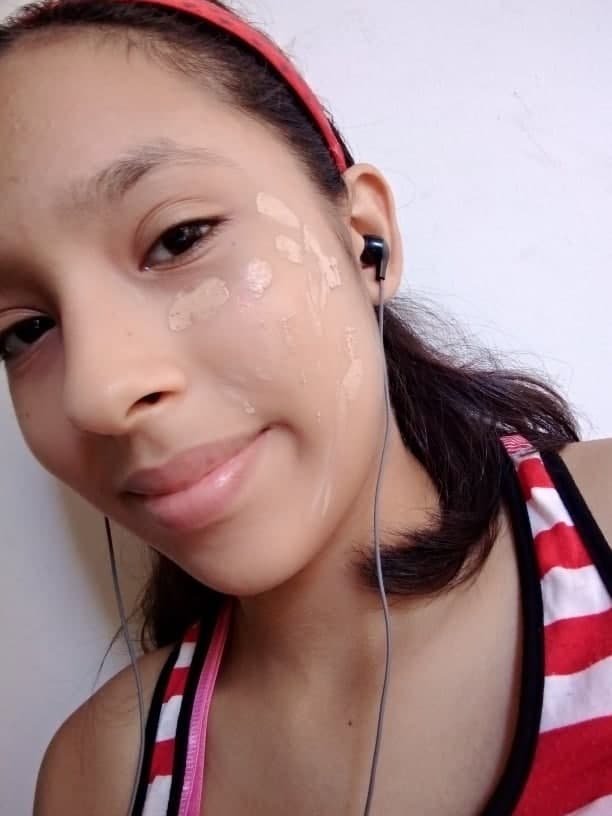 ---
Cuando acabe de difuminar la base con la esponja, agarro un poco de polvo suelto, y con la esponja del polvo voy dando toques por todo el rostro, hasta que la piel quede más suave y se vea natural.
When I finish blending the foundation with the sponge, I grab a little loose powder, and with the powder sponge I dab all over the face, until the skin is smoother and looks natural.
---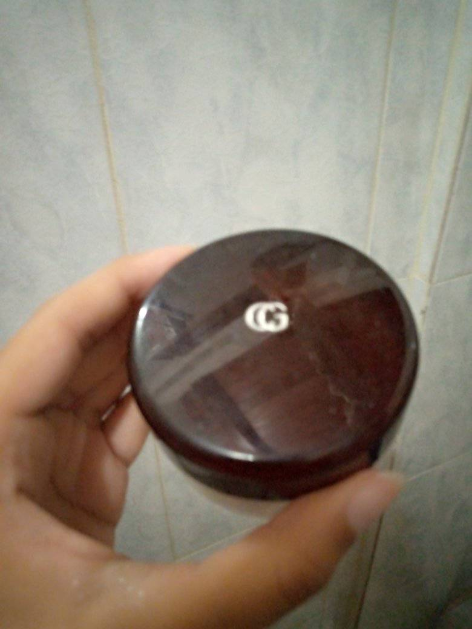 ---
Con un poco de contorno se aplica en la nariz, luego se difumina, y con iluminador se aplica un poco en la nariz para resaltar e iluminar la nariz. Mi corrector es tono 06, un poco claro, porque no conseguí un color más oscuro.
With a little contour it is applied to the nose, then it is blurred, and with illuminator it is applied a little to the nose to highlight and illuminate the nose. My concealer is shade 06, a bit light, because I couldn't get a darker color.
---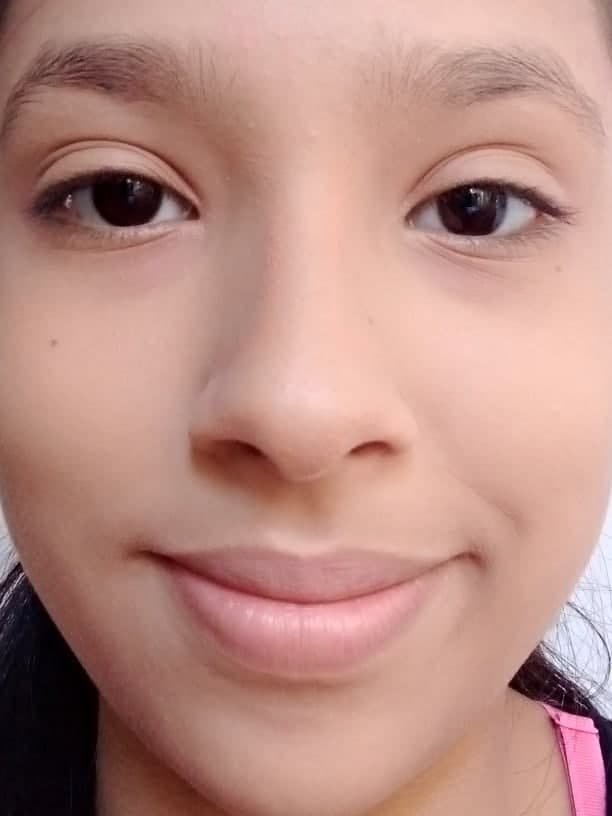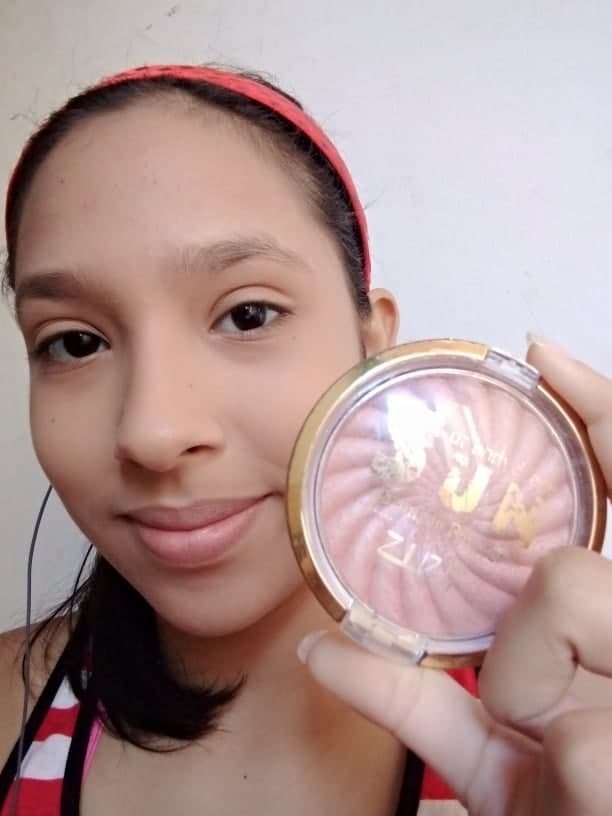 ---
Ahora vamos a pasar a los ojos, en la paleta de sombras, agarre el color rojo, con los dedos, y me lo aplique en ojo, poco a poco, luego con una brochita fui difuminando, luego agarre un color escarcha y lo aplique en ojo, para que resaltara más. (No sé hacerlo bien, por si ven errores, es que fue mi primera vez JAJAJAJA.)
Now we are going to move on to the eyes, in the shadow palette, grab the red color, with my fingers, and apply it to my eye, little by little, then with a brush I was blurring, then I took a frosty color and applied it on eye, to make it stand out more. (I don't know how to do it right, in case you see mistakes, it was my first time HAHAHAHA.)
---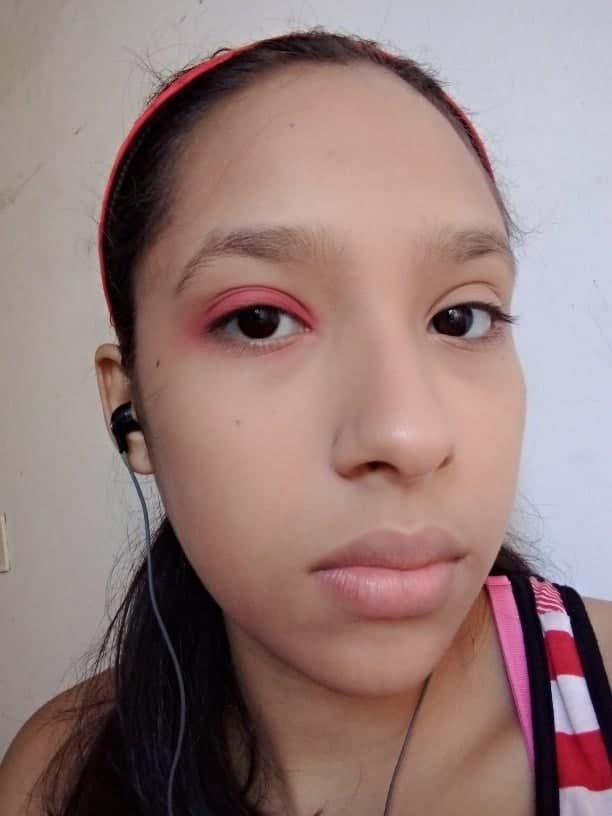 ---
Con un delineador blanco, delineo los bordes internos del ojo, al terminar, con el delineador de pluma, me voy haciendo la forma de un delineado de gato, para después rellenarlo.
With a white eyeliner, I outline the inner edges of the eye, when I finish, with the pen eyeliner, I make the shape of a cat eyeliner, and then fill it in.
---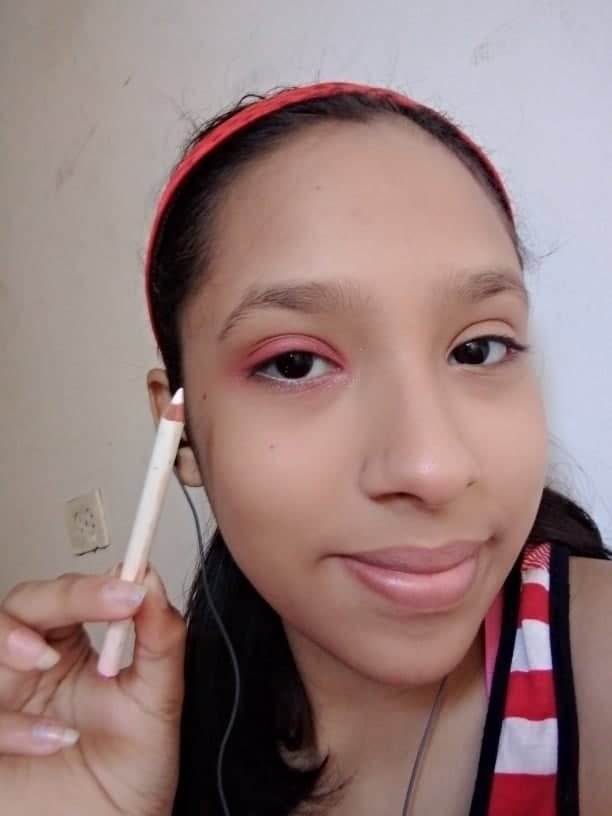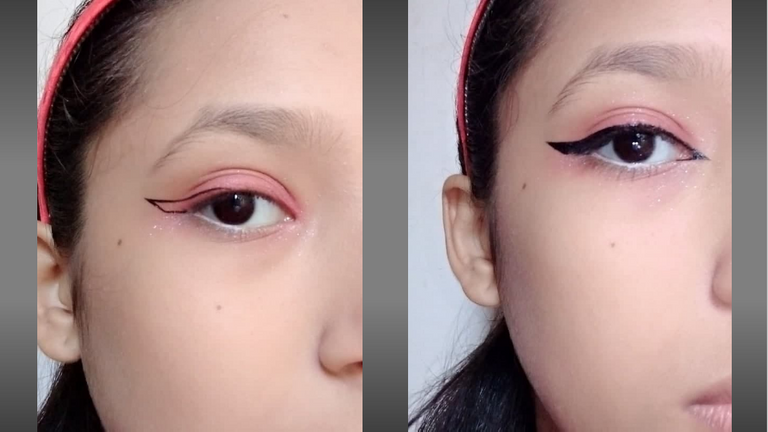 ---
Para terminar el ojo, coloco rímel en las pestañas, y un poco en las pestañas inferiores.
To finish the eye, I apply mascara on the lashes, and a little on the lower lashes.
---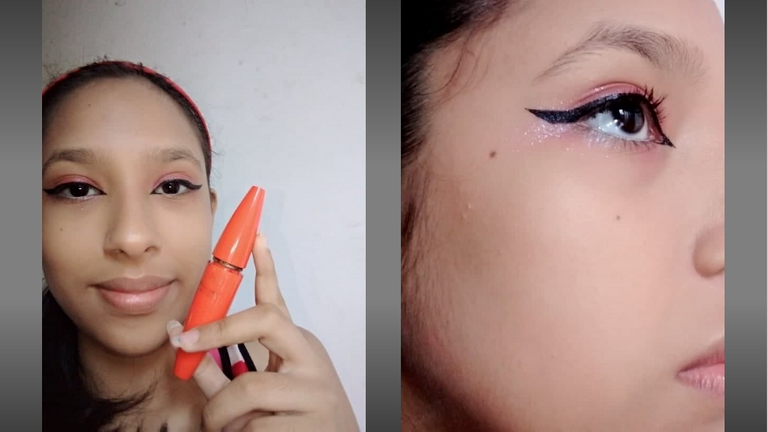 ---
Luego hice todos los pasos en el otro ojo, y así es como quedan.
Then I did all the steps in the other eye, and this is how they look.
---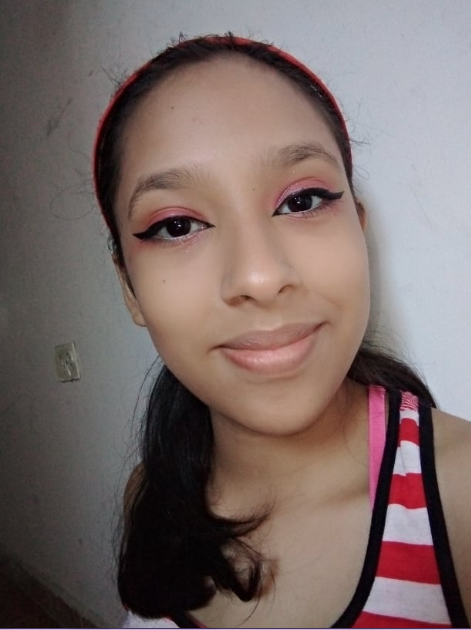 ---
Me aplique en las mejillas rubor rosado con una brocha.
I brush pink blush on my cheeks.
---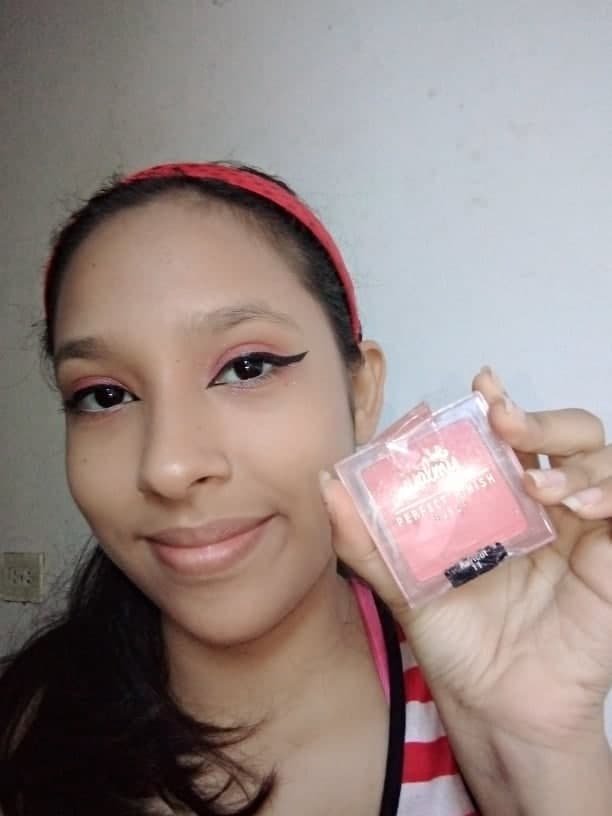 ---
Y, por último, me eche en los labios un labial rojo.
And finally, I put a red lipstick on my lips.
---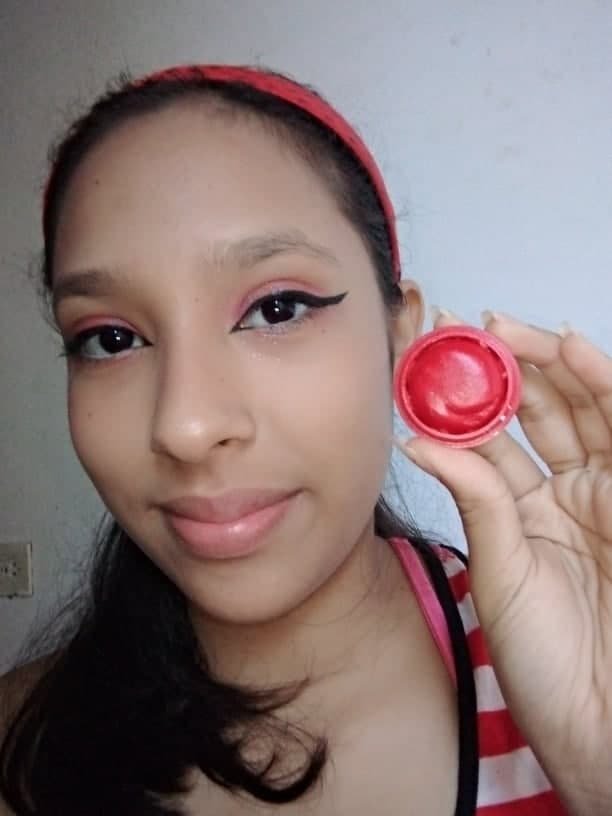 ---
Y listo, así es como quedo el maquillaje, la verdad siento que lo hice muy bien para ser la primera vez que hago este tipo de maquillaje, me salí un poco más del área de confianza JAJAJAJA. No me hice las cejas, porque todavía no las sé hacer.
And voila, that's how the makeup looks, the truth is I feel like I did it very well to be the first time I've done this type of makeup, I got a little more out of the area of trust HAHAHAHA. I didn't get my eyebrows done, because I don't know how to do them yet.
---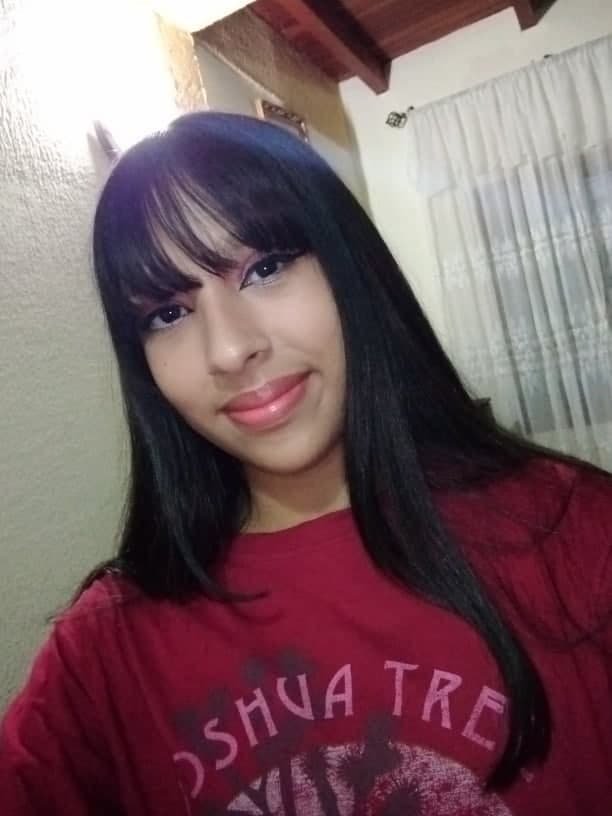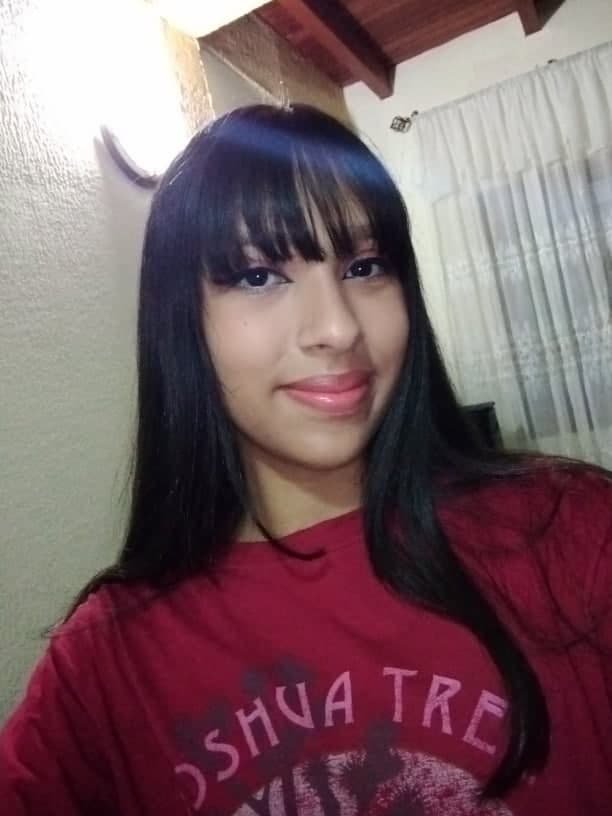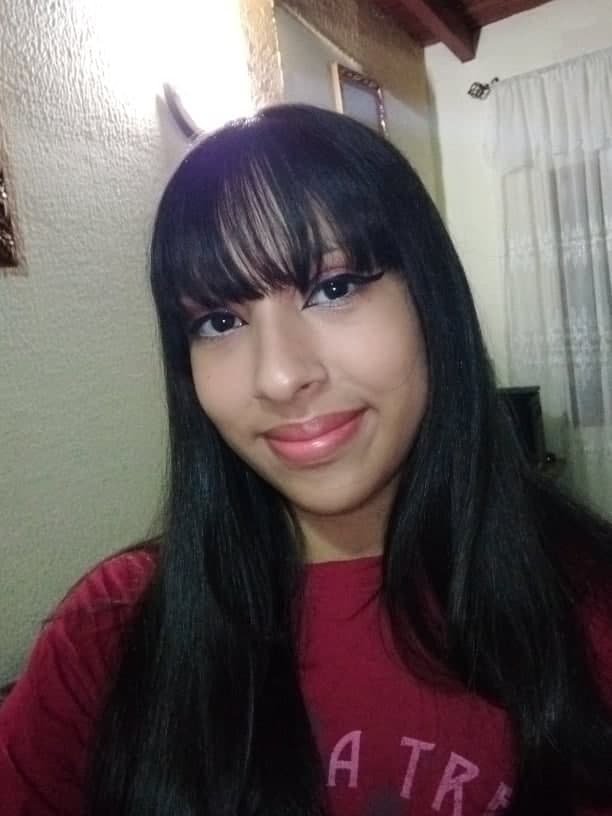 ---
Muchas gracias por leer este post, espero te haya gustado el maquillaje, acepto consejos para ir mejorando. ¡Que tengan un lindo día!
Thank you very much for reading this post, I hope you liked makeup, I accept tips to improve. Have a nice day!
---

---
---