Splinterlands Weekly Battle Challenge - Elven Cutthroat (Sneak vs Llama-Kron)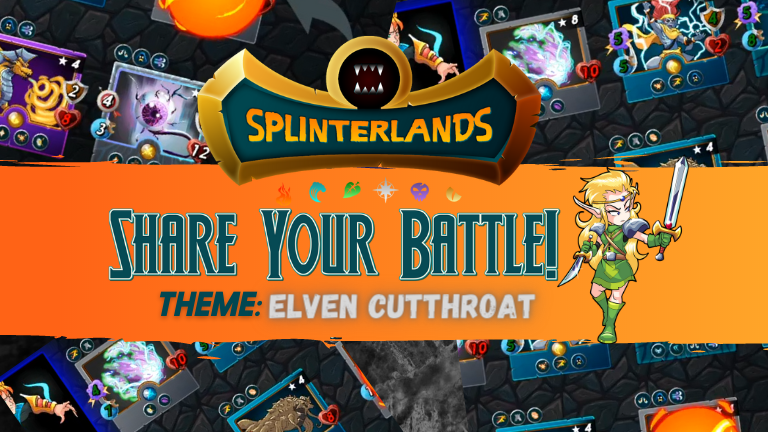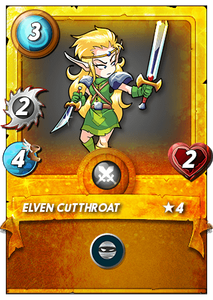 INITIAL THOUGHTS
The theme for this week's battle challenge is Elven Cutthroat, the 3-Mana Melee Monster with the ability 'Sneak'.
One of my favorite lineups to use is the Life Splinter using Sneak Monsters and that's why Elven Cutthroat is a card I often use. She is not a card which shines on her own and is best used in conjunction with other Sneak Monsters. In my case, she is often played alongside Silvershield Assassin and Feral Spirit. Being a Neutral monster, this card can be used with all the other Splinters.
---
THE BATTLE
The BATTLE I will feature had the following ruleset:
League: Silver
Mana Cap: 18
Active Splinters: Water, Earth, Death
Heavy Hitters: All Monsters have the Knock Out ability.
Equalizer: The initial Health of all Monsters is equal to that of the Monster on either team with the highest base Health.
---
TEAM COMPOSITION
From the information given on the pre-battle screen, it was shown that my opponent was spamming the usual Llama-Kron combo. One way to counter this combo is by using Sneak Monsters. Usually Kron is placed on the last position so that he can take advantage of Last Stand. With the active Splinters, I decided that the best way one to use was Water. In a lot of cases, Llama-Kron will still win vs 'Sneak' monsters since those aren't usually very tanky and Kron's healing will outpace the damage once one Sneak monster is killed. However in this battle, the rule Equalizer was a game-changer.
The following is the line-up that I used for this battle: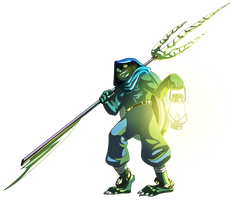 Bortus
Bortus is my Summoner. He debuffs the damage done by Magic attacks by one. Every little bit helps when facing Kron.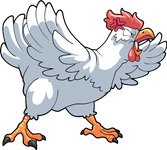 Furious Chicken
Furious Chicken is our tank. It will also prevent the killing of the enemy's frontline, which means hopefully 'Last Stand' won't activate on Kronn.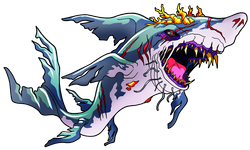 Demented Shark
Demented Shark's 'Inspire' will boost the damage done by my Sneak Monsters. It will also act as a second tank in case Furious Chicken falls.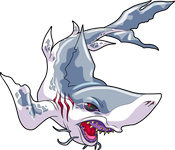 Sabre Shark
Sabre Shark is the first of our Sneak attackers.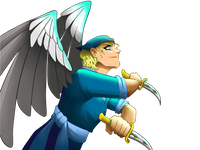 Pelacor Bandit
Pelacor Bandit is the second of our Sneak attackers.

Elven Cutthroat
Completing the trio of Sneak Monsters is Elven Cutthroat. If things go to plan, they will fend off Kron before he manages to be buffed from Last Stand.
---
ENEMY TEAM REVEAL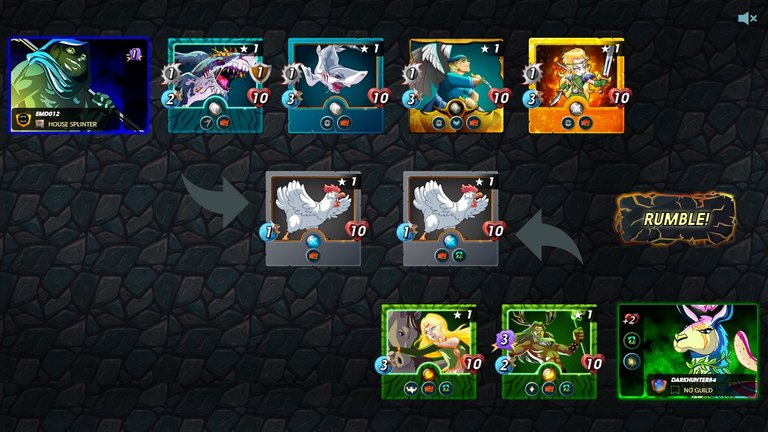 As expected, my opponent used their Llama-Kron combo. They decided to sandwich Kron with Furious Chicken in front and Epona at the back. They were hoping that I would be dealing damage to both frontline and backline at the same time, but unfortunately for them, I loaded up on the Sneak monsters for this battle.
BATTLE PROPER
HIGHLIGHTS

Their Kron starts chipping at my Furious chicken while my sneaky trio attacks their Epona.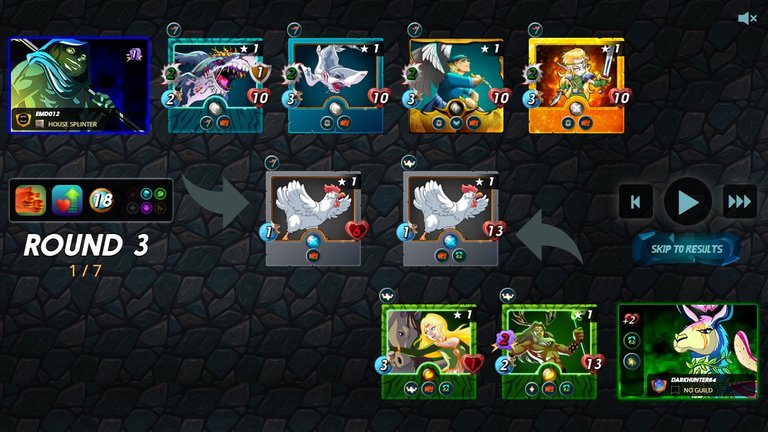 Epona falls on Round 3.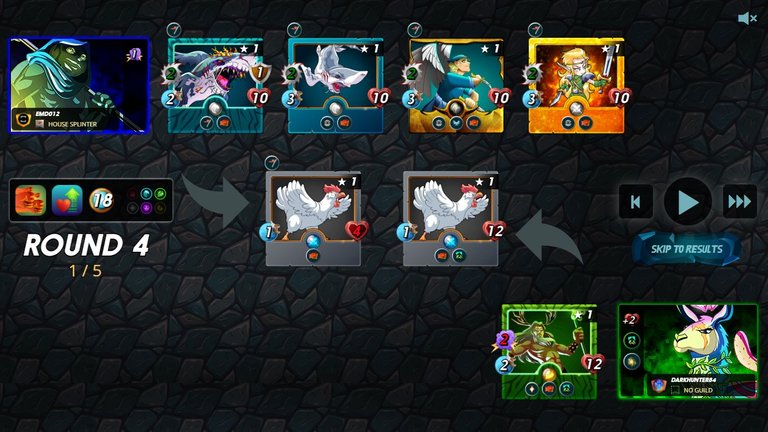 Even though I attack Kron for 6 damage, he can heal himself for 4. So I deal a total of 2 damage per round.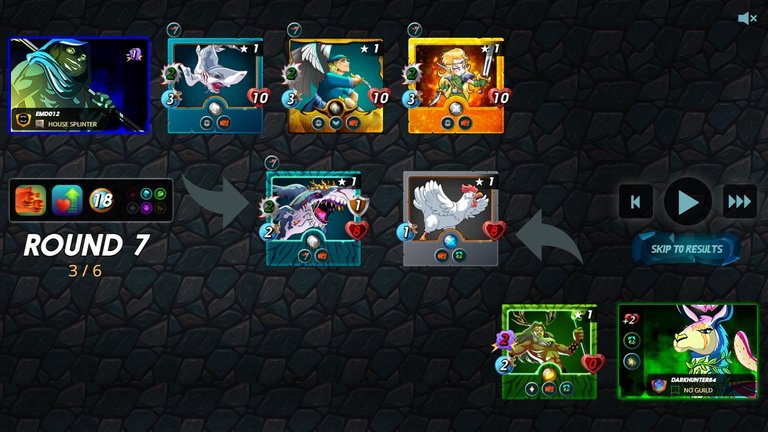 At Round 7, we manage to defeat the Kron before he can heal himself.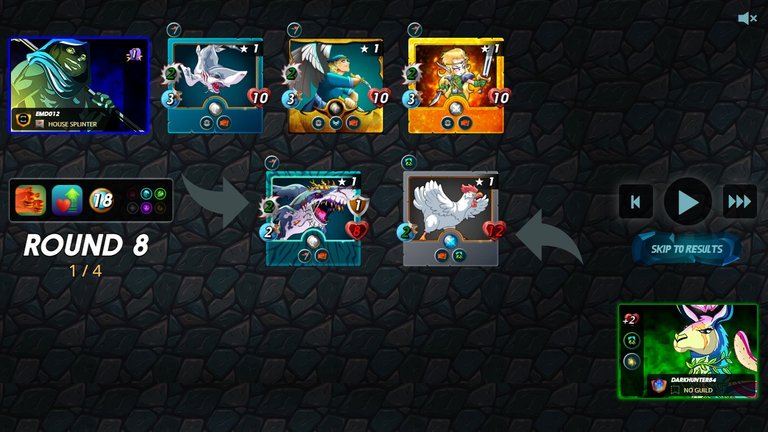 The Furious Chicken's Last Stand. Victory is ours.
FINAL THOUGHTS
Elven Cutthroat is a staple of sneak lineups, especially for low mana battles. One thing I'm interested in doing is pairing her up with Uraeus, another 3-Mana, Neutral, Sneak Monster from the new reward cards.
THANK YOU FOR READING MY POST
If you're interested in playing Splinterlands, here's my referral link.
---
---