Review of LeoFinance Vision Statement
LeoFinance had published an updated "Vision Statement" a day ago, since it was not a corporate style vision statement, it was presented as "OUR VISION", which means this is for the masses not for any single entity, person, or organization.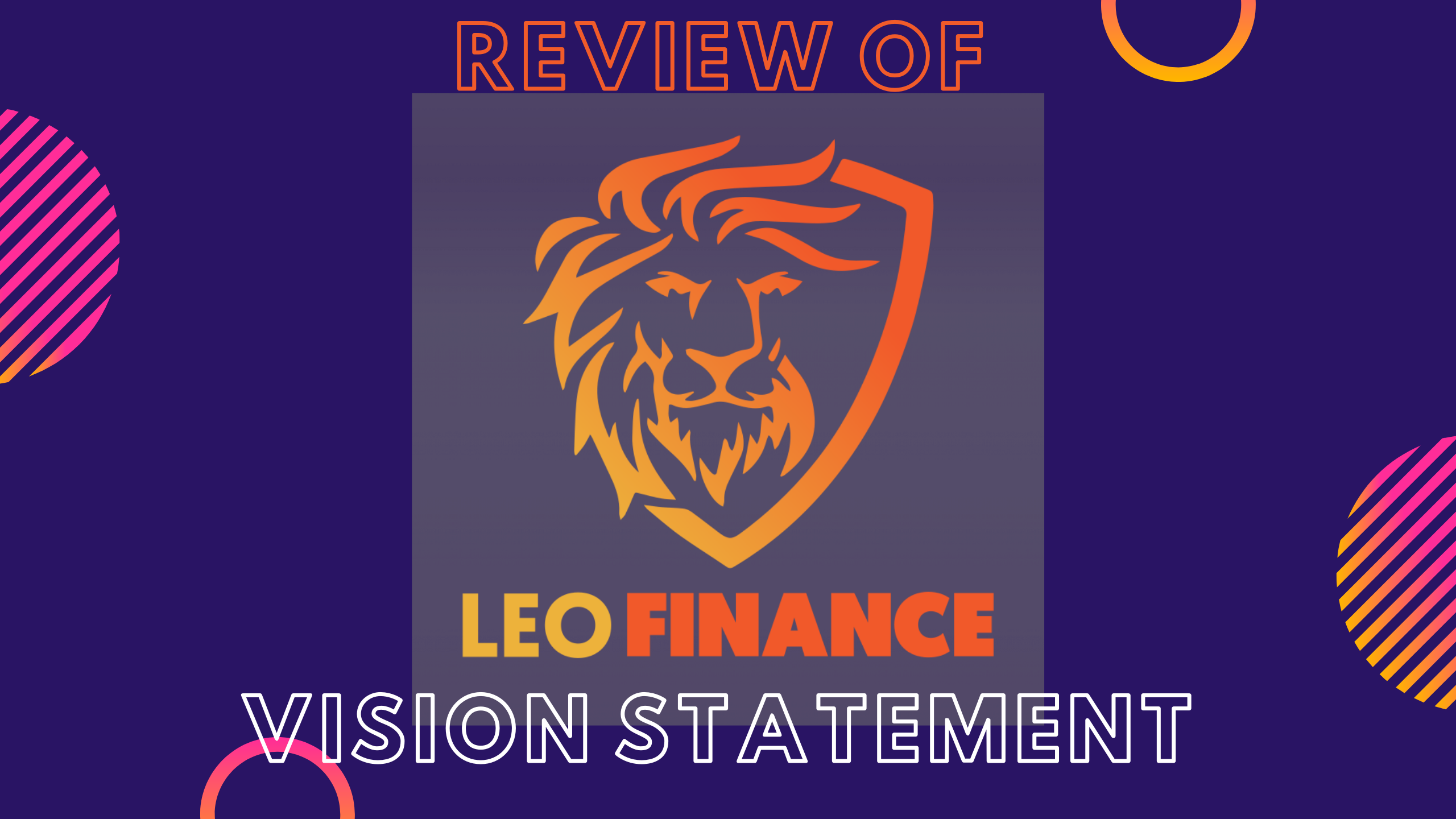 The purpose of this improved version of the vision statement is to inform the community about the purpose of LeoFinance and remind the community of its mission as stated in that post.
LeoFinance is a Web3 Ecosystem and our mission is democratizing financial knowledge and access to opportunities by building on Web3.
The Clarity of The Mission
It is obvious that tokenized society is market-dependent, and maintaining the prices of tokens is somewhat a fool's errand, so it was clarified firsthand that they are determined to achieve what they are focusing on, which certainly is the mission of LeoFinance.
LeoFinance was born in July 2019 as a tokenized social media platform based on Hive blockchain focusing on providing a platform to its userbase to gather and share financial knowledge, and also engage in Web 3.0 based opportunities in the form of various applications and web frontends. Thus, the whole purpose of LeoFinance is to expand the Web 3.0 ecosystem toward its communities and extend it to more masses with collective efforts brought forward by the community.
Web 3.0 and LeoFinance's OUR VISION
LeoFinance is using the word "OUR" in a broader sense of ownership of the project(s) and its integrity towards the participating community. It implies that the governance of LeoFinance must be democratic and autonomous.

The vision statement makes LeoFinance an epitome of Web 3.0, it seems that LeoFinance is creating autonomy in hands of the community, unlike sovereign-style social media platforms where they fill their own pockets and drive the masses on the behest of their rules and regulations.
Why Not 2.0
Time is money, indeed it is, and if a user spends time and adds content to a social media platform, would they get any incentive for that? With the emergence of Web 2.0, some companies adopted incentivizing their userbase with advertisements revenue share, which required stringent policies to follow, and users to develop content focusing on keywords to bring the audience to their content to generate ad revenue. But not everyone was lucky enough to succeed due to the heavy requirements of subscribers and watch time. This revenue-sharing method doomed many such companies to bankruptcy or business shutdown. The reason was that those companies could not generate enough revenues from advertisements, and were paying heavy funds to their expensive backends.
The team of LeoFinance keenly observed the flaw in Web 2.0 and firmly believed in Web 3.0's doctrine as a solution for incentivizing the masses for their time and content as this is what LeoFinance's mission statement says.
Democratize Financial Knowledge and Opportunities for Our Users.
Network Effects and the Impact of Distributed Ownership
Layer 0 Means Community
Now, this is very interesting, normally the 'layer 0' is a very extensive technical term in blockchain terminology, it is basically a foundation layer that provides different protocols to run layer 1 chains over it, in simple words, it interconnects various chains and layers and provides a consensus-driven communication base for them.
LeoFinance's vision statement describes its community as a 'Layer 0", as you know what layer 0 does, so does the community. LeoFinance's base is its community because it is the consensus mechanism, anything it builds or uses is for the community, from the community, and by the community. This allows every community member the ownership of LeoFinance and its decentralized economy.
Is LeoFinance More Than Just a Social Media Platform?
LeoFinance had emerged as a Web 3.0 social media platform on the Hive blockchain, which seems attunable to its vision statement since the Hive blockchain operates through various decentralized nodes and community-driven P2P protocols, which makes it a blockchain-based social platform for its community.
It is evident that LeoFinance.io is the frontend driver of LeoFinance's vision, which has provided its community with a Web 3.0 based financial institute built on a purely decentralized Hive blockchain, which means it is not just a social platform but combines a broad network of various other Web 3.0 applications.
These applications provide an opportunity to learn about blockchain, finance, invest in cryptocurrency, yield profits by HODLing, participate in voting, earn rewards by posting unique content, and become an owner of the platform.
Conclusion
After reviewing the vision statement of LeoFinance, it is obvious that the vision is aligned with LeoFinance's goals as proposed by the community members, and, whereas the proposals are based on community voting and consensus validation protocols, which makes it decentralized in all aspects.

Author: emaxisonline
Image: Poster made with Canva.com and Logo taken from LeoFinance.io
Posted Using LeoFinance Beta
---
---