(ESP / ENG) Cultivando chiles en mi huerto productivo / Growing chili peppers in my productive vegetable garden.
Saludos queridos amigos de la comunidad. Hoy les comparto otro interesante trabajo sobre mi "huerto productivo" específicamente sobre mi pequeño cultivo de "chiles".
Greetings dear friends of the community. Today I share with you another interesting work about my "productive garden" specifically about my small crop of "chiles".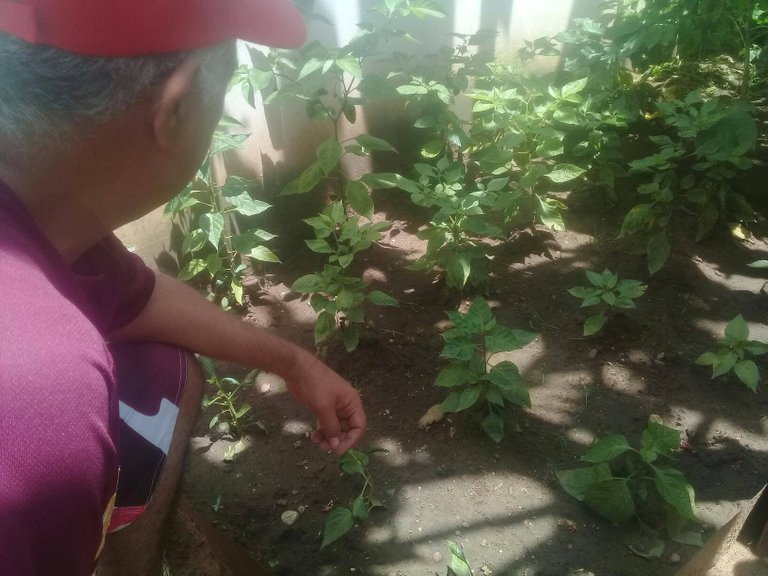 Mi país, Venezuela, solía ser un país que dependía únicamente del petróleo, sin embargo, como resultado de la crisis económica y el severo bloqueo económico que enfrenta la nación, el gobierno se ha visto obligado a dejar de depender del petróleo, y ahora se dedica a producir tierra para abastecer de alimentos básicos a la población. Esta situación ha llevado a muchas familias venezolanas a trabajar la tierra y producir las pequeñas parcelas que conforman nuestros huertos. Esto, en parte, nos ha permitido cultivar nuestros propios alimentos. En este sentido, hoy comparto con ustedes mi pequeño cultivo de "chiles" de once metros cuadrados que tengo en el huerto productivo de mi casa.
My country, Venezuela, used to be a country that depended solely on oil, however, as a result of the economic crisis and the severe economic blockade that the nation is facing, the government has been forced to no longer depend on oil, but is now dedicated to producing land to supply basic foodstuffs to the population. This situation has led many Venezuelan families to work the land and produce the small plots of land that make up our gardens. This in part has allowed us to grow our own food. In this sense, today I share with you my small cultivation of "chiles" of eleven square meters that I have in the productive garden of my house.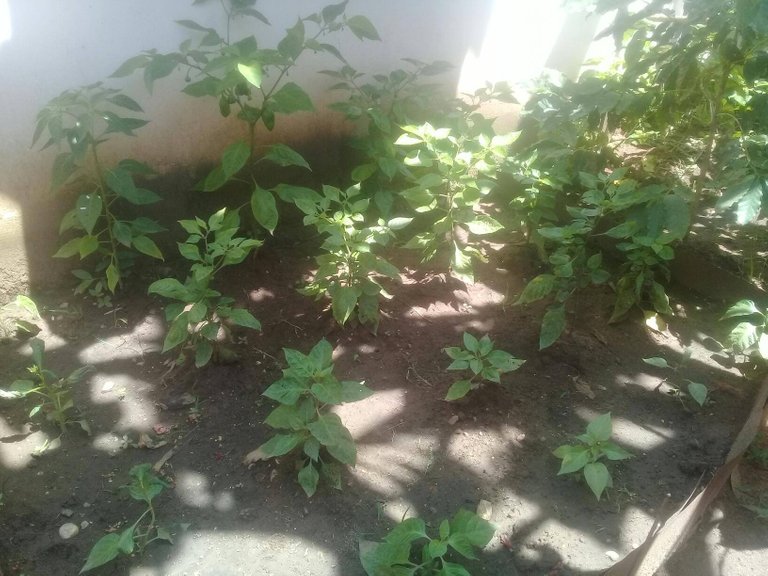 El ají dulce es una variedad de pimiento que da un sabor importante a la comida. En mi país Venezuela hay muchos platos típicos a los que se les agrega una cantidad importante de ají para complacer al paladar venezolano. Este pimiento a pesar de ser importante en los hogares venezolanos siguen siendo caros en el mercado, por esta razón, nos vemos obligados a cultivarlos en nuestros huertos productivos para ahorrar costos en la economía familiar. En mi huerto trato en lo posible de darle un lugar al cultivo del ají, el cual requiere de mantenimiento para que la maleza no interfiera en su crecimiento y producción.
The sweet chili bell pepper is a variety of bell pepper that gives an important flavor to food. In my country Venezuela there are many typical dishes that are added a significant amount of chili bell pepper in order to please the Venezuelan palate. This bell pepper despite being important in Venezuelan homes are still expensive in the market, for this reason, we are forced to grow them in our productive gardens to save cost in the family finances. In my garden I try as much as possible to give a place to the cultivation of chili peppers, which requires maintenance so that weeds do not interfere with their growth and production.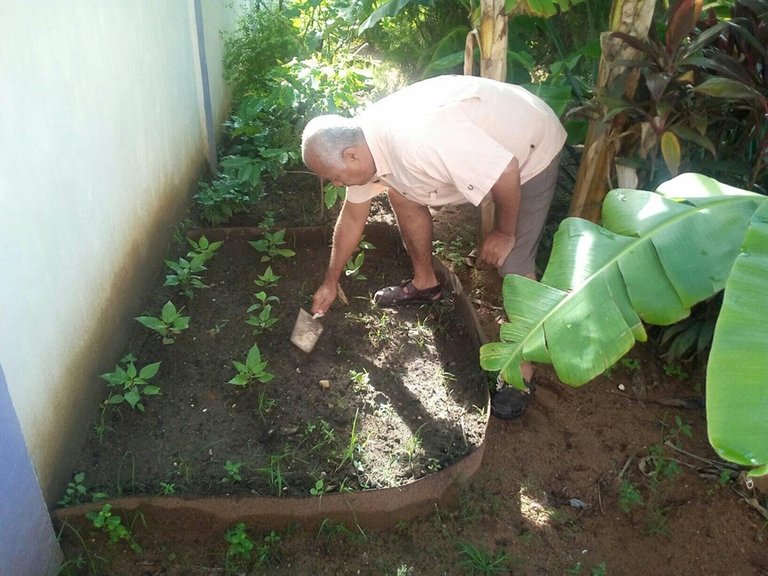 El tiempo mínimo estimado para cosechar chiles es de 110 días. El tiempo que tarda una semilla en germinar siempre dependerá de la especie de planta y de las condiciones de clima y humedad. En el caso particular de mi huerto, el suelo no es muy fértil, sin embargo, con los respectivos abonos y su mantenimiento, he podido obtener una buena cosecha para el consumo interno de la familia.
The minimum estimated time for harvesting chili peppers is 110 days. The time it takes for a seed to germinate will always depend on the species of plant and the climate and humidity conditions. In the particular case of my garden, the soil is not very fertile, however, with the respective fertilizers and its maintenance, I have been able to obtain a good harvest for the internal consumption of the family.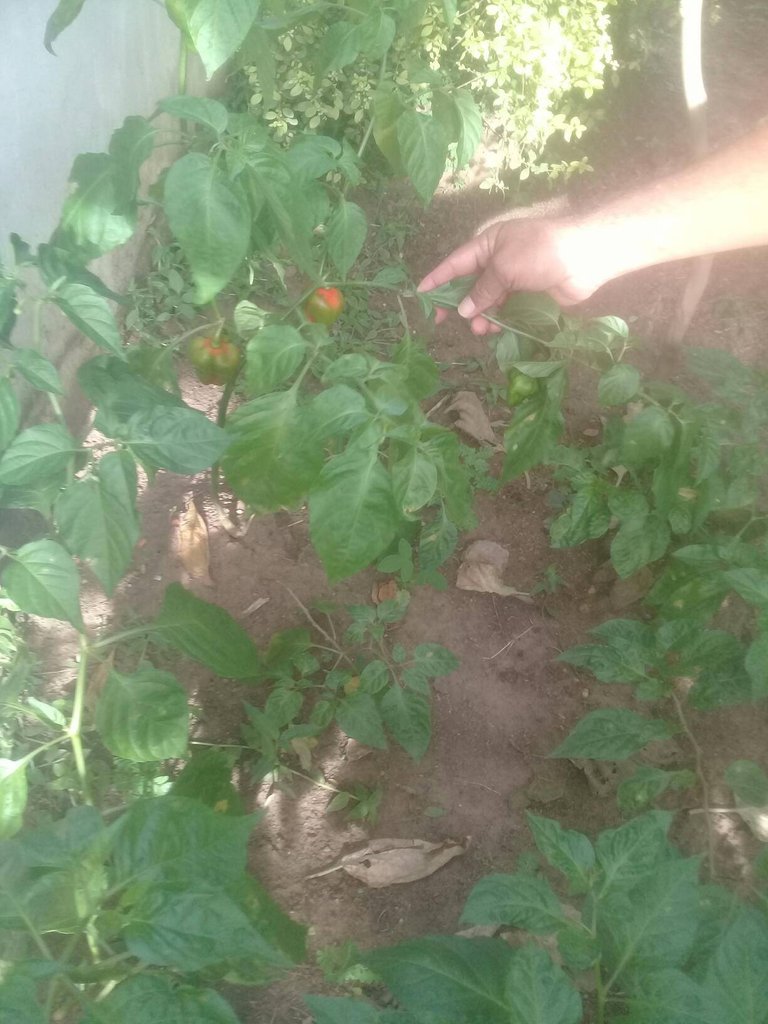 A la planta de chile le gusta el agua, sobre todo en la época de floración y desarrollo de los frutos, sin embargo, no debe excederse con el agua. En este sentido, el cuidado de la planta de chile es muy importante para conseguir el fruto esperado.
The chili bell pepper plant likes water, especially at the time of flowering and fruit development, however, it should not overdo it with water. In this sense, the care of the chili plant is very important to achieve the expected fruit.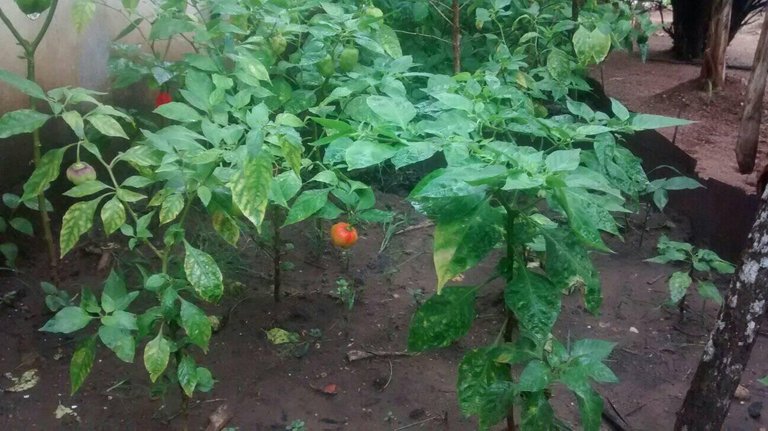 Cuando la planta de chile comienza a mostrar sus primeros frutos, esto nos motiva y anima a cuidar más la planta y hacer su respectivo mantenimiento. Cultivar nuestros propios alimentos nos ayuda a desarrollar un sentido de pertenencia y una buena óptica para una mejor calidad de vida.
When the chili bell pepper plant begins to show its first fruits, this motivates and encourages us to take more care of the plant and do its respective maintenance. Growing our own food helps us to develop a sense of belonging and good optics for a better quality of life.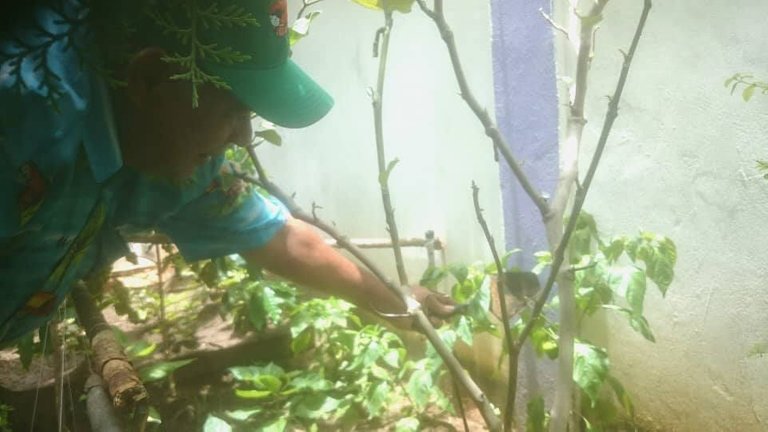 Gracias a todos los amigos de la comunidad por leer y dar sus comentarios constructivos. Felices días a todos.
Thanks to all the friends of the community for reading and giving their constructive comments. Happy days to all of you.

---
---