My Story with Autism: Collection about Amelie and our experience [ENG-ESP]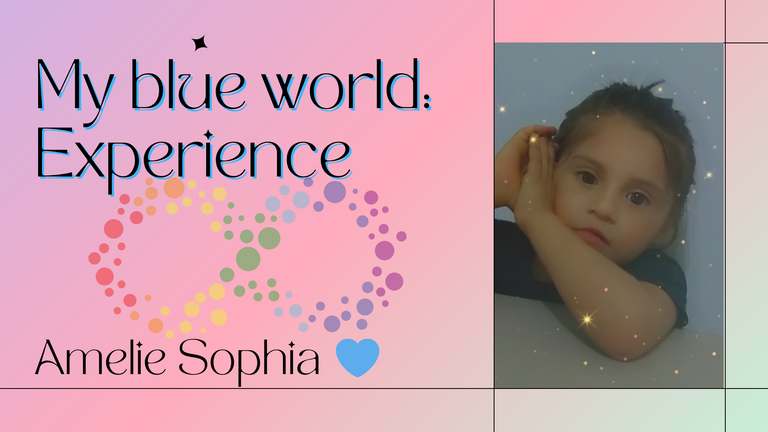 Imagen editada en canva
¡Saludos queridos lectores!
Esta colección tiene como finalidad, agrupar todas las publicaciones que he realizado en mi blog, sobre el Autismo y la experiencia adquirida y vivida con nuestra pequeña Amelie, digo nuestra, ya que es una vivencia no solo mía, si no familiar.
Esperando con esta colección poder ayudar a otros que quizás viven una situación similar y no cuentan con la experiencia o aquellos que puedan tener dudas sobre lo que es el autismo y quizás estén interesados en saber como se vive un mundo azul.
Como ya les he dicho antes, Amelie es mi segunda hija, ella es autista y nuestra familia está orgullosa de tenerla y que sea parte de nuestras vidas.
Nadie dijo que seria fácil este caminar, pero tampoco es difícil, solo hay que estar dotado con algo extra de paciencia, mucho amor y comprensión, sabiendo que el autismo no es una enfermedad, sino una condición que les hace diferentes.
Otra objetivo, es poder archivar todos sus avances, los cuales continuaré publicando y serán anexados a esta colección.
Greetings dear readers!
The purpose of this collection is to group all the publications that I have published in my blog, about Autism and the experience acquired and lived with our little Amelie, I say our, because it is not only my experience, but a family experience.
Hoping with this collection to be able to help others who perhaps live a similar situation and do not have the experience or those who may have doubts about what autism is and perhaps are interested in knowing how to live a blue world.
As I have told you before, Amelie is my second daughter, she is autistic and our family is proud to have her and to have her as a part of our lives.
Nobody said that this journey would be easy, but it is not difficult either, you just have to be gifted with some extra patience, lots of love and understanding, knowing that autism is not a disease, but a condition that makes them different.
Another goal is to be able to archive all their progress, which I will continue to publish and will be appended to this collection.
´´Si tuviera que elegir, te elegiría una y mil veces´´
''If I had to choose, I would choose you a thousand times''

---
---