HIVE Open Mic 114 | Aunque sea poco - cover by @eliigonzalez
---
Hi friends of Hive Open Mic in its 114th week.
It is always a pleasure to return to this space in which as musicians we are invited to connect with our creativity week after week with a different theme. For this week, with the theme "in a few words" came to my mind the theme of the musical group Venezonala, Voz Veis which is called Aunque sea poco.
Through the theme is expressed in my opinion the simplicity of love in which without luxuries, with small genuine acts and with few words a lot is demonstrated, although of course that sentimentality must be accompanied by acts that give some foundation to what is said.
Love is complex and much has been written and sung about it, I have declared myself on several occasions fans of love because although it seems very complex it is always worth loving with many or few words.
I have enjoyed this song very much, in the company of my husband @wbrandt who is in charge of the musicalization of almost all my presentations.
I hope you enjoy the song.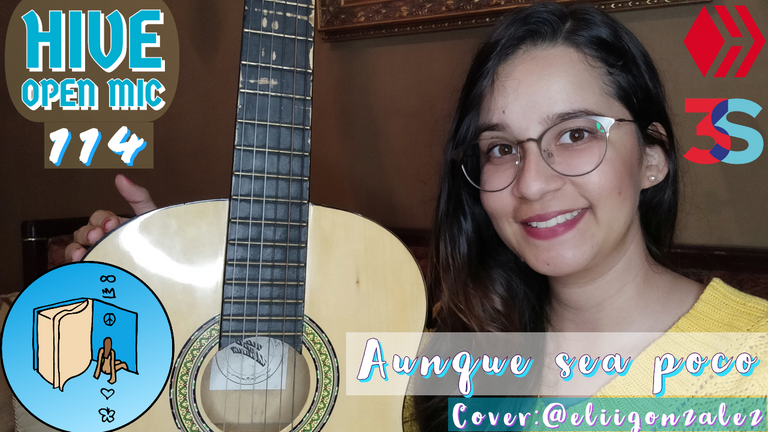 Hola amigos de Hive Open Mic en su semana 114
Siempre es grato volver a este espacio en el que como músicos se nos invita a conectarnos con nuestra creatividad semana trás semana con una temática distinta. Para esta semana, se con la temática "en pocas palabras" vino a mi mente el tema de la agrupación musical Venezonala, Voz Veis que lleva por nombre Aunque sea poco.
A través del tema se expresa en mi opinión la sencillez del amor en el que sin lujos, con pequeños actos genuinos y con pocas palabras se demuestra mucho, aunque por supuesto ese sentimentalismo debe ser acompañado de actos que le den alguna manera fundamento lo que se dice.
El amor es complejo y mucho se ha escrito y cantado sombre ello, me he declarado en varias ocasiones fans del amor porque aunque muy complejo que parezca siempre vale la pena amar con muchas o en pocas palabras.
Este tema lo he disfrutado muchísimo, en compañía de mi esposo @wbrandt quien es el encargado de la musicalización de casi todas mis presentaciones.
Deseo que disfruten del tema.

Aunque sea poco
Voz Veis
Sabes que para darte tengo poco
Quisiera que fuese el mundo aunque ni modo
Pero puedo llenarte los oídos de todas mis canciones
No son mucho, las hice a punta de ilusiones
Y si tu corazón no ve mi oferta
Te ruego, no veas indiferencia
Paciencia que mi amor es luz de luna
Suavecito pero alumbra los rincones, donde tienes el alma oscura
Si me quieres dímelo, dímelo
Si mis palabras dicen poco (si mis palabras dicen poco)
Entonces ven pa' demostrarte que no es todo
Que tiendo el alma en un ropero
Para ponérmela de gala si te veo
No tengo nada que guardarme
La vida empaqué pa' regalarte
Si no vienes a rescatarme
Mi corazón pongo en remate
Sabes bien que yo te adoro
Recibe esto aunque sea poco
No tengo para darte más que un cuento
Que arrulle cada noche tu silencio
Es que aunque nada pese en mi bolsillo (lanzo flechas de cariño)
Y si acierto quizás nunca me des olvido
Pero el tiempo pasa y me doy cuenta
Que el mundo sin ti no da la vuelta
Tus besos serían agüita de río que refresca el amor mío
Sé que entiendes cuánto me duele no tenerte (dímelo, dímelo)
Si mis palabras dicen poco
Entonces ven pa' demostrarte que no es todo
Que tiendo el alma en un ropero
Para ponérmela de gala si te veo
No tengo nada que guardarme
La vida empaqué pa' regalarte
Si no vienes a rescatarme
Mi corazón pongo en remate
Sabes bien que yo te adoro
Recibe esto aunque sea poco
Si mis palabras dicen poco
Entonces ven pa' demostrarte que no es todo
Que tiendo el alma en un ropero
Para ponérmela de gala si te veo
No tengo nada que guardarme
La vida empaqué pa' regalarte
Si no vienes a rescatarme
Mi corazón pongo en remate
Sabes bien que yo te adoro
Recibe esto aunque sea poco
You know that I have little to give you
I wish it was the world but no way
But I can fill your ears with all my songs
They're not much, I made them out of illusions
And if your heart doesn't see my offer
I beg you, don't see indifference
Patience that my love is moonlight
Soft but light up the corners, where you have a dark soul
If you love me tell me, tell me, tell me
If my words say little (if my words say little)
Then come to show you that it's not all
That I've got my soul in a closet
To wear it in a gala if I see you
I've got nothing to keep
I packed my life to give to you
If you don't come to my rescue
My heart I put up for auction
You know well that I adore you
Receive this even if it's little
I don't have to give you more than a story
That lulls your silence every night
It's that although nothing weighs in my pocket (I shoot arrows of affection)
And if I'm right maybe I'll never forget you
But time goes by and I realize
That the world without you doesn't turn around
Your kisses would be a little river water that refreshes my love
I know you understand how much it hurts me not to have you (tell me, tell me)
If my words say little
Then come to show you that it's not everything
That I lay my soul in a closet
To wear it in a gala if I see you
I've got nothing to keep
I packed my life to give to you
If you don't come to my rescue
My heart I put up for auction
You know well that I adore you
Receive this even if it's little
If my words say little
Then come to show you that it's not everything
That I put my soul in a closet
To wear it in a gala if I see you
I've got nothing to keep
I packed my life to give to you
If you don't come to my rescue
My heart I put up for auction
You know well that I adore you
Receive this even if it is little

✨Translated
🎶Letra/Lyrics
✨Edición de fotografía - Banner - separadores CCExpres
🎶Video captado con mi teléfono Redmi Note 8
✨Edición de video FilmoraPro

---
▶️ 3Speak
---
---