[EN/PT] How to make money in Splinterlands: Part I

Hello, Splinter Fanatics!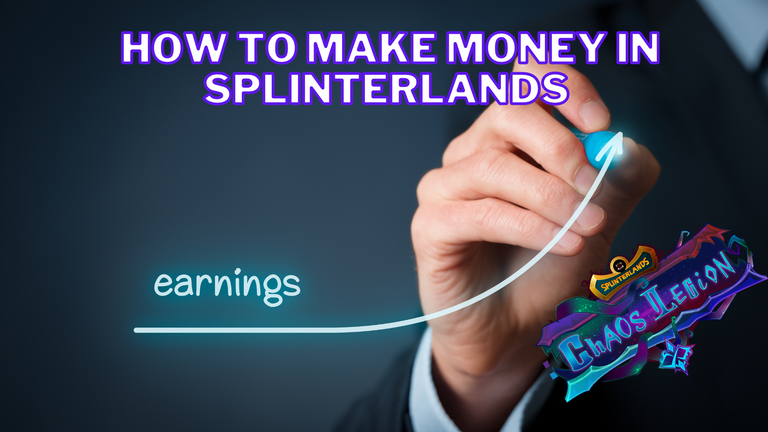 Splinterlands is an amazing Card Game, in case you landed here with a parachute, this is the best #Play2earn out there. And this post is promoted by the Splinterlands Social Media Challenge!, a weekly event to promote this incredible game from each player's perspective.
I've been playing Splinterlands since mid-2021, and this was my first Blockchain game and one of the few solid games still alive despite the tumultuous world of cryptocurrencies. The team has been doing well, and I remain very confident with the project.
There are several ways to generate income in the Splinterlands ecosystem, either actively or passively. However, to access these different ways of earning you need to buy a Spellbook, which costs only $10 and is the gateway to the Splinterlands universe.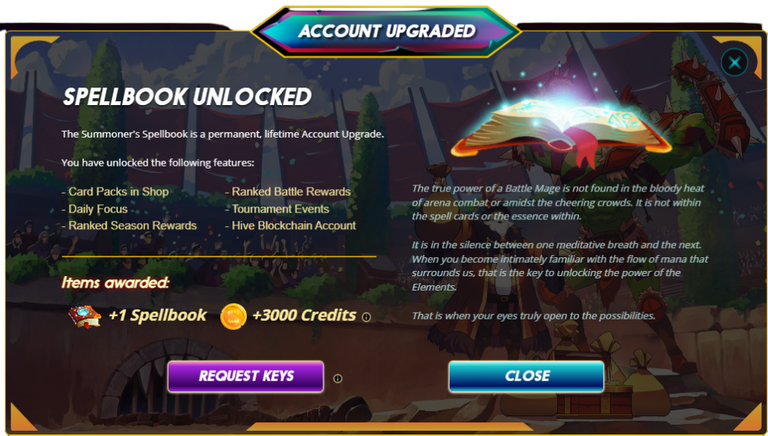 Through the Spellbook the player has access to the Starting Cards, where it is only possible to play the ranked battles, however with these cards, it is not possible to earn any reward. Only if the player buys or rents NFT cards.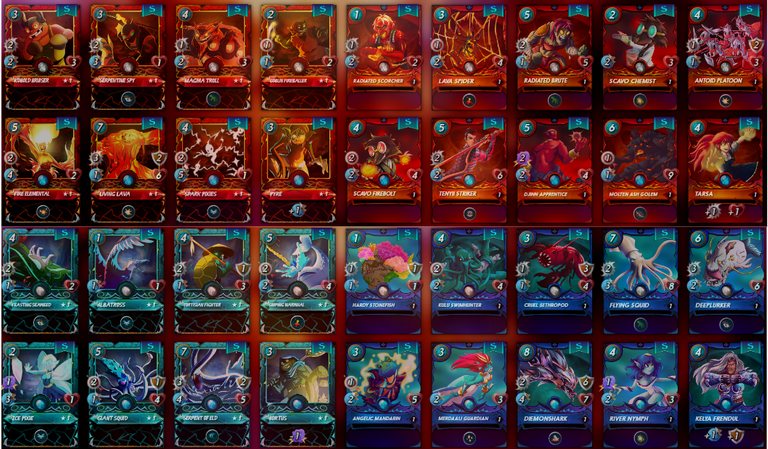 Playing with the Starting Cards allows the player to understand the game, before entering deeply into this universe. In addition, when purchasing the Spellbook the player earns 3000 Credits, which is equivalent to $3 dollars to buy or rent some cards.
With NFT Cards the player is able to earn SPS

, which is Splinterlands governance currency called Splintershards.
The first way to earn SPS

is by playing Player versus Player (PvP) ranked matches, as the player wins matches the amount of SPS and also Reward Points (RP) increases, these points influence the amount of daily rewards chest and end of the season that the player will win.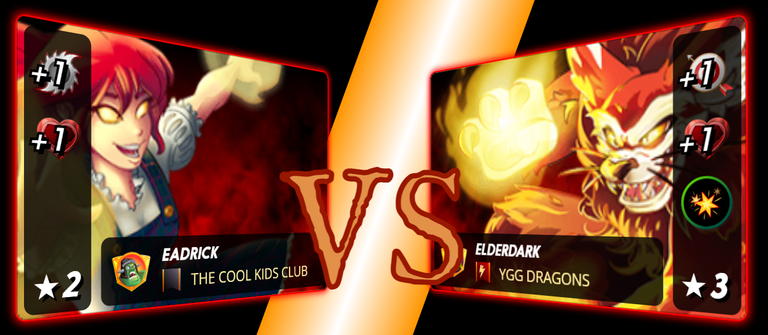 After winning a battle, I gained 0.415 SPS and 11,988 RP. Rewards Points (RP) are accumulated in two bars, one daily and one at the end of the season. And the more points are made the more daily and end-of-season chests we will be entitled to open.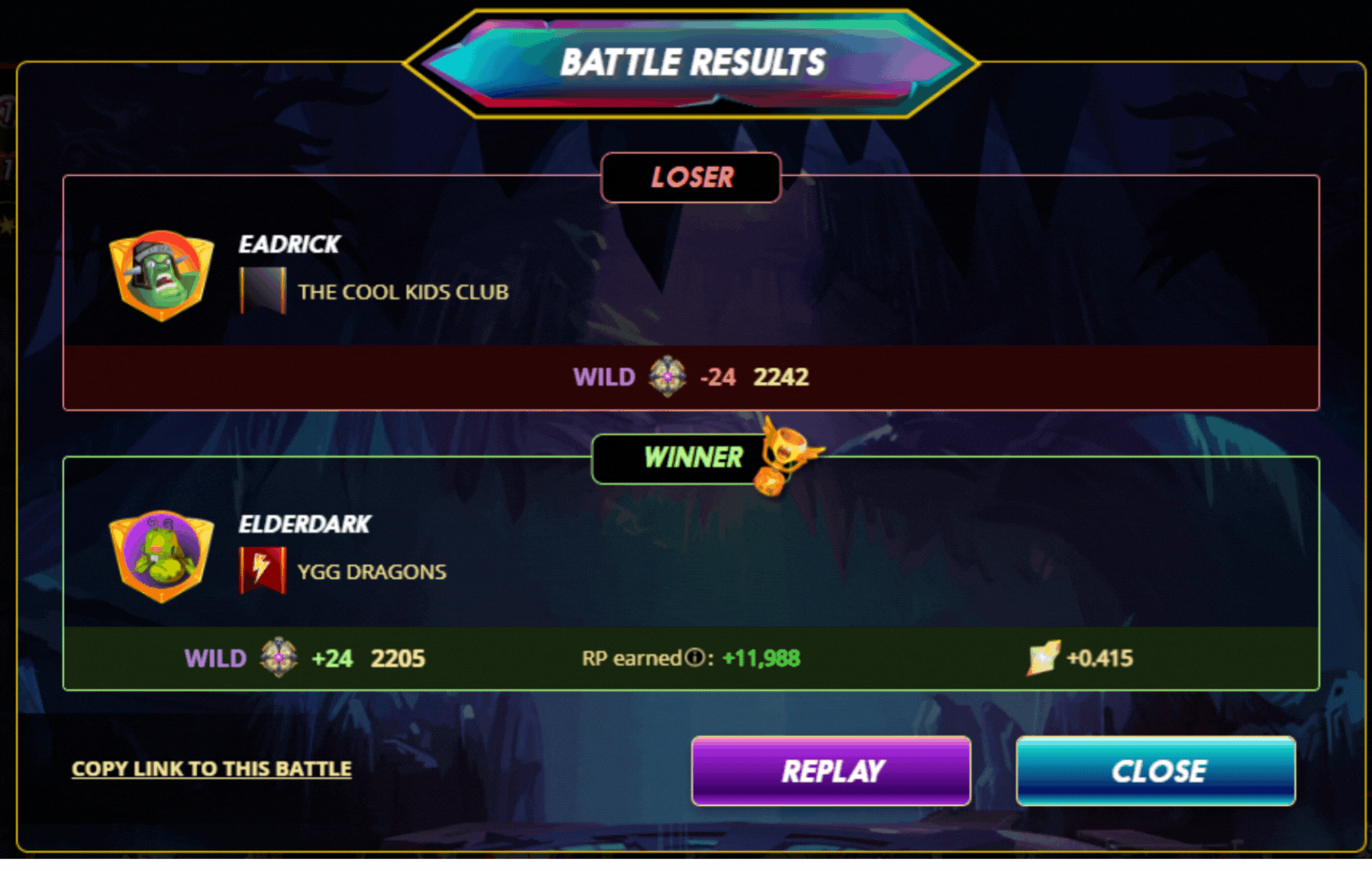 Below, the image shows the rewards for 53 chests accumulated in a season, which is usually 15 days, you can see that we can be rewarded with Rewards cards, SPS and even packs ** Chaos Legion**, which is the newest edition of the game.

And the best part, in my opinion of playing Splinterlands are the surprises that can come in these chests that can be super powerful Legendary cards that can help the player in their battles, for now, these new Rewards cards cannot be sold. And they can earn a lot of SPS, especially when it comes to a multiplicative factor.
At the end of the last season open a pack Chaos Legion, which was won in the reward chests, each pack comes with 5 cards and at least you are guaranteed to win a rare card. However, in this pack, I was lucky to draw [1] an epic card and [2] two Legendary cards, one regular and one in gold leaf. Which currently totals around $62 if listed on the market. KEEP IN MIND THIS DOES NOT ALWAYS HAPPEN!

With the current energy system, called Capture Rate (ECR), I play up to about 74% and it takes me about 30 minutes playing ranked games, farming an average of 20 SPS, in addition, I can farm between 7 to 11 chests of daily rewards.
In a month, adding the SPS

and the rewards from the daily and End of Season Focus chests farmed and considering a conservative luck factor, I managed to earn about 1000 SPS, which at the current exchange rate is equivalent to $30 dollars.
However, I am not considering the Rewards Cards, which in the future can be sold, and the Chaos Legions Packs also gained in the reward chests that can be sold or opened and have a good or bad surprise.
This average monthly earning of SPS

was based on my account, where I play in the Golden League, which in my opinion is the best cost-effective league to invest in. However, the player who starts in Splinterlands has to go at his pace and he felt comfortable in which League he should invest and play.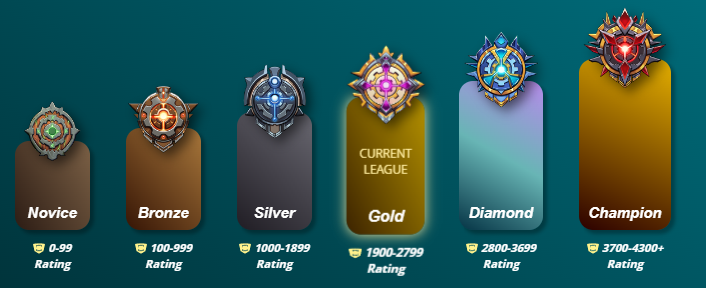 Conclusion
There is a lot of information for those who start in Splinterlands, but the purpose of this post is to show what are the possible sources of income. At first glance, $30 dollars may seem little, but there is the luck factor that can make the player win much more than that.
In addition, there are several other ways to generate income in Splinterlands. Today, we're discussing earnings from Ranked Battles, in the next post we'll talk about other ways to generate income in Splinterlands.
If you've made it this far, thank you very much for your time and if this content was helpful in any way, please upvote and repost, repost, and repost!

[PT]
Olá Splinter Fanáticos!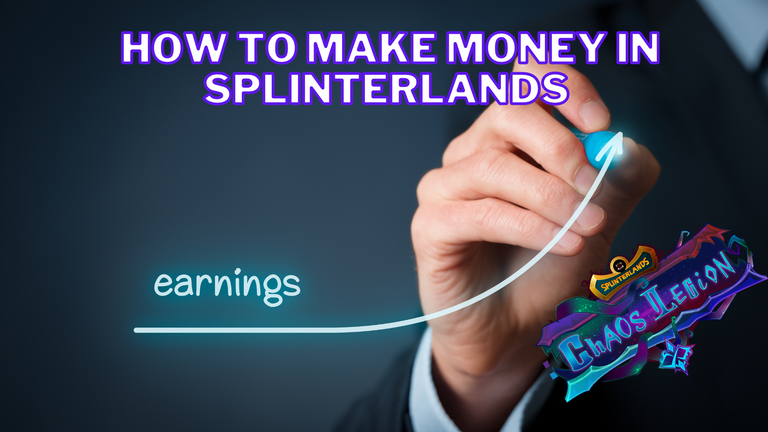 Splinterlands é um incrível Card Game, caso você tenha caido aqui de para-quedas, este é o melhor #Play2earn que existe. E este post é promovido pelo Splinterlands Social Media Challenge!, que é uma evento semanal para divulgar este incrível jogo na visão de cada jogador.
Eu jogo Splinterlands desde meados de 2021, e este foi o meu primeiro jogo na Blockchain e um dos poucos jogos sólidos que continuam vivos apesar do turbolento mundo das criptomoedas. A equipe tem feito um bom trabalho e continuo bastante confiante com o projeto.
Existem várias maneira de gerar uma renda no ecossistema de Splinterlands, seja de forma ativa ou passiva. Porém, para ter acesso as essas diversas maneira de ganhos é preciso comprar um Spellbook, que custa apenas $10 e é a porta de entrada para o universo de Splinterlands.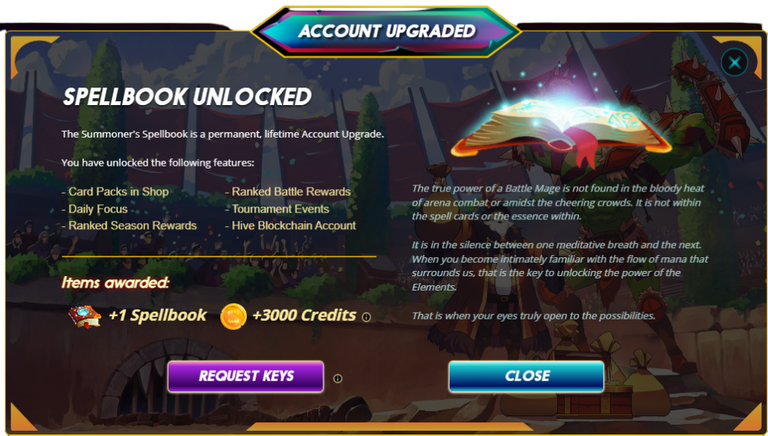 Através do Spellbook o jogador tem acesso as Cartas Iniciais, onde é possível apenas jogar as batalhas ranqueadas, porém com estas cartas não é possível ganhar nenhuma recompensa. Apenas se o jogador comprar ou alugar cartas NFTs.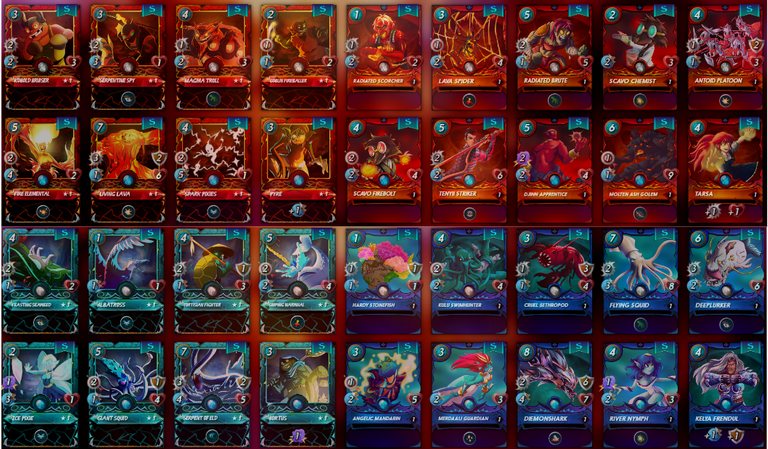 Jogar com as Cartas Iniciais permite que o jogador possa entender o jogo, antes de entrar profudamente neste universo. Além disso, na compra do Spellbook o jogador ganha 3000 Credits, o que equivale a $3 dolares para comprar ou alugar algumas cartas.
Com Cartas NFTs o jogador é capaz de ganhar SPS

, que é a moeda de governança de Splinterlands chamada de Splintershards.
A primeira forma de ganhar SPS

é jogando partidas ranqueadas Player versus Player PvP, a medida que o jogador ganha partidas a quantidade de SPS e também de Pontos de Recompesas (RP) aumenta, esses pontos influenciam na quantidade de baú de recompensas diárias e de final de temporada que o jogador irá ganhar.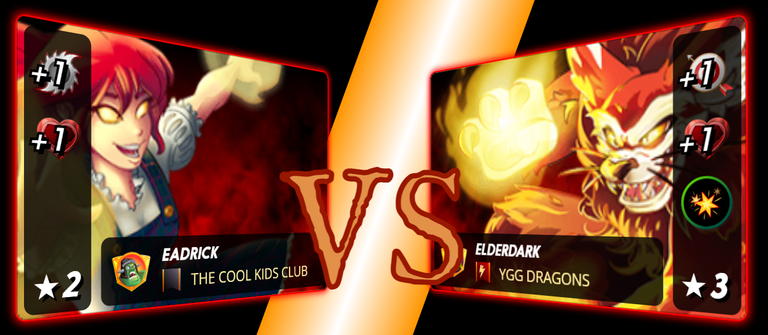 Após a vitória em uma batalha, eu ganhei 0.415 SPS e 11,988 RP. Os Pontos de Recompensas (RP) vão sendo acumulados em duas barras, uma diária e outra de final de temporada. E quanto mais pontos são feitos mais baús diários e de final de temporada teremos o direito de abrir.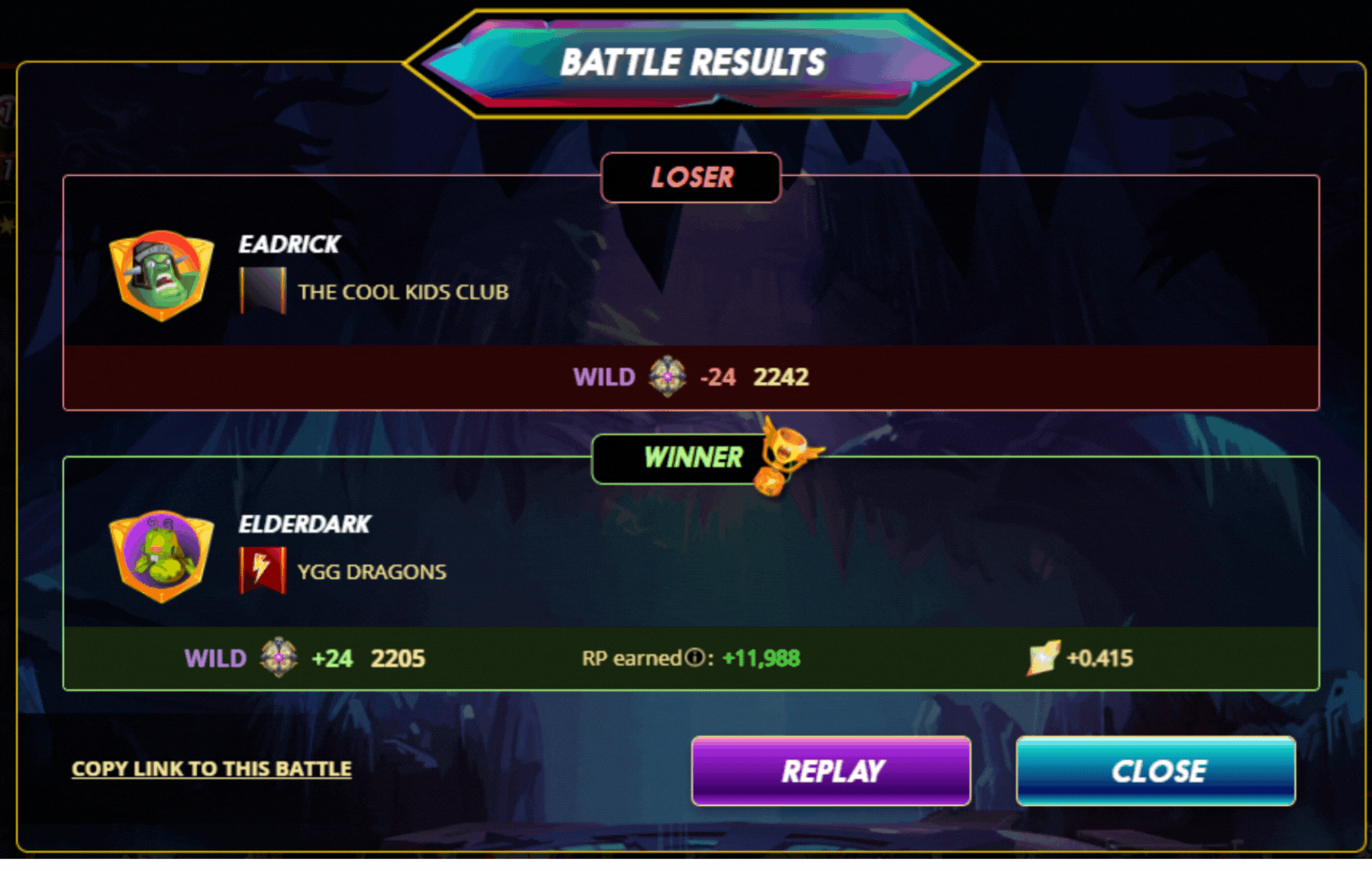 Abaixo, na imagem são apresentados as recompensas referente a 53 baús acumulados em uma temporada, que geralmente é de 15 dias, é possível ver que podemos ser recompensados com cartas Rewards, SPS e até mesmo packs Chaos Legion, que é a edição mais nova do jogo.

E a melhor parte, na minha opinião de jogar Splinterlands são as surpresas que podem vim nestes baús que podem ser cartas Lendárias super poderosas, que podem ajudar o jogador em suas batalhas, por enquanto essas novas cartas Rewards não podem ser vendidas. E podem ganhar bastante SPS, principalmente quando vier com um fator multiplicativo.
No final da última temporada abrir um pack Chaos Legion, que foi ganho nos baús de recompensas, cada pack vem com 5 cartas e ao menos é garatido ganhar uma carta rara. Porém, neste pack tive a sorte de tira [1] uma carta epica e [2] duas cartas Lendárias, uma regular e outra em folha de ouro. Que atualmente, totalizam cerca $62 caso listadas no market. TENHA EM MENTE QUE NEM SEMPRE ISSO ACONTECER!

Com o atual sistema de energia, chamado Capture Rate (ECR), eu jogo até cerca de 74% e levo cerca de 30 minutos jogando partidas ranqueadas farmando em média 20 SPS, além disso consigo farmar entre 7 até 11 baús de recompensas diárias.
Em um mês, somando os SPS

e as recompensas de baús de Focus diário e Final de temporanda farmados e considerando um fator sorte consevador consigo famar cerca de 1000 SPS, o que na cotação atual equivale a $30 dolares.
Porém, não estou considerando as Cartas Rewards, que no futuro poderão ser vendidas, e os Packs Chaos Legions também ganhos nos baús de recompensas que podem ser vendidos ou abertos e ter uma boa ou má surpresa.
Essa média de ganho mensal de SPS

foi baseada em minha conta, onde jogo na Liga de Ouro, que na minha opinão é a Liga com melhor custo beneficio para se investir. Porém, o jogador que inicia em Splinterlands tem que ir em seu ritmo e se senti confortável em que Liga deve investir e jogar.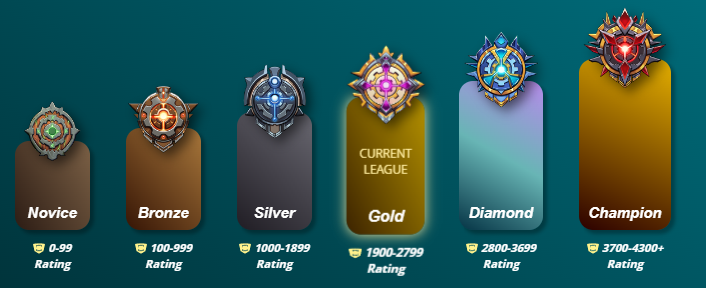 Conclusão
São muitas as informações para quem inicia em Splinterlands, mas o objetivo deste post é mostrar quais são as possíveis fonte de renda. A primeira vista $30 dolares pode parecer pouco, porém existe o fator sorte que pode fazer o jogador ganhar muito mais que isso.
Além disso, existe diversas outras formar de gerar renda em Splinterlands. Hoje, discutimos os ganhos a partir das batalhas ranqueadas, no próximo post falaremos de outras formas de gerar renda em Splinterlands.
Se chegou até aqui muito obrigado pelo seu tempo e se de alguma forma este conteudo foi útil, dê seu upvote e repost, repost e repost!
---

🎮 Referral Links 🎮
Splinterlands | The best #Play2earn game there is!
Rising Star | The journey of a star in the music world! START FREE!
dCrops | Opportunity simulator, the farm of Hive!
---
Imagens: @splinterlands

---
---