Is a comment curation trail necessary?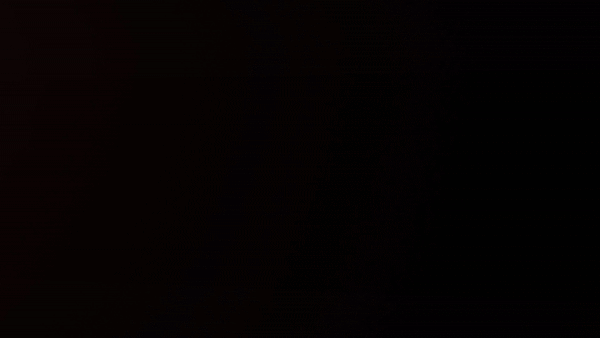 Hello, this is "El Comentador".
Today I want to sit down with you to discuss a topic that, although it is not controversial, sometimes leaves conflicting opinions. Some agree (the vast majority) others resent it.
---
Resentment: discomfort, stinging, bitterness, bitterness, grief.
---
The subject in question is:
"Curation trails"
Are they necessary, useful, legal?
Let's define first.
What is a trail?
In very simple terms, joining a healing trail is giving another Hive account permission to use your vote, i.e. if you join a trail when that account votes a comment, you will automatically vote it as well. (Source)
Are they useful or necessary?
Automating our votes helps us gain time and healing rewards. From that point of view, yes they are.
Are they legal?
Many major healing projects use it and witnesses and whales back it up. Until proven otherwise, some of them or the community at large declares against it, it is ok to use it. There is no problem.
---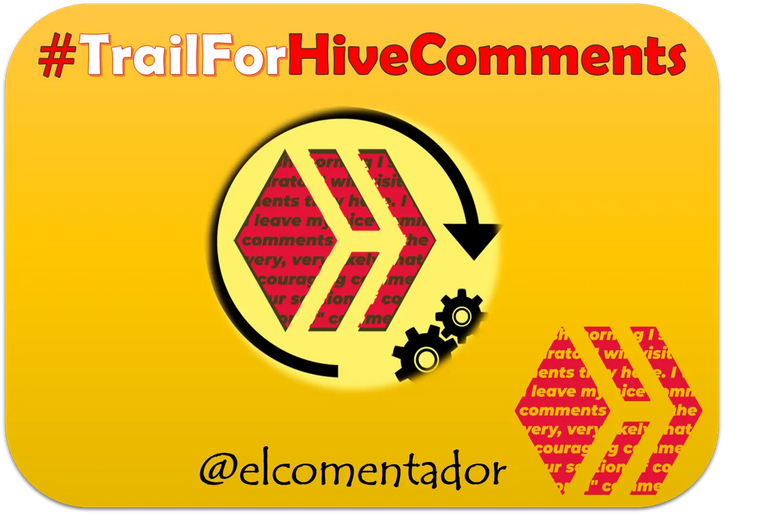 ---
Curate comments?
We are used to the existence of curation trails to vote posts. All curation projects focus on curating top posts. Few projects have previously been encouraged to curate comments. One that I am aware of is Curie, today as far as I know, it no longer does it. But...
Is a trail necessary to curate comments?
From what I see in posts that were made a year ago apropos of an initiative that ultimately served to birth this project, you can see the compendium here and at this other link where a large number of authors highlight the importance of commenting and being engaged with #Hive, we might conclude that, it may not be necessary to have a trail that cures comments, but it can stimulate users to interact knowing that there is a project focused on promoting socialization, mutual support and rewarding comments that add value to the publications that are born daily in Hive.
We would not only win for posting "macro", but we would also win for posting "micro" (in terms of size).
You may know that we have a curation trail. You may also know that we were able to configure it through Hive.vote (@steemauto) and You may know that until recently you couldn't and that thanks to this call to action we were able to get its developer @Mahdiyari to add that option.
Fortunately, we achieved the goal and now Hive has the opportunity to, through that app, set up selection paths to vote only posts, only comments or both if you prefer. That's pretty cool, don't you think?

But I must be honest with you, I would like the act of commenting on a post to be spontaneous and not just expecting a vote from some user or project, not even this one. I wish we recognize the value and importance of commenting, interacting, supporting others with our honest and sincere appreciation or contempt of each Hive author's work. That we can comment for mere pleasure, out of pure and only desire to interact with others, to make friends or enemies, but to interact at the end of the day. I would love for us to see beyond a vote in favor from the author of that post either from me or from my trail. I wish we understood that commenting brings us many more benefits than just HBD or HP.

But as that happens (and as you join the @elcomentador trail on Hive.vote and as you follow us here on Hive and on Twitter and share this post) and as I continue to post educational topics promoting interaction and engagement, I will also do my part to encourage and reward those comments of value that I come across on Hive, which I tell you with great satisfaction, are many comments, in many communities and from many really engaged users.
As already stated in this post, '"Proyecto El Comentador " focuses on giving value to the organic, original and quality comments we make in Hive, I'm sure you have already received a visit from a commenter or comment curator in your posts, right? Voting comments helps the community grow, as we support each other, value the content that others post and encourage them to do the same'.

If you join @elcomentador's comment curation trail you will be supporting and encouraging the valuable work of commenting on Hive posts.
We are not perfect, like any healing project we can get it wrong, but we seek to value and encourage Hive users. We believe in engagement.

Before I go, I'll leave you with a few questions that seek to probe a bit into your opinion on what I have raised in this post.
💬 What do you think of a trail to vote comments?
💬 Did @elcomentador visit you and rate any comments?
💬 Do you consider the work we do valuable or on the contrary unnecessary?
---
Sigue también nuestra cuenta de Hive para informes de curación @commentcuration
---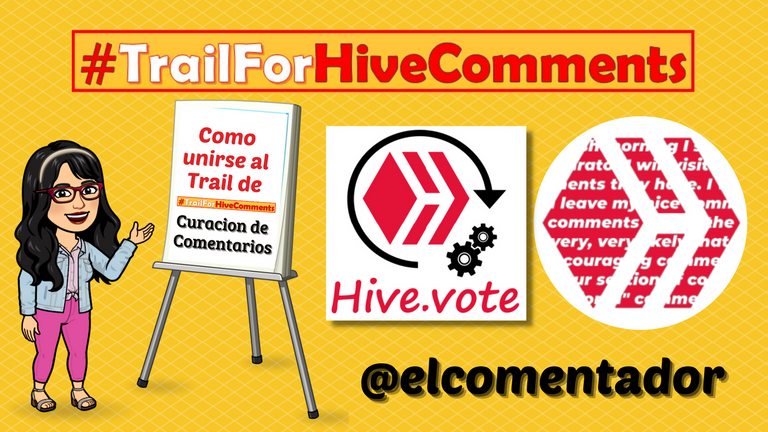 ¿Ya te uniste a nuestro trail de curación de comentarios? Si aún no lo has hecho, te invitamos a valorar comentarios junto con nosotros. Haz click aquí para que veas nuestro tutorial y sepas cómo unirte.
---
Conócenos y comparte tu comentario para que sea valorado. Únete a nuestro servidor de Discord.

¿Quieres aprender más sobre los comentarios y su importancia?
Visita la etiqueta https://ecency.com/created/hivecomments y vuélvete un experto.

---

Banners cortesía de @doze y @thepeakstudio
---
---