History of Ehon. First details on Character Airdrops
Since we bombarded you with numbers last time, we want to clarify some open questions today and describe Ehon and our plans in a bit more detail.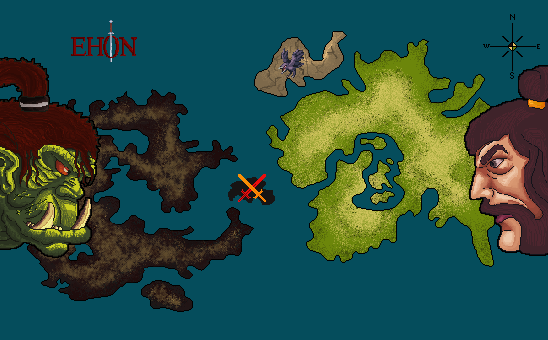 Ehon is the medieval fantasy world in which our main story will take place. Humans and orcs alongside elves, dark elves and undead live there, but also the demonic spawn is slowly but surely making itself a home in there.
Mankind originally lived on another continent, which sank into the sea after many devastating natural disasters. Since this remaining landmass was not habitable, the few survivors set sail with their ships to reach the neighboring continent, which is inhabited by the elves. The elves, as beings of light, allowed them to found their first new settlement, Norica, which was built on the protective mountain Noris.
The continent shared by humans and elves is very much inspired by Southern Germany. So our "founding rock" exists, although we are of course talking about Nuremberg here.
The elves have inhabited this continent since the dawn of time and have always protected it. All life is sacred to them, which is why the continent was almost fully forested until the arrival of man.
In their kindness, their elders unfortunately forgot the greed of humans... they are not satisfied with a simple roof over their heads, they cut down trees for their stables where they keep animals captive.... It just has to be more and more, so year after year countless resources fell victim to the will of a few greedy human rulers, until the forest area on the island was reduced to a third.
The elves' grudge was unspeakable, but since elves are not allowed to cause physical harm to another being of light, they had no choice but to provide the remaining forest with a protective spell, so that no human can ever be able to pass through again. This protected area was named the Black Forest.
We guess that many of you have at least heard about this beautiful place? 🙂
Some of them, however, were dissatisfied with the decision of their elders and left the remaining forests and migrated to the coast - from now on they became known as "Dark Elves", because they would disregard their sacred oath to harm or even kill another being of light.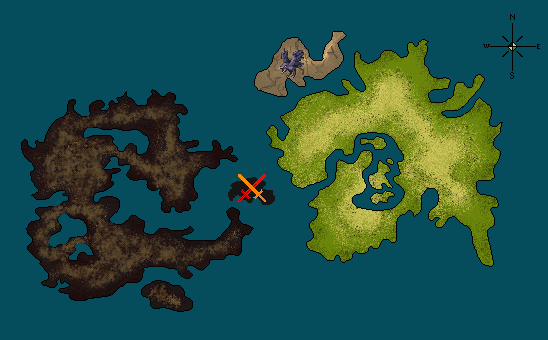 At the top right we see the former continent of the humans, which is marked with a raven, beneath it the continent where humans and elves live together since the disaster. The left side is inhabited by orcs, necromancers including their undead servants as well as some dark elves.
Before reading on, we would like to ask you to take 3.5 minutes to listen to the following poem.
It is the year 955 after the foundation of Norica, humanity has rallied for a deciding last stand against the invading hordes of orcs. Men and women stand united, prepared to fight and die for humanity's survival.
The orcs on the other side also see this as a last opportunity to free themselves from the cold grip of the warlocks and their undead hordes subjugating their continent.
Since the orcs were aware of the grudge the elves held against the humans and would not interfere, they assumed a mere battle against the slowly regenerating human race and therefore abstained from any diplomatic dealings.
They did not expect the humans to resist, united in spirit.
Before the orcs even came ashore, the skies on the coast darkened and a strong thunderstorm rolled in. As both armies faced each other in near silence on the coast around noon, the rain began to turn to hail, which came crashing down on them like thousands of tiny orbs making their armors sing a terrifying metallic tune. For several minutes, the forces faced each other in this barrage of noise, until the hail finally turned into rain again. This was the moment the orcs started their ear-splitting roars, charging at the humans.
It was a grueling clash and it appeared to be going in the orcs' favor for a long time, until finally the armored riders of the southern tribes arrived and turned the tide decisively in favor of mankind.
As the bloodbath was over, a few hundred orcs fled in their ships and made their way back to an island where they knew there would still be a larger and free orc tribe that was not participating in the battle. The weather cleared up and the sun began to shine, causing a rainbow to glow over the shoreline, which was covered with body parts and corpses, turning the ocean bloody many feet deep. The scavengers, just waiting for the remaining troops to leave, were already circling in swarms through the skies. It was a truly horrifying scene.
The surviving humans gathered their troops and all their remaining strength in a final effort to make it home.
Since both sides had invested everything in this battle, there is only few survivors left.
That's all we want to tell you about the basic setting of our world by means of this little story, for now. As we said before, stakeholders will be involved in further decisions regarding these matters via a voting process - among many other things.
Character Airdrops and more
This stake will also enable you to get the first characters for Ehon, besides cosmetics, weapons and various other upcoming airdrops, as well as price advantages.
There will be 12000 characters, 6000 on the human's side, 6000 on the orc's side.
No further characters will be airdropped/created by us for each of those species.
Each character will be dropped as a tradable token, which later on can be used to create a randomly generated NFT character.
The genders will be split 50/50 for this purpose.
For every 100 EGOV staked, you will receive one character in the opening airdrop.
Staking will be activated on 12.12.2021.
We will not place any further EGOV on the market after 12.12.2021!
-- This is valid until the characters have been airdropped.


2000 characters will be available later on.
-- 1000 orcs as well as 1000 humans.
However, it should not only remain at these 12000 characters, because you will have the possibility to get them known to each other intimately enough in order to generate new characters/NFTs.
Half orcs are not planned so far!
Elves, dark elves, necromancers and demons will be added later on.
Again, we will involve you in some questions, but we will get to that in detail soon.
Of course we don't want to tell you too much about the characters and the "breeding system" at this point. But you might be able to recognize them slightly blurred on the preliminary logo. As you can easily see, we decided to use a pixelated style.
Finally, we would like to thank you all again for your trust!
It was suprising to see that we are sold out already - especially before we have not even announced close to all the details.
Nevertheless, we will keep up the speed in our information flow as usual - we appreciate your patience in this regard. 🙂


We really love your trust, but advise against investing "blindly" in general!🙃
Stay tuned for further updates
---
---