Yet another Full Moon pamp + Musk + FED + Hive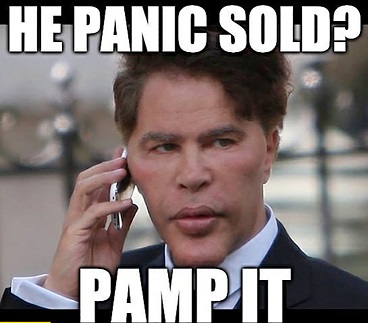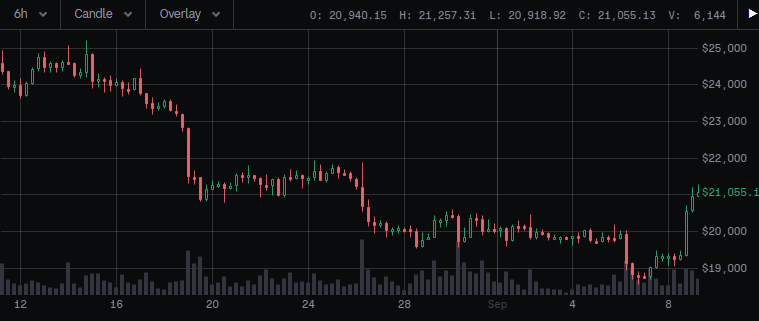 Hm what a "surprise"
Another full moon, another 10% pump overnight. This market was extremely oversold because of all the bad news coming out about the economy. What people don't realize? The doubling curve trendline is now above $40k. These stupid little moves between $18k and $25k are a damn rounding error. None of this matters.
By the end of the year BTC will be at $50k and everyone is gonna be like OMG the bull market is back. It's not back though, that's just the standard boring price. Nothing to see here.
Of course there is that lurking chance that the entire house of cards crumbles at the end of the year due to an energy crisis or whatever else. It only takes one domino falling over for all the rest to come crashing down. Even then... doesn't matter much, just need to wait another 6 months for a recovery.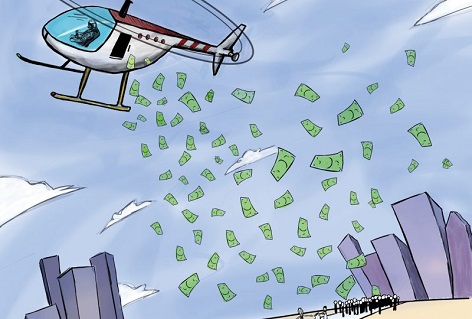 The FED is unsurprisingly talking about raising the inflation target from 2% to 3%. Doesn't really sound like a big deal until we realize that's a 50% increase in the target. Even though 3% is low and a welcome number in a world of 9% CPI, we have to assume that such a big change would also increase the other metrics by significant levels.
The FED has no power over supply, only demand. All they can do is cripple demand with higher and higher rates. They've already given up on the "soft landing" narrative and are now downplaying it like "well it's only going to be a tiny recession". Uh huh, sure.
Trapped in a box of their own making, and they might take an operating loss in 2023 for the first time since inception in 1915. But don't worry, in the event that the FED loses money, they just print up a make believe asset equal to the loss to zero it out. Then they stop paying money to the government until they pay back the imaginary asset.
In the unlikely scenario in which realized losses were sufficiently large enough to result in an overall net income loss for the Reserve Banks, the Federal Reserve would still meet its financial obligations to cover operating expenses. In that case, remittances to the Treasury would be suspended and a deferred asset would be recorded on the Federal Reserve's balance sheet."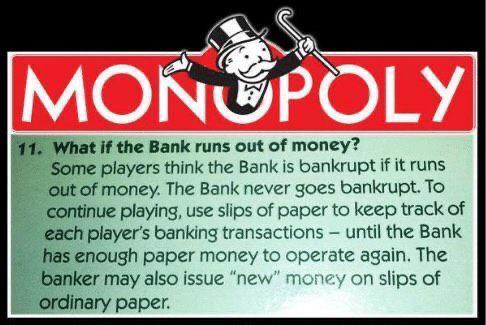 Fun!
Hm yeah I wonder where the government is going to make up the difference on that loss? Certainly not citizens through more taxation. Nah they wouldn't do that. Taxes are high enough as they are. IRS hiring 80,000 armed agents? Meh, wouldn't worry about it.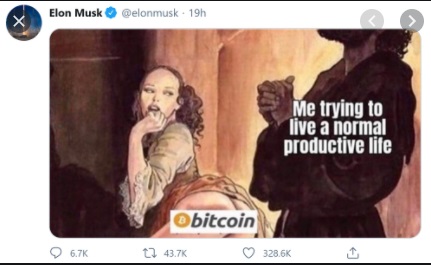 Elon Musk
Apparently he's being slapped with a quarter trillion dollar lawsuit for pump/dumping Dogecoin. Oh wait, how much money does Musk have again?

Hm yeah, and the lawsuit says he should pay 258 billion for pump/dumping Dogecoin. Comical lawsuit. Blatantly sue someone for their entire net worth. What a joke.
In a complaint filed in federal court in Manhattan, plaintiff Keith Johnson accused Musk, electric car company Tesla Inc (TSLA.O) and space tourism company SpaceX of racketeering for touting Dogecoin and driving up its price, only to then let the price tumble.
What is racketeering, you ask?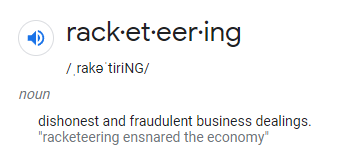 Only the most vague crime (and language to describe it) imaginable.
Federal crimes of racketeering include bribery, gambling offenses, money laundering, obstructing justice or a criminal investigation, and murder for hire.
lol kk sure
In every iteration I keep hearing the term: "let the price fall". Never is he being accused of forcing the price to fall by actually dumping the coins. Only that he pumped the price and then "allowed it to fall". This is a crime? Allowing the price of something to fall once you shilled it? The language of the lawsuit is completely childlike in nature.
The complaint also aggregates comments from Warren Buffett, Bill Gates and others questioning the value of cryptocurrency.
So because Bill Gates and Warren Buffett said some shit about crypto this is something worthy of being introduced into a court of law as evidence? How much of jackass can one make themselves look?
"Defendants were aware since 2019 that Dogecoin had no value yet promoted Dogecoin to profit from its trading," the complaint said. "Musk used his pedestal as World's Richest man to operate and manipulate the Dogecoin Pyramid Scheme for profit, exposure and amusement."
Everyone knows that what Musk was doing was complete bullshit, but was it actually illegal? Probably not. How could it be? These are completely unregulated markets. Crypto doesn't play by the rules or fit into any category. The establishment just tries to jam a square peg into a round hole and call it good like a not-so-bright toddler.
Seriously though, how are you going to prove that "defendants were aware that Dogecoin had no value". What a stupid claim to make. You know what's funny? Doesn't this inherently imply that this Keith Johnson dipshit also knows that Dogecoin is worthless?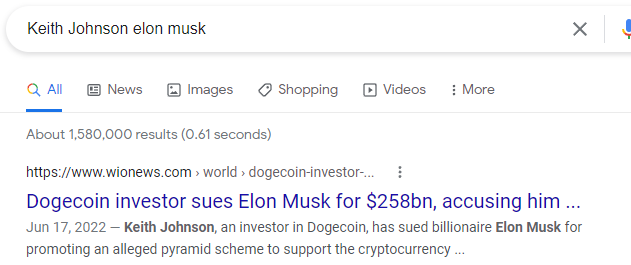 LOL so you lost money on Dogecoin and now it's Elon Musk's fault?
Elon Musk knew Doge was worthless but you didn't?
What a jack ass.
Do your own research.
Take accountability for your own actions.
Be your own bank.
That's what crypto is all about.
Johnson is seeking $86 billion in damages, representing the decline in Dogecoin's market value since May 2021, and wants it tripled.
So this bitch thinks he is entitled to the entire market cap of Doge at the peak x3... in CASH? Once again we see how dump people are. Doge has a current market cap of of 8 Billion. Pumping a billion ACTUAL dollars into the liquidity pools would make the token go 10x back to all time highs. Why is that? Because only a small fraction of tokens are actually for sale at any given time. Welcome to the real world, jack ass. This lawsuit only exists to get attention. Full on Craig Wright vibes.
Even just the act of suing a billionaire for their entire net worth is absurd. Elon Musk might be worth a quarter trillion dollars, but he doesn't actually have a quarter trillion dollars. He only has a quarter trillion dollars if he can magically liquidate all his assets at the current market value without crashing the market (0% slip). He only has that much money in a magical fantasy land of infinite liquidity.
What would happen if Musk actually lost this suit? Everyone with Tesla and SpaceX stock would dump before him, and he'd let it happen. He'd probably even chuckle as it happened because he's the world's biggest troll. Then he'd just declare bankruptcy because his net worth would be nowhere near the amount owed. The stock value of his companies would likely tank 50% or more. So now, every single investor is pissed. Suing Musk is the same as suing every single share holder of his companies. That's where the value comes from. Billionaires don't hold their net worth in cash. That's how they became billionaires in the first place.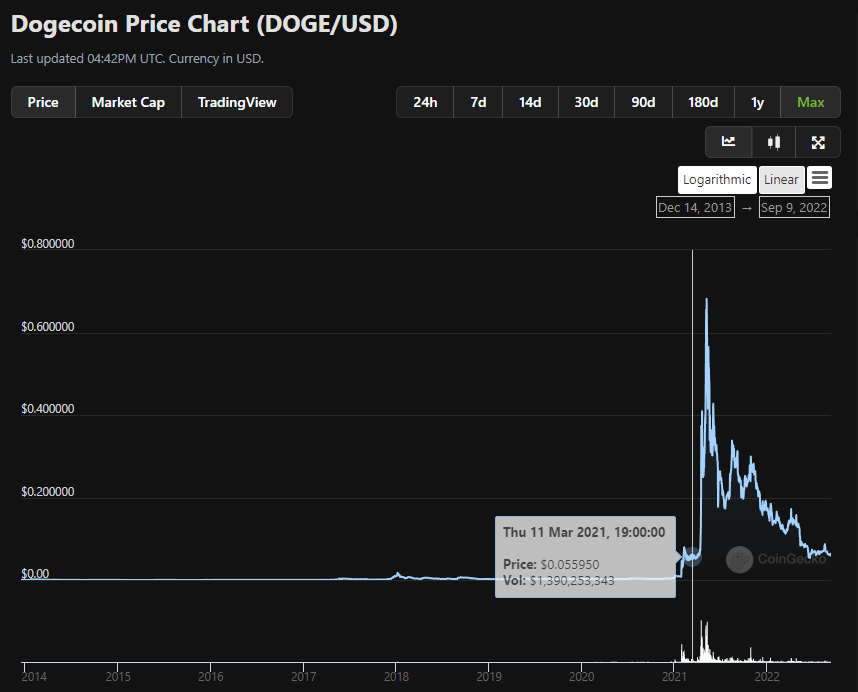 Anyone could have looked at this chart and seen that yeah Dogecoin was probably gonna go back down to 5.5 cents. Such an obvious pump/dump that happens to every crypto regardless of famous billionaires shilling it. I don't see the holders who bought in sub 1 cent complaining.
By doing so, the defendants "profited tens of billions of dollars" at other Dogecoin investors' expense, while knowing all along that the currency lacked intrinsic value and that its value "depended solely on marketing," the complaint said.
Yeah okay.
Show me the tens of Billions of dollars. They don't exist, because again, that's not how markets work. Even by perfectly setting up FOMO at the bottom and perfectly cashing out at the top one still wouldn't be able to extract tens of billions of dollars in value. This guy is just making stuff up to get attention. Mad cause bad. Get good, kid.
It is mathematically impossible for these claims to be true, and this stupid lawsuit will vanish just as quickly as it popped into existence. Such a farce, which is likely why no one is even talking about it. The original complaint happened in June and is only now receive media attention during an update to the listed parties. Pretty weird.
If we look at the price movements of Doge compared to the rest of crypto, we can see that these claims are complete bullshit. You know what else lost 90% of its value from peak? Hive, and every other token out there. How did Musk and his cronies extract billions of dollars from Doge when Doge did the same thing that every other crypto did? Make it make sense.
Also claiming it was a pyramid scheme is just plain wrong. That's not how pyramid schemes work. Multi-level marketing by definition means the people under you are paying you direct tribute. Not indirect tribute through the price of the token going up. Again, there are no laws in place that are going to take this complaint seriously. As if the powers that be would allow a billionaire to get sued for their entire net worth because they made some tweets.
Enough about this, how is Hive doing?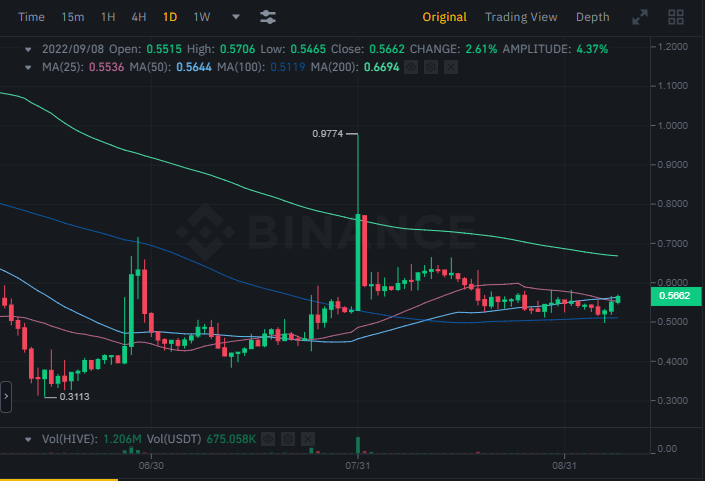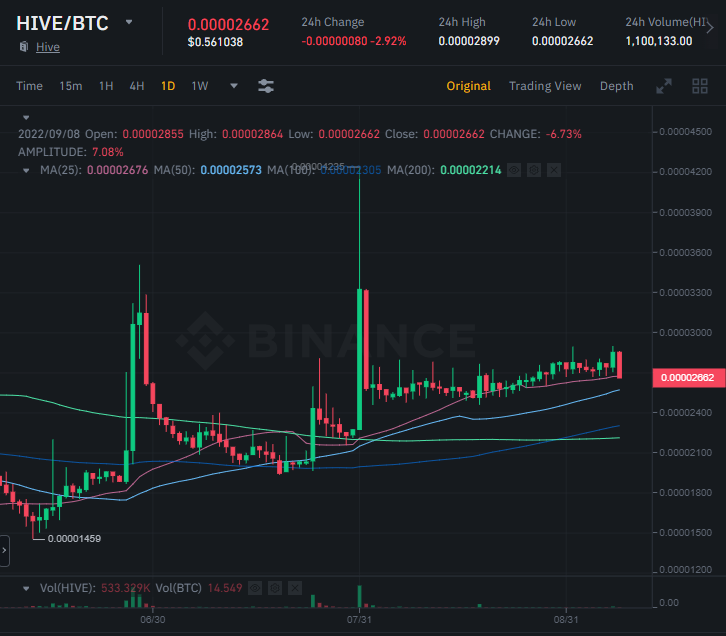 Contrary to my reporting two days ago, the Bitcoin pump makes the USDT chart look much better and the BTC chart look a bit worse. BTC has fallen slightly under the MA(25), which is not where we want to be if we want to avoid death-crosses. But more importantly on the USDT chart, the price is above the 25 and 50 day moving averages, which is a huge upgrade from where it was before. We were trapped in a band between MA(25) and MA(100) for weeks, and now we appear to be breaking out of that band to the upside. Good times, and the bullish two week cycle has only just started.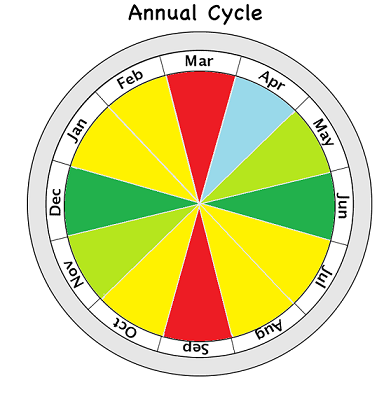 Sometimes the cycle chart works.
Doesn't work so well when billionaires like Elon Musk and Michael Saylor are FOMOing, but maybe now that everything has cooled off this will end up being accurate. A poor performing summer implies a nice recovery rally in the winter. A declining value in the dollar could pump crypto pretty hard into the end of the year. Guess we'll find out.
But again September is just a really slow month for the economy. It's hard to imagine getting wrecked after buying in this month. We're not that far away from local lows, and by all accounts those local lows are being defended quite well.
Honestly I also think that Hive is on track to make another 10x gain against Bitcoin over the next two years. It's time for us to claw our way back up the market cap ladder. Imagine if 3000 Hive could buy you a whole Bitcoin. Sounds unreasonable, but that's where a 10x would get us. Pretty weird. Crypto is odd and nonsensical most of the time.
What we really need to be looking out for is a pump and volume that isn't coming solely from Upbit. Need to see a lot more volume from Binance and Huobi. Another huge factor that will come into play is HBD. If Hive has demand, HBD also gets automatic demand, which means tons of Hive conversions into HBD, which means Hive pumps again and again from the positive feedback loop. It's the same concept as UST pumping LUNA x100 over a year's time, but Hive's mechanics prevent us from crashing to zero after it happens. It's going to be a wild ride when it happens. Hive >> HBD conversions are no joke.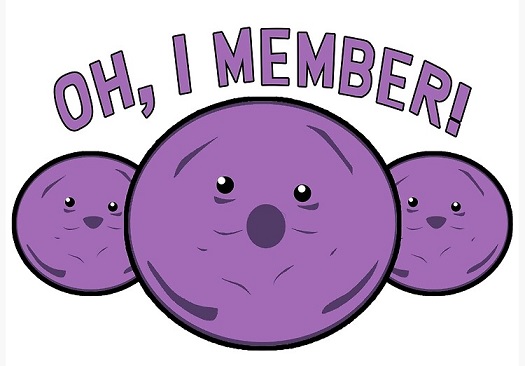 Remember when Steem was trading at $8 in 2017 and SBD was $13? I member. Imagine how crazy it would have been if all that value from the $13 SBD was instead pumped into buy and burns for Hive. That is what will happen for Hive the next time around.
Not only will Hive pump higher, it will also dump less because we won't be over-printing HBD for 6 months while the price slowly deflates. The HBD >> Hive conversions will begin immediately instead of requiring 6 months of bear market to slap us around. Also the value of the 5% fee for conversions will be permanently locked in to the network. Feelz nice. Development continues no matter what the spot price is.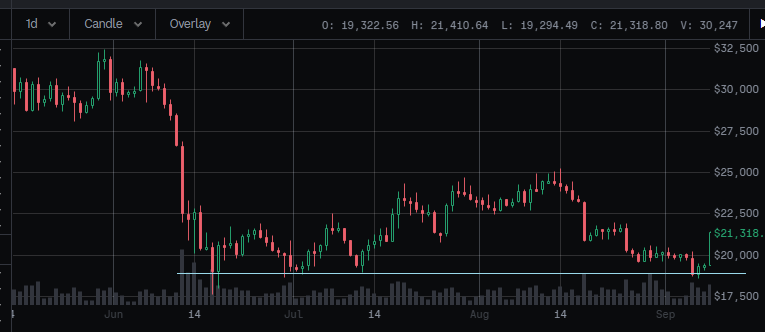 Conclusion
Stick to the plan. We just quadruple-bottomed at the exact level bears were calling for ($18k-$19k) back when we were trading at $30k-$40k. There is no reason to think we will go lower than that, even if the legacy economy implodes. Crypto moves faster than legacy econ. We paid our dues. It's time to grind sideways and up from here. The trendline we've been following for a decade is double what the price is now. Current price action movements are inconsequential compared to the macro scale.
The FED is in a tight spot and regulators and other government agencies like the IRS are ready to crack down. That puts projects like Hive and Bitcoin in a relatively fantastic position. It won't be long now before we see what can be regulated from the outside and what can't. Non-sovereign blockchains don't have much (if any) long-term value. What is the point of blockchain if it can be regulated by the same institutions crypto was designed to disrupt? There's a short list of gems out there, but they aren't that hard to find given the proper criteria.
Posted Using LeoFinance Beta
---
---