River of Blood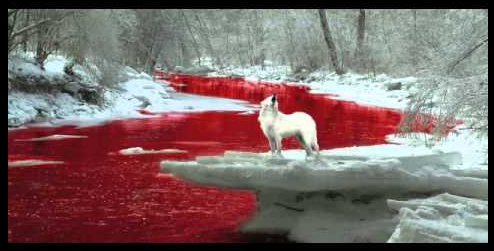 Wouldn't you know it!
I manically insisted that the price was going up.
And then the price went down!
That never happens!
Remember in Feb 2020 when I said we'd crash back to $20k?
Yeah, me neither.

Oh yeah we def crashing back down to $20k.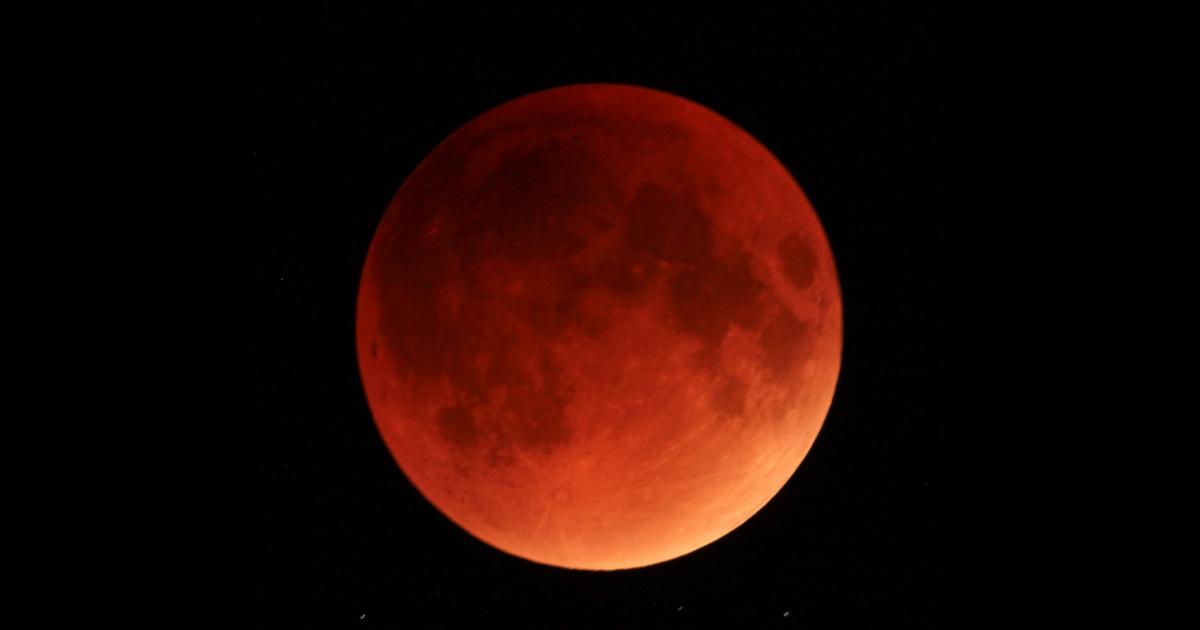 Bitcoin is trading at $66,666 and it's going to $250k, fam!
lol, I'm amazing at this.
All ya gotta do is the opposite of what I say :D
Tried to warn you.
This most recent full moon gave me a bit of false hope.
Certainly it is not unusual for the market to local bottom a few days after the full moon, but this is kind of ridiculous. That being said, I told you all I knew massive volatility was coming and I'm very bad and picking which direction.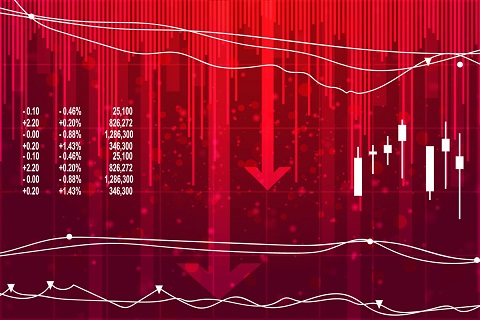 What is going on here?
Well, Bitcoin is testing that legendary $38k support everyone has been talking about. A lot of longs got liquidated and I believe that a lot of options expired today, which often leads to a dump for whatever reason.
Bitcoin 24/h volume is EXTREMELY high right now. The price can't crash further without these waters calming a bit more, but that might only take a day or two. This is one of those rare times that trying to catch the falling knife might work, because a hard bounce up at this support line with this volume is actually pretty good. I keep thinking I will trade some stable coins into BNB but I keep chickening out.
Unfortunately, I don't have enough stable coins to begin with to trade this dip for real. Basically I have to save all my stable coins as a contingency just incase we go all the way down to the doubling curve support at $30k. Plus I have bills to pay, so there is that.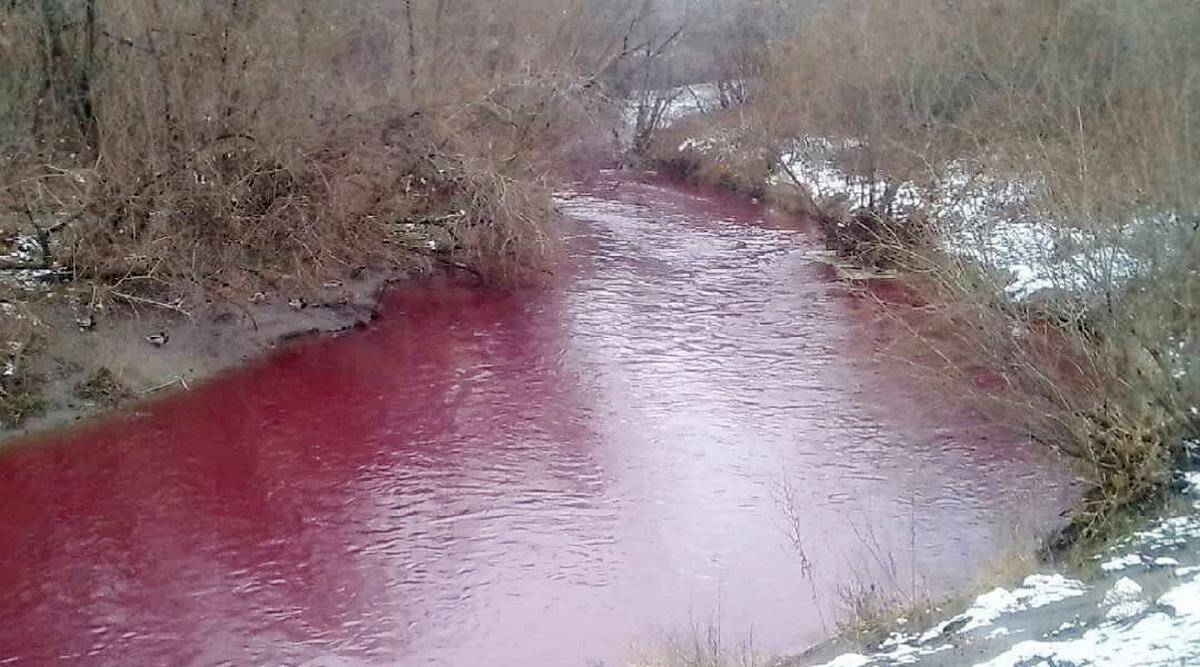 So the bears are trying to cause a panic...
They really are.
Like, this is full-on psychological warfare right now.
I do not approve.
But also this is the least stressed out I've personally been in a long time.
I'm doing a much better job of hedging and not constantly being all in.
Feelin pretty good about hedging a stack of Hive at $1.40.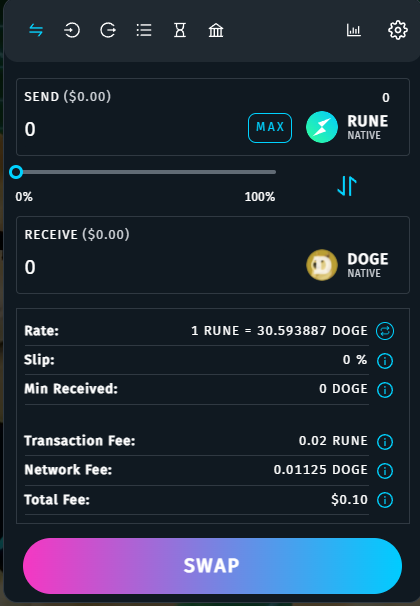 Some good news...
Doge has been listed on ThorChain.
I don't own Doge.
You don't own Doge.
So how is this good news?
It just is.
Interoperability is continuing on.
Devs are devving.
The Earth continues to spin on its axis.
Also look at how cheap it is!
Hot damn... 10 cent flat fee to get as much Doge as you want?
Pretty good, should I buy some?
Nah!
The thing about Doge is that everyone automatically assumes the tech is shit. Really? The tech is exactly the same as Bitcoin, and Bitcoin tech is good. So try again. At the end of the day people are jealous & greedy, and they feel entitled to the value that Doge has generated. Why is that?
Why do people think that if Doge didn't exist more money would magically pop into their pockets? The opposite is clearly true. Crypto is a cooperative effort. The Doge community can't be scooped by another network. If that isn't obvious by now, then I don't know what to tell you.
But enough about Doge.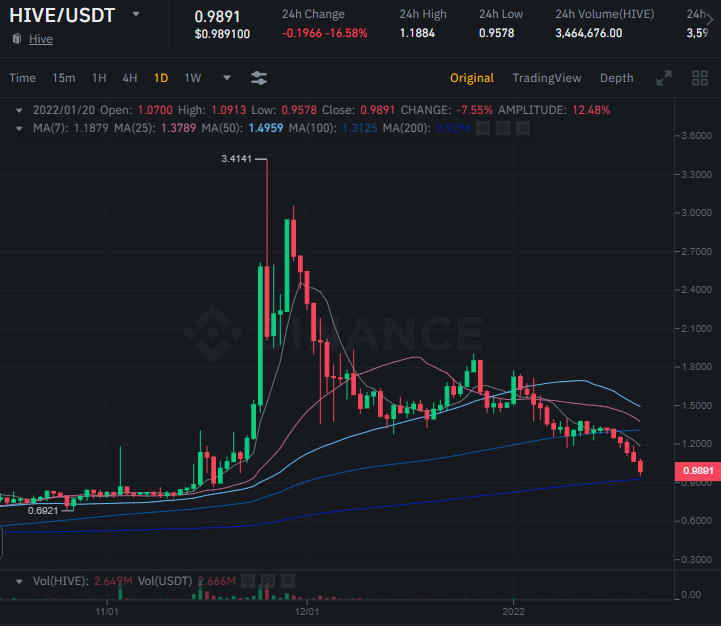 Hive is doing the thing we all knew it would. Testing support near the MA(200) range. Obviously $1 support is a good place to start dipping toes back into the market. However, we are basically guaranteed to death-cross in like three days, and it's the big death-cross. The one between MA(25) and MA(100). Yikes.
Shortly after that (a week or two), the MA(50) will death-cross below the MA(100). Obviously Hive is going to be in the shitter for a little while, but this was always expected to happen after having a double-airdrop snapshot.
I'm starting to backtrack a bit and realize that Hive doesn't really have enough runway left for 90 cents to hold. This is especially true of Bitcoin crashes back to the doubling curve at $30k. In that case we'd be lucky if even 80 cents held.
Best strat for Hive is to just wait for it to bottom out and trade flat for a while. We've seen this play out a dozen times already. Price spikes up, goes volatile sideways for a while, then deflates and becomes boring again. Wait for the boring period before buying back in. No reason to try and catch a falling knife. Falling knives don't bounce.
---
2022 Bitcoin Doubling Curve
| Jan | Feb | Mar | April | May | June |
| --- | --- | --- | --- | --- | --- |
| $27733 | $29867 | $32,000 | $34133 | $36267 | $38400 |
| July | Aug | Sept | Oct | Nov | Dec |
| --- | --- | --- | --- | --- | --- |
| $40533 | $42667 | $44800 | $46933 | $49067 | $51200 |
---
Doubling curve strong.
I'm feeling pretty good at this point. $30k is the lowest we will go, I'm quite certain of it. That's only a 22% loss from here. 22% is not that bad, especially considering we can start leverage trading again at that level and start taking bigger risks at the ultimate support. Again, a 20% loss for Hive brings us back to 80 cents, so on multiple metrics it does seem like 80 cents is still the ultimate support for Hive. Looking to buy back in big at that level.
Mega-bubble canceled?
Bitcoin has been trading above the doubling curve for over a year now (November 2020). It makes perfect sense that we would finally deflate back to the curve, but at the same time that would mean that no mega-bubble happened.
Perhaps mega-bubbles are impossible now. Perhaps with all this institutional adoption and diamond handed traders entering crypto, the FOMO required to pump x10 higher than the doubling curve is basically impossible at this point. That would actually be a good thing. It would signal that Bitcoin is maturing and that it's gaining a ton more stability. Again, this would be a great thing, especially for long-term growth.
When you actually think about it, getting an x2 every year on average at a minimum is already insane on every metric. Technically Bitcoin has been in a mega-bubble since inception, with no endpoint in sight. A lack of mega-mega-bubbles would actually make the market much easier to trade. Whenever BTC goes x2.5-x3 the curve we selloff and get ready for the dips. This is certainly something to consider.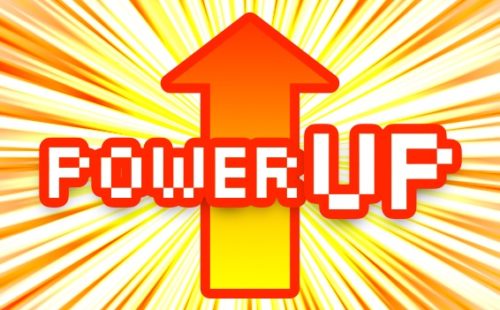 Powered up another 50k LEO.
I now have a total of 150k powered up. Good stuff, I might even power up the last 50k to make it an even 200k powered up; wouldn't that be something? LEO will spike pretty hard eventually with the fundamental gains coming down the pipe. Once again I hope to leverage the cheap LEO I've purchased back into becoming a Hive whale with volatility trading. Trade 1 Hive for 10 LEO when LEO is cheap, and 1 LEO for 4 HIVE when LEO is expensive. Easy 40x.
HDB
Another thing I haven't given much attention to is the fact that HBD is now offering 12% APR on savings accounts. Honestly this is an insanely competitive rate and I'm actually proud of our witnesses for choosing healthy inflation and growth over stagflation and fear. Clearly, 12% APR is very high for a stable coin and we should be able to attract a lot of outside capital to the network with such a good yield. Good call, top 20; much appreciated.
Another thing worth noting is that the 12% APR on HBD is static. It doesn't matter how many people try to farm the savings accounts, it will always be 12% (or whatever the witnesses pick). This is very different from traditional DEFI where the yield is usually competitive and will drop when liquidity gets larger. This is a double edged sword but I think it's going to work out in Hive's favor because it provides a certain sense of security to those who commit to the savings account yield.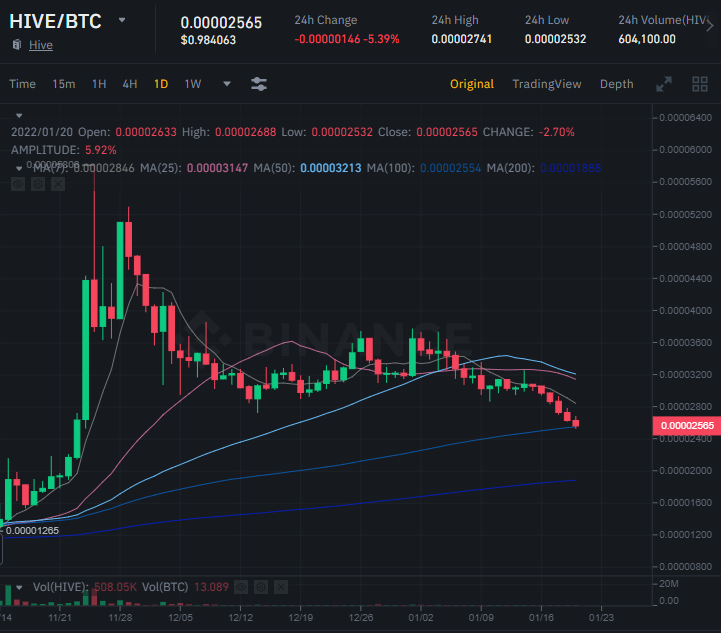 Also looking back to Hive on the BTC chart.
We are testing support at the MA(100) in terms of BTC.
Again, Hive is at a good unit-bias level to buy, but the chance for more blood is heavy, unfortunately.
Conclusion
No one likes these bloody days in the market, but they are necessary. There was a lot of bloat out there that needed to be cleansed, and we are getting closer and closer to the ultimate support at $30k. Once we get there we don't have to worry about further dips. I expect March and tax season to bring us to this year's local low. Onward and upward from there.
Posted Using LeoFinance Beta
---
---