Market Watch: Dump Incoming.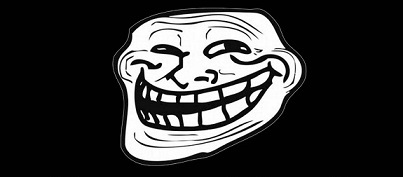 Alright... that's it... I'm calling it...
New Moon tomorrow February 1st.
We are due for a return to the doubling curve.
BTC still suck under $40k resistance.
Hive still trading under the MA(200).
22% crash to $30k incoming.
But aren't you always wrong?
Yes, and unlike so many other speculation posts I've done in the past, I'm actually trading this one. I'm fully hedged up and bracing for impact. That's how you know the market is about to spike up! You're welcome!
Seriously though, I am betting on this one, and in a fairly big way. At the same time, if the market goes up, I'm obviously not going to complain about that either. It's just hard to imagine such a thing with so much bearish sentiment out there and the New Moon ushering us into the bearish period.
Truth be told, I hope the market does go up during this two week period: then I can finally stop talking about market cycles like a hippy crystals girl. Yes, this one has an excellent aura! I agree!
Buy range for Hive.
My buy range for Hive in case I'm actually right this time starts at 75 cents and goes all the way down to 61 cents. It is possible that we bottom out at 50 but I'm not looking to time the absolute bottom anyway: we all know how that never works out.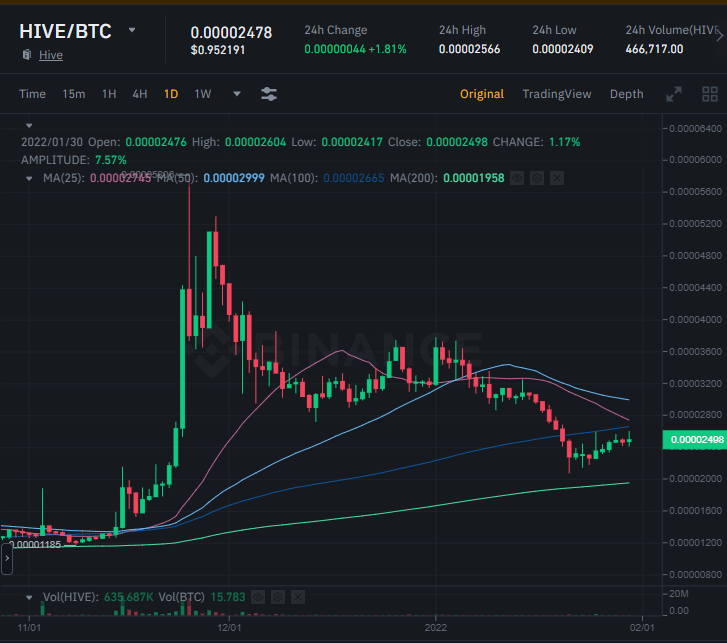 The HIVE/BTC MA(200) is just under 2000 sats.
A nuke to this level while BTC nukes to $30k would be 60 cents.
This is why my ultimate all in for Hive is 60 cents.
I don't think we'll go below the MA(200) vs Bitcoin.
Hive strong.
At the same time you'll see we are days away from a death-cross between the MA(25) and the MA(100). Not fun.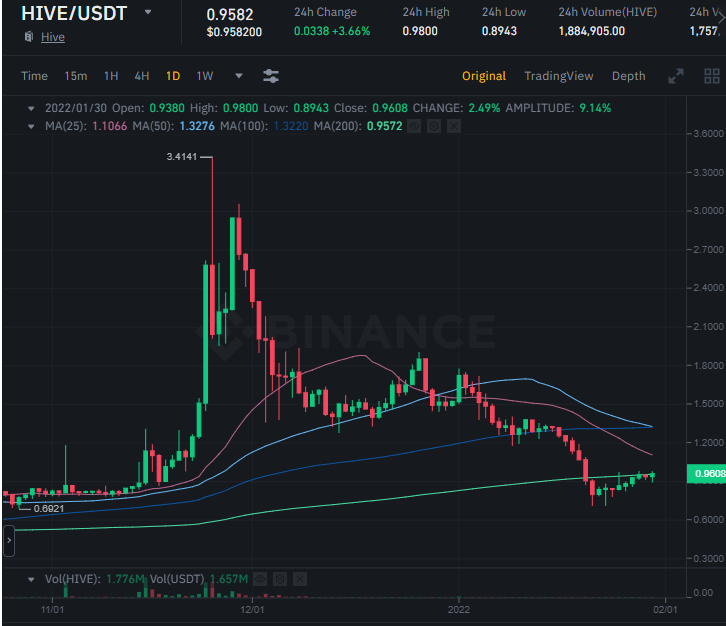 Looking at the USDT chart...
Again we see a death cross between the MA(50) and MA(100).
This one doesn't matter as much because MA(50) is not the default.
I added it myself.
But still... not fun, especially when stuck under the MA(200) for this long.
---
Margin trading.
I haven't traded on leverage since Ethereum at $230.
Hot damn those were the days.
One of my best trades ever (obviously).
Looking forward to borrowing USD should the price of BTC nuke to $30k.
$20k is off the table.
Many are looking for a return the 2017 ATH.
It only makes sense, right?
---
2022 Bitcoin Doubling Curve
| Jan | Feb | Mar | April | May | June |
| --- | --- | --- | --- | --- | --- |
| $27733 | $29867 | $32,000 | $34133 | $36267 | $38400 |
| July | Aug | Sept | Oct | Nov | Dec |
| --- | --- | --- | --- | --- | --- |
| $40533 | $42667 | $44800 | $46933 | $49067 | $51200 |
---
Let me be very clear: Not gonna happen.
Too many people ignore the most obvious logarithmic trendline of BTC.
Fishtail one way when we are peaking at ATH.
Fishtail the other way when we are bleeding.
Stop fish-failing.
The only way BTC gets to $20k is a flash crash that results from a cataclysmic macro-economic event like the COVID crash in March 2020. Meaning that at $30k, even an x2 long wouldn't even get liquidated until $15k, meaning a 2x long at $30k is still a pretty safe bet IMO. Of course if it did nuke to $20k that would obviously be the best time to x3 or even x4 margin trade. It obviously can't go any lower than that; way too much buying pressure; way too much institutional adoption. Think about how many people out there would love to see a $20k flash crash. So so many millionaires/billionaires at this point. $20k BTC is just free money on the table for anyone with the balls to jump in and catch the falling knife.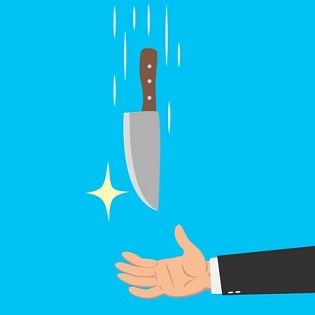 What about Feb's sorted history?
Hm, yes. February is the best month for traders out of the entire year. So much unpredictable volatility compared to other months. We can almost be certain that somewhere in FEB there will be a big pump, and also somewhere in FEB there will be a big dump; happens every year. Just gotta have the good graces to find it, albeit that is no easy feat (unless of course it dumps first and your only action is buying the dip, can't go wrong there).
At this point I'm still banking on the idea that 2022 is going to be similar to 2014 and 2018, in that the halving years are the only ones that nuke early FEB and pump late FEB, while all the others pump early FEB and nuke late FEB. Make no mistake: one of these things is going to happen, and I'm heavily betting on a dump to the doubling curve over the next two weeks. Of course then again I do have 157k Hive powered up... so there is that! Again I'm obviously not going to complain if number go up.
Conclusion
You know what to do.
Bet against the @edicted.
You know you want to.
Free money, fam.
I put real money on this one.
A lot of it.
Let it ride.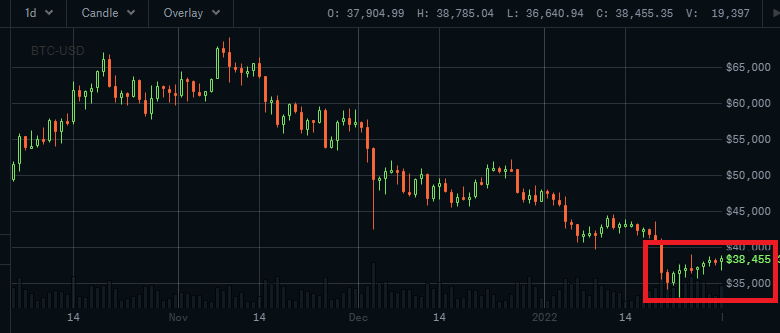 Legit that is just... painfully bearish with a new moon coming.
Yuck: prepare for nuke.
Posted Using LeoFinance Beta
---
---