Hyperfocus Part 1
My ADHD knows no bounds!
How long can I do the same repetitive task over and over again day in and day out 12+ hours a day nonstop without burning out? Depends on my interest level! Days? Months? Years? All of the above.
Hm, maybe the bear-market has me depressed.
Addictions like this can only truly manifest and thrive under the proper conditions. The worst I ever had it was definitely World of Warcraft back in the early aughts. Yikes! Play for 16 hours a day; sleep for 8; do it again. What a grind. What a waste of time (or was it). Certainly there are lessons to be learned within these gaming ecosystems.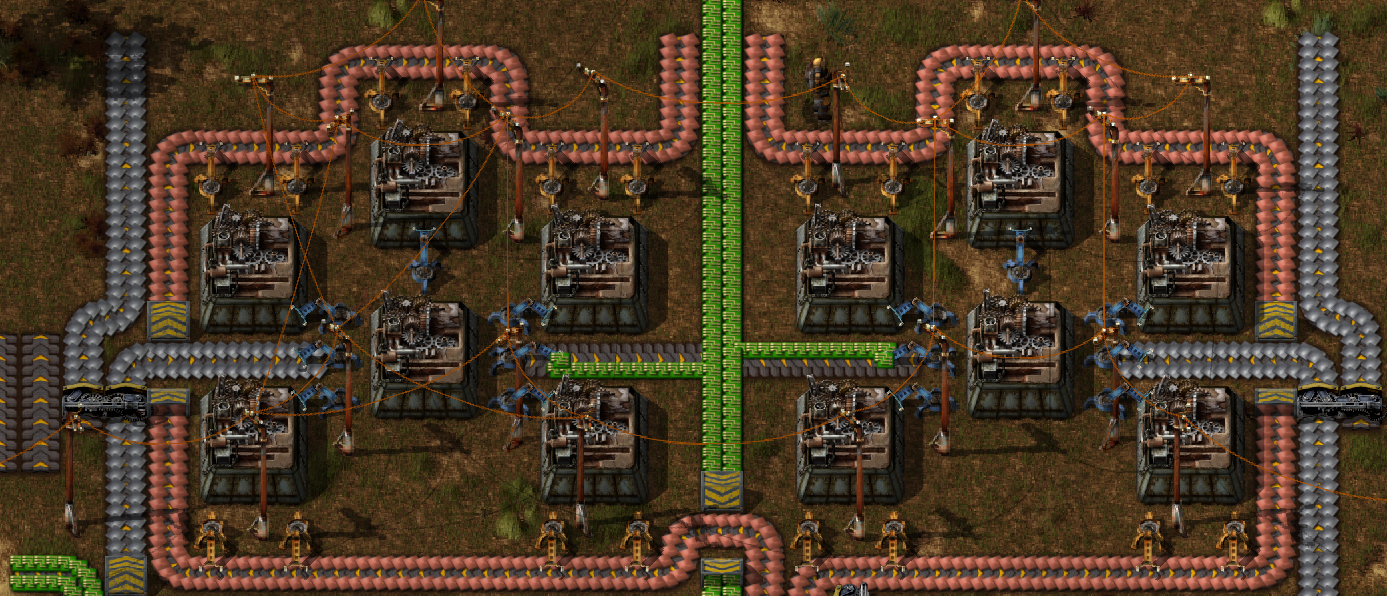 Current obsession: Factorio
This is such a weird thing to admit.
First of all because it's a sandbox game and I usually don't like the lack of direction that these types of games provide. Second because it's largely single-player and also non-competitive. Still, this game consumes a big chunk of my day lately. It's very one-of-a-kind but also clearly draws a lot of inspiration from games like Minecraft (which in turn draw inspiration from games like Dwarf Fortress). Nothing gets developed in a vacuum.
I'm already dreading this...
So what I plan on doing is blogging about this insanity until I get fully burned out on it or run out of things to say. How long will I be able to blog about a stupid game? Haha, let's find out.
Rules for Hyperfocus posts:
Need to write one every day.
Must be at least 1000 words long.
Needs to have at least some relevancy to an outside topic.
Relevancy to outside topics?
Take this post for example:
https://peakd.com/hive-167922/@edicted/modularity-and-the-pyramid-of-development
At face value, it appears that this post has nothing to do with Factorio, but yet I would not have written it if I wasn't playing this game right now. The themes that come up in Factorio are common logistics and programming themes; from bottlenecks to overhead costs to modular development to scaling up to profits/losses to...
I have mentioned this game about half a dozen times over the years but I've never really done a deep dive on it. I feel like I should though, and thus begins the journey.
Why should I?
Ah well if only to burn myself out so I move onto something a little more productive would be nice. But actually look at what kind of strategy Hive is leveraging. Content Creation. That's where it's at, right? Building things that other people can experience. This is why sandbox games will likely be injected into this ecosystem and grow to astronomical levels at one point or another.
Content creation is not limited to blog posts.
"Get Paid to _____" right? Who's to say that building some content in a video game has less value than a blog post? Just depends on the content, right? If the blog post is about what someone ate for breakfast... not very hard to compete with that. But then this goes back to the 'quality content' argument on Hive that doesn't always have merit because Hive is more of a networking platform than a content creation platform. I guess platforms can be two things though.
Already I'm not doing a very good job at hyperfocusing on Factorio.
Perhaps this is foreshadowing of the posts to come. I'm actually thinking about booting up OBS studio and trying to record my screen. It's been so long since I opened that program that I forget why I even downloaded it in the first place. All I know is that Twitch streamers use it to stream video and put overlays on it and such. In any case, considering how the game works, it might be extremely half-assed and hackish to just take screenshots and try to explain what's going on. No, that won't do. People on Hive appreciate moving pictures anyway. It is known.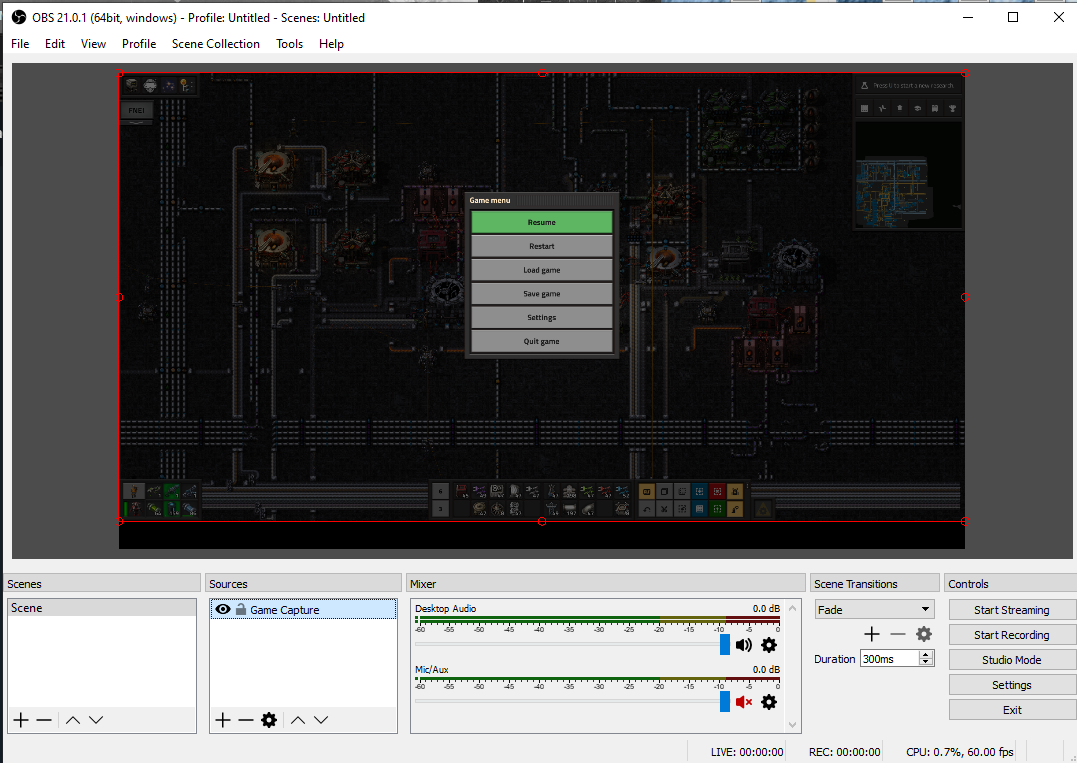 Ah, look at that...
It's all coming together. Still not sure where I should actually host the videos. Kneejerk reaction would be 3speak, right? I've never seen 3speak posts with a bunch of short clips with text in between them. Is that a thing? I've only ever seen a single link. Ug, I guess I have stuff to figure out. How daunting!
Either that or I have to just bite the bullet and use youtube, which would be fine considering what I'm using it for. I'm not trying to build an audience on youtube and there is no reason to censor these videos, and if they do get censored I have no reason to care and could easily rehost them somewhere else.
1+ hours later...
Wow look at me go being productive and learning new things when I thought I was just gonna be playing and blogging about Factorio the entire time.
I made a new email account; one that doesn't have my first and last name displayed. "[email protected]" To be fair I don't care that much if I get doxed but at this point being anon is just like a fun little joke I have going on the side. Every year it continues the joke gets funnier. Even my witness partners don't know my name. When I met up with Matt he didn't even ask. Life is weird.
I tried to upload the video on 3speak, but the first 2 file formats were invalid for encoding. MP4 unsurprisingly worked, but I'm still not seeing it up there. Not sure if I have to actually create the post for the video to be encoded and linked to my account. I also thought it was a bit weird that I needed to give an email address for 3speak as well, so the new email now serves two purposes (3speak account and youtube account).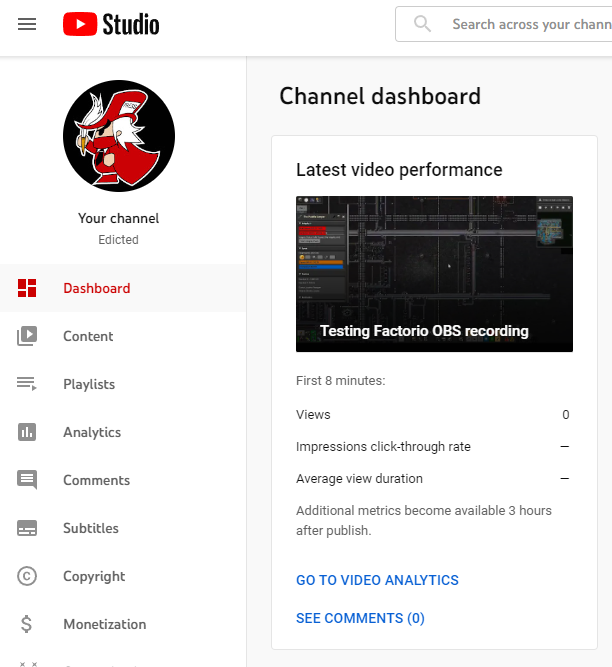 I've actually always wanted to create an account like this. There are so many times I've wanted to link to short clips that either don't exist on youtube or are impossible to find with the search algo. Now I can create them myself if need be.

Nice I made it to 1000 words.
I guess I can stop now!
Conclusion
Hyperfocus FAIL! I haven't said a single thing about Factorio yet... but just wait! I'm going to bore you all to tears with this game. The setup was a bit more involved than I anticipated. I bet I can make this series last for at least a month. Writing 30k words on nothing but Factorio? Easy. Cakewalk.
But seriously the themes will be much more overarching than that. Themes of content creation, logistics, scaling up, circuit logic, blah blah blah. There's a lot to pull from. We'll see how it goes. I expect it to be an unmitigated disaster. Let the games begin.
Posted Using LeoFinance Beta
---
---