Hive Open Mic | Week 178 | — Bajo el agua — Manuel Medrano— @edcraft
---
Hola amigos de hive Open Mic en esta semana 178 y me siento feliz de poder traerles denuevo una entrada para la comunidad se que he estado muy inactivo y que solo público esporádicamente pero es por qué desde hace ya unos cuantos meses en mi comunidad se robaron los cables del internet y estoy usando la señal móvil, la cual tampoco es muy buena en dónde vivo.
Desde la semana pasada les tenía algo preparado pero todo se arruinó por un malestar en la garganta y no pude traerles el tema que tenía preparado para esa semana, ahora tengo otitis en mi oído derecho y casi no escucho de ese lado pero no quería que eso me detuviera de traerles en tema "Bajo el agua" de Manuel medrano,Viendolo desde el lado positivo no escuchar de un lado me ayuda a verificar a todo tiempo mi afinación al cantar de manera automatisada jaja.
se que dije en el vídeo "Bajo la lluvia" pero no me había dado cuenta de ese error hasta luego de editarlo me parece algo muy gracioso, tan detallista que soy y se me pasa algo así. Parece algo poético y todo.
Espero resolver los problemas con el internet pronto, ya extraño ver las entradas de todos ustedes.
Nos vemos en una próxima semana!!
Hello friends of hive Open Mic in this week 178 and I am happy to bring you again an entry for the community I know I have been very inactive and I only publish sporadically but it is because for a few months now in my community they stole the internet cables and I am using the mobile signal, which is also not very good where I live.
Since last week I had something prepared for you but everything was ruined by a sore throat and I couldn't bring you the song I had prepared for that week, now I have otitis in my right ear and I almost can't hear from that side but I didn't want that to stop me from bringing you the song "Bajo el agua" by Manuel medrano, looking at it from the positive side not hearing from one side helps me to check my intonation at all times when singing in an automatic way haha.
I know I said in the video "Bajo la lluvia" but I didn't notice that mistake until after I edited it, I think it's so funny, I'm so detail oriented and I missed something like that. Seems kind of poetic and all.
I hope to solve the internet problems soon, I already miss seeing all your posts.
See you in a next week!!!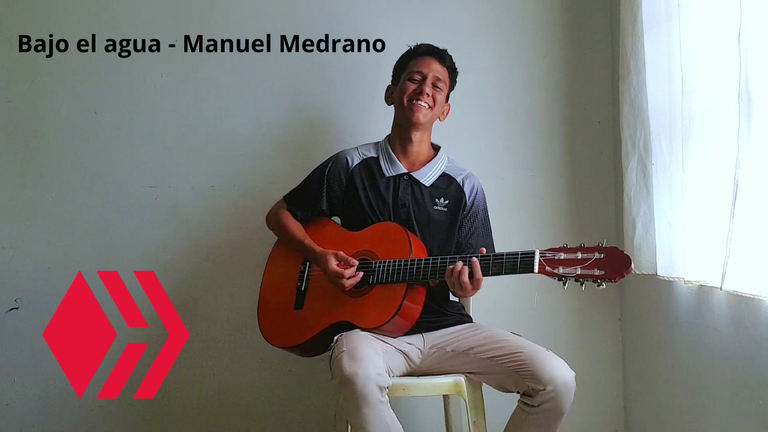 Letra
Quiero volar contigo, muy alto en algún lugar
Quisiera estar contigo viendo las estrellas sobre el mar
Quiero encontrar otro camino ponerme mi vestido y salir a caminar contigo
Quiero decirle al mundo que no somos amigos, decirle a la tristeza
Que no se cruce en mi camino
Quiero volar contigo, muy alto en algún lugar
Quisiera estar contigo viendo las estrellas sobre el mar
Quiero encontrar otro camino ponerme mi vestido y salir a caminar contigo
Quiero decirle al mundo que no somos amigos, decirle a la tristeza
Que no se cruce en mi camino
Hoy por que voy
Contra la fuerza de un submarino
A conquistar a esa dama que tanto juega conmigo
Voy por el mundo solo y sin amigos
Voy dando tantas vueltas sin ningun sentido
Pero tu ayer cambiaste mi destino
Me diste vida, mucha más vida que el vino
Me diste fuerza en los días fríos
Me diste ganas de extrañarte sin ningún motivo
Quiero encontrar otro camino ponerme mi vestido y salir a caminar contigo
Quiero decirle al mundo que no somos amigos, decirle a la tristeza
Que no se cruce en tu camino
Que no se cruce, no
Que no se cruce, no
Que no se cruce, no

Traducido con DeepL

---
▶️ 3Speak
---
---