Hive open Mic week 105- What a wonderful world (cover) [ENG|ESP]
---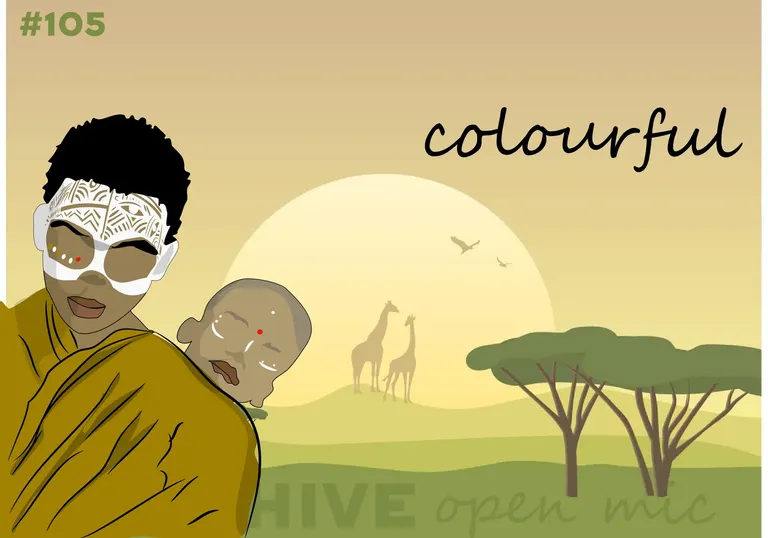 When Louis Armstrong wrote this song, I don't know if he thought he would be connecting with the whole world. I have heard so many versions and amongst them, my favourite is still by Isreal IZ.
I first heard it in Grey's anatomy. After a bad episode where a character everyone loved died, they probably played it to dull the mood down. Then I think I heard it on American idol. All this happen probably when I was 10.
Right now I've struggled with Israel's version many times but I haven't gotten it. But I will.
When I saw the theme for this week's post. It hit me easily cause I know everyone would hear the colour of this song.
The theme was selected by @mipiano and I think it's beautiful. Much respect @mipiano you know it's all love from here.
My art
As of writing this now, I'm yet to make the art. I want to be inspired first and then make something.
I want to start making African digital art. It's everywhere around me so it should come easy.
Lyrics
I see trees of green
Red roses too
I see them bloom
For me and you
And I think to myself
What a wonderful world
I see skies of blue
And clouds of white
The bright blessed day
The dark sacred night
And I think to myself
What a wonderful world
The colors of the rainbow
So pretty in the sky
Are also on the faces
Of people going by
I see friends shaking hands
Saying, "How do you do?"
They're really saying
"I love you"
I hear babies cry
I watch them grow
They'll learn much more
Than I'll never know
And I think to myself
What a wonderful world
Yes, I think to myself
What a wonderful world
Oh yeah
---
CuandoLouis Armstrong escribió esta canción, no sé si pensó que se conectaría con todo el mundo. He escuchado tantas versiones y entre ellas, mi favorita sigue siendo la de Isreal IZ.
Lo escuché por primera vez en la anatomía de Grey. Después de un mal episodio en el que murió un personaje que todos amaban, probablemente lo interpretaron para calmar el estado de ánimo. Entonces creo que lo escuché en American Idol. Todo esto sucedió probablemente cuando tenía 10 años.
En este momento he tenido problemas con la versión de Israel muchas veces, pero no la he conseguido. Pero lo haré.
Cuando vi el tema para el post de esta semana. Me di cuenta fácilmente porque sé que todos escucharían el color de esta canción.
El tema fue seleccionado por @mipiano y me parece hermoso. Mucho respeto @mipiano ya sabes que desde aquí todo es amor.
Mi arte
Al momento de escribir esto ahora, todavía tengoque hacer el arte. Quiero inspirarme primero y luego hacer algo.
Quiero empezar a hacer arte digital africano. Está en todas partes a mi alrededor, por lo que debería ser fácil.
Letra
Veo arboles verdes y tambien rosas rojas
les veo florecer por mi y por ti
y me digo a mi mismo: Que mundo tan maravilloso
Veo cielos azules y nuves blancas
benditos dias brillantes, sagradas noches oscuras
y me digo a mi mismo: Que mundo tan maravilloso
Los colores del arcoiris tan lindos en el cielo
estan tambien presentes en los rostros de la gente que pasa
veo amigos dandose la mano, diciendo: "mucho gusto"
en realidad estan diciendo: "te amo"
Escucho bebes llorar, les veo crecer
aprenderan mucho mas de lo que yo llegare a saber
y me digo a mi mismo: Que mundo tan maravilloso
https://lyricstranslate.com
---
▶️ 3Speak
---
---