Market Friday goes House Hunting
I was on another house-hunting trip this week, and you know how I love you to be with me, wherever I go! Tell the truth! You love it too! This isn't a traditional market, but, that is okay! We tend to get a little creative! Let's go househunting! Are you ready? This could be fun!
We have gone househunting together. If you have been here a while, you will remember the good times we had touring the homes. Then, of course, covid, so nothing happened except perhaps a few wheels spinning.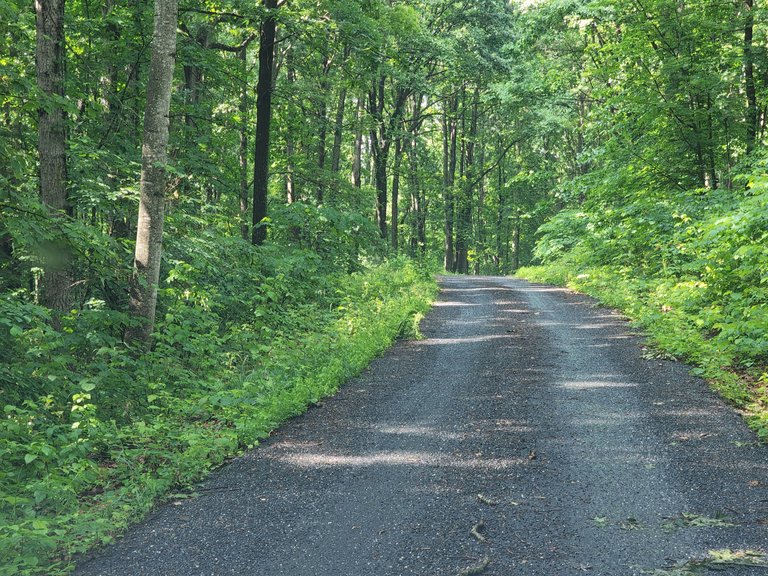 The driveway was fairly long, at least a half mile, straight up the hill. I didn't expect that. I will say that whoever designed the driveway did so in a brilliant way. There is so very little incline even though the house sits up on top. You are surrounded by the forest and I know from the property description, that there are fields on the other side of the forest. Who said you cannot have it all? I am seriously kidding. Nobody can have it all!
Today is #MarketFriday initiated by @dswigle (Denise, that's me!!) Join me as we share our markets across the globe. I always look forward to seeing what you send me! It is amazing to see the different markets and cultures of our friends here on Hive.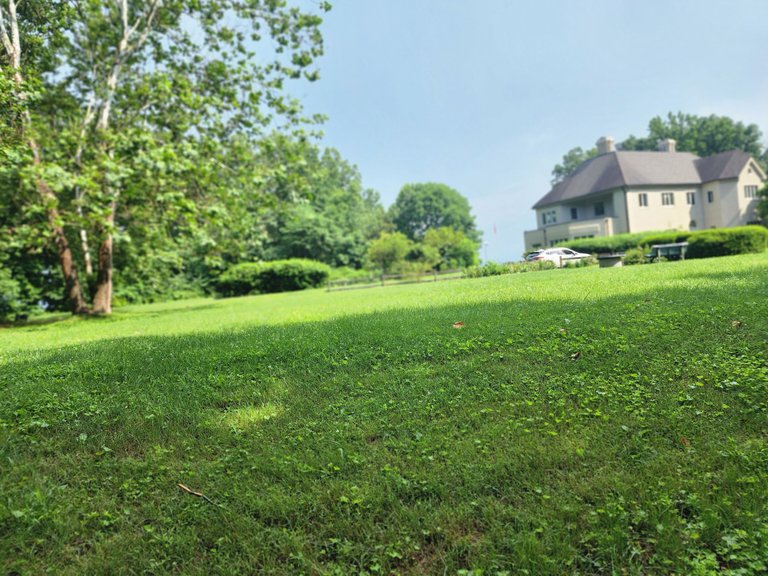 No way! This was better than I had anticipated! The house was an estate sale. Side note: The owner had died in March and his family was trying to settle his affairs. The gentleman was almost 100 years old and living independently in his house with a housekeeper who came in twice a week. His children were in their 70's (Yes!) and just wanted to be done with the entire process. I thought the price was wrong or a joke, but, in fact, it was not. The price was below the appraised value by almost 1/4. That is a lot in a house. The market here is out of control with the prices of houses. I have to wonder what the catch is.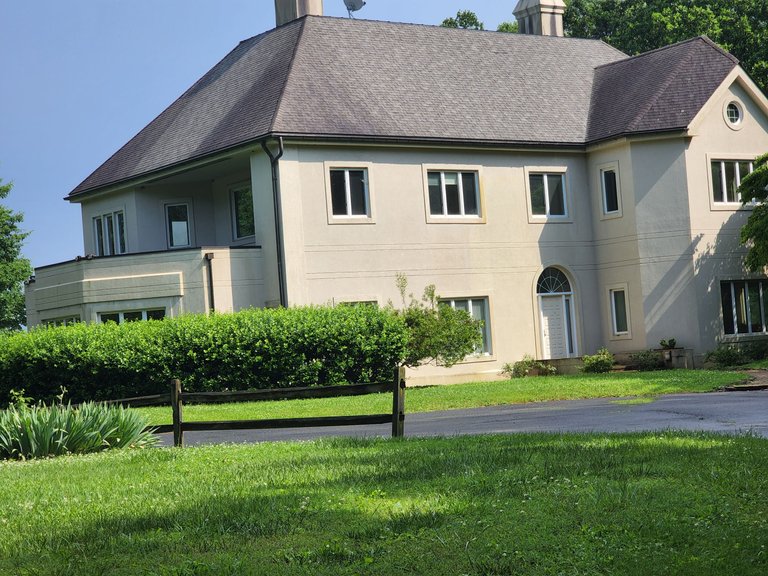 What is the first thing you look for when you are shopping for a home. (Of course, we know the price, but, if this were just a dream, what would that be?) Every Real Estate show says that you should shop for location, location, location. If I cannot go where I want, then I make other considerations. Do I like the neighborhood? Are the people nice? Does the house appeal to me? Can I make this home? If you are renting this time around, you are lucky!! You get to practice without fail! I always remember, if I buy it, I cannot unbuy it, so I try to consider all things when I look at a house.

Have you ever bought a house? What are the considerations you used when you were looking for the house? Are you renting? What considerations do you use when you are choosing where to live. I can honestly say I had two: Affordability and safety.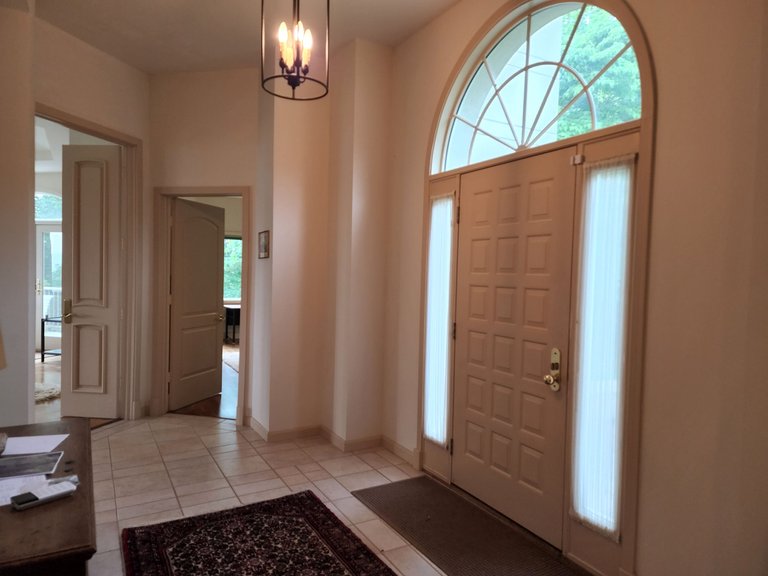 This is what I see when I walk in. It has a nice entryway, open and light. I have to admit, the inside was pleasant and functional. Not over-the-top house beautiful, but much better than that in so many ways. I could see the gentleman in so many things that he did in the house.
A little bit of backstory on the past owner of the house. His name was Charles and I found out from doing my research on him that he was an inventor as well as an engineer. There was all sort of things in the house that showed off his ingenuity. He was super organized and made little bins for all of his toys. He had the entire lower level (basement level) broken up into five different rooms. He was 98 and still had a functioning Segway.
There were small things about the house that I really liked. He has one of two secret doors in each room. I didn't know they were there until they were pointed out. You push your finger in and the door would pop open. No lie! Inside would be a broom closet, or in the kitchen, the walking pantry was behind one of those doors. I opened up the door and was shocked to see I could step inside and there was also a commercial deep freeze.No kidding! The secret rooms were the most fun. I loved trying to guess what was behind them. I wonder if he had as much fun building them as I had opening them up and discovering what they were!!? By the way, the kitchen was huge. Nothing else matters, just the kitchen. :) There were three other people besides myself that came to look at the house. The real estate agent has a difficult time keeping up with us. We were not together, so we went in all different directions.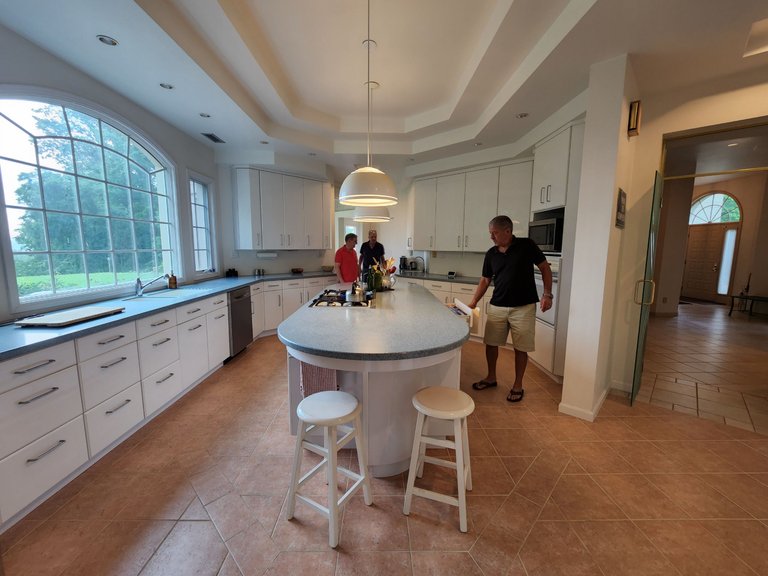 The door below, to the left of the clock? It is an Otis Elevator! No lie! I looked at it and shook my head. Secret doors and an elevator to all four levels? Basement, first floor, second floor, and the attic. The attic was really large! Note: The attic was accessible only by the elevator or pull-down stairs.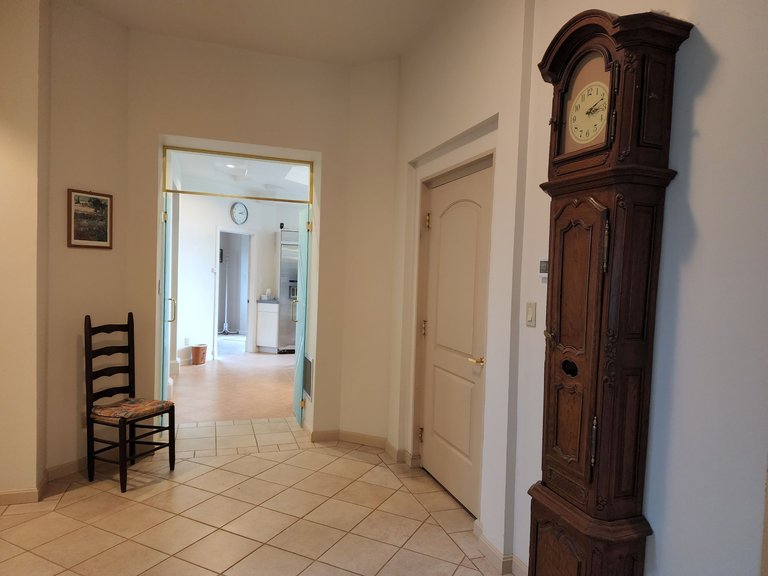 This was one of the bedrooms, the entire house was showered with light, but, in a good way. The telescope? Hmmm. I bent down to see what Charles was looking at last. Obviously, it was the mountain across the way. See the flagpole? It was a pretty tall one. That was the second floor. Way to be patriotic, Charles! In fact, Charles served in World War ll for Luxemburg, his native country. Do you know he did not move to the United States until he was a little over 70 years old? He came here, built his house, and lived for almost 30 years in it. In between time, he put out a few more patents and invented things.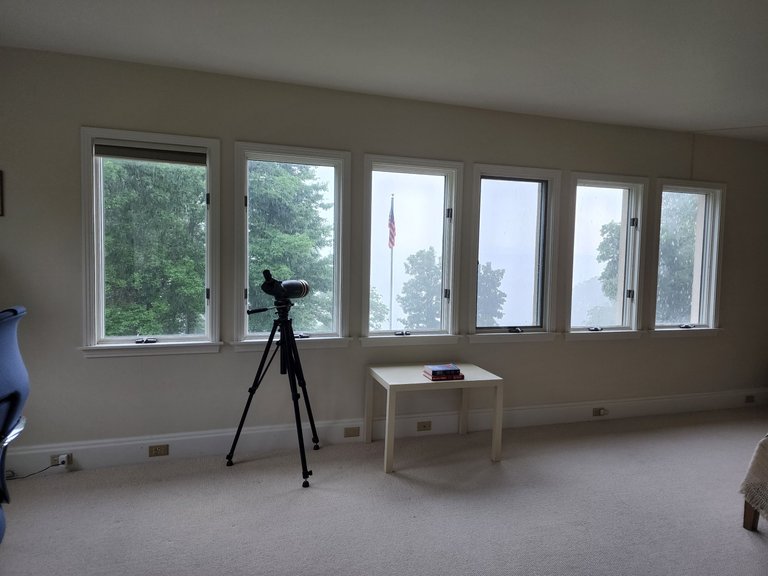 Charles was married and his wife passed away six years before he did. I bring this up because Charles loved his wife, with all his heart. She swam laps in the pool (Oh! A pool!) every day and when she passed away, he called a farmer down the road and asked him to fill in the pool, for he could no longer look at it. It reminded him too much of his wife. I wonder if I can call up the farmer and have that farmer take the dirt out of the pool? Well, we will see how the bidding goes on the house. The bids (a legal document offering up a certain amount of money for the property) are due on Saturday by 1 PM EST. We will see how we all do.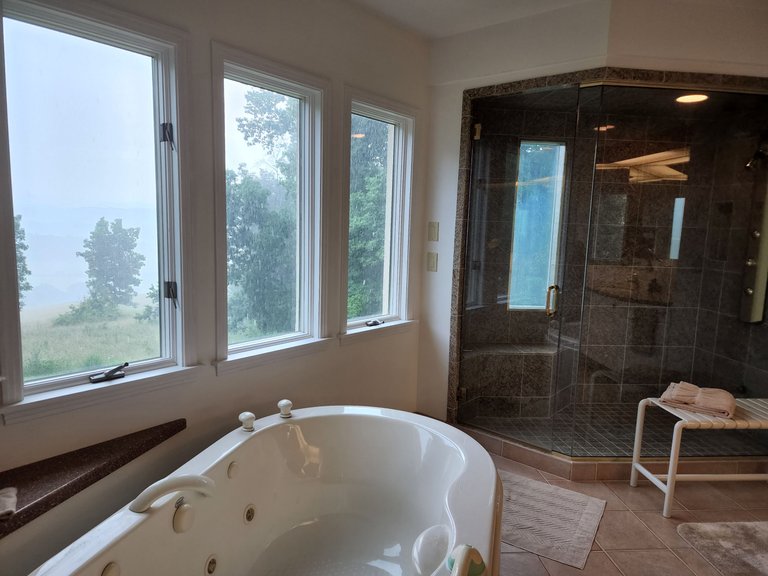 This was 1/4 of the bathroom. It was too big. It can truly be too big. There was so much more to the house. 4 bedrooms with sitting rooms and full bathrooms, sitting rooms, and living rooms. I actually think the house had too many rooms. There was something that was on all four levels that I thought was a great idea. He had a water faucet behind a secret door, eand each floor had a hose and water available in case of fire. I thought that was pretty awesome! Always thinking, Charles!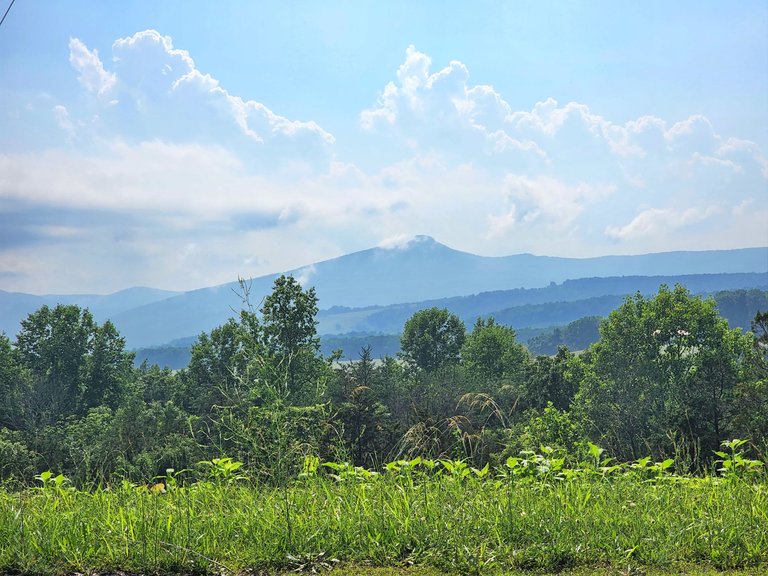 I stepped out onto the balcony of the Master Bedroom. Breathtaking views. He built on this for the view. So lovely. I wonder if it reminded him of Luxembourg. I lived 20 minutes from the Luxembourg border in Bitburg, Germany years ago. This reminds me of it.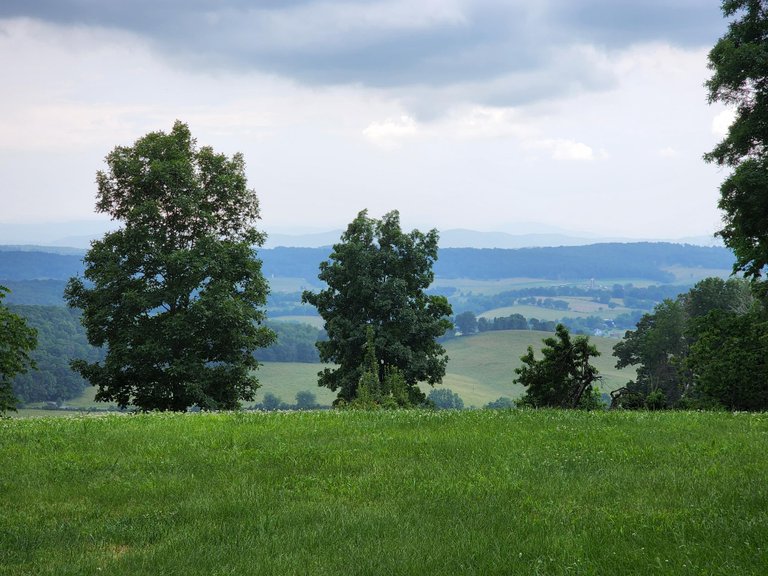 Please leave the link to your post here so it can easily be found by others. It helps you and me to have them in one place. Where else can you take such a quick trip around the globe? Thank you so much for joining us!! ❤
I have been away for a few days, so I didn't have time to get together an idea for next week's #MarketFriday posts... Drop an idea and the best one will get a 5 Hive prize and I will post it on my Saturday post. Be on the lookout!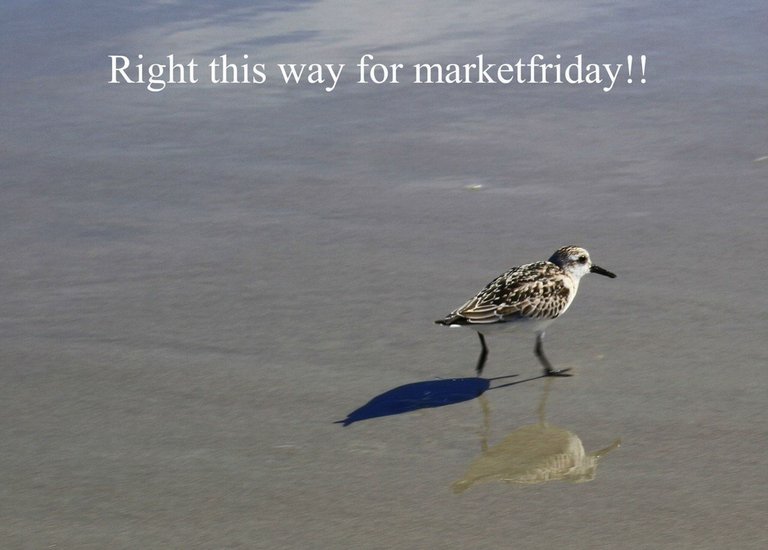 And just like that, this post is done. I hope you had a good time and learned a little something new. As always, I want to thank you for taking the time to visit, and just remember, #MarketFriday loves you! Thank you for supporting the challenge! Have a most fabulous day! Cheers!!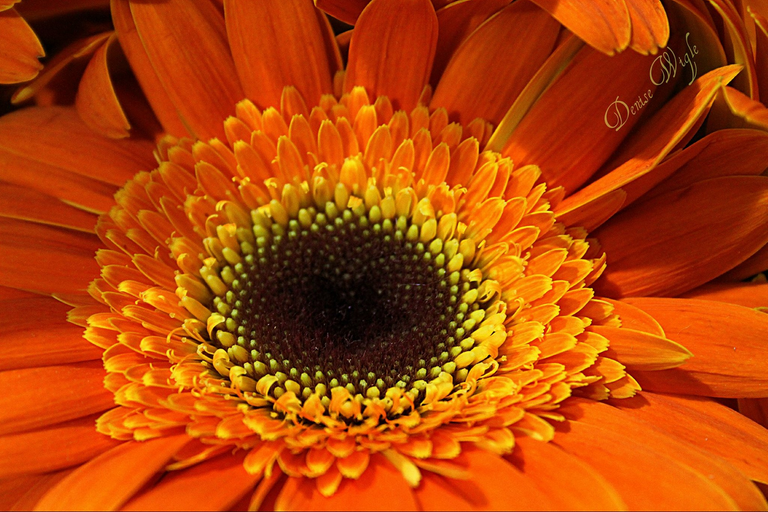 As always, there must be flowers to color my world. I appreciate so many of your for passing on the #alwaysaflower memo!! Thank you! ❤️
Now, I would seriously love this house and I will put a bid in for it. The highest bid will get the house. This one will be a little tricky because houses are going above the asking price, so the house can be anyone. The market is dropping for housing, but, not yet. Probably one of the reasons to sell it quickly. The property is in good shape with a few updating projects to go on. So you see, #MarketFriday can be decidedly anything that you pay to attend, intend to buy, or even a regular market. Use your imagination if you want.
Don't forget to visit other #MarketFriday posts! Have a great night!

---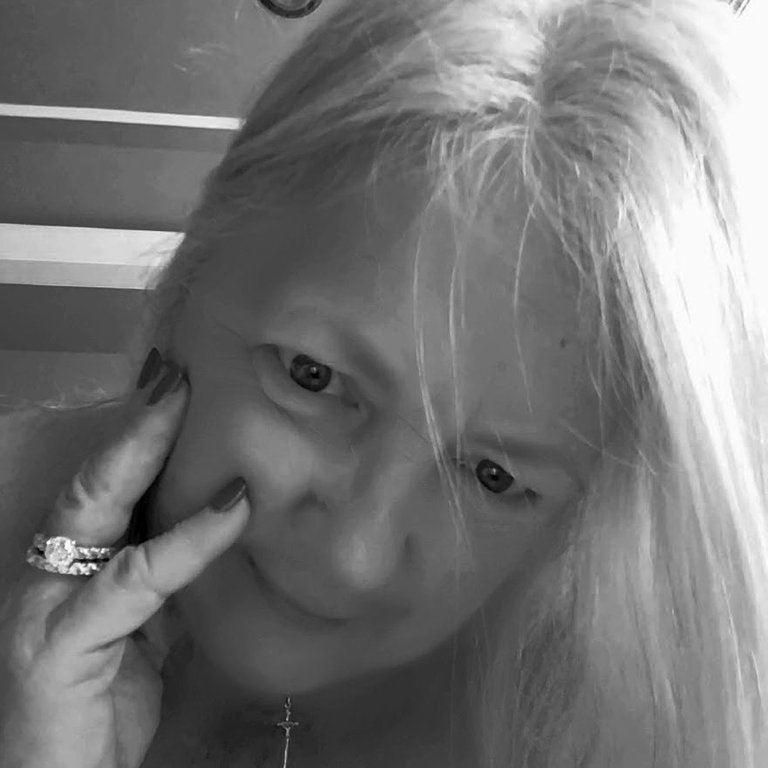 ---
Fridays are all about the #MarketFriday Challenge! Looking to take part in it? Here is how:
Rules of the Road to Join #MarketFriday!
Go to the market, or anywhere that you pay money for a service.
Take pictures! Be creative!
Tell us a little bit about the market or the event. What brought you there? What did you buy? How much did it cost? Was it expensive? Did it go up or down? I need something other than 50 pictures of the market.
Post the pictures. Of course, you should tell a little bit about the ones you post, it is too difficult to guess on some
Use the MarketFriday Community Platform to post (#hive-196308) This is not required but appreciated.
PLEASE Drop the link into the MarketFriday comment section so I can find it!!
Following me and reblogging the post would be appreciated, but not a rule, more vision for more views on the #MarketFriday posts!
You must put #MarketFriday by @dswigle somewhere on your post.
As always, please remember! #MarketFriday loves you!

#TeamUSA is a growing community of quality-content people from the United States or those living here. Check us out on Discord!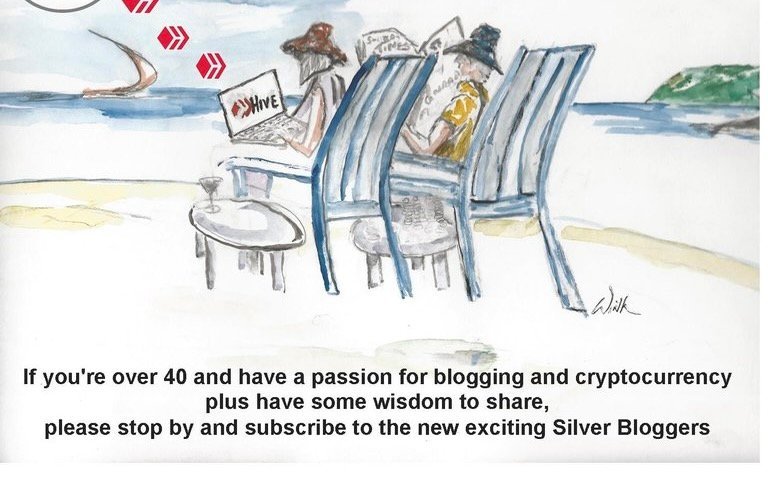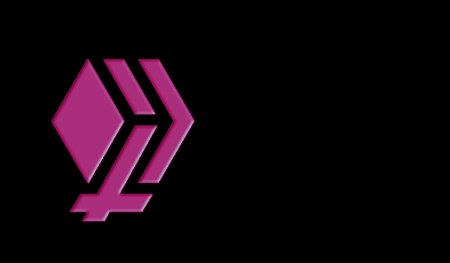 ---
---