Burnside Farms Flowers of the Sun: Market Friday
Welcome back to Burnside Farms! First, there were endless tulips, and every time you went there you could pick 10 flowers for free. Never a limit on when you could come. I went at least 4 or 5 times a week. I went, took some flower pictures and went home. Endless tulips at my house stopped to give flowers to my neighbors, the retirement village, and even the post office. Everyone got flowers. I bought vases at the dollar store, for $1.00 each! So for the price of $1.00 each, there was much happiness in this town. I got many pictures of tulips and had some cards made and a good time was had. I count that as a win!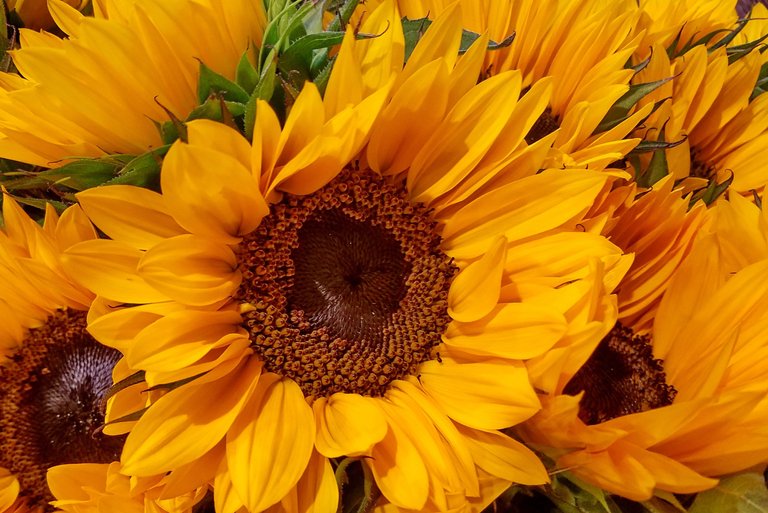 Today is #MarketFriday initiated by @dswigle (Denise, that's me!!) Join me as we share our markets across the globe. I always look forward to seeing what you send me! It is amazing to see the different markets and cultures of our friends here on Hive.
Thanks for purchasing your Passport!
We can't wait to see you in the flower fields this spring and summer
So, what's next?
They have been sending me all sorts of little notes to let me know they were expecting me back. How nice was that? Tulips in the Spring and Sunflowers in the late summer. Could it have gotten any better? Look! I even got a bonus bee.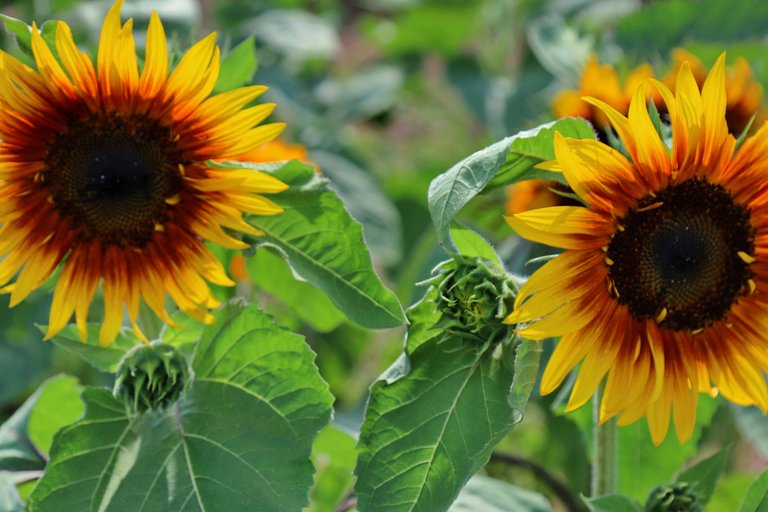 Burnside farms is a flower farm in the more rural part of the area. I was gifted a pass, called a Passport to Burnside Farms for Mother's Day. I looked them up on the website to get the information and found that the passport is $70.00, which is a lot to just look at flowers, but, it is for one month. You can go every day, three times, four times, whatever you want. Ten free flowers every time you go! Anyone you want. Also, included in your passport? You get to go to the sunflowers! Fifty acres of sunflowers and you can go every day to that! You get three free flowers every time you go. This will close in the first week of September, so six weeks of sunflowers. I am in flowers all season practically! For $70.00!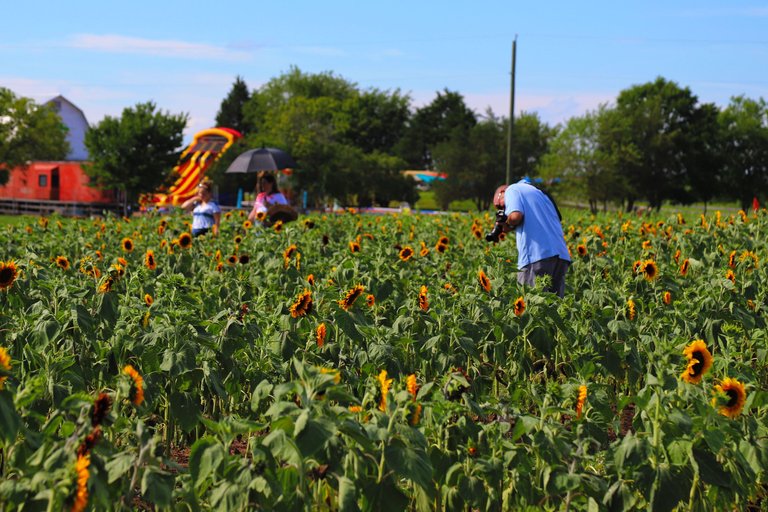 This was the very first day. So people would not be disappointed they sent everyone a note saying, The first day and the last day are when there are the least flowers. Don't worry! New sunflowers pop every single day. I'm going back later today, closer to sunset. I could see they are a lot taller and more abundant! I am ready for it. They are open 8 am to 9pmm every day. Sunrise would be nice also, but, the owner is there the entire time they are open and I will just have to imagine how pretty it is, or I can hunt down a farmer's field of them. I usually come across many of them, but, the weather was crazy this spring, leaving the farmers to go instinctively rather than how they usually plant. What's going on, Mother Nature?

Has your weather been crazy this year or is it in the same weather pattern as always? Truth be told, we have been having rain, more than normal, but, it usually comes at the end of the day, mostly into the night. What is strange is there have been so many lighting and thunderstorms this year, that it even struck four people that were visiting the White House. (standing on the outside South Gate looking in) Four struck and three of them died. Crazy. So many lightning strikes/deaths this year.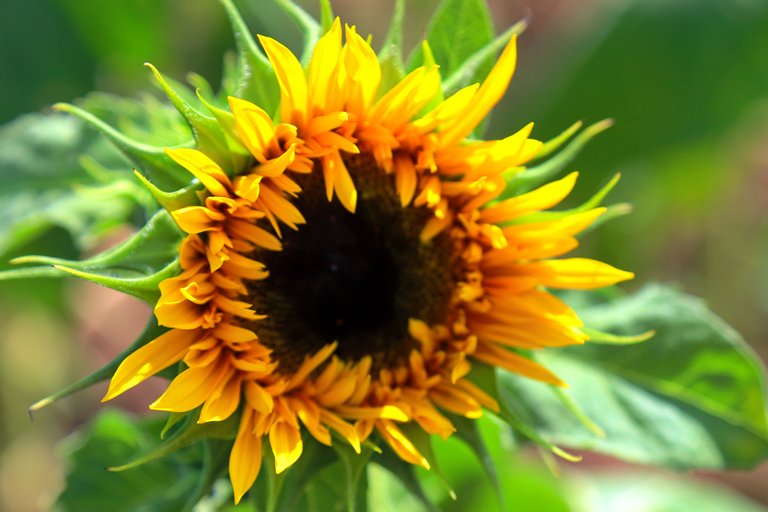 Our Summer of Sunflowers is a bit more predictable, so you can expect us to email you around the second week in July to let you know the date for that event. Our Passport holders will be the very first to see the spring and summer flower fields this year!
We were the first! There were four of us for hours, while the rest of the world took care of children and worked their jobs. It was a marvelous day to not be working. Of course, there weren't that many sunflowers, but, there were enough to make me happy. I am so very easy to please. A few camera club people showed up later and it is always good to hear their tips and ideas on how to take the best pictures and angles. Of course, then the botanical people from the flower club showed up and they started dissecting the sunflower. In all, it was fun listening to some very interesting conversations.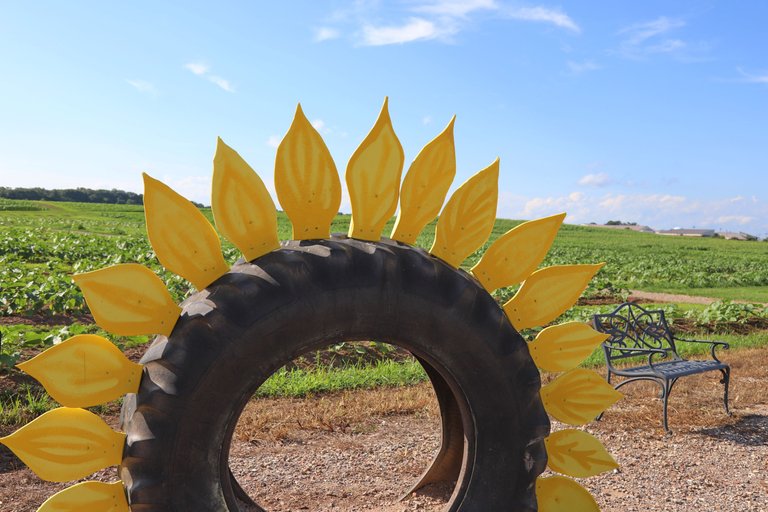 Fifty =/- acres. I know that isn't big to most of you, but, it is a generous amount of sunflowers.It is nice to not that there are benches all over for people to take a break and sit for a moment or three. See that farm, way back and to the right? The farm belongs to the people that own Burnside Farms. You can take a picnic as they have benches and tables, a huge playground for the kids, tractor rides, drinks, and of course, sunflowers!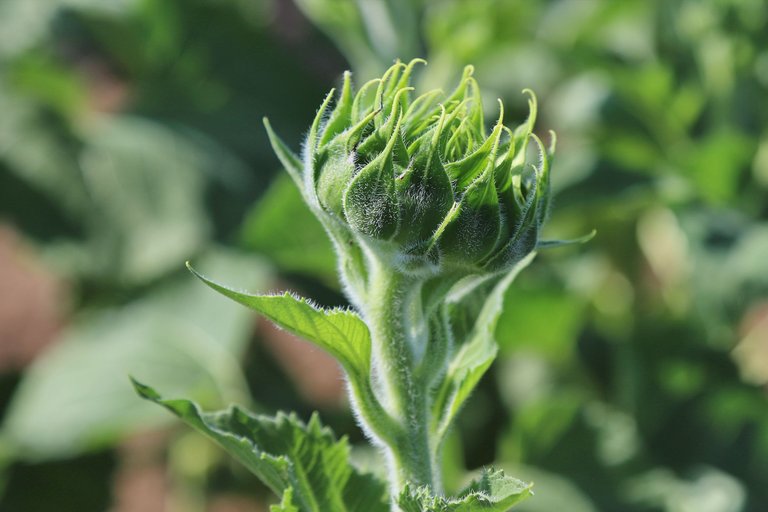 For those of you who read the post, you are probably the ones who take the time to read a few #MarketFriday posts. As a courtesy, it would be nice to see people doing that without me having to ask. I have to say that it warms my heart to see a genuine comment. It is the interactions between people that make this platform special. People caring for people. I am interested in what your life is like. Stop and take a moment with people. It isn't all about the money. Sometimes, it is about the people too. For those that read the posts, thank you, truly.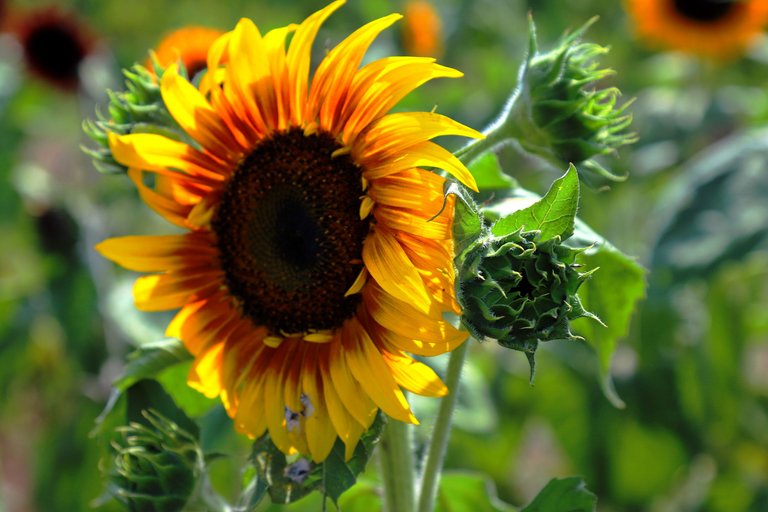 Burnside Farm
11008 Kettle Run Road
Nokesville, Virginia 20181
Visit Burnside Farm to enjoy the beautiful sunshine, walk among 50 acres of sunflower fields, and pick your own to bring home. Bring a picnic (or grab some barbeque from our friends at USA BBQ under the tent near the picnic area) and, if you have kids, they can expend some energy in our play area to ensure a great night of sleep. Don't forget about the amazing Sunflower Sunsets on the farm. There's nothing more beautiful than enjoying the colors of a summer evening beyond a field of stunning flowers.
Your well-behaved, leashed four-legged friends are welcome to the sunflower fields, so no need to leave your dog or kitty at home.

Burnside Famrs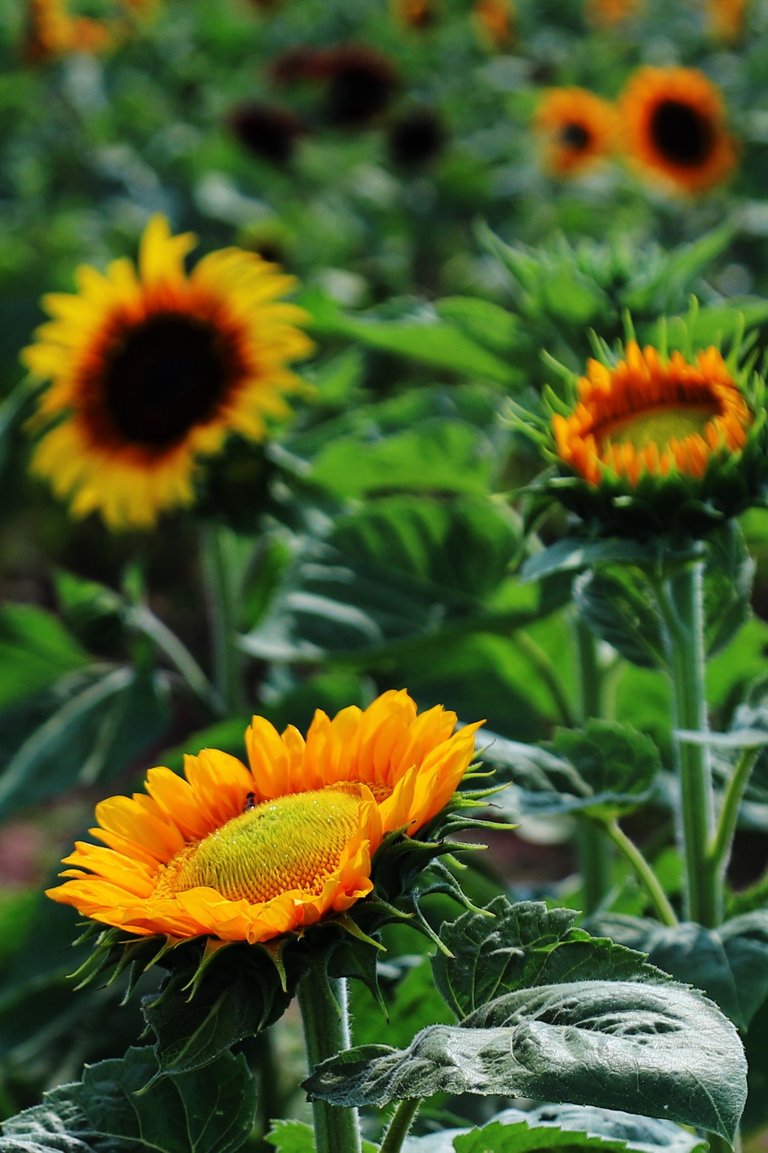 Please leave the link to your post here so it can easily be found by others. It helps you and me to have them in one place. Where else can you take such a quick trip around the globe? Thank you so much for joining us!! ❤
As always, there must be flowers to color my world. #alwaysaflower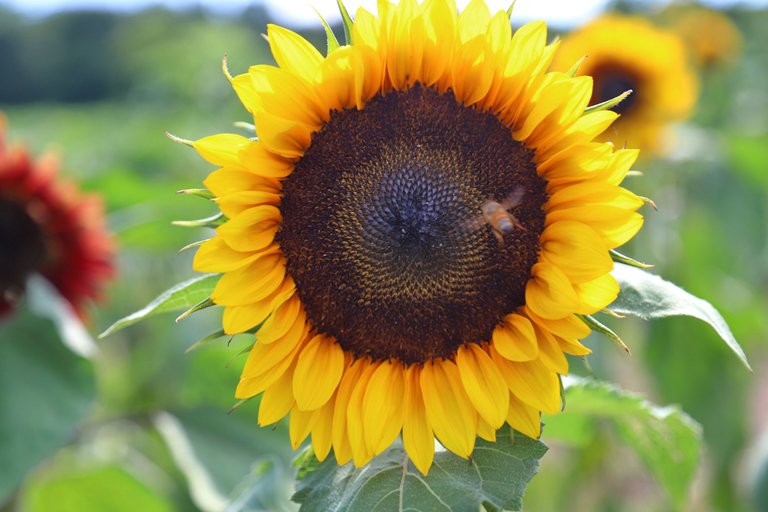 And just like that, this post is done. I hope you had a good time and learned a little something new. As always, I want to thank you for taking the time to visit, and just remember, #MarketFriday loves you! Thank you for supporting the challenge! Have a most fabulous day! Cheers!!

---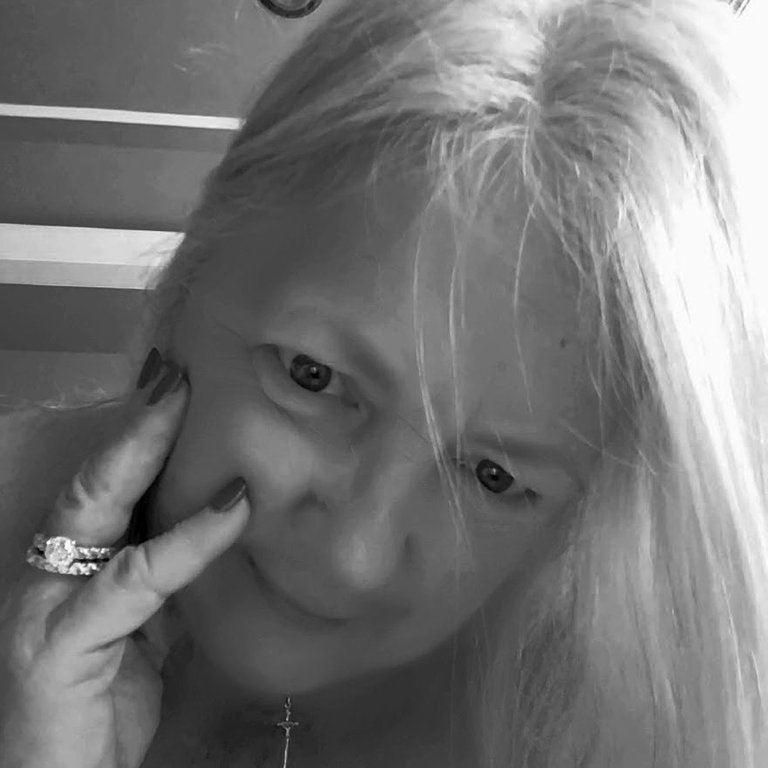 ---
Fridays are all about the #MarketFriday Challenge! Looking to take part in it? Here is how:
Rules of the Road to Join #MarketFriday!
Go to the market, or anywhere that you pay money for a service. Museum, art gallery, bowling, barber shop, or hairdresser. Cultural event. You are allowed to think outside the box!
Take pictures! Be creative!
Tell us a little bit about the market or the event. Where is it? What brought you there? What did you buy? How much did it cost? Was it expensive? Did it go up or down? I don't need 50 pictures unless you are willing to explain them all.
Post the pictures. Of course, you should tell a little bit about the ones you post. What seems obvious to you may not be obvious to all.
Use the MarketFriday Community Platform to post (#hive-196308) This is not required but appreciated.
PLEASE Drop the link into the MarketFriday comment section so I can find it!!
Following me and reblogging the post would be appreciated, but not a rule, more vision for more views on the #MarketFriday posts!
You must put #MarketFriday by @dswigle somewhere on your post. Please. Please.
Please check out some of the other #MarketFriday posts!
As always, please remember! #MarketFriday loves you!

#TeamUSA is a growing community of quality-content people from the United States or those living here. Check us out on Discord!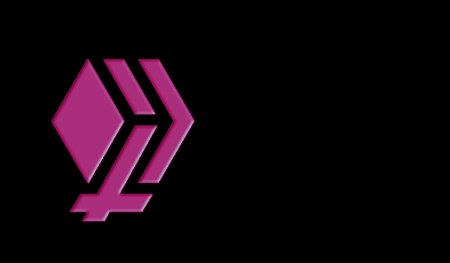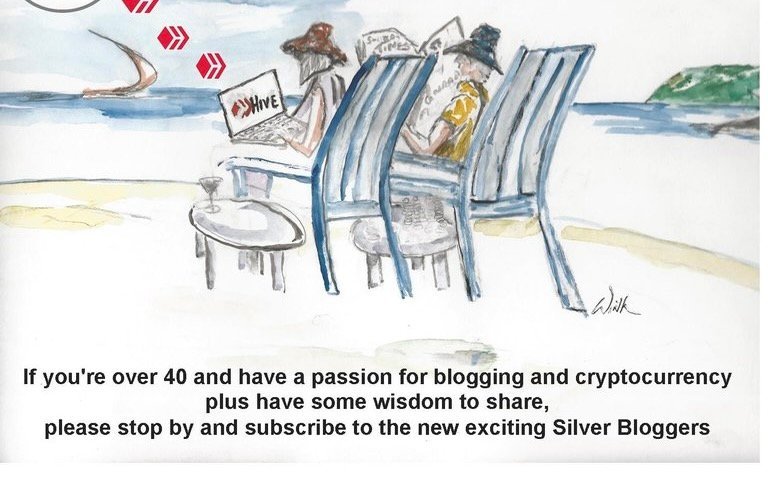 ---
---