My beach hideaway!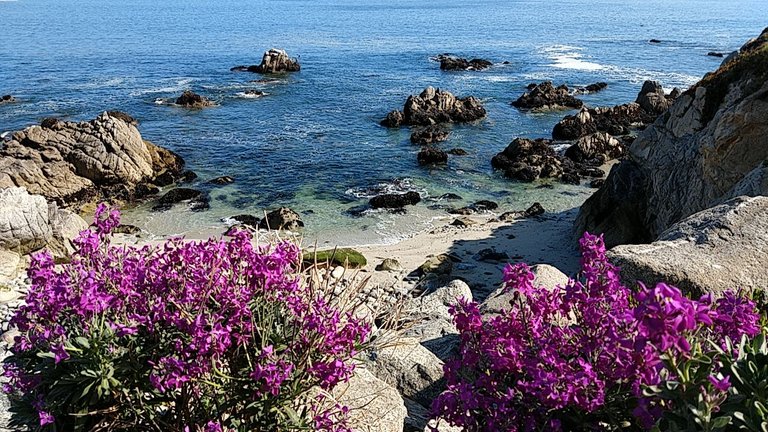 Do you have that special place that is really just a haven set aside for you? A few weeks ago, I was feeling very overwhelmed, stressed, and totally distraught. I packed a bag, got in the car and started driving to my special place for a much-needed-getaway! If you find yourself needing to borrow my secret place, I'm happy to share it with you!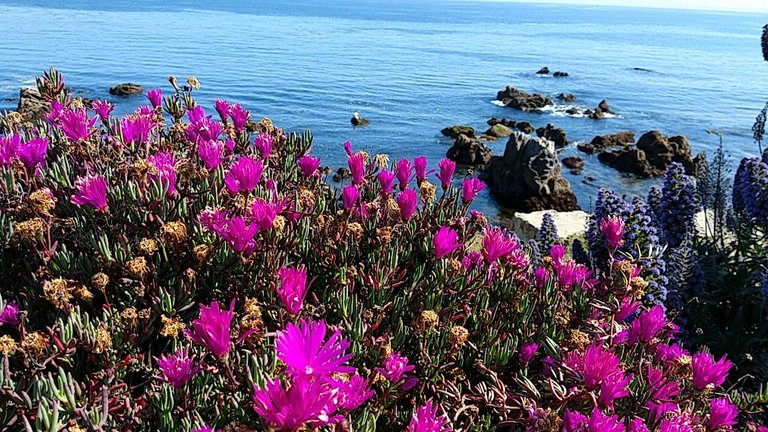 You wouldn't believe all the purple flowers that are scattered all over this beach walk in Monterey! So many - that I'm actually going to do a separate post to showcase them all! Purple flowers are my absolute FAVORITE - and even I didn't know so many types and shapes and hues of purple flowers existed until I found myself GASPING in delight at the array on my getaway!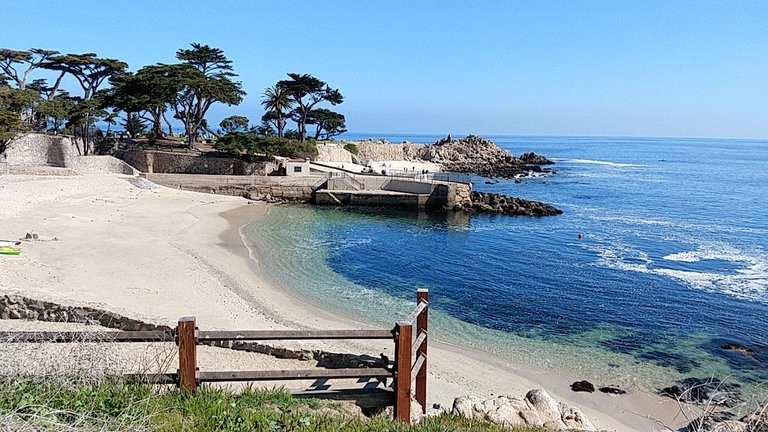 Look at the clarity of that water! It's so beautiful and the waves aren't very harsh. Crystal clear and so inviting! The only thing that stopped me was the cold weather! hahaha But as you can see in the picture - that didn't stop that lone swimmer out there! He's a brave soul! 😄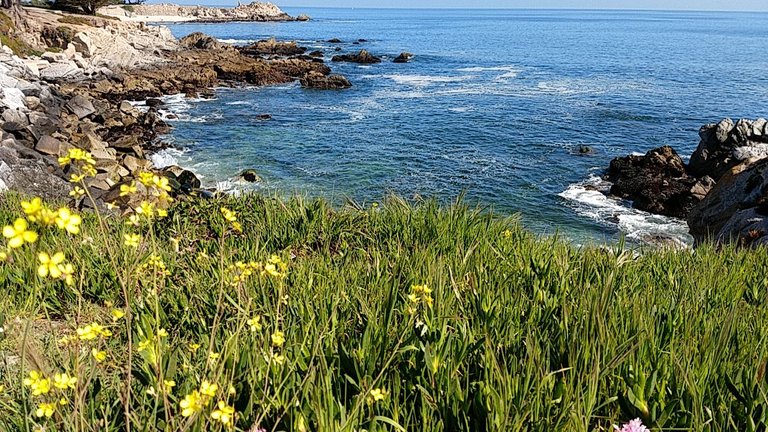 Not just purple flowers - but look at the sweet little meadow of yellow flowers here. I'm not sure what they're called, but they remind me of buttercups! My dad used to hold those up under my chin to see if I liked butter! hehehe The rocky shoreline is most certainly part of the reason why the water is so clear! The sand is really just crushed pieces of rock and shell - so the water doesn't churn up any fine sand to be murky. Doesn't look like this might be a scene out of Pirates of the Caribbean? ☠️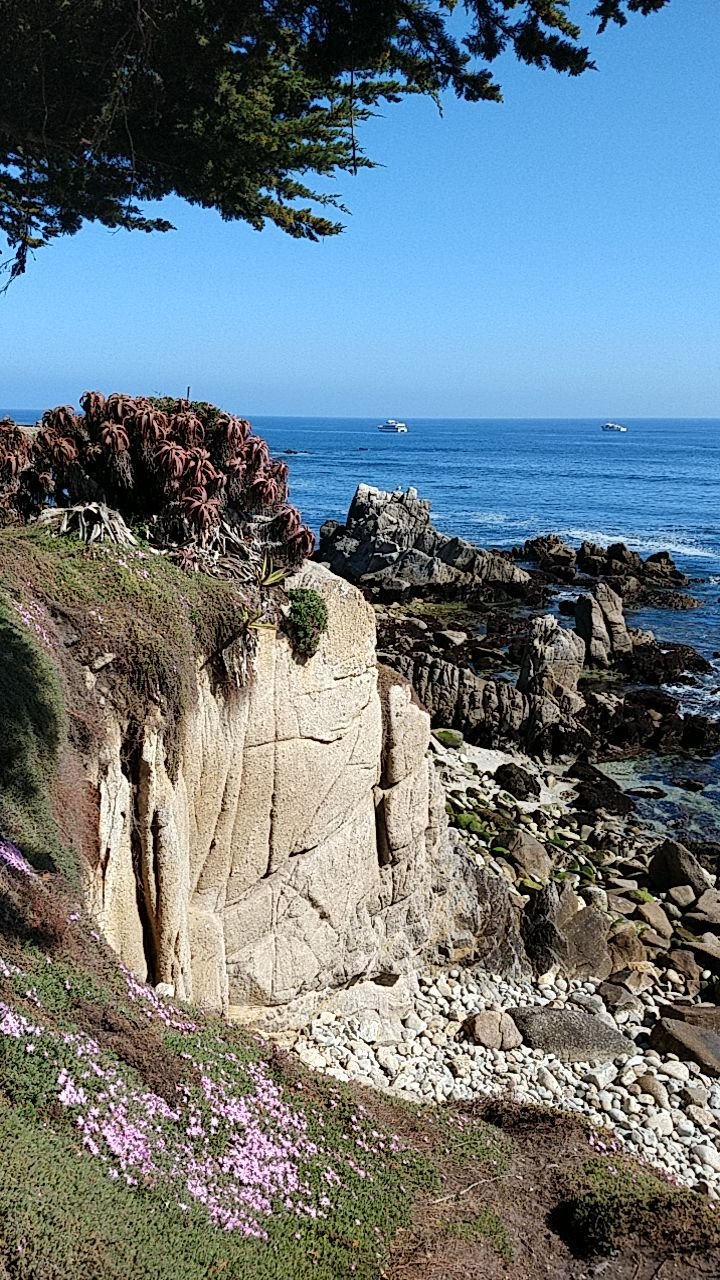 I love this photo
...because it really showcases the beautiful cliffs in Monterey. Unlike many beaches that have yards and yards of fine, soft, sugar-sand that leads gently into the shoreline - Monterey has these amazing cliffs that cut sharply down into the rocky shore below.
Why is this so special?
Well, usually you are looking OUT at the beaches when you head to play in the surf that day. But, in Monterey, you are UP on that cliff line and looking OUT and OVER the water. It allows you to look down into that crystal blue-green water in a spectacular way!
Also look at that amazing
...overhang of mossy green plants that decorate the cliffs! That is one of the really special features of Monterey. The natural landscape that is showcased on your walk isn't one that requires much maintenance. Land and sea are in perfect alignment! No gardener required! hehe
And take a look at this one below!
Look at these fantastic plants! I feel like I stepped out of a Dr. Seuss book! Remember his truffalo trees? They remind me of those tufted star plants on the right! And do you spy that beautiful dirt path in the middle of the scene. Don't you feel like its just beckoning you to come take a trip down to sit for a spell and relax?
I love this one too. Let's see if you see what I see?
Do you see that amazing arch in the rocks? Can't you just imagine taking a dip in that little protected pool in the safety of that enclave? The water is icy, sure - but you can bring a thermos of hot cocoa and sip it with your honey. Don't worry - we can't see if he steals a kiss 😘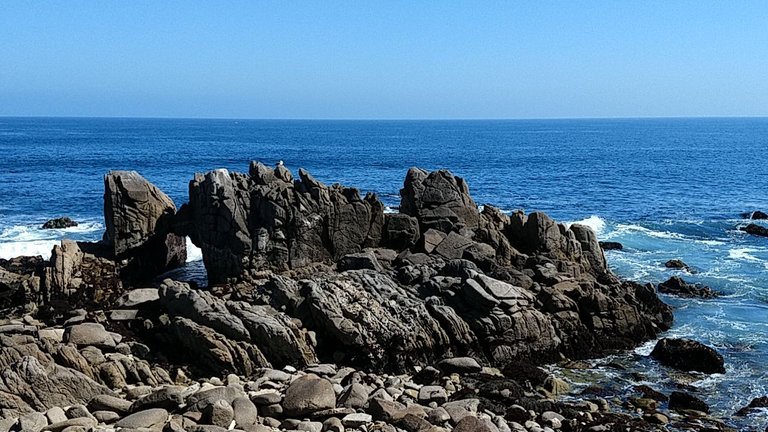 Do you remember the movie Labyrinth? These curvy, swirvy stone steps leading down to the water below has that whimsical sort of feel to me! I didn't go down - I just enjoyed the view and marveled at the beautiful workmanship! There really is a new "lagoon" around every twist and turn on this beach walk, and whoever designed the steps and stairs leading to each beach spared no imagination on their masterpieces! This was just one of many!

Now this right here... it's probably my FAVORITE spot on the whole walk. I could easily spend a day on this little beach, and spread out and take up the whole space with my family so it would be our own private beach day! I'm not so sure that other families would appreciate that though hahaha so - we might have to get there early and spread lots of blankets 😂

Every once in a while, you are just looking at too much beauty to take in one normal shot - so - you pull out the panoramic option and try to capture it! I'm pretty sure I didn't capture it well enough, but I hope you get the feeling of peace that this lovely spot of land exudes! This place is called Asilomar State Beach. And for all you linguists out there... can you guess what it means? Say it out loud and see if you can guess? Asilo.... mar.
Yep! Asilo (meaning refuge, like asylum) and Mar (meaning sea). This is the refuge by the sea! It truly is!!! Take my word for it - or go to see for yourself!

Should we end on a fun picture? How about a little hide and seek!
How many sea lions do you see in this picture? hehe The answer is SIX!!! hahaha Do you see them all??? Have fun trying to find them 😍 Hope you enjoyed your trip with me to Monterey! If you happen to go there, be sure to say hi to a purple flower for me, would you?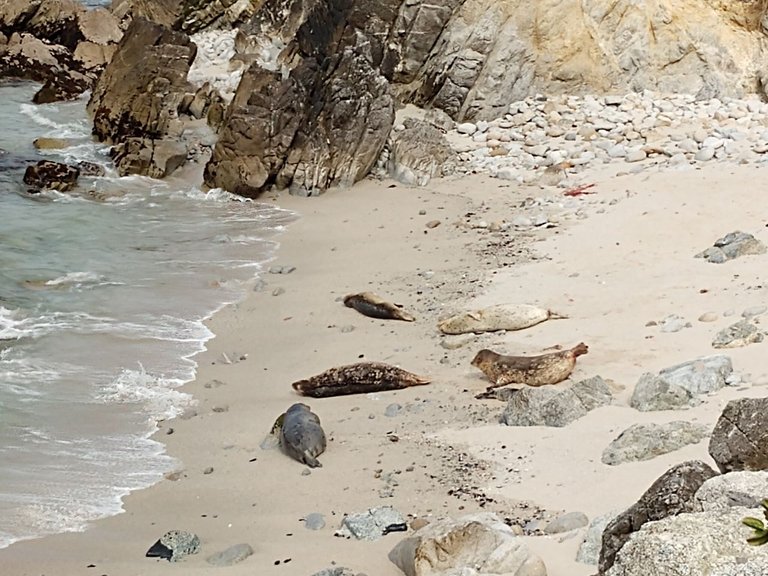 ---
This has been a #beachwednesday post thanks to the bi-weekly contest put out by @uwelang. Thanks @andysantics48 for sharing the contest with me! I loved having the opportunity to bring everyone to this beach! ❤️
---
---