Film Review: We're No Angels (1989)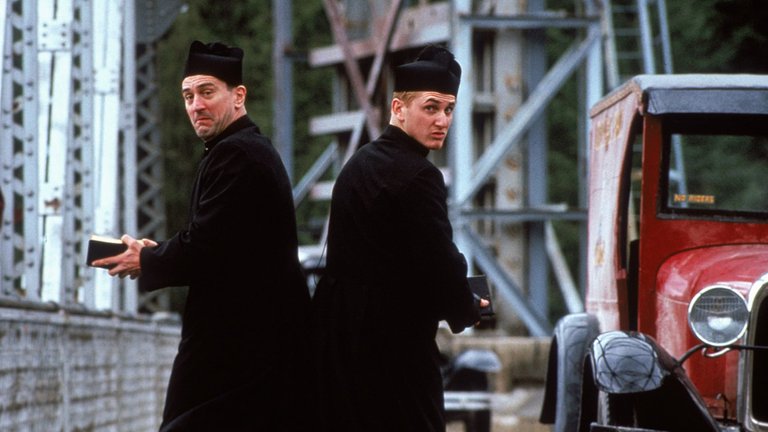 Life was hard during Great Depression, and even harder if you had misfortune of ending behind bars. This is the predicament protagonists of We're No Angels, 1989 period comedy directed by Neil Jordan, find themselves in. Ned (played by Robert De Niro) and Jim (played by Sean Penn) are two convicts serving the sentence in a penitentiary whose sadistic warden (played by Ray McAnally) demands that they witness execution of Bobby (played by James Russo), another convict. The procedure, however, doesn't go as planned and Bobby takes guns from guards and forces his way out of prison, taking Ned and Jim with him. After they separate from Bobby, Ned and Jim realise that they are considered armed and dangerous escapees that are most likely to be shot on sight by trigger-happy police. They decide to try their luck by crossing nearby Canadian border, but they also realise that the bridge between countries is heavily guarded. Thankfully, locals from town at US side have mistook them for two Catholic priests who are expected to take part in large procession. Ned and Jimmy are housed in local monastery where they try to evade police while figuring how to cross the bridge. Situation gets further complicated after Ned notices Molly (played by Demi Moore), young woman who prostitutes herself in order to support her deaf-mute daughter.
Loosely inspired by 1955 eponymous film starring Humphrey Bogart, We're No Angels gathered notable names behind and in front of camera. Script was written by famed playwright David Mamet. Director was Neil Jordan, celebrated Irish film maker on his way to conquer Hollywood. Two main roles were played by Robert De Niro, "Oscar"-winning legend and Sean Penn, at the time on the way to become one of the biggest stars of his generation. Score by British composer George Fenton sounded like those used in the most spectacular films of Classic Hollywood. Film also enjoyed very large budget, with entire town being built on the locations in British Columbia. However, after premiere We're No Angels failed at the box office, was met by bad reviews and built reputation of flop that lasts to this today. The simplest reason for it could be found in Mamet's script, which was supposed to be comedy but somehow fails to make anyone laugh. The tone is set at very beginning with scenes of violence unusually graphic for a film that was supposed to be light-hearted (and matched by equally violent scene at the end). Humour that goes in between is of poor quality, further eroded by creators' fear of offending Catholic Church too much. The script represents Catholic clergy as clueless about not that bright and efficient impostors between their ranks, yet they are clearly morally superior to any other character in the film. Some of the humour comes accidentally, due to the character of Bishop Nogalitch (played by Ken Buday), a character who speaks Croatian but whose delivery and unconvincing accent would probably entertain Croatian-speaking segments of the audience. We're No Angels also suffers from miscasting. Robert De Niro at the time still had problems with playing comic roles and in this film performance often strays into overacting. Lack of chemistry with Demi Moore makes things even worse. Sean Penn, however, tries to rescue his film, and to some degree succeeds, apparently because he found the role of young, naive and ultimately kind-hearted convict serious. Jordan also directs film energetically in few scenes, but the general impression is of too many missed opportunities.
RATING: 4/10 (+)
Blog in Croatian https://draxblog.com
Blog in English https://draxreview.wordpress.com/
Leofinance blog https://leofinance.io/@drax.leo
Cent profile https://beta.cent.co/@drax
Minds profile https://www.minds.com/drax_rp_nc
Uptrennd profile https://www.uptrennd.com/user/MTYzNA
Unstoppable Domains: https://unstoppabledomains.com/?ref=3fc23fc42c1b417
Hiveonboard: https://hiveonboard.com?ref=drax
Bitcoin Lightning HIVE donations: https://v4v.app/v1/lnurlp/qrcode/drax
Rising Star game: https://www.risingstargame.com?referrer=drax
1Inch: https://1inch.exchange/#/r/0x83823d8CCB74F828148258BB4457642124b1328e
BTC donations: 1EWxiMiP6iiG9rger3NuUSd6HByaxQWafG
ETH donations: 0xB305F144323b99e6f8b1d66f5D7DE78B498C32A7

---
---