Film Review: The Fly II (1989)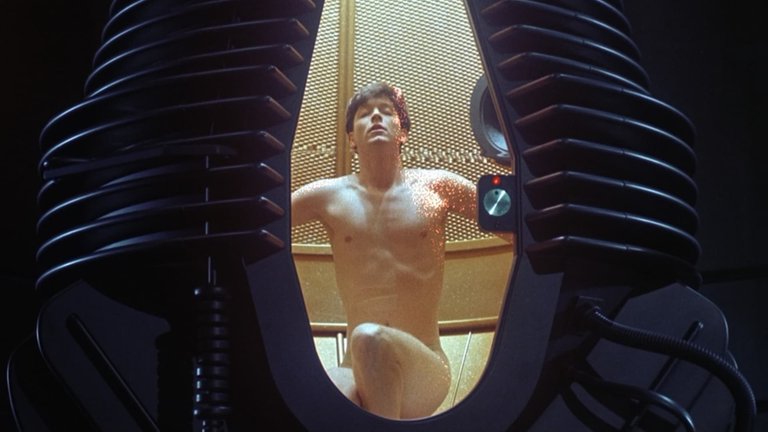 David Cronenberg's The Fly is considered to be one of the best science fiction horror films of all times, but it still had one flaw. One of its plot strands was left unresolved, which is task completed at the very beginning of its inevitable sequel, The Fly II, 1989 film directed by Chris Walas. Journalist Veronica "Ronnie" Quaife (played by Saffron Henderson, replacing Geena Davis from the original) has got pregnant with Seth Brundle, brilliant scientist who got transformed into hideous human/fly hybrid following botched teleportation experiment. She dies giving birth to a boy, who, despite having to be taken out cocoon, looks like normal human. The baby is taken care by major corporation led by ruthless tycoon Anton Bartook (played by Lee Richardson) who subjects him to scientific study and various experiments. The boy, named Martin Brundle (played by Eric Stoltz) grows rapidly and becomes adult in five years, but also develops great intellectual ability and is hired by Bartok to experiment on teleportation and succeed in which his father fatally failed. Martin also meets with corporation employee Beth Logan (played by Daphne Zuniga) and falls in love with her. Their relationship develops into romance, but Martin also begins noticing changes on his body, very much like those that ultimately turned his father into monster. Martin is determined to escape this fate, but he also must deal with Bartok who has different ideas.
The Fly II was greeted with lot of hostility by the critics, which saw it as nothing more than cheap attempt to quickly cash on much better and original genre piece. Inevitable comparison between two films predictably disfavoured the second one, but its bad reputation isn't justified. Screenwriting team at least tried to do something different; protagonist has to deal not only with upcoming transformation into a monster, but also but his handlers in the form of evil corporation. With Cronenberg unavailable, direction was given to Chris Walas, experienced special effects and make-up artist who had done excellent and "Oscar"-awarded job in The Fly. His directorial debut is solid work which uses Cronenbergian interiors which are slick, but cold and menacing; he also handles special effects very well, especially in the second part of the film. Music by Christopher Young is very effective and adds to the atmosphere. Cast is solid, but not as impressive as in The Fly. Eric Stoltz is somewhat bland compared to Jeff Goldblum who had played his character's father. Daphne Zuniga is very charming and believable in the role of Beth Logan, but the relationship of her character lacks passion and intensity of the doomed lovers in the first film. Lee Richardson is menacing as corporate villain whose seemingly friendly relationship with young Martin oozes creepiness. Peter Getz is the only actor from the first film to repeat the role, but he does very good job in small role of crippled and cynical man. The Fly II is an interesting in first two thirds, but in the last segment succumbs to genre cliches and features huge monster taking out Bartok's scientist and security personnel in gruesome but predictable ways. General impression of The Fly II is saved by one of the most effective epilogue scenes in which a villain gets visually very impressive comeuppance. The Fly II has missed many opportunities, but it is technically well-done film that could be recommended to fans of science fiction and horror.
RATING: 6/10 (++)
Blog in Croatian https://draxblog.com
Blog in English https://draxreview.wordpress.com/
Leofinance blog https://leofinance.io/@drax.leo
Cent profile https://beta.cent.co/@drax
Minds profile https://www.minds.com/drax_rp_nc
Uptrennd profile https://www.uptrennd.com/user/MTYzNA
Unstoppable Domains: https://unstoppabledomains.com/?ref=3fc23fc42c1b417
Hiveonboard: https://hiveonboard.com?ref=drax
Bitcoin Lightning HIVE donations: https://v4v.app/v1/lnurlp/qrcode/drax
Rising Star game: https://www.risingstargame.com?referrer=drax
1Inch: https://1inch.exchange/#/r/0x83823d8CCB74F828148258BB4457642124b1328e
BTC donations: 1EWxiMiP6iiG9rger3NuUSd6HByaxQWafG
ETH donations: 0xB305F144323b99e6f8b1d66f5D7DE78B498C32A7

---
---