Pikmin Bloom, a step counter disguised as a mobile game (EN-ES)


A little over a week ago I was walking through the Play Store looking for a game to entertain me at night, something casual and simple that I could look at before going to sleep, in the search engine of the store I put Nintendo hoping to get something from the company something, something new, since I didn't want to play Pokémon Go, Mario Kart Tour or much less Super Mario Run, since Nintendo games on mobile devices are not so good in my opinion, at least to my personal taste, but I came across Pikmin Bloom, I'll tell you a little about it, since I have a week with it.
Hace poco más de una semana paseaba por el Play Store en busca de un juego con el cual entretenerme por las noches algo casual y sencillo que pudiera mirar antes de ir a dormir, en el buscador de la tienda puse Nintendo esperando conseguir algo de la empresa algo, algo nuevo, ya que no quería jugar Pokémon Go, Mario Kart Tour ni mucho menos Super Mario Run, puesto que los juegos de Nintendo en los dispositivos móviles no son tan buenos a mi parecer, por lo menos a mi gusto personal, pero me tope con Pikmin Bloom, pues de este contaré un poco, pues tengo una semana con él.
At first I thought it was the same style of game when I played it on Nintendo Gamecube, but nothing to do with this, it was more like Pokémon Go than anything else, at the beginning it was so simple, I started with a single Pikmin that I was given in the tutorial, this was something short and with a glance I realized what the game was about, I gave it a chance before deciding to delete it, The next day I decided to open the application again, since I was going out and as my impression to start the game was to walk to get rewards I decided to start the app and put it in the background, an exhausting day I walked around a lot with my wife and daughter doing errands, until nightfall, when I got to my bed I opened the supposed game to see what was new.
Al principio creí que era el mismo estilo de juego de cuando lo jugué en Nintendo Gamecube, Pero nada que ver con esto, se me pareció más a Pokémon Go que otra cosa, al inicio se me hizo tan simple, empecé con un solo Pikmin que me otorgaron en el tutorial, este fue algo corto y con un vistazo me di cuenta de que trataba el juego, le di la oportunidad antes de decidir eliminarlo, ya que como era de noche no podía hacer más que lo que me decían en el tuto, al día siguiente decidí abrir la aplicación nuevamente, puesto que iba a salir y como mi impresión iniciar del juego fue el de caminar para conseguir recompensas decidí iniciar la app y ponerla en segundo plano, un día agotador di muchas vueltas con mi esposa e hija haciendo diligencias, hasta llegar la noche, al llegar a mi cama abrí el supuesto juego a ver qué había de nuevo.
When I loaded the game the first thing that jumped out at me was an animation that notified me how many steps I took in the day, it was there when I realized that this was not a game, for me it was a simple step counter, I completed my first mission with my run, this gave me some rewards and the opportunity to plant another Pikmin, I could also feed the only one I had with some nectar that I had been given for this mission.
Cuando cargo el juego lo primero que me salto fue una animación que me notificaba cuantos pasos di en el día, fue allí cuando me di cuenta de que este no era un juego, para mí era un simple cuenta pasos, complete mi primera misión con mi recorrido, esto me dio unas recompensas y la oportunidad de plantar otro Pikmin, también pude alimentar el único que tenía con un poco de néctar que me habían dado por esta misión.
After seeing what on my first day with the app installed I had completed and unlocked a new feature and another mission available, I learned that to unlock new ones I had to take steps, go for a walk as such, I have been opening the app every night for a week now to check my progress and every morning to tell the game to plant flowers in the background.
Tras ver qué en mi primer día con la aplicación instalada había completado y desbloqueado una nueva función y otra misión disponible, aprendí que para desbloquear nuevos debía dar pasos, salir de paseo como tal, llevo una semana abriendo la aplicación cada noche para verificar mi progreso y cada mañana para indicar al juego plantar flores en segundo plano.
After several days I managed to have a few, including one with a Mario skin, this motivated me to plant one more every day, I wanted to get others with different themes, so far I have not been able to participate in any event, currently there is the anniversary event, every night I complete my expeditions, I add a new image to my calendar and I see my goals to achieve my next goal.
Luego de varios días logré tener unos cuantos, incluyendo uno con un skin de Mario, esto me motivo a plantar uno más cada día, quería sacar otros con diferentes temáticas, hasta ahora no he podido participar en ningún evento, actualmente está el evento aniversario, cada noche completo mis expediciones, agrego una nueva imagen a mi calendario y veo mis metas para lograr mi próximo objetivo.
In the end from my point of view is a simple step counter with objectives, if you want to achieve complete your missions, plant Pikmin or anything you want to achieve in the supposed game, you achieve it while walking, perhaps the least interesting for me, but for these people who like to walk and also video games or just a fan of this title, surely you will enjoy it very much achieving each goal, for my part I lack many things to discover I guess eventually I will, but for now it is one more application on my phone to review every night.
Al final desde mi punto de vista es un simple cuenta pasos con objetivos, si quieres lograr completar tus misiones, plantar Pikmin o cualquier cosa que quieras lograr en el supuesto juego, lo logras mientras caminas, quizás lo menos interesante para mí, pero para estas personas que les gusta caminar y también los videojuegos o simplemente eres fan de este título, seguramente lo disfrutarás mucho logrando cada objetivo, por mi parte me faltan muchas cosas por descubrir supongo que eventualmente lo haré, pero por lo pronto es una aplicación más en mi celular que revisar cada noche.
I'm not saying it can't be fun, as I mentioned before, if you are a dedicated person, who exercises outdoors, walks daily, just getting rewards for doing things you love, well it must be great, I want to emphasize that all this mentioned is from my point of view after one week.
No digo que no pueda llegar a ser divertido, como mencione antes, si eres una persona dedicada, que se ejercita al aire libre, camina a diario, el simple hecho de obtener recompensas por hacer cosas que te gustan, pues simplemente debe ser genial, quiero recalcar que todo esto mencionado es desde mi punto de vista tras una semana.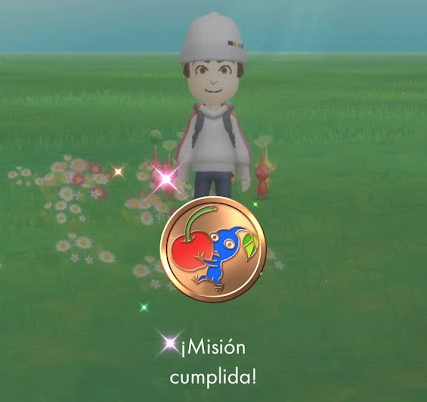 Without further ado I say goodbye friends, until next time.
Sin más me despido amigos, hasta la próxima.

Texto traducido con Deepl | Text translated with Deepl
Imágenes editadas con Canva | Images edited with Canva
---
---