Biscotti al miele / Biscuits with honey ITA - ENG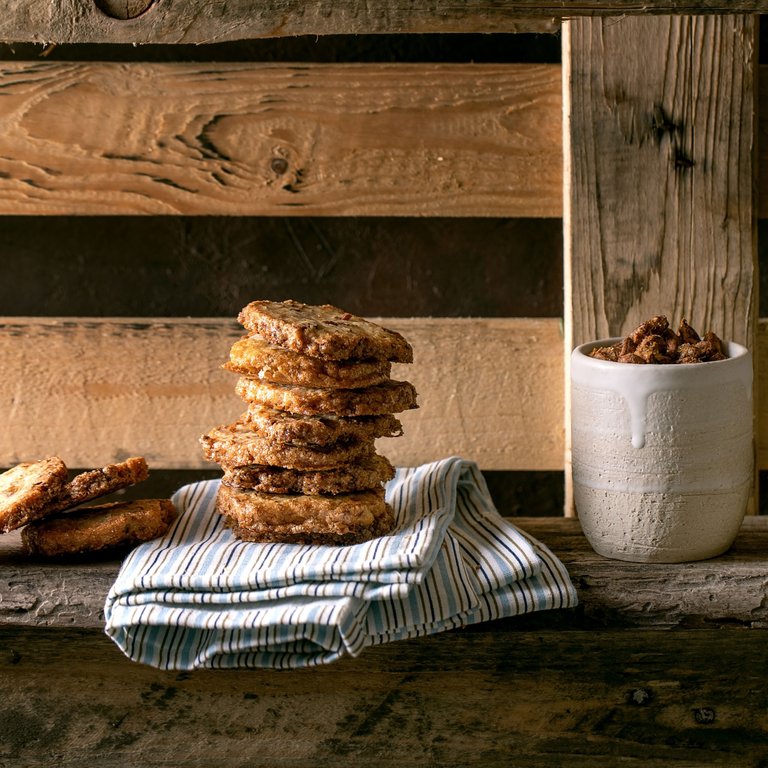 foto freepick
Questa e' una stagione ricca di idee sopratutto per la cucina. In questi giorni ho tirato fuori tante vecchie idee per i dolci ma anche per la cucina normale, soprattutto quella vegetariana, che secondo me e' la piu' buona per questo cambio di stagione. Ho un bel rifornimento di supplementi soprattuto zinco. Ormai credo che non passera tanto "di moda" il fatto che gli suplementi vanno presso abastanza spesso.
Oggi voglio scrivere di una ricetta ricca, dietetica, semplice e buona. Biscotti con miele, da gustare in mattinata o in pomeriggio. La ricetta di questi biscotti è semplice e buonissima, preferibilmente da assaggiare con una tazza di caffe o con una tazza di tea.
Per preparare questa ricetta bisogna avere questi ingredienti. Ecco la ricetta di questo biscotti semplici e molto gustosi:
600 - 700 gr., di farina, guardate di persona fino ad ottenere un buon impasto, perché ad occhi chiusi non ho una misura precisa:
250 ml di olio:
o burro fuso, io ho usato l'olio:
100 g di zucchero:
3 uova:
150 gr di miele (io avevo miele di fiori aromatizzato alla cannella):
1 cucchiaino di bicarbonato di sodio:
1 cucchiaio non pieno di cannella e 1 cucchiaino di chiodi di garofano in polvere"
Per le decorazioni, se vuoi decorarle, devi avere:
1 albume
100-200 gr di zucchero a velo
un po' di succo di limone
pezzetti di ciliegie (queste si vendono già pronte) e mandorle bianche intere se volete decorarle di più.
Ma potete anche decorarli con cioccolato bianco fuso o cioccolato fondente. Usa la fantasia e li puoi fare in tanti modi diversi.
Cuoceteli in forno a una temperatura di 180 gradi per circa 12 minuti, massimo 20, dipende dal forno. Potete spennellarli con un po' di latte prima della cottura per ottenere un po' di lucentezza.
Allora cominciamo con la preparazione di questi biscotti. Io ho provato a farli anche aggiungendo semplicemente diversi liquori ed il risultano era sempre abbastanza buono.
Per prima cosa sbattete lo zucchero con le uova, l'olio e il miele. Mescolate la farina con le spezie e il bicarbonato. Mescolate entrambe le masse e fare un impasto. Io preferisco avvolgerlo in una busta plastica per poi lasciarlo dentro il frigorifero per almeno qualche ora.
Questa ricetta si può usare anche per i biscotti di natale, che poi li puoi decorare con tante stelline diverse. Se cambi gli ingredienti poi ottenere altri biscotti molto buoni ma anche molto decorativi per il periodi natalizio, dove io preferirei metterli anche nei pacchetti di natale.
Metto quella ricetta nel mio ricettario, la faccio vedere a chi ce l'ha e la provi perché era una ricetta che preparo ogni anno ed è buonissima. Risultano estremamente gustosi.
Il loro impasto viene impastato a cena, messo in frigo e cotto il giorno successivo. Li farò in questi giorni e li tirerò fuori di nuovo. Adesso basta con questa semplice ricetta. Puoi anche aggiungere mandorle tritate all'interno di questa ricetta e più mandorle metti, più farina otterrai dalla ricetta.
English version/ Biscuits with honey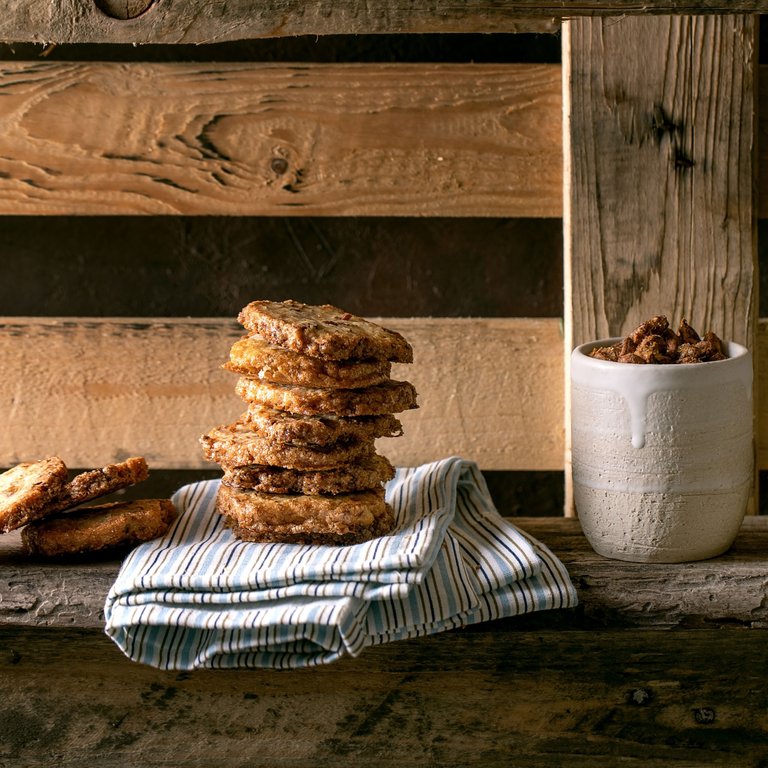 foto freepick
This is a season full of ideas especially for the kitchen. In recent days I have come up with many old ideas for desserts but also for normal cuisine, especially the vegetarian one, which in my opinion is the best for this change of season. I have a nice supply of supplements mostly zinc. By now I think it will not go out of fashion the fact that supplements go to quite often.
Today I want to write about a rich, dietary, simple and good recipe. Biscuits with honey, to be enjoyed in the morning or in the afternoon. The recipe for these biscuits is simple and delicious, preferably to be tasted with a cup of coffee or a cup of tea.
To prepare this recipe you need to have these ingredients. Here is the recipe for this simple and very tasty cookies:
600 - 700 gr., Of flour, see for yourself until you get a good dough, because with my eyes closed I don't have a precise measure:
250 ml of oil:
or melted butter, I used the oil:
100 g of sugar:
3 eggs:
150 grams of honey (I had cinnamon flavored flower honey):
1 teaspoon of baking soda:
1 tablespoon not full of cinnamon and 1 teaspoon of clove powder "
For decorations, if you want to decorate them, you must have:
1 egg white
100-200 grams of powdered sugar
a little lemon juice
pieces of cherries (these are sold ready-made) and whole white almonds if you want to decorate them more.
But you can also decorate them with melted white chocolate or dark chocolate. Use your imagination and you can do them in many different ways.
Bake them in the oven at a temperature of 180 degrees for about 12 minutes, maximum 20, depending on the oven. You can brush them with a little milk before cooking to get some shine.
So let's start with the preparation of these cookies.
First, beat the sugar with the eggs, oil and honey. Mix the flour with the spices and baking soda. Mix both masses and make a dough. I prefer to wrap it in a plastic bag and then leave it in the refrigerator for at least a few hours.
This recipe can also be used for Christmas cookies, which you can then decorate them with many different stars. If you change the ingredients then you get other very good but also very decorative cookies for the Christmas period, where I would prefer to put them in Christmas packages too.
I put that recipe in my cookbook, show it to those who have it and try it because it was a recipe that I prepare every year and it is very good. They turn out extremely tasty.
Their dough is kneaded for dinner, put in the fridge and cooked the next day. I'm going to make them these days and take them out again. Now enough with this simple recipe. You can also add ground almonds inside this recipe and the more almonds you put in, the more flour you will get from the recipe.
---
---