A Wednesday Walk in our garden by the sea.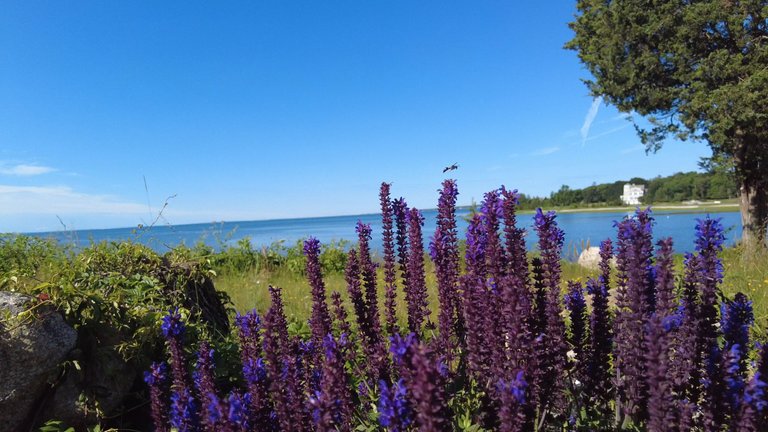 A wasp midflight alighting upon the Salvia
Welcome to today's #Wednesdaywalk which was created by @tattoodjay and #makemesmile by @elizacheng . To learn the rules and how to join in with all of us go to @tattoodjay post today and enjoy.
I'm lucky in our view, as I've mentioned before and as I knew we had a #wednesdaywalk and a #makemesmile challenge coming up, I looked no further then the walk about our garden.
This little bed is a work in progress. As it's in the middle of the lawn in the main view we enjoy of the sea, it needs more care but I've not got to it this year. But I am enjoying this new salvia I planted last Year as it has amazing purple calix, so when the flowers fade it still looks in bloom.
This is a hot dry windy salty air spot, so the plants here have to be tough and love the sun and drying air so it's Mediterranean plants for sure. The hummingbirds also love these plants.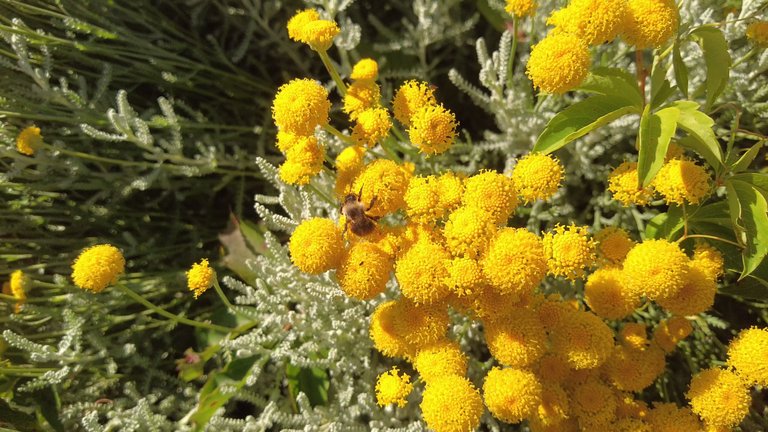 The Helichrysum is blooming in all it's brilliant gold and always full of bees.
This is another plant that shines in dry neglect. I planted a small hedge of these 'ornamental curry' last year and they are loving the location. I'm enthralled by the yellow and purple of these , the salvia and the lavender.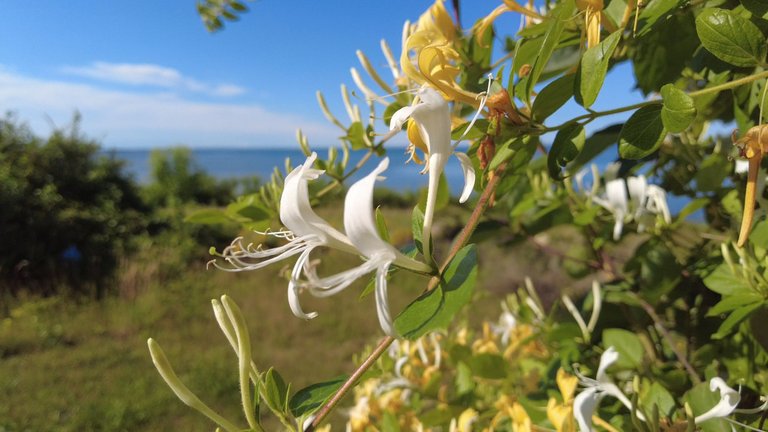 The vining honeysuckle is blooming away, scenting the air with it's honeyed sweetness.
Further back from this bed is the terrace and the little pergola I built myself. As we've no covered porch on this bit of the house I've wanted a bit of shad to sit and enjoy the sea. Watching the osprey hunt or the herons and egrets fish the shore.
Interestingly enough this now vigorous vine was a cutting I took from the many vining honeysuckle we have growing about the plac. I wanted that scent here on the terrace so I splurged a few years back and bought a honeysuckle (which blooms pink) from the garden centre. That first season it bloomed away and had NO scent. Why would you cultivate a scentless honeysuckle? I've no idea.
So, taking a cutting and rooting it I planted these native white fragrant variety at the base of the expensive hothouse scentless version I had purchased. I'm happy to say that this year it has taken over and uses it's scentless cousin as a rambling post.
Yesterday, after a long afternoon, I watched the hummingbirds feast on this for quite sometime. I too love it's sweet elixir and will pluck the flower and suck the nectar, it's intoxicating and makes one think of childhood Summers.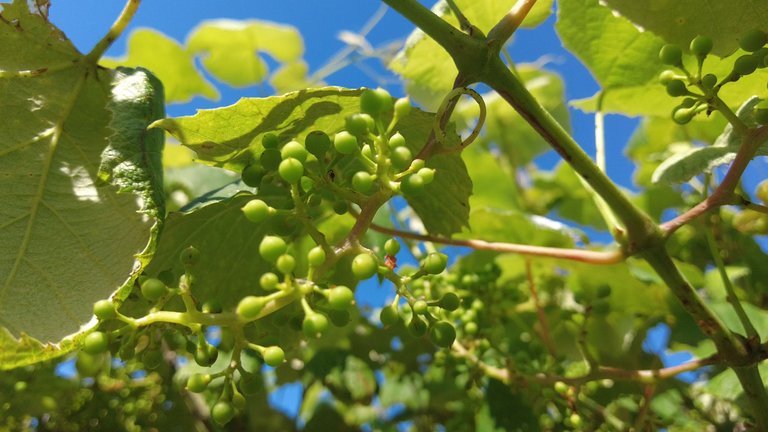 A study in Greens, the growing grapes against the Blue June sky.
When I built the pergola that houses the honeysuckle I also transplanted an Old grape vine I've had for years. I knew it would love this spot and it has not disappointed as it rambled up and over and provides the lion's share of shade here.
The grapes grow and ripen in the sun along the top of the pergola and give me shade underneath. I always mean to net these, so I can get more, as the birds get most of these grapes as they ripen. I don't mind sharing, but this year I might cover a few choice bunches as I want to dehydrate some and see what sort of raisins they'd make.
Eating Warm sweet grapes off the vine in late Summer here is one of my little Summer joys.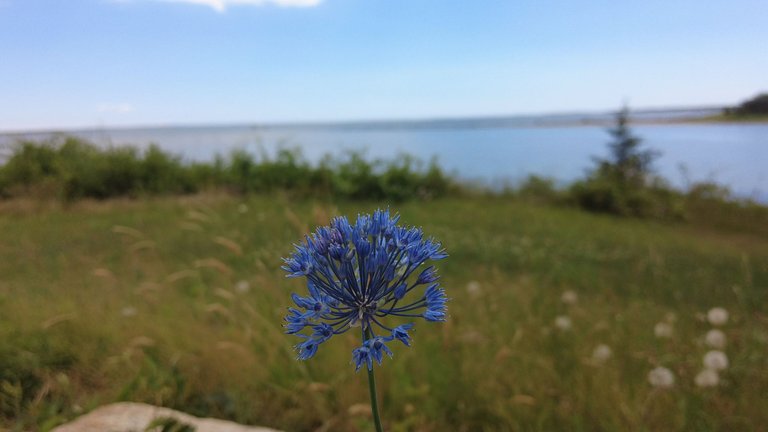 A lone allium in azure blue against the shaggy lawn and cool Atlantic.
I love Allium as they are one of the few bulbs I can plant in Autumn that do not get eating by the deer and rabbit, nor dug up by the squirrels and chipmunks. This was a new variety for me as it blooms later and is such true blue. Sadly I only had a handful of the bulbs and it seems but one came up. I'll have to put more on the Fall bulb list.
As Alliums are in the onion family, it's this that makes them not of interest to the various animals that share my garden. I'm always looking for true blue flowers and this one is staying on the list.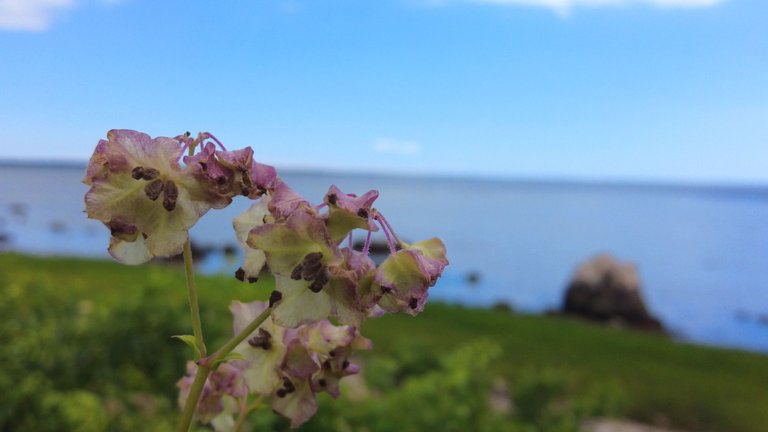 Gorgeous sublet purple pink blooms on a wildflower in the bittersweet hedge.
I have to look up this flower, as it's simply a wild self-seeded "weed". But, when one has a big garden like this that needs so much work and only one pair of hands to do it, "Weeds" are embraced.
In fact, when I mow, I leave patches of the grass to let go to seed and get a wonderful collection of various native wild flowers. As long as I keep the bittersweet at bay as best I can, this is a good way to make an 'instant border' with the help of Mother Nature.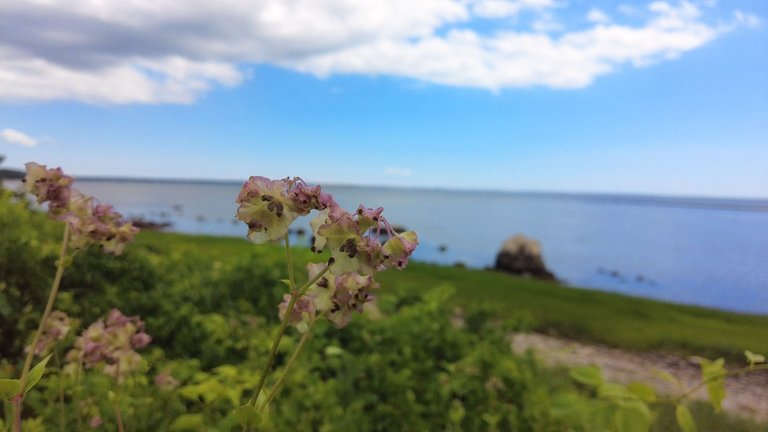 The wildflowers amongst the bittersweet as the clouds roll over the sea.
It's good to be back to a #Wednesdaywalk and altho I didn't wander far, it felt good to have a few moments of quiet calm. The turmoil of the past few months with family illness has only cemented in me how much more of a home-body I truly am. Quiet moments at home and in the studio seem more and more like the perfect day to me. I hope you enjoyed this small bit of it and do join us. Head out and walk in your village, city, or just your own garden and share your moment with all of us.
---
---