Udon Noodles & Tempura Not What Birthday Wishes Are Made of. #DashOutSunday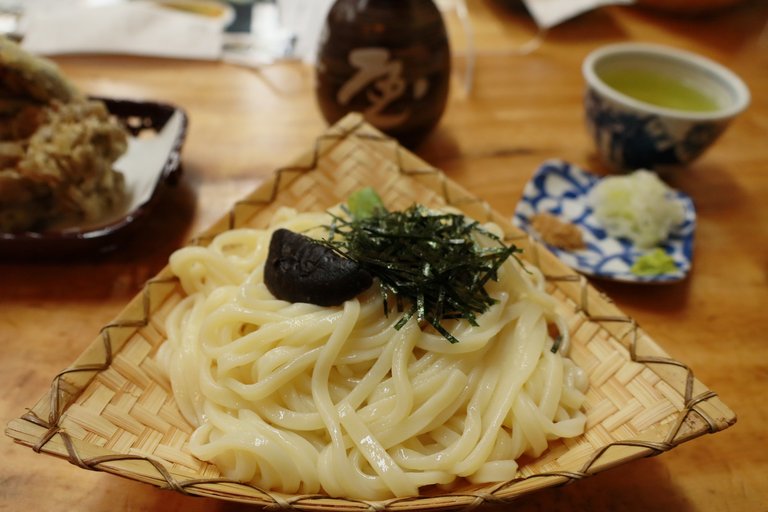 Blessed new week Hivin Jahmerz.
Last weekend I celebrated my Bday by going to a nearby onsen town called Ikaho. We stayed over night at a Ryokan 旅館, basically a Japanese style hotel that offers hot spring facilities, buffet breakfast and dinner, as well as a traditional Japanese atmosphere.

The plan was to head to the town and have lunch when we got there, before checking into the hotel. After searching google san ( as they call it in Japan), we realized that most places around the town served Odun. Nothing much else was around, so guess what we had? That is right, Odun, you are a smart one aren't you. 😄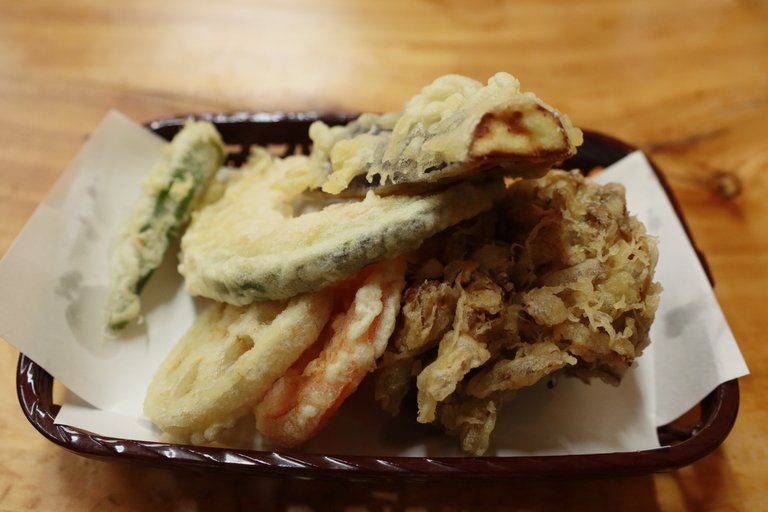 Don't let the title fool you, we have to find someway to grab your limited attention around here ( besides the food porn). The truth is, these days I am not a fussy eater, I just go with the flow. Many would want cake and fried chicken, or maybe lobster and stake for their Bday. But for me, eat what is around whether it be jerk chicken or Udon. As long as it tastes good and doesn't murder my now 40 year old stomach, I am fine. ( Besides, remember the hotel has an all you can eat buffet patiently waiting for the Godzilla within me).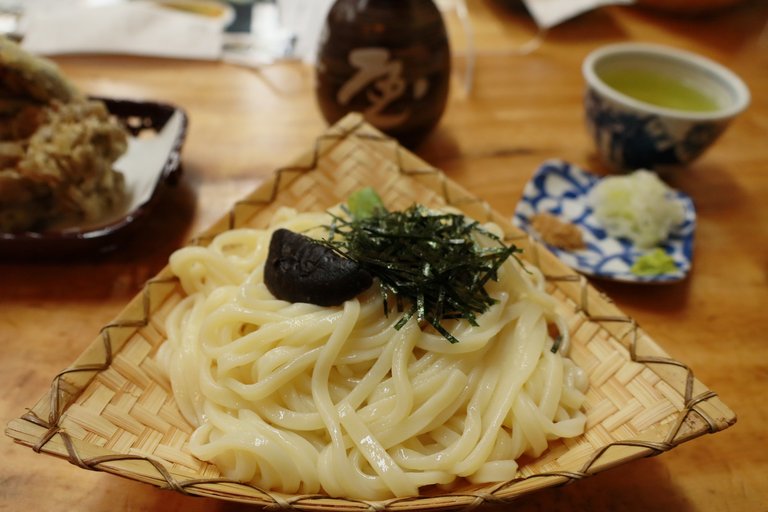 What I had
Well we all had noodles, that is literally all that is on the menu. But they do have Tempura for the sides which I do like. But there was a choice between cold or hot noodles ( who would want cold noodles in winter is beyond my comprehension). I had the hot noodles with tempura veggies on the side. Now let me tell you about the magic of tempura. It can make anything taste like meat/ fried chicken/ good.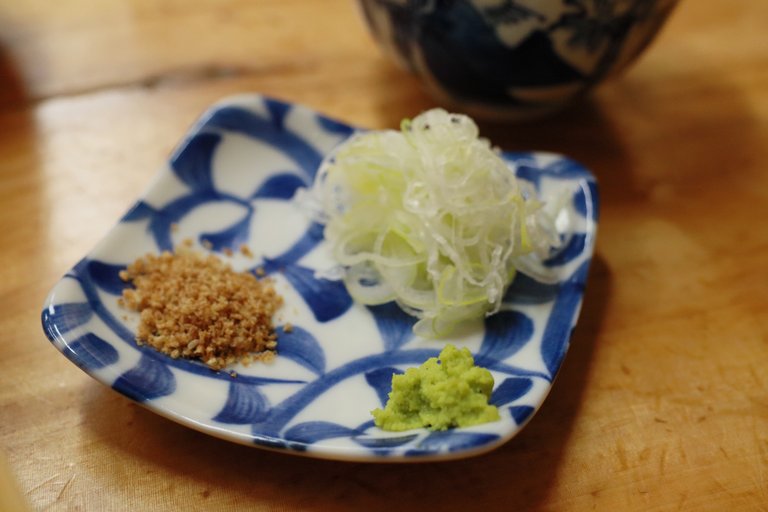 The seasoning above ( scallion, wasabi & ?) to be mixed with the soup to dip the udon before eating.
The tempura contained a variety of local veggies: eggplant, mushrooms, pumpkins, radishes, okra and carrot. I think any vegan would be happy with the deep fried veggie spread and even the noodles. Without a doubt, the pumpkin is my favorite tempura veggie, I think it is the same for many people as it has that salty and sweet thing going for it.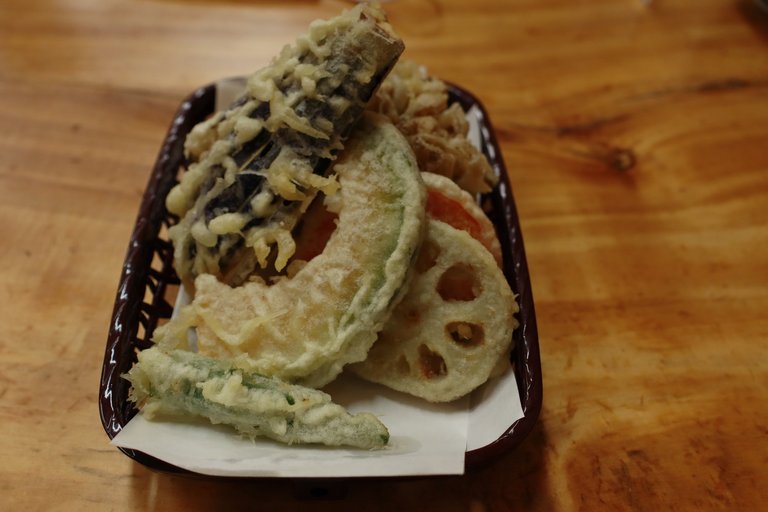 The aesthetics of the place was great and combines art and architecture of traditional Japanese culture. Sculptures like the one below could be seen all about the restaurant. They also had these two gigantic hand figures as you entered the restaurant, it makes for a perfect pic and good marketing for the establishment.

Give thanks for good food with good company and the means to make it happen. How about you, what type of noodles do you like? Have you tried udon? If so, what do you think about it? Until next time, Bless up!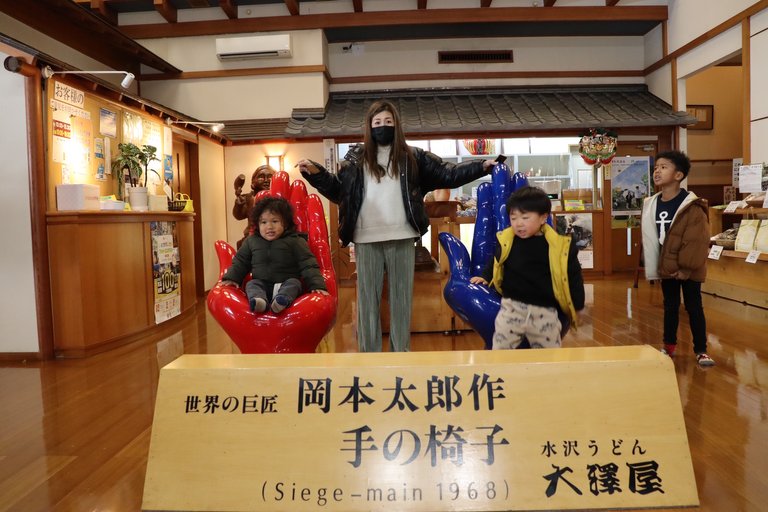 Wanna take part in #DashOutSunday? Read this post for details.

Discord | Hive Community | Reggaejahm Interface | Twitter| Buy Beats With HIVE & JAHM
---
Posted via ReggaeJahm | Reggae Culture Rewarded
---
---