Netflix Positioning to Be A Top Metaverse Contender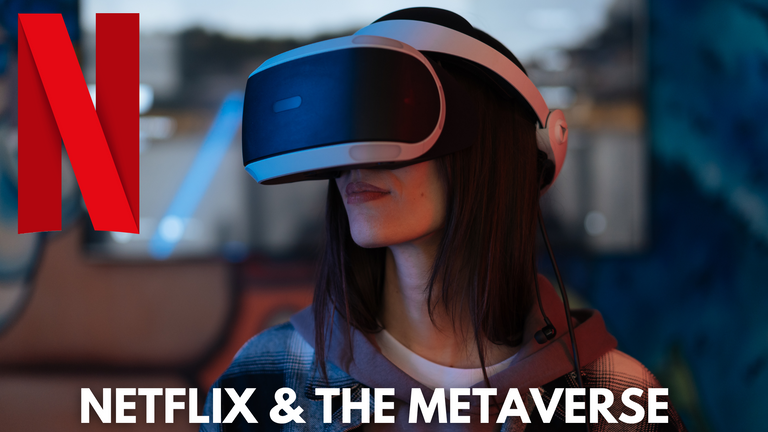 When one thinks of Netflix these days besides what to binge watch, we think of the huge percentage drop from its peak. At the start of the year, Netflix's stock was at $600, it is now sitting at $213.91, down 64.19% ( July 26,2022). The thing is, the entire market is down, but one thing is for sure, Netflix retains the crown as the streaming king even with competition from the likes of Disney+ ( DIS).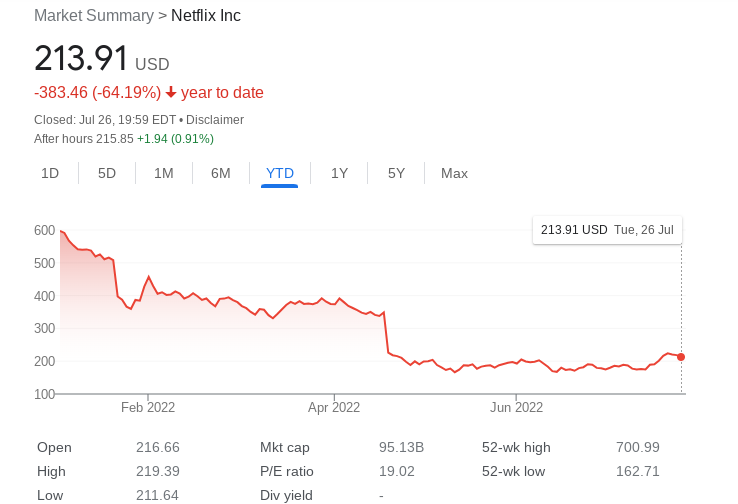 Source:Yahoo Finance
In my opinion, Netflix is positioned and is positioning to be a top contender in the metaverse. Just this past January they hired Meta's Oculus executive, Mike Verdu, as its vice president of game development. That can only mean one thing, they are gearing up to remain competitive.
We can see the small steps they are taking toward the Metaverse like the recent Decentraland team up to bring their latest title "the Gray Man" to the virtual world in the form of a mission. The Gray Man Metaverse Mission will test how well you have watched and understood the movie, it will take you through a maze in order to retrieve the USB/SD Card as well time how long it takes you. And of course in web 3 style, there will be rewards.
Your mission: find the fountain in the maze and retrieve the USB with classified information, then get to the secret room to check your personal time and collect your rewards.
This mission will test your knowledge about The Gray Man, so only the ones who have their intel fresh will become the best agents of the metaverse. Find shortcuts, overcome obstacles and beat your best times to win any of these wearables from the movie:
Source:

I doubt this is a one off thing and I see Netflix doing this same kind of collaboration with other titles. Offerings like this give viewers a chance to interact with content deeper instead of just watching, possibly talking to a few people about it and then forgetting it. It also gives them a chance to own a piece of the memory. Whether the collectible items will be worth anything in the future doesn't even matter, many will just be happy to own a piece of something they like. It is a new experience.

---

My predictions for Netflix and the Metaverse

I see Netflix doing more partnerships with web 3 Metaverse blockchains as they seem to understand the ethos of decentralization, it also gives them room to pivot and partner with more than one project instead of being stuck in a contracted partnership. I am still wondering what Microsoft and Netflix have up their sleeve. Could they possibly be creating some virtual worlds or even a dedicated blockchain? I think they are working more on game titles, but as Microsoft announced on their blog, the partnership is to bring ads to Neftlix and a more affordable subscription tier.

Just like we saw with the Black Mirror series and the alternate story lines, I think we will see more titles like this but in a virtual setting. I believe on the Netflix platform, virtual reality offerings will become the norm and individuals will be able to plug into Meteverse projects that Netflix has teamed up with, right from the Netflix App.

How Netlfix could be A top contender in the Metaverse

The one thing that is slowing VR and Metaverse adoption is that a majority of the world doesn't have a headset. Just imagine if Netflix added a headset to their product offering and you were able to own it for "free" with a 1~2 year prepaid subscription ? And if they had the web 3 projects plugged in with interactive missions for their latest releases as well as just viewing movies in VR, what a game changer that would be. But then the question is, is that the Meteverse? What is the Metaverse?
---
---