Luxury Cars & Covid Cheesecake.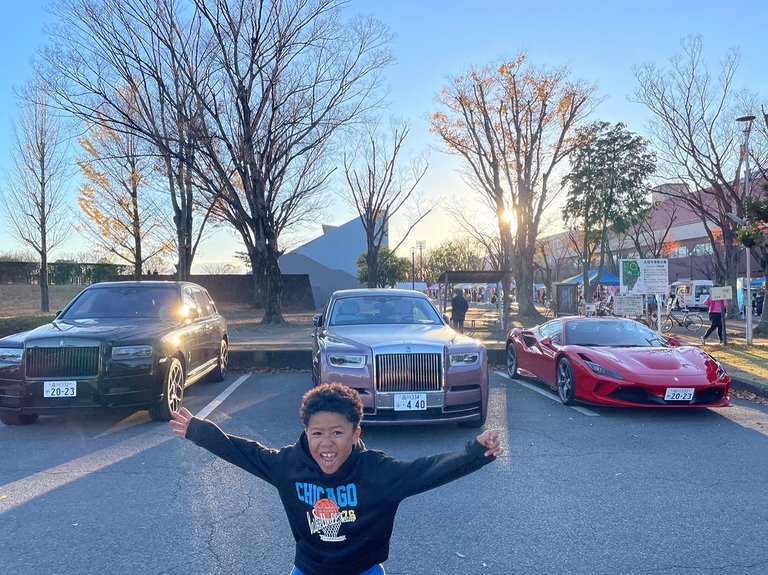 What a day! Tired is an understatement but we give thanks for the opportunities and communities. Gratitude is the attitude! Last Sunday was a kid focused one as usual, my friend and I took our boys hiking in the mountains. Now the reason for doing this is to get them out the house and into nature, away from the screen and into green ( well it's mostly brown and orange as it is autumn 🍂 but you get the point).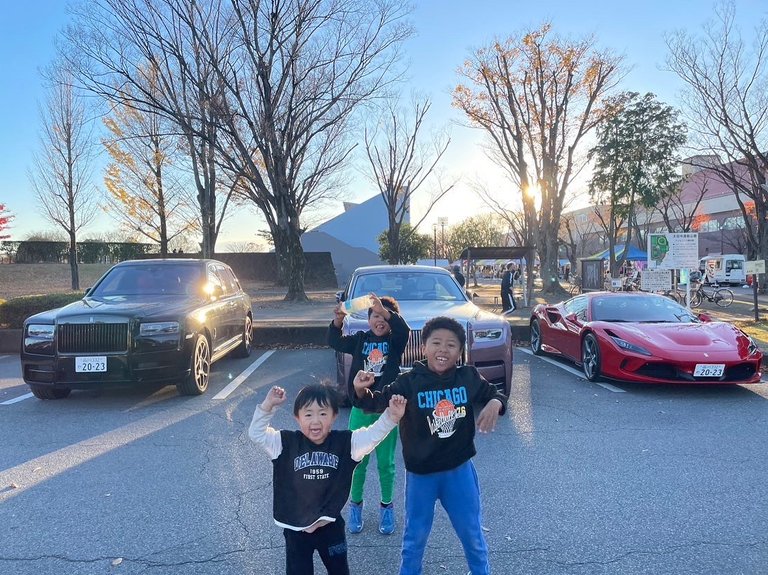 My twins have been going to track and field practice every Friday night for the past couple of months and guess who has to go and watch them.,,, muah. I don't mind at all as I myself get involved in the stretching and do some laps and push ups while they do training. So the hiking 🥾 which I plan to do every other weekend or more, is a part of their routine ( well that's the plan).
I want them to be sportsmen from an early age as myself and others see that they have a knack for any sports they touch. I mean, it would be cool raising the next twin super sportsmen mixed kids in Japan. But that's a pressure I will not put on them but just give them the opportunity to experience different sports and have the endurance. And that all starts with track and field.
Oh the photo of the twins and their friend in front of a million dollars worth of cars? Well after the hike we decide to grab some food near the local sports park , Yaki soba to be exact. But the small hut of a restaurant was closed. We realized however that there was a basketball game going on at the sports park and that meant food trucks.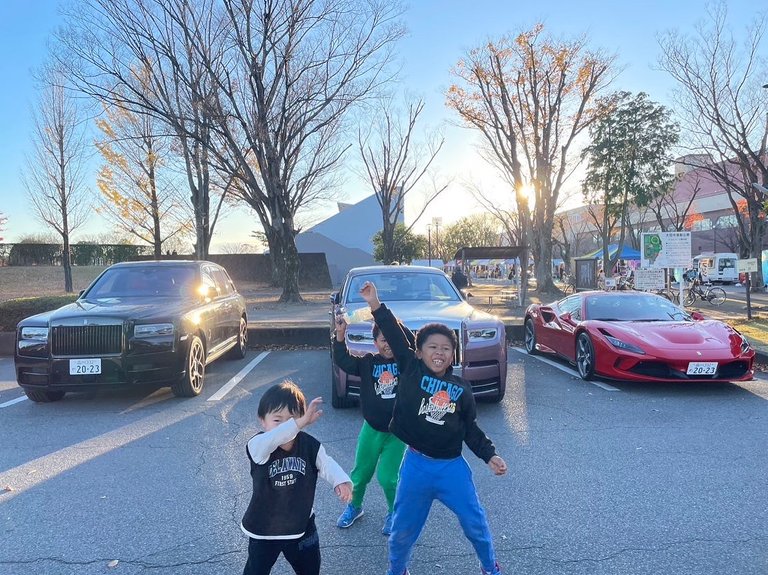 The basketball ball team in my town is called the Gunma Crane Thunders and they are the #2 team in the country for the B league. They even got Rui Hachimura's brother playing for them; Allen Hachimura. So the place was backed. I have no clue who owned these cars but I wanted a visualization picture of the boys with the cars as I wanted to picture them rolling. Well actually they photo bombed while I was taking the pic of the cars but I think that turned out even better.
The boys actually played basketball outside the stadium as a hoop was out up for kids to play. The staff attending to the court asked us if we weren't gonna see the game but I told her straight up.
"The boys have no interest in watching the game, they'd rather play it. And the last time we went to watch a basketball 🏀 game here, we were courteously asked to leave as the boys wouldn't stay still and were making a ton of noise."
She laughed as she tended to the 🏀 balls the kids were shooting and passed them back so they could shoot gain.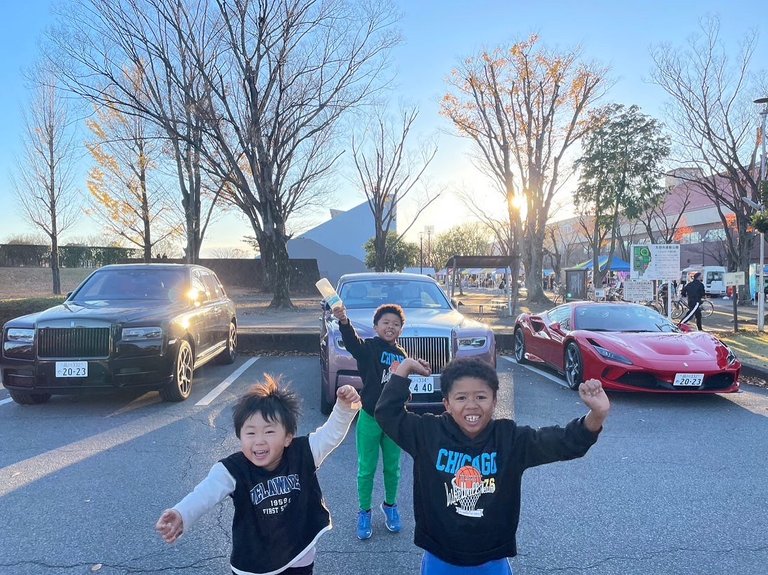 I've been slowly getting them to like basketball 🏀 and they are really digging it. But if I ask if they wanna play when we are at home they'll say no 70% of the time. But once the ball is in their hands and the hoop above their heads, they get to balling. When I was 7 I don't think basketball was that popular in my zone, I remember playing cricket with a ball made of box drink boxes.
One A Different note, I received a Corona Cheese Cake… let me explain.
My coworker who I work with closely caught covid and was out for a week. So I handled all of our duties on my own. It wasn't so bad for me as she talks ALOT ( it wasn't bad for her either as she had a mild case of the "flu"). My ears got a rest for a week. I love her though, she is really awesome and super kind.
So she always promised she'd make me cheesecake but never had the time, then comes corona to give her all the time in the world, not just to make me cheesecake but to get a lot of other things done that she has been putting off. Sometimes I think the Covid cases rising in Japan is God's way of saying:
"y'all mother fuckers work too hard, take a vacation… oh so your not gonna take a vacation (cough cough) corona your ass.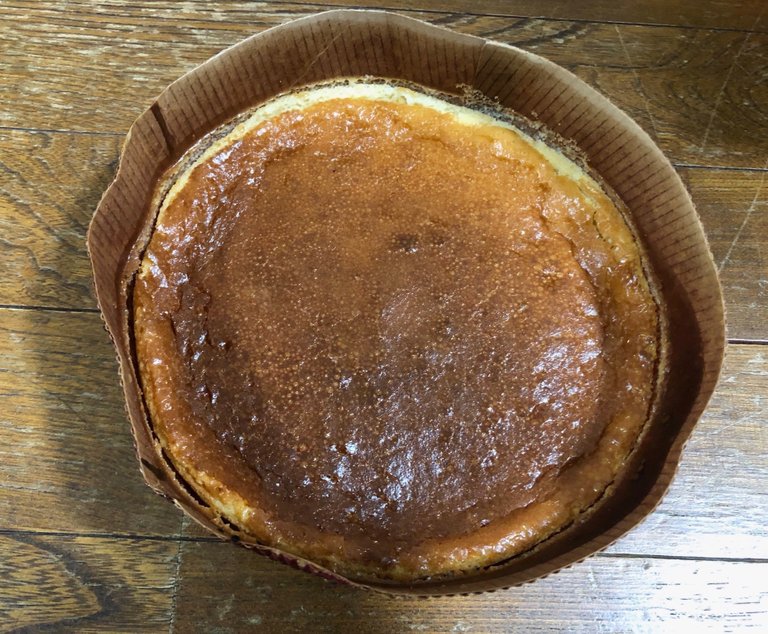 My boys don't like cheese and my wife doesn't like sweets ( she took a bite) so I guess this ninja 🥷 is gonna be munching on cheesecake and running it off over the week. It's smaller than it looks but is has Tyson punch). And on that note. Adios Amigos. Remember to find things to be grateful for no matter what comes your way.*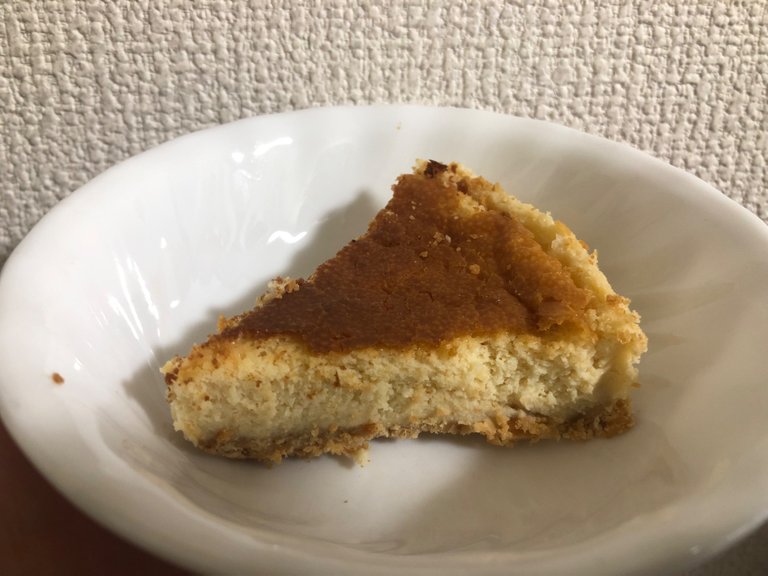 Wanna take part in #DashOutSunday? Read this post for details.

---
---