[ESP| ENG] Lessons learned: The Sword in the Stone Part 1
¡Gente bonita! hoy quiero llegar a esta comunidad para hablarles de una película que amo desde pequeña y que tiene varios mensajes bastante bonitos para la gente en general, hoy quiero hablar de un clásico de Disney llamado "La espada en la piedra".
Beautiful people! today I want to reach out to this community to talk to you about a movie that I love since I was a little girl and that has several beautiful messages for people in general, today I want to talk about a Disney classic called "The Sword in the Stone".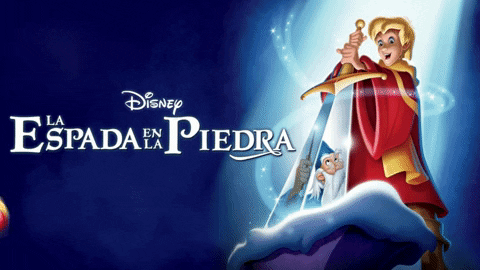 La historia es bastante simple es basada en un libro de T.H. White sobre el Rey Arturo de Inglaterra pero hecha al modo Disney donde se centran más en Arturo de niño y su relación con el Mago Merlín quien termina siendo su maestro para que cumpla su meta del futuro, la película me encanta por eso y porque de verdad pasan momentos muy específicos, o frases muy que quiero mencionar, iré deshilachando la película por frases y explicando el contexto.

La introducción de Arturo a Merlín | Arthur's introduction to Merlin
"No puedes crecer sin una buena educación" le dice Merlín a Arturo mientras se presentan pues este solo tenía como objetivo ser escudero y nada más que eso, un ayudante a un guerrero, Melín como conoce el futuro lo incentiva a educarse de manera general y por eso se ofrece como su tutor. Cuando ya se va a mudar al castillo donde vive Arturo le dice un frase muy importante que él mismo demuestra "La magia no puede resolver todos tus problemas".

Menciono que él mismo lo demuestra es porque cuando nos muestran por primera vez a Merlín, este está buscando agua con un tobo, sin utilizar magia, y le resulta algo difícil pero aún así no utiliza magia para hacerlo más fácil. "Todos cultivan el musculo y no el intelecto" de verdad que la película quiere agarrar este mensaje y ser el que más se destaque para saber como se creo el famoso Rey Arturo.

La lección de los Peces | The lesson of the Fish
"Contra y pro" donde menciona que el mundo tiene sabor a que existan los opuestos en todo sentido. "Busca siempre destacar, no debe ser mediocridad" que de nosotros mismos depende de subir o bajar en la vida, pues no nos podemos conformar pero tampoco rendirnos al caer. Apareció una situación bastante complicada de huir de un depredador y allí Arturo demostraba bastante astucia pero igual se volvió bien difícil la situación.

Siento que estaré narrando toda la película (por eso creo que dividiré este post en partes) pero de verdad es que es una joya de las frases porque es el objetivo de la película, aprender sobre la importancia de la educación sobre como puedes agarrar y transformarte en un niño con metas muy grandes y saber cuanto vales.

La lección de la ardilla | The lesson of the squirrel
Por aquí Arturo aprendió de la gravedad, pues al volverse ardilla él tiene demasiada energía o ganas de explorar y saltar de todos lados así sea de árbol en árbol. También empezó a conocer lo que es el "amor", que recordando mi infancia esta era la parte que más me gustaba y también me ponía muy triste jajaja. "No te resistas, déjate querer" dicen porque al mismo tiempo se burlan de la situación.

Aprovechando el hecho de que saben que el día de mañana no serán ardillas Merlín se burla de que una ardilla hembra se allá enamorado de Arturito, definiendo un poco el amor, como una situación exótica, caótica, patética, ridícula y demás jajaja todo mientras a él también llega una hembra a enamorarse de él. Ya llega al punto donde ya ambos dejan de ser ardillas y se presencie por primera vez algo que me definió por completo LLORAR POR AMOR, pues la hembra se pone muy triste.

También me encanta de la película que llega un punto que Arturo se da cuenta que esta siendo tratado como alguien muy débil cuando no es así, y ya aquí la película toma otros colores porque al principio es infantil educativo, pero luego toma un tono más serio dando aún más lecciones pero esta parte si la quiero dejar para otro post.

¿Han visto esta película? De verdad es una película de Disney muy vieja pero excelente que siento que no se debería olvidar, espero les haya gustado el post y me dejen sus opiniones al respecto.
¡Nos vemos!
Have you seen this movie? It really is a very old but excellent Disney movie that I feel should not be forgotten, I hope you liked the post and leave me your opinions about it.

See you soon!

---
---