The importance of Training Strategies for the Optimization of Business Processes.
Written by:Diomer Antonio Galán Rincón.
Bachelor's Degree.Public Accounting / MSc.Science of Higher Education.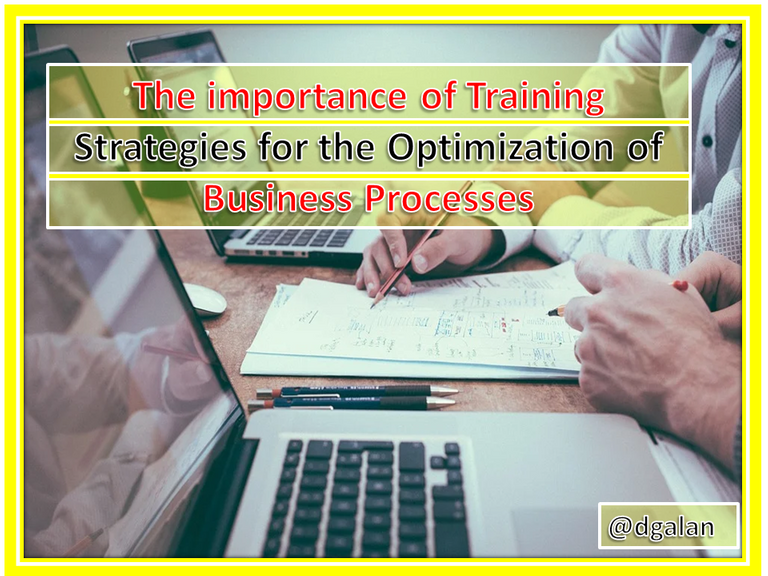 Author: @dgalan,through Power Point 2010 tool, and using public domain image Pixabay
The business world today has been immersed in constant changes in which scientific, technological, cultural, social, economic and educational advances are of great interest.
It should be noted that these significant changes have been the product of intelligence, creativity and the will of man to develop and discover new things or elements that make life easier for human beings. That is why this potential cannot be left to chance and, in consideration of this, the business environment must have appropriate and effective tools that allow the training of all the personnel that work in them.
The training of personnel can be considered as a fundamental element for the achievement of business objectives, recognizing also the importance that this has to turn organizations into competitive companies thanks to the personnel that work in them.
Image taken from:Pixabay
It is true that many people are employed as professionals in a specific area. However, sometimes they have to perform functions in areas totally different from their professional profile.
To this effect, it is appropriate to point out the contribution of Rivilla (2009), when he states that training is: "A planned, systematic and organized process that seeks to modify, improve and expand the knowledge, skills and attitudes of new or current personnel, as a consequence of their natural process of change, growth and adaptation to new internal and external circumstances".
To be competent, capable, efficient and effective, companies must have trained personnel, ready to perform their work in any context, in which the company requires it, but, to reach the proposed goal, sense and importance must be given to the profile of the employee, who must be trained in the area, in which he/she has to perform.

Image taken from:Pixabay
It is important to emphasize that the employee knows all the fundamental aspects of the company, as well as the tasks that are carried out in each department, with the purpose that when the people in charge of certain functions are absent, any of those present can replace him and carry out the functions in question, because he is qualified for that, even if he is not a professional in the branch to which a specific department belongs.
In order to be able to understand the convenience and necessity of personnel training within companies, so that they can respond to labor demands, it is necessary to understand that within their context and in real time, workers and employees may find themselves in urgent situations, in which they require prior preparation or training to be able to meet internal and external circumstances that require immediate attention to be solved.
This brings with it pressing situations that merit the search for strategies on the part of employers, in order to help them keep their staff, especially when they are looking for other possibilities and job improvement in other companies, hence the importance of keeping the staff trained.
I hope you like my article and I would appreciate all your comments.
Bibliographic References:
1.- Rivilla, P. (2009) Continuous employee training from a collaborative perspective". In Revista Empresarial Creativa No. 7, Madrid, Spain.
---
---