The importance of the effective administrative use of accounts payable in companies.
Written by:Diomer Antonio Galán Rincón.
Bachelor's Degree.Public Accounting / MSc.Science of Higher Education.
Introduction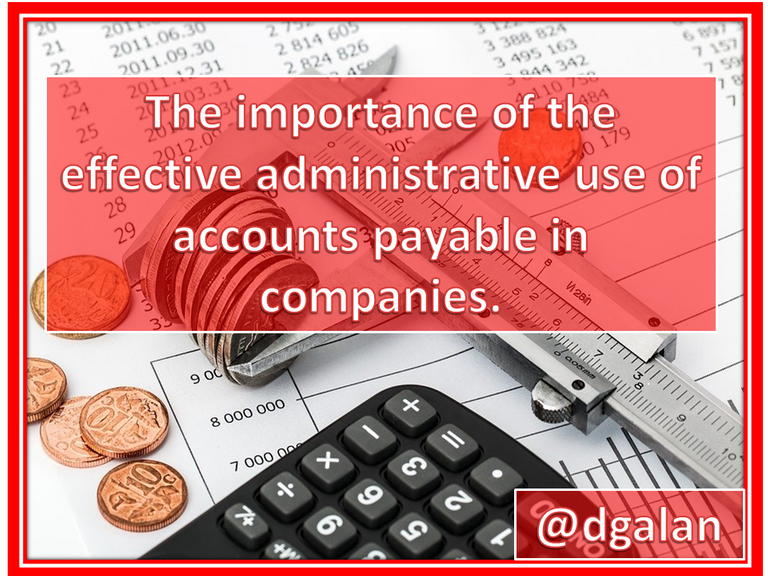 Image taken from:Pixabay
Administration plays a preponderant role in the management of finances in any company, since its process allows, through planning, organization, direction and control, to measure whether the objectives are efficiently met, guaranteeing the correct handling of accounts and responding to the commitments acquired in terms of payments.
For these reasons, it is necessary through the administration to offer internal controls aimed at establishing financial reports at the close of each accounting period, since financial information related to accounts payable must be specified, since account balances must indicate which debts the company has according to the commercial activity to which the entity is dedicated.
In the business field, accounting is an integral part of the information system of an organization, since it is the data processing technique that allows obtaining information on the composition and evolution of the organization's assets.
It should be noted that organizations must protect their assets every day through administrative procedures that provide the possibility of administrative accounting, in order to obtain controls over the debts conceived in the term of its business dynamics or services provided by suppliers. In this regard, Robbins and Coulter (2005) argue that "administration is the coordination of work activities so that they are performed efficiently and effectively with and through other people". Therefore, its influence has a direct impact on the trial balances to determine accounts payable.
Image taken from:Pixabay
We can also mention that accounts payable management should measure the liabilities that represent the entity's indebtedness. As defined by Cantú (2014) "accounts payable or liabilities represent what the business owes to other persons or entities known as creditors, which have priority rights over assets". Hence, administrative processes must provide mechanisms for recording transactions or operations carried out by the entity, guaranteeing its financial security.
In this regard, Venezuela has recently experienced different socioeconomic scenarios where companies need to efficiently optimize their administrative processes in order to achieve their goals. For these reasons, an accounting record articulated with the administrative processes is needed. Therefore, Ventura and Delgado (2015) infer it is indispensable the necessary training to, "achieve the objectives and goals. Provide information and tools to facilitate and ensure adequate and timely decision making to produce an administrative management for the fulfillment of commitments in the area of accounts payable.
I hope you like my article and I would appreciate all your comments.
Bibliographical Reference:
1.- Cantú A. (2014). Accounting Criteria. (3rd). Spain: Edición. CO-BO.
2- Robbins, S and Coulter, M. (2005). Administration. (8ª.ed).México: Pearson Educación.
3.- Ventura B. and Delgado S. (2015).Contabilidad general y tesorería.(4th ed). Spain: Ediciones Paranifo.
---
---