Assertive communication as a tool for the management of organizational conflicts.
Written by:Diomer Antonio Galán Rincón.
Bachelor's Degree.Public Accounting / MSc.Science of Higher Education.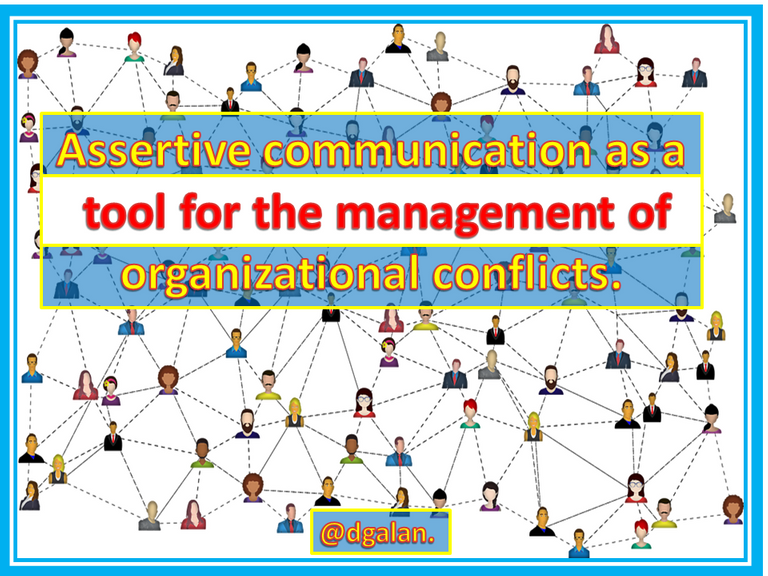 Author: @dgalan,through Power Point 2010 tool, and using public domain image Pixabay
Communication is the most important means of expression that human beings possess, it allows them to transmit opinions, emotions, attitudes, among other things. In fact, this means not only allows to show pleasure or liking in front of situations, but also allows to show displeasure, asserting people's opinions, that is to say, communication includes a whole in the transmission of ideas.
In relation to the above, Scheinsohn (2003) states that "communication is a fundamental fact of the relationships in organizations which are established, maintained and promoted through it", it should be noted that when the communication process is developed between social groups such as institutions, private companies and others, it tends to become more complex and complicated.
Nowadays, communication has become an added value for management, being part of the improvement of the organizational climate, values and organizational culture, however, it can also be assumed as the generator of conflicts, being this the tool to solve them, allowing the organization to grow, learn from the crisis, negotiate and win.
Image taken from:Pixabay
Consequently, these situations can be reflected in the development of activities within the company, generating delays in the dispatch of orders, dissatisfied workers, problems in the transmission of ideas, misunderstandings in the organization of work groups and poor assignment of tasks.
Likewise, communication problems and conflicts within the company can have an impact at a financial level, since there are delays in the development of activities when they have to be solved. Thus, communication in the organizational process is both at the heart of the conflict and its resolution.
I hope you like my article and I would appreciate all your comments.
Bibliographic References:
1.- Scheinsohn, D. (2003). Strategic communication. Management and fundamentals of the corporate image. Ediciones Macchi..
---
---