Strawberry Cafe: When Food meet Games!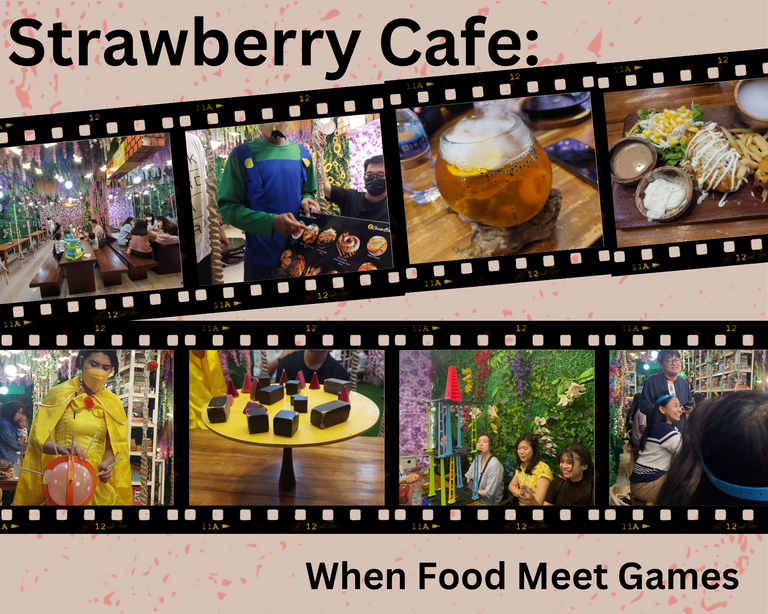 ---
Hello, friends especially foodies!
---
Today after Sunday Service, My church friends took me to a cafe named Strawberry Cafe. This cafe was located in Greenville, West Jakarta. When I first arrived to this place, I couldn't recognize the cafe.
Look at how it looked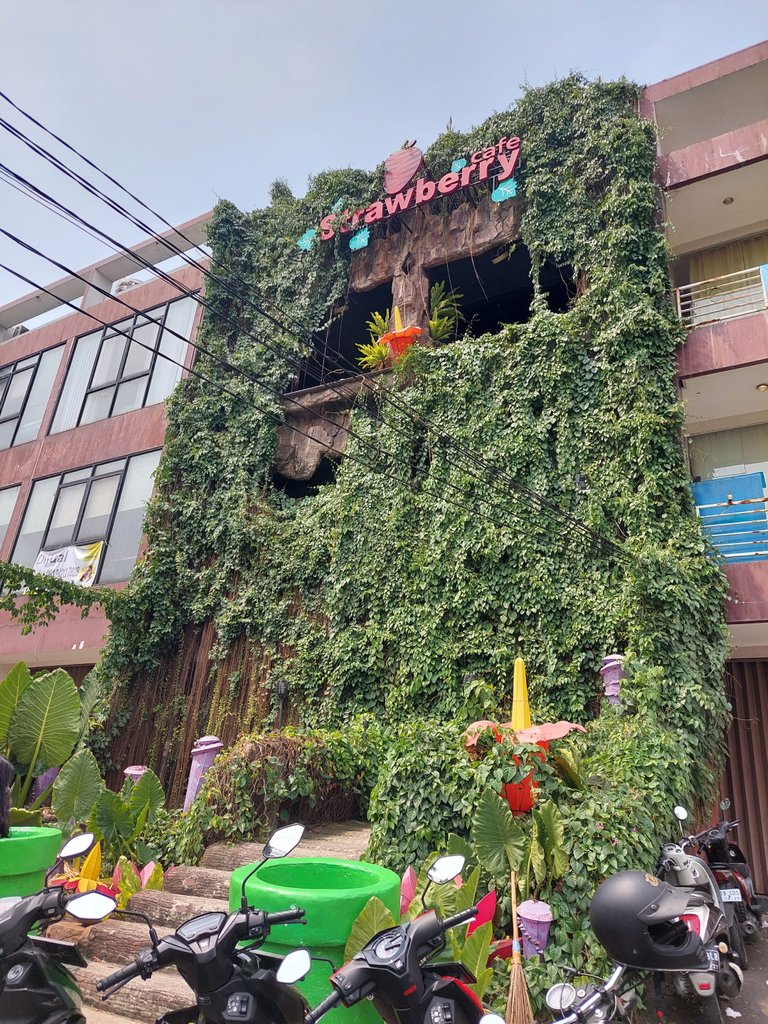 No wonder i couldn't recognize it at first, as you could see this cafe is hidden behind its' plants so that you couldn't find it easily. The green plants that made the camouflage for this cafe were long and big, hmmh! it was a surprise for me because this building looked like abandoned unused building from the outside.
---
When we arrived there at 1 pm something, their first floor still haven't got any customers. And as you could see that this floor was dark, and it had some colorful lamps to decor it. Many artificial flowers and plants plus hanging fake brick plus coin like in Mario Bros game.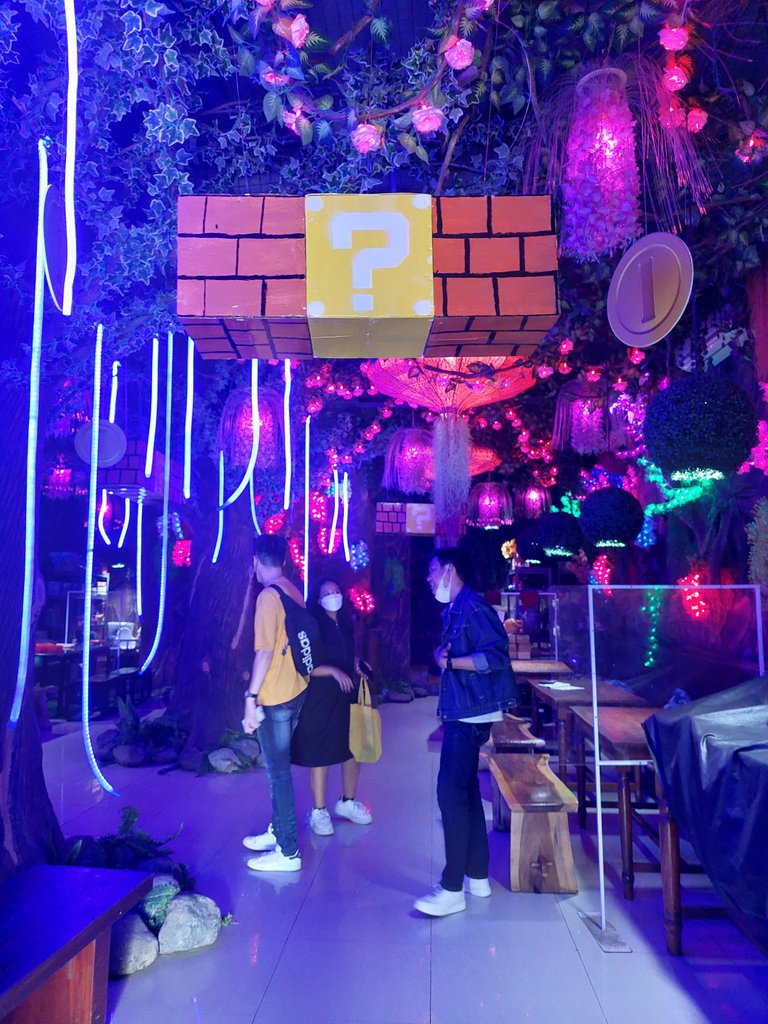 ---
We right away went to their second floor, good thing that the stair was bright and it had full of artificial flowers whether it pasted on their wall whether they hung it on the ceiling. Stunning, isn't it?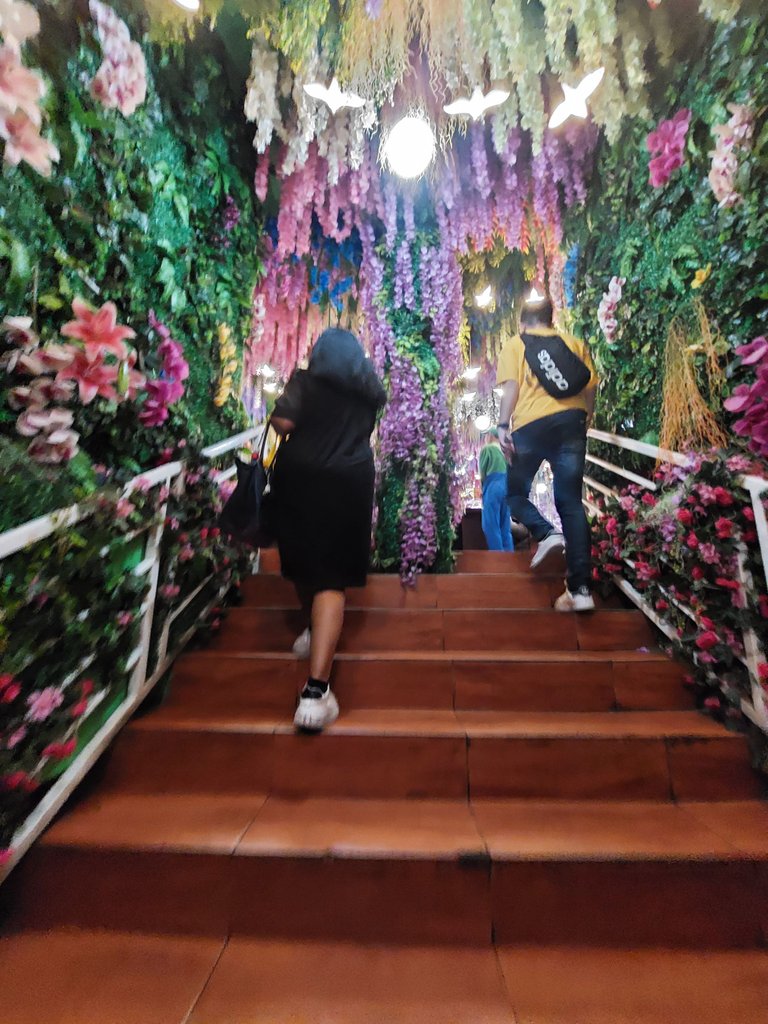 ---
On the second floor, we could see that they had the theme of flower garden with so many artifcial flowers on their wall, ceiling and on the swing's rope. They had som red roses, orchids, sun flowers, jasmine and so many kind of flowers which i was unfamiliar with. And still they had fake bricks plus coin hung at some places which would remind you of Mario Bros game. On the second floor some customers were already there before us, some were eating, some were ordering and some were playing.
---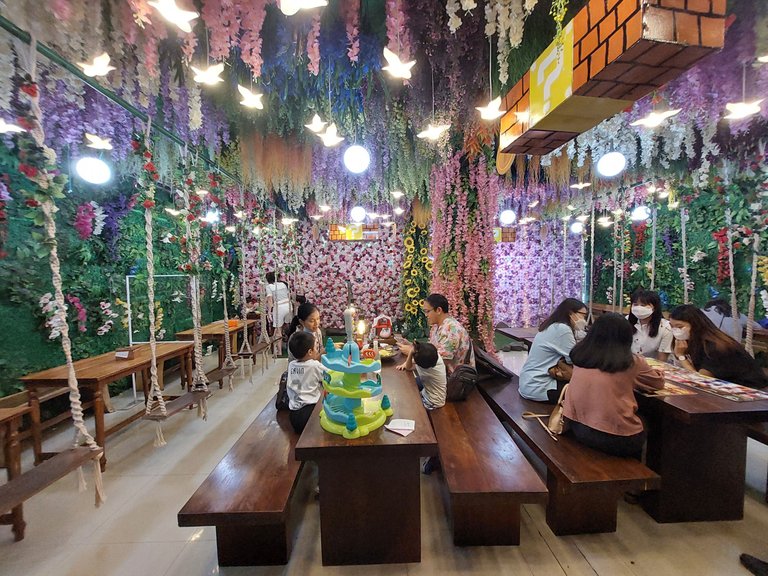 ---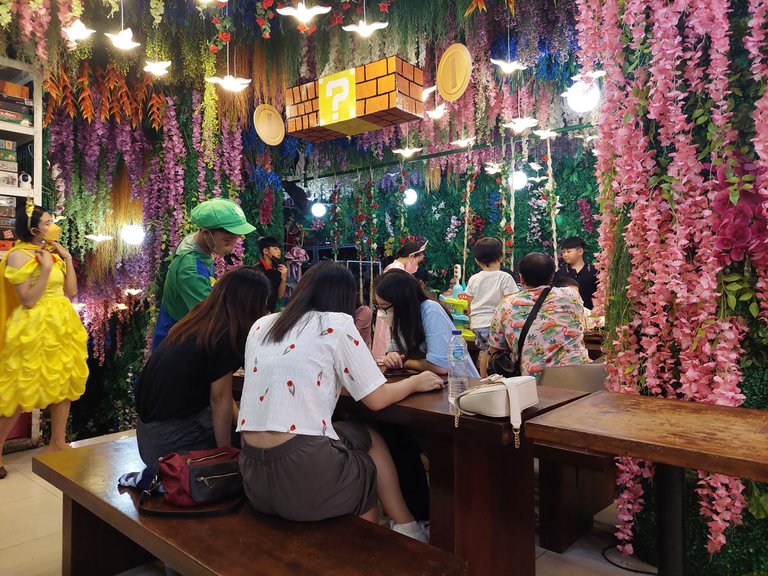 ---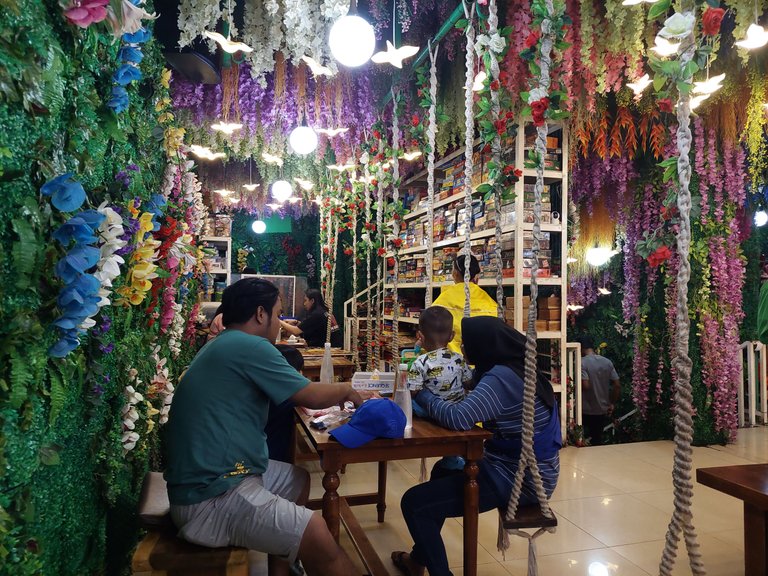 ---
---
The menu that this restaurant served were so many. Let me tell you their unique menu first. Their unique menu were the packages they offered. Their waiter in Luigi costume explained us that by buying the main course we would get all the side dishes plus ice cream that we could choose.
For example, the menu that you choose for main course is chicken cordon bleu mozzarella then you could choose the bread that you want between garlic bread and bruschetta, you could also choose the extra sauce blackpepper, creamy mushroom, japanese mentai, smokey USA BBQ sauce or taichan chilli paste, then you also could choose the salad from japanese thousand sesame, coleslaw or mozzarela cheese sweet corn. And then for the side dish you could choose between their fifteen choices such as butter rice, fettuccine carbonara, waffle fries and others. Last, for the ice cream you could choose between their five flavours like chocolate vanilla, strawberry fruit punch, passion fruit, vanilla mochi or blueberry popsicles.
---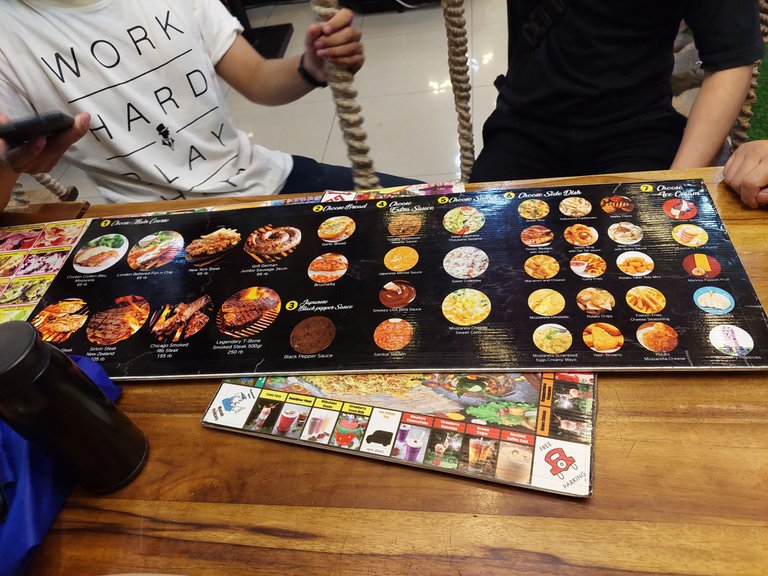 ---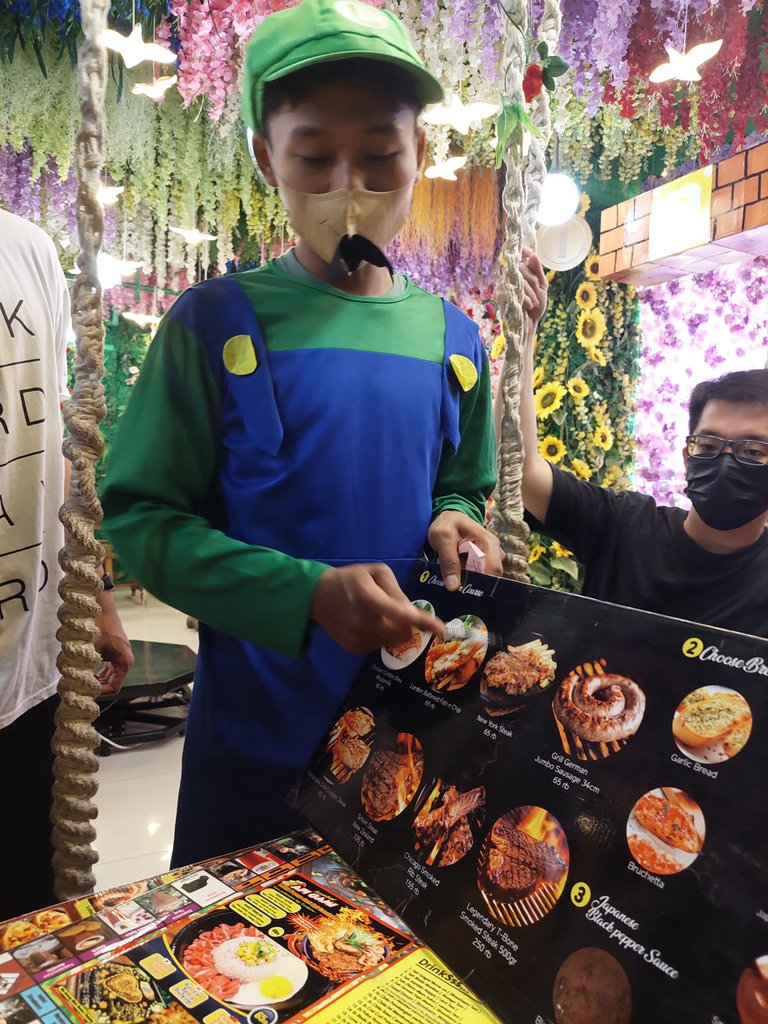 ---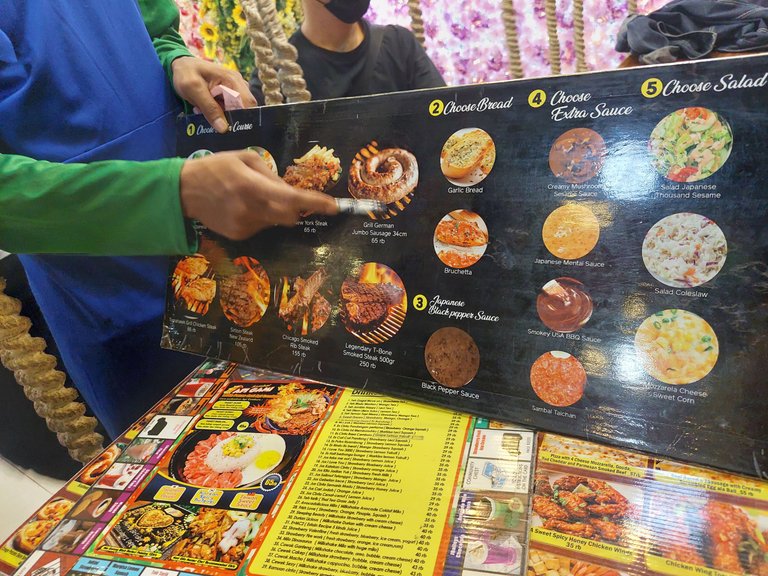 ---
---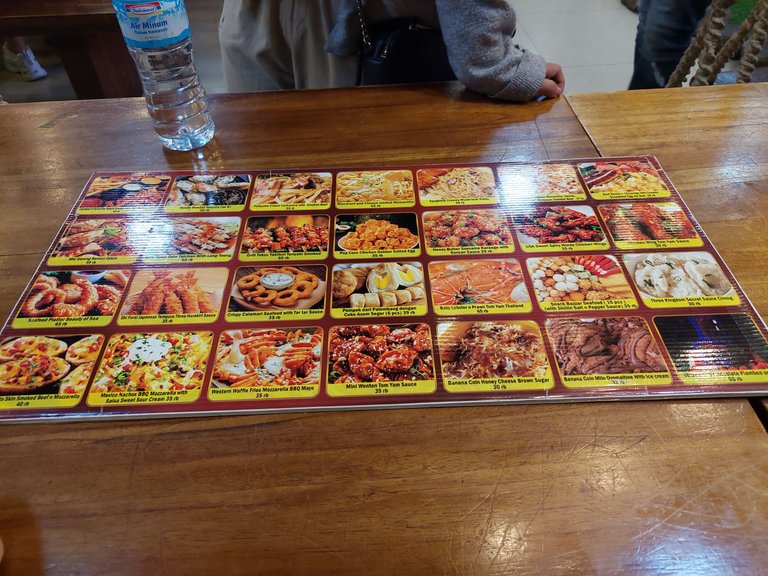 They also had some menu like carnival five favorite snacks, gyoza, fettucine cream carbonara with smoked beef, macaroni and cheese melted mozzarella, spaghetti creamy mushroom katsu, pizza, balinese beef bacon, sausage and scrambled egg plus they also had some other menus, which some were snacks you could enjoy together with your friends or family members.
---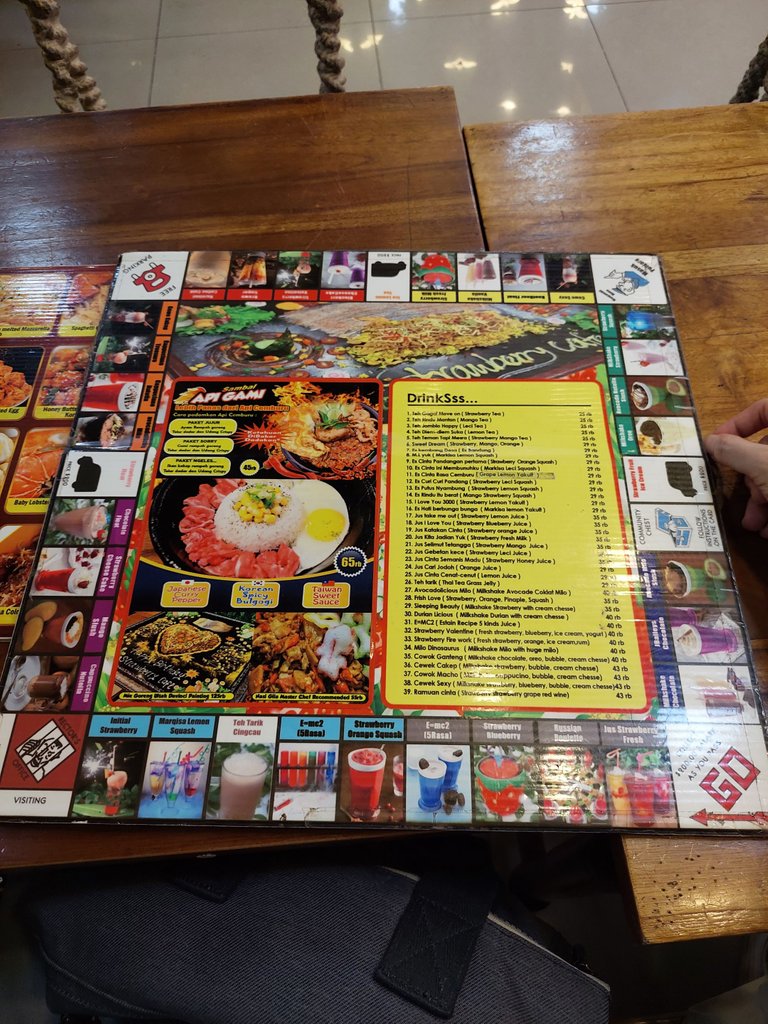 They also still had some food menus on their drink menu page, like spices fried chicken, omelet egg and crispy shrimp, and some others. What made their drink unique was they changed the name of every drink they sold. For example for strawberry tea they called it failed to move on tea; mango tea they called it missed ex tea; lychee tea they called it single happy tea and many others. For your information they named 39 kind of drinks with those unique funny name, how creative!
---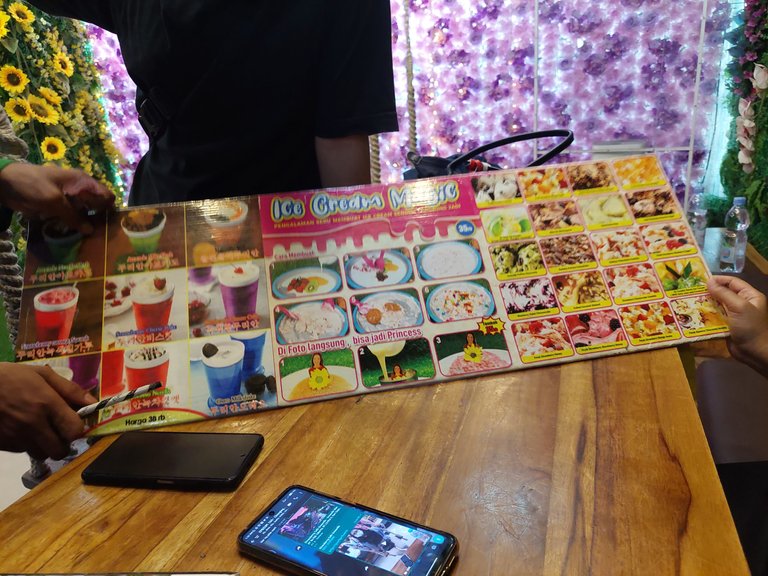 For the desert, they also offered a bit different sensation that made the customer made their own ice cream which couldn't be found in any other cafes or restaurants. But it was okay if you don't want to make it by yourselves because they also sold the ready to eat ice cream too.
---
Because we came there in quite large number of persons (all of us were twelve persons, nine came first then three came later), the food were taking a long time to process.. so we decided to play their board games. For the board games they also had catalogue for it, here was the catalogue.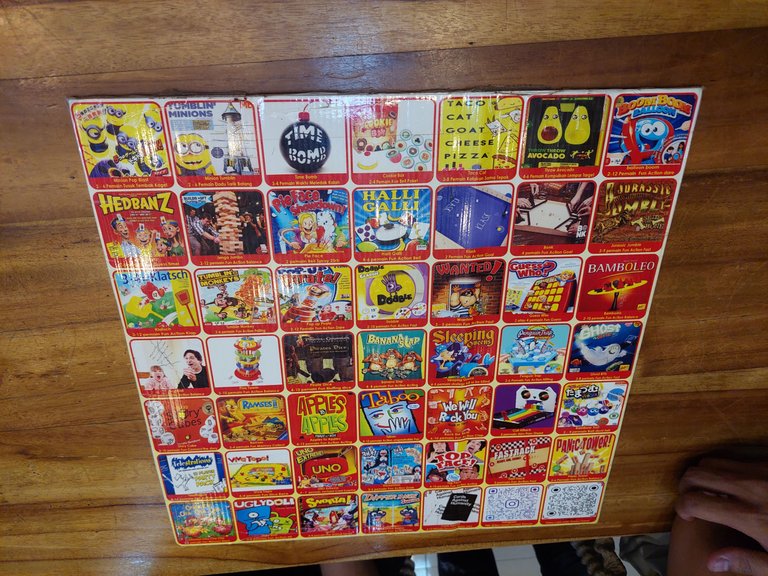 ---
The first game we played named Boom Boom Balloon. Here how the balloon looked.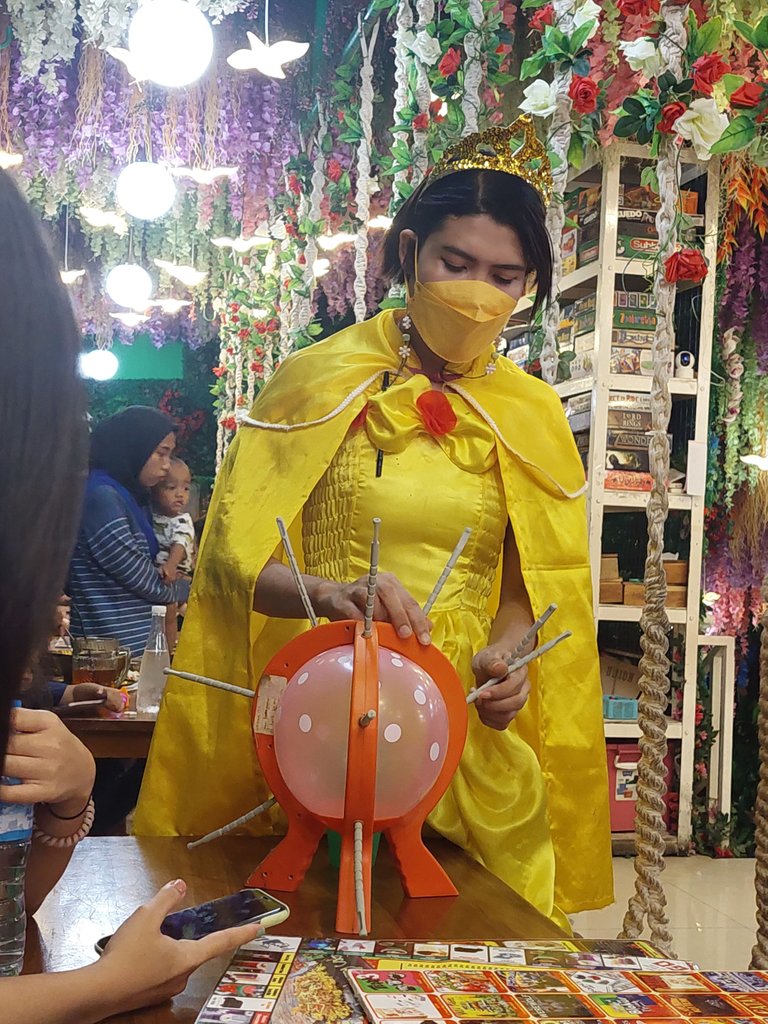 The balloon came with the sticks around and also the dice. The dice had the number from 1 until 3. The number showed how many you need to stab the balloon from the stick. The stick would sound click that showed that you stab once the balloon.
---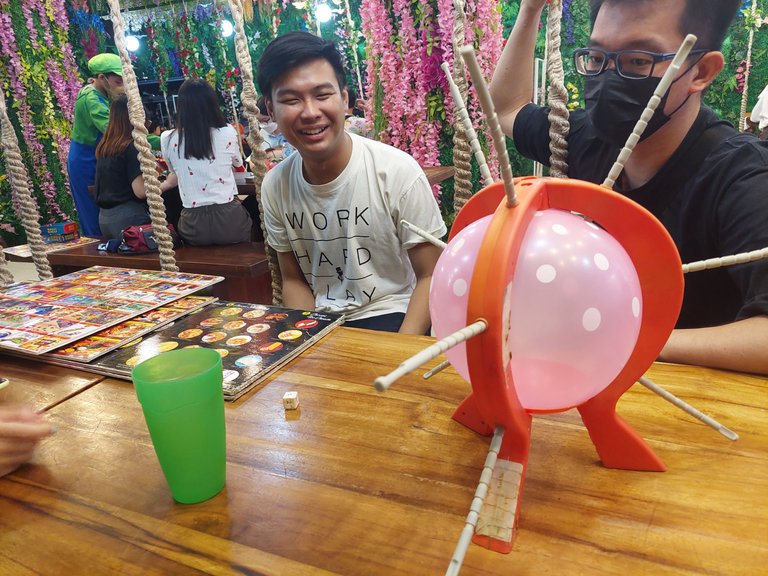 ---
It was easy at the beginning because the pressure from the sticks to the balloon weren't high.
---
But as it went far far away, many played it, the pressure became high, and suddenly boom, the balloon was broken.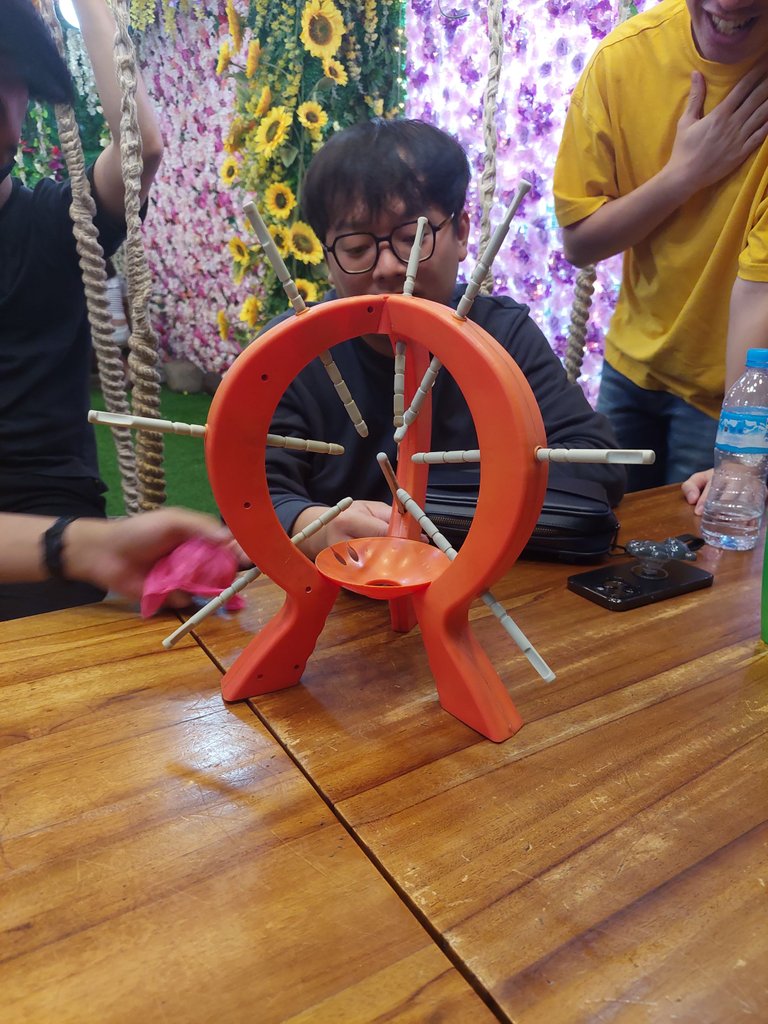 ---
As the punishment for the losers, this cafe also provided a box of clothes pins that should be put on your hair each time you lost a game.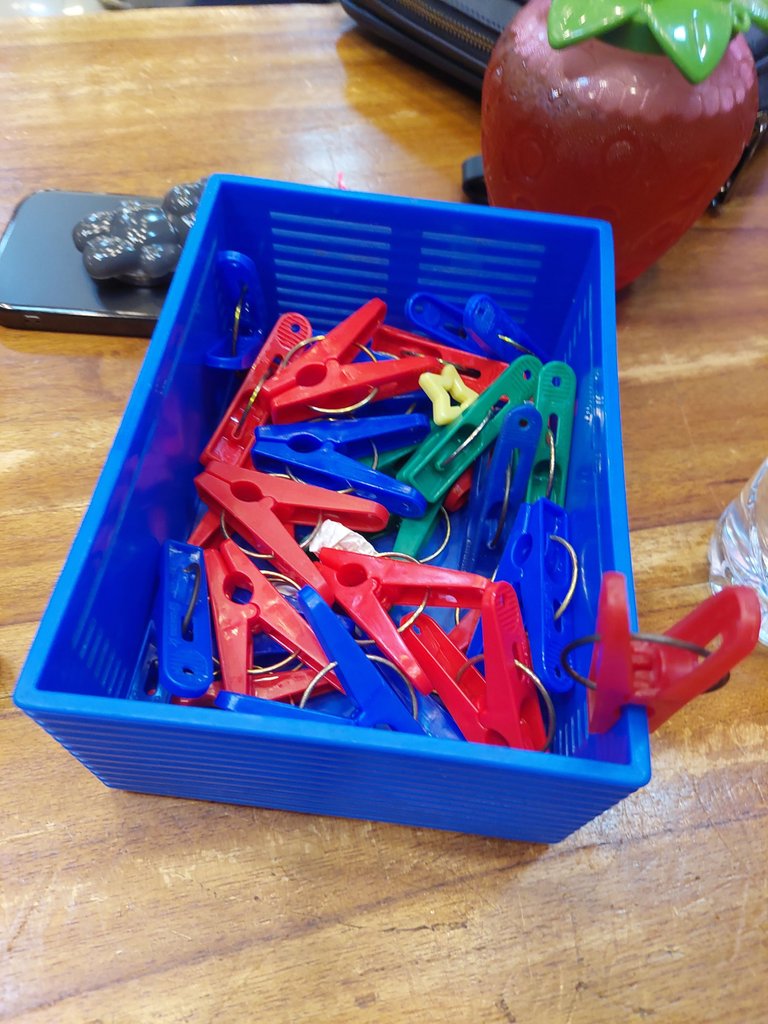 ---
The second game named bamboleo. In this game what we should aware of was the balance, on a stick and on a ball there was a big plate which had many wooden objects on the top. Our duty was to pick one by one but we should make sure that they didn't fall and keep in balance.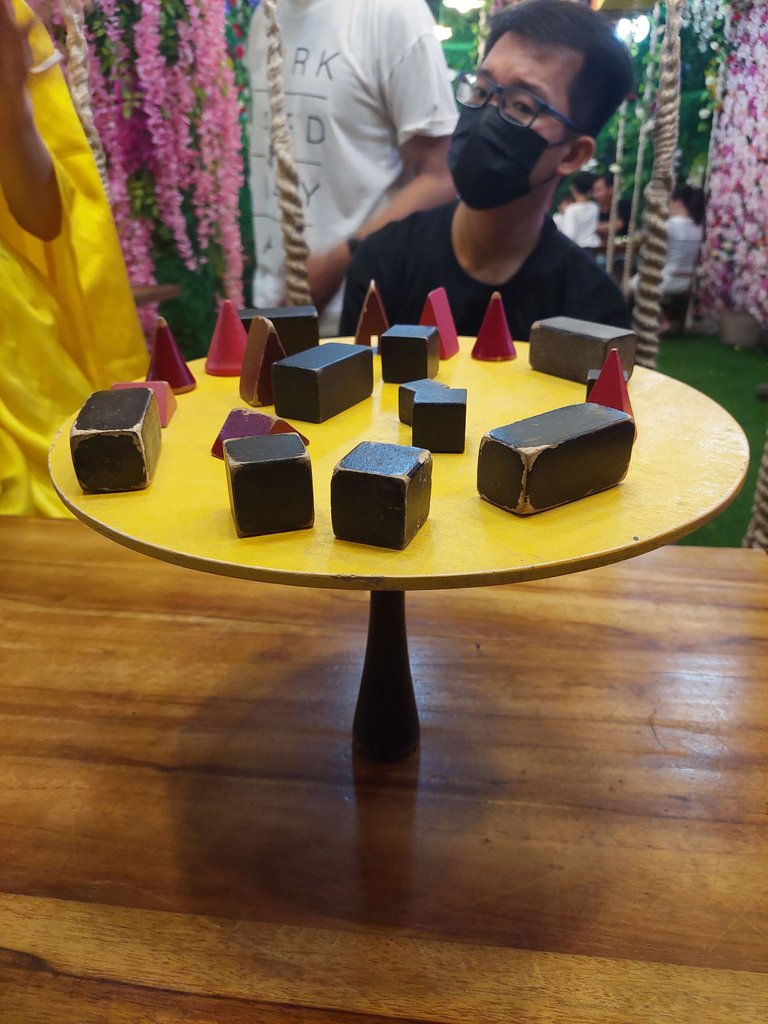 ---
When we were playing this game, a friend's food order came and guessed what a mushroom soldier costume waitress delivered it to him and also she cooked the black pepper beef for him on the cooking plate.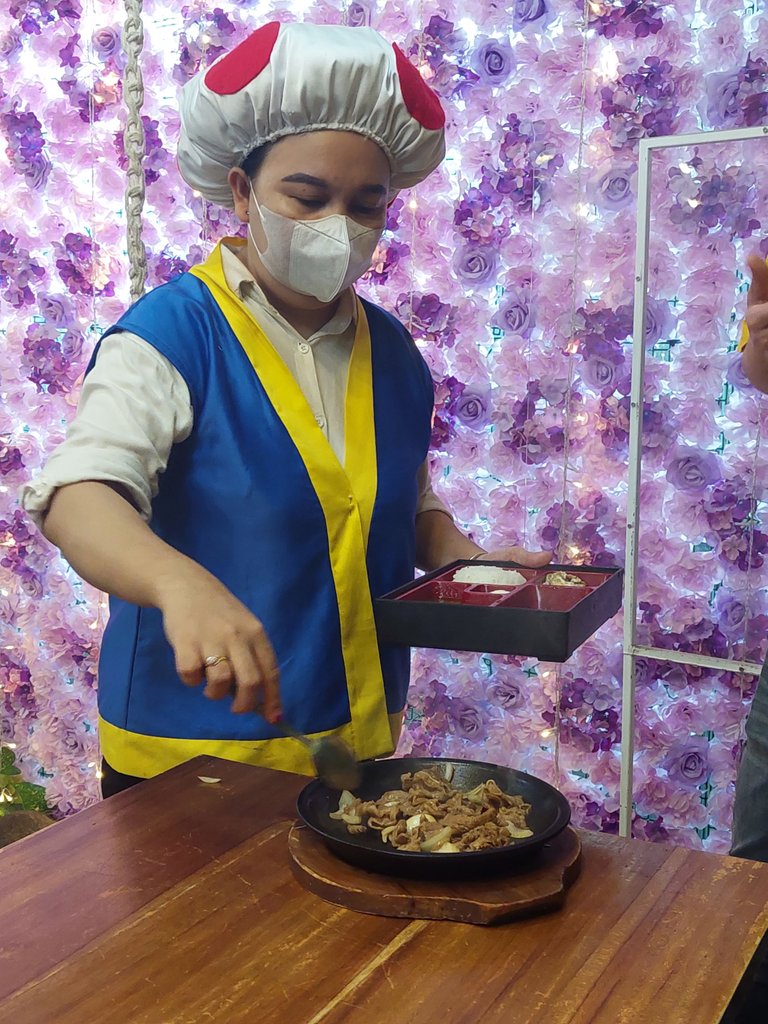 ---
Next, our drinks came. A princess costume waitress delivered it for us.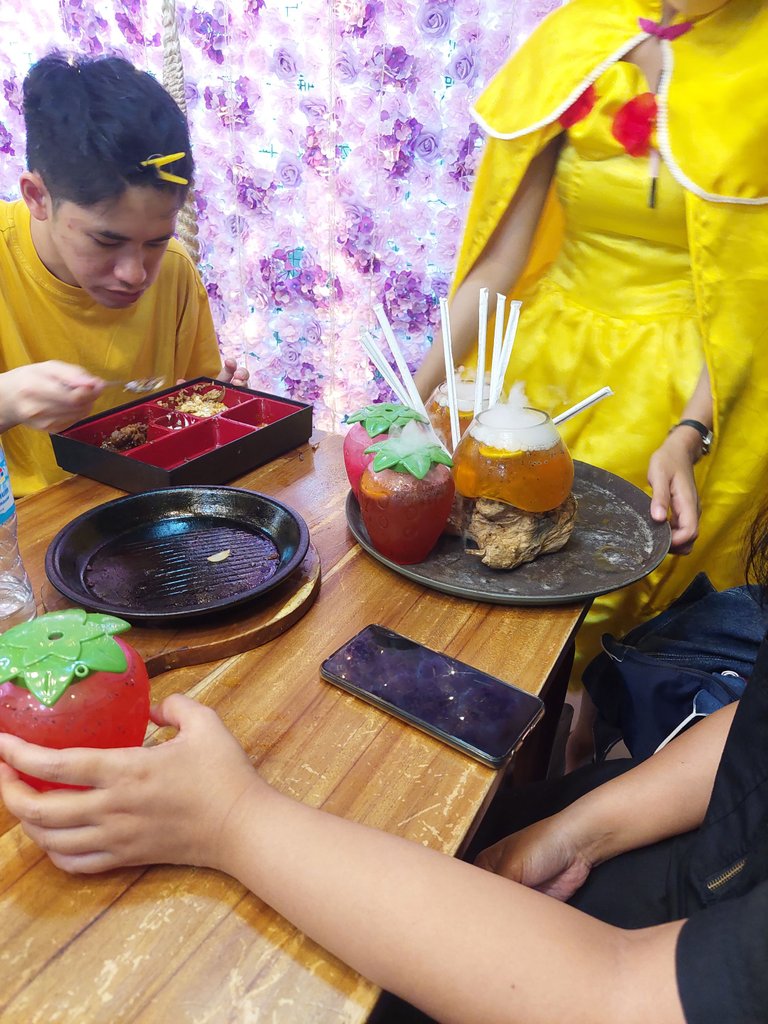 ---
Mine was lychee tea which they named single happy tea. It contained lychee, selasih (also popular as frog eyes), tea, a sliced of lemon and dried ice. No wonder it looked smokey.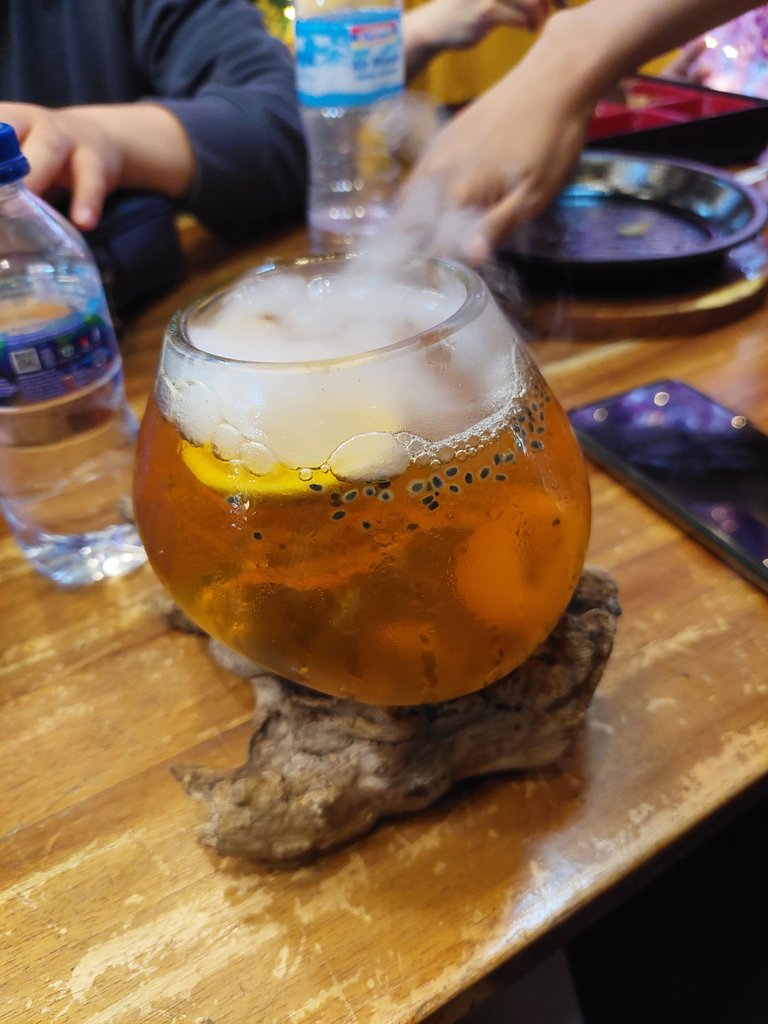 ---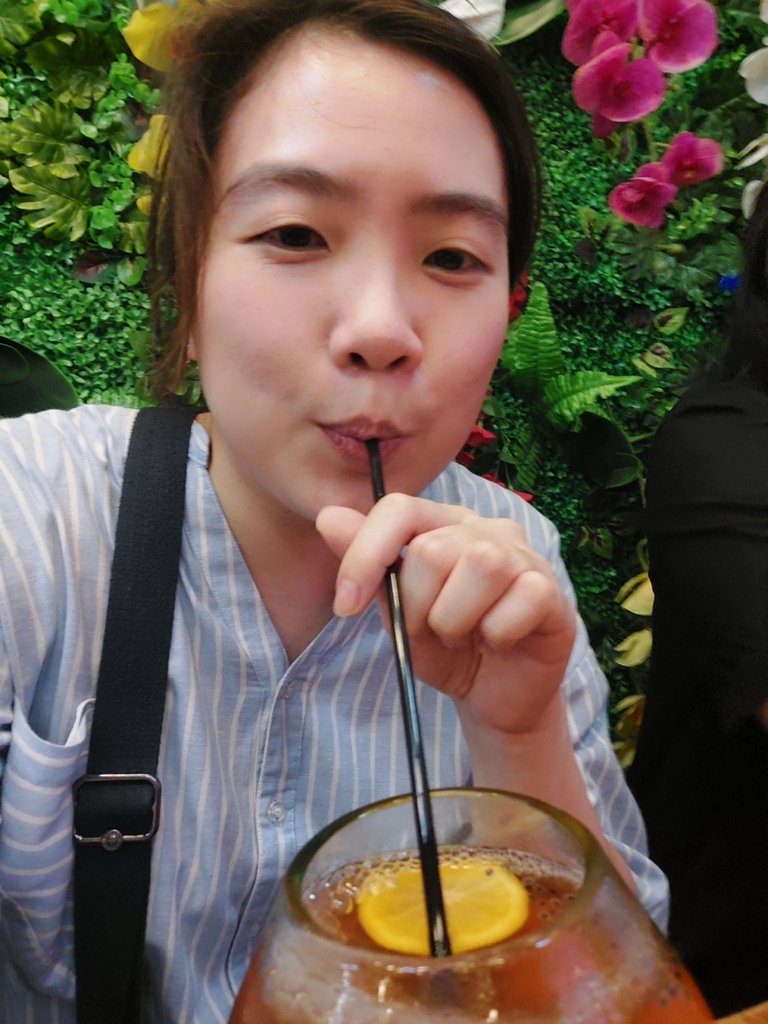 It tasted so fresh, sweet but not too sweet and i felt something like soda sensation on it (i knew it was the effect from the dried ice they put in it). Nice, this tea amazed me, not like ordinary too sweet lychee tea we usually taste anywhere. Yeah i liked it!
---
Most of their food came with amazing looks like below,
---
Fish n chips came with boat and shark, the shark had dried iced on its' mouth that then put on the bowl in the center of the boat, where the flag was in.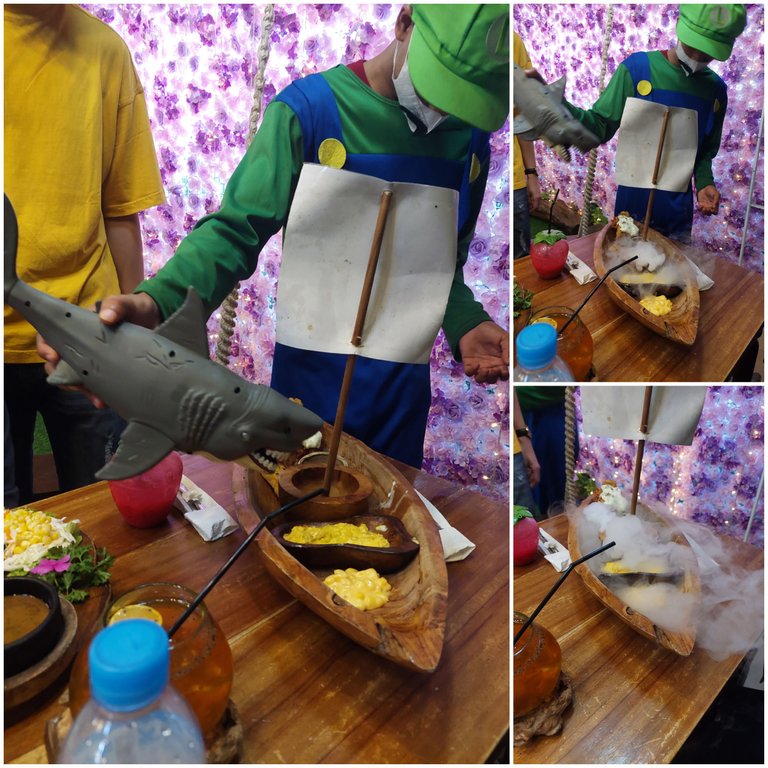 ---
Some others also came with their unique looks,
---
On other customer's table like bomb and they really exploited it.. oh my!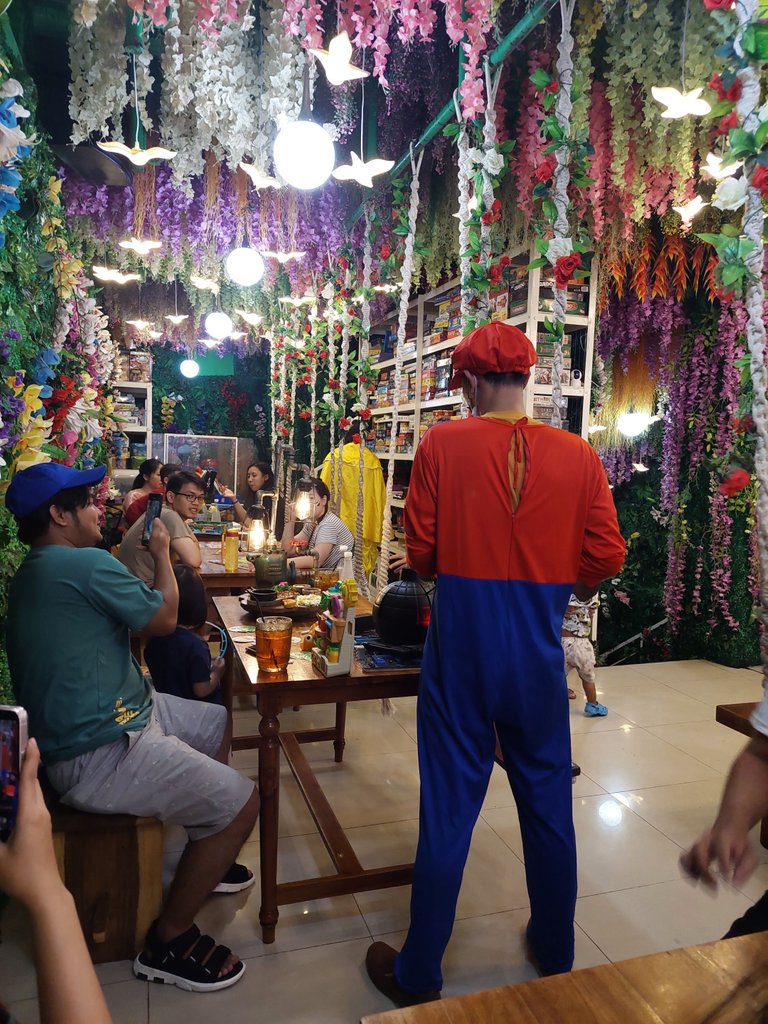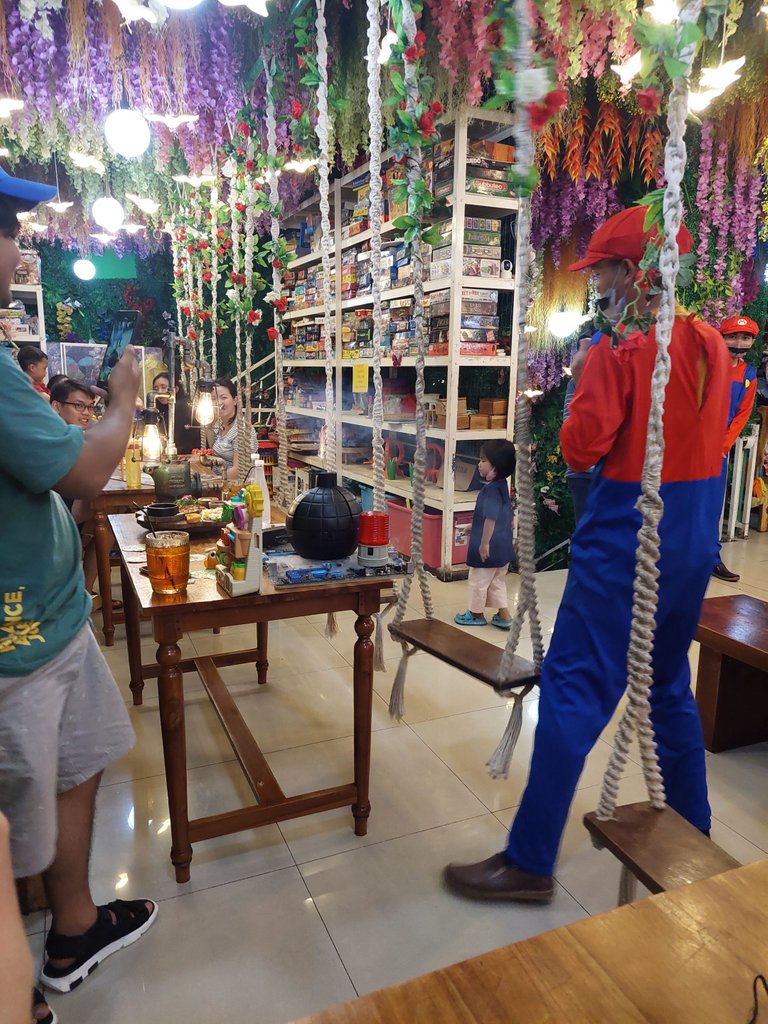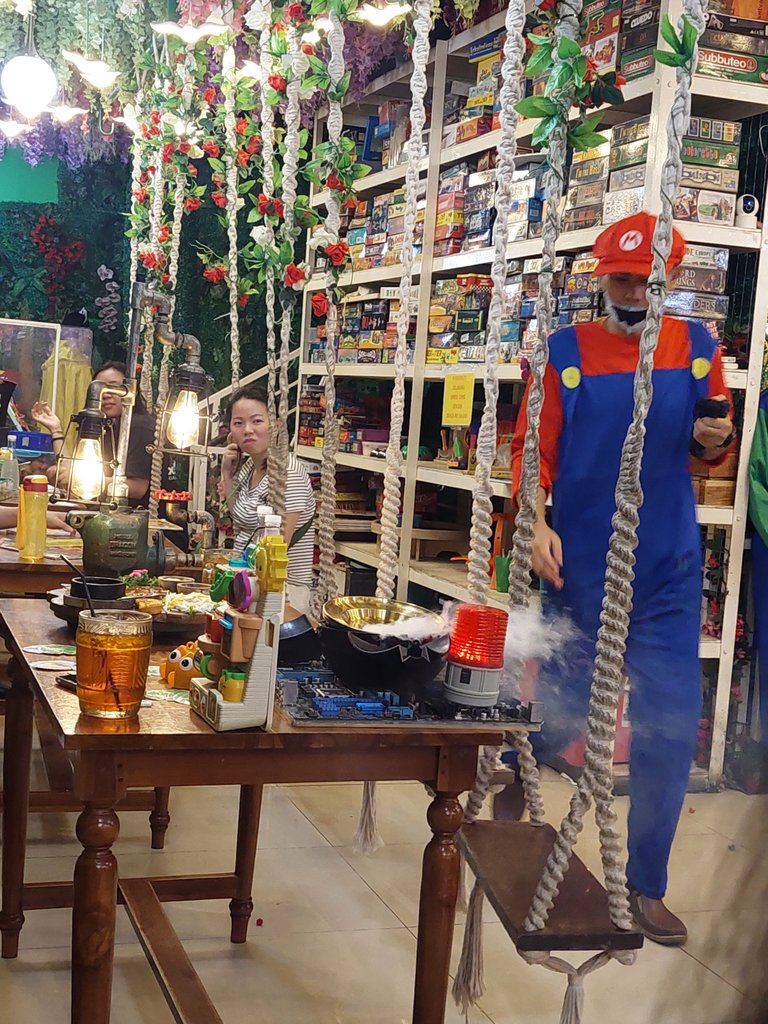 ---
Even one with the treasure box. To open it mario costume waiter should used the magic stick then put the fire on the center of the box.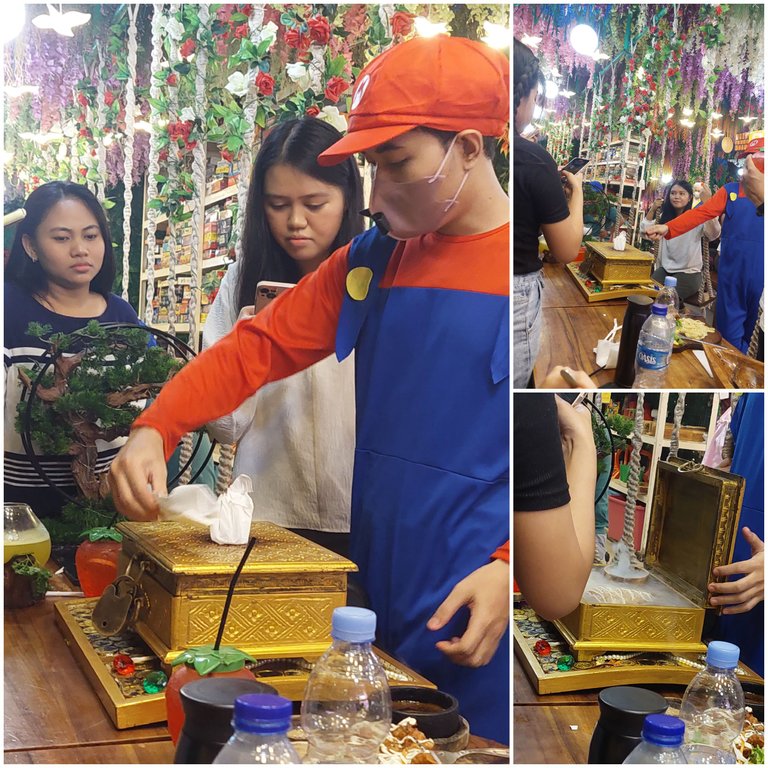 ---
Bonsai tree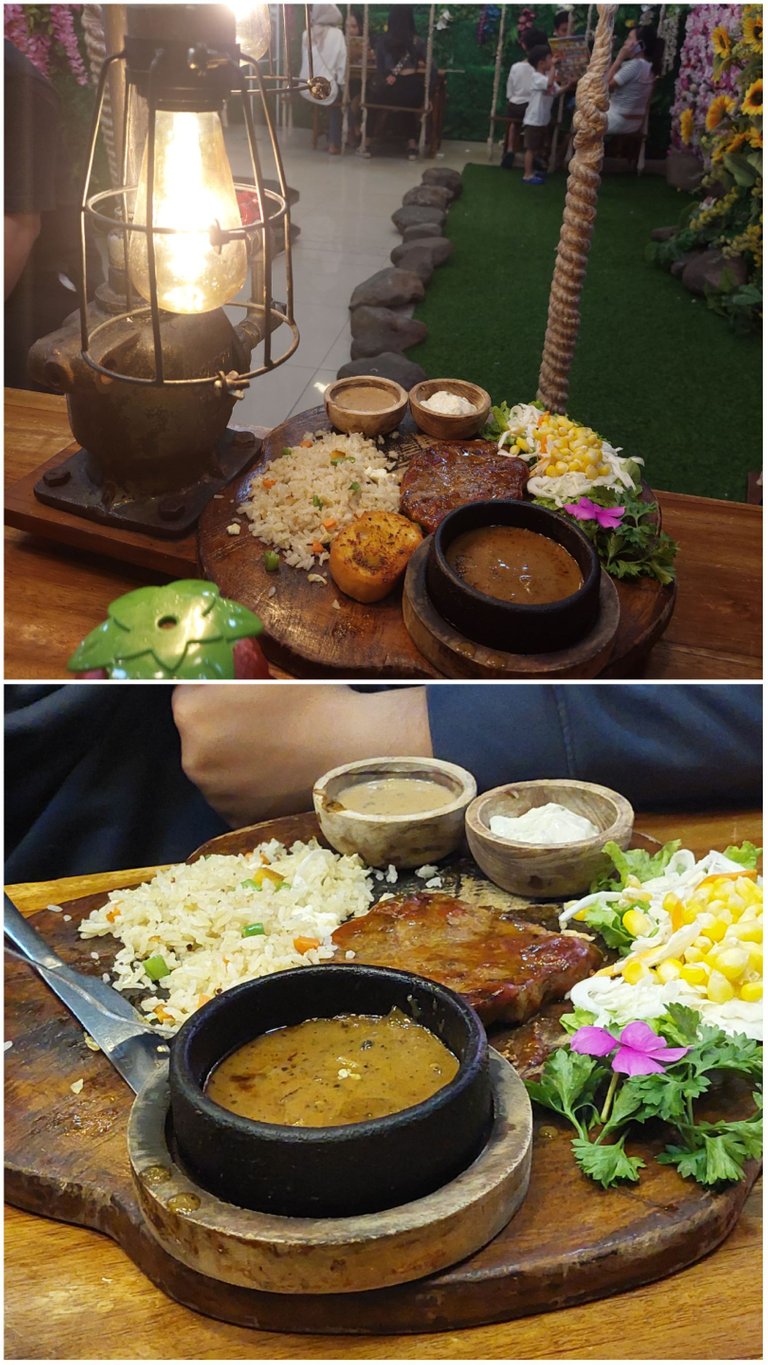 ---
The other with volcano and the orange fall leaves tree.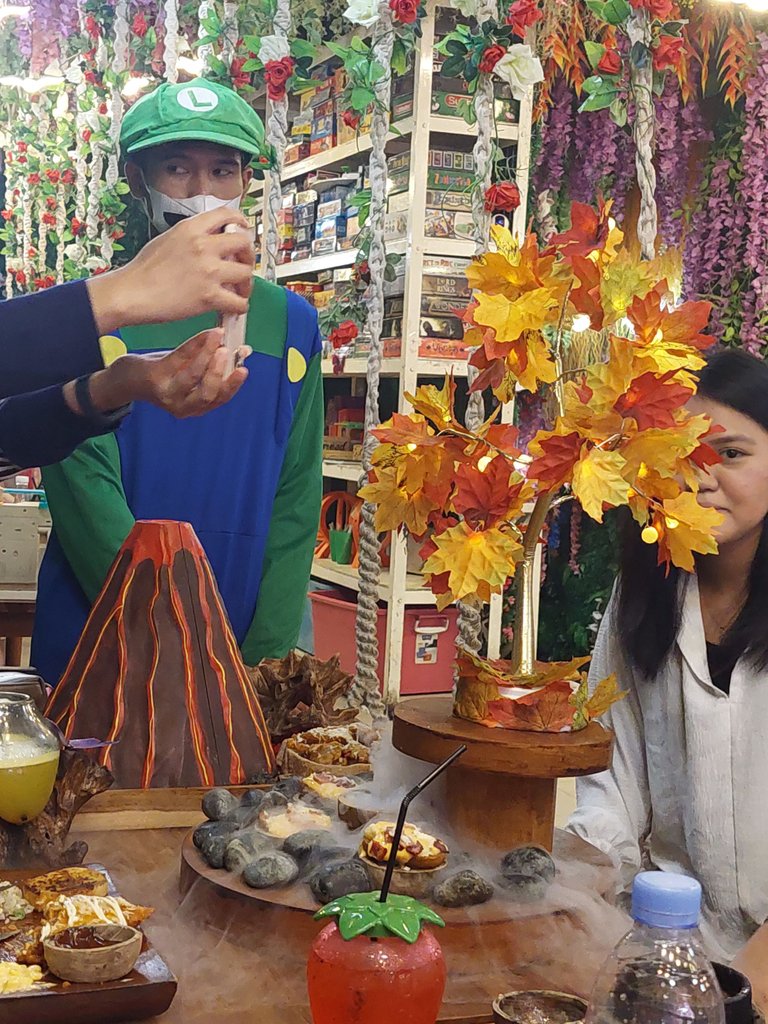 ---
Unfortunately mine came very late, more than 2 pm and it came with only simple wooden plate. But i also thankful, because i could eat my dish easily with the simple look. Mine was Chicken cordon bleu mozarella with extra creamy mushroom sauce, coleslaw salad (which they served separately with the dressing), french fries, and overcooked garlic bread, although i ordered bruschetta :'.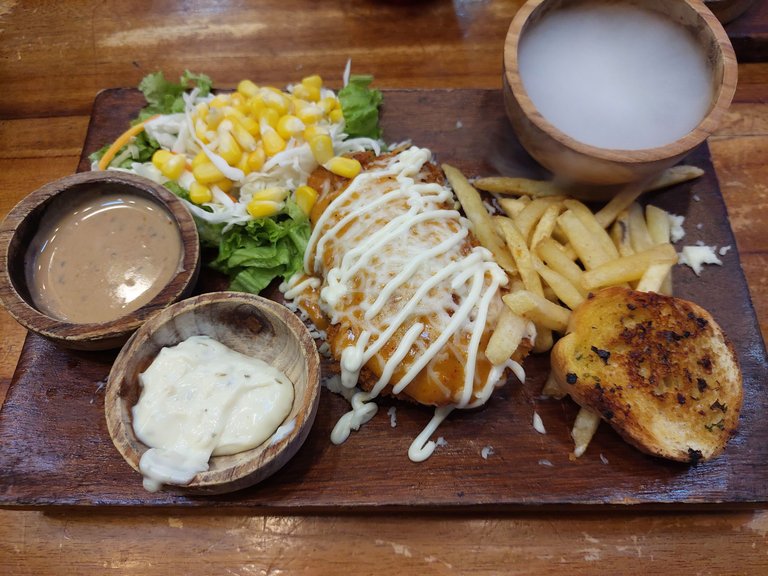 ---
The taste of their cordon bleu was tasty. It had crispy crunchy outer battered skin, soft chicken meat inside, also smoked beef and mozarella cheese inside. It had savory flavour and i had it with chilli sauce.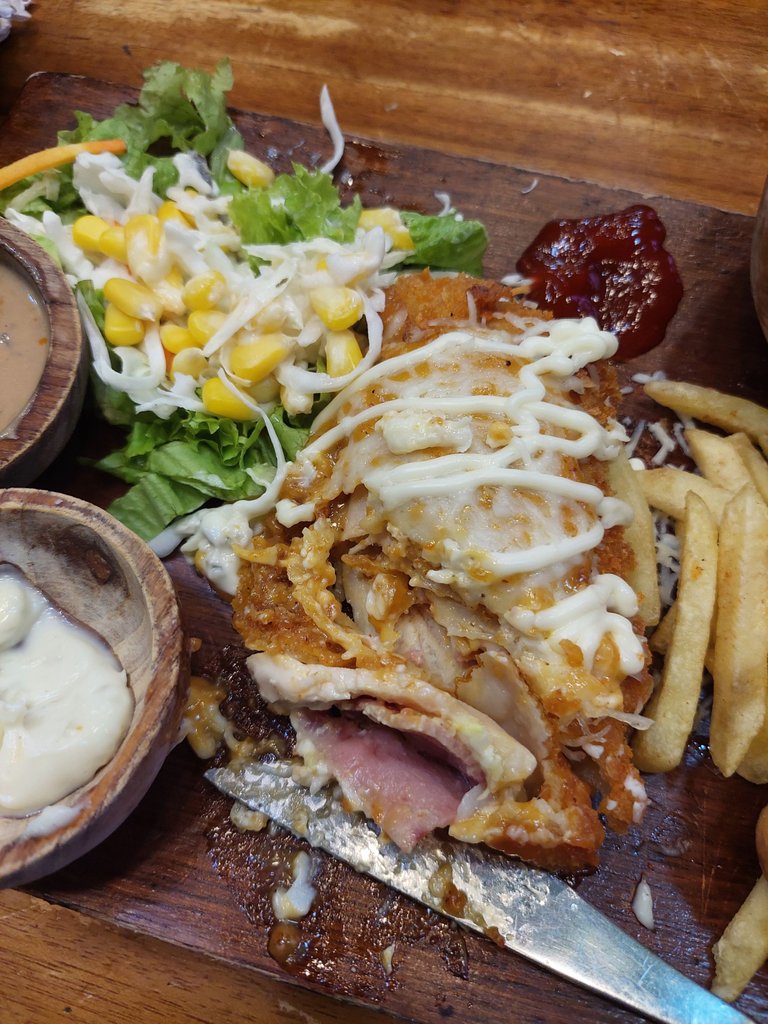 Mushroom sauce also not bad, i had it with the garlic bread, it tasted savory. The salad was also fresh and i liked their french fries even it didn't contain any salt in it. Overall, i gave 8/10 for the taste of their dish, a high score i thought and it was beyond my expectation, really! Usually a place that only showed off how they served food doesn't have tasty food but it was really not happened there... great!
---
After had had my main course, we asked for our ice cream to be served. I chose strawberry fruit twisted and here how it looked.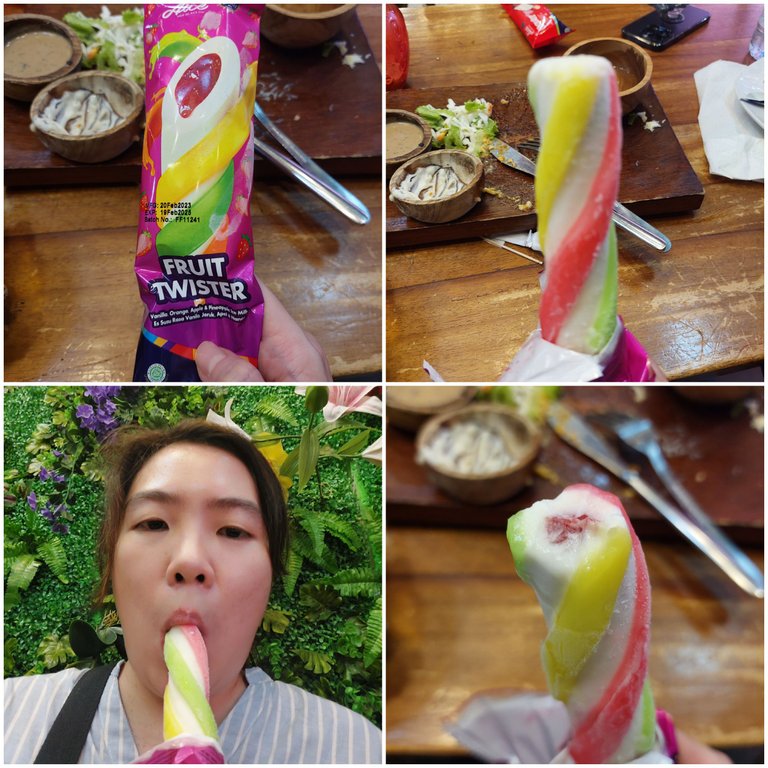 It was so tasty with tropical fruit flavour around like vanilla, orange, apple and pineapple. And inside it had strawberry pasta inside. It tasted so fresh with sweet flavour. I loved the fact that it wasn't too sweet and just in medium sweetness. Fresh and i loved it!
---
After had finished with our lunch we still played another two games. First one, the one that the waiter said a new game. In this game we would have to spin the arrow then it would point the color of the part of tower color. Our task was to take the part of it without ruin the tower.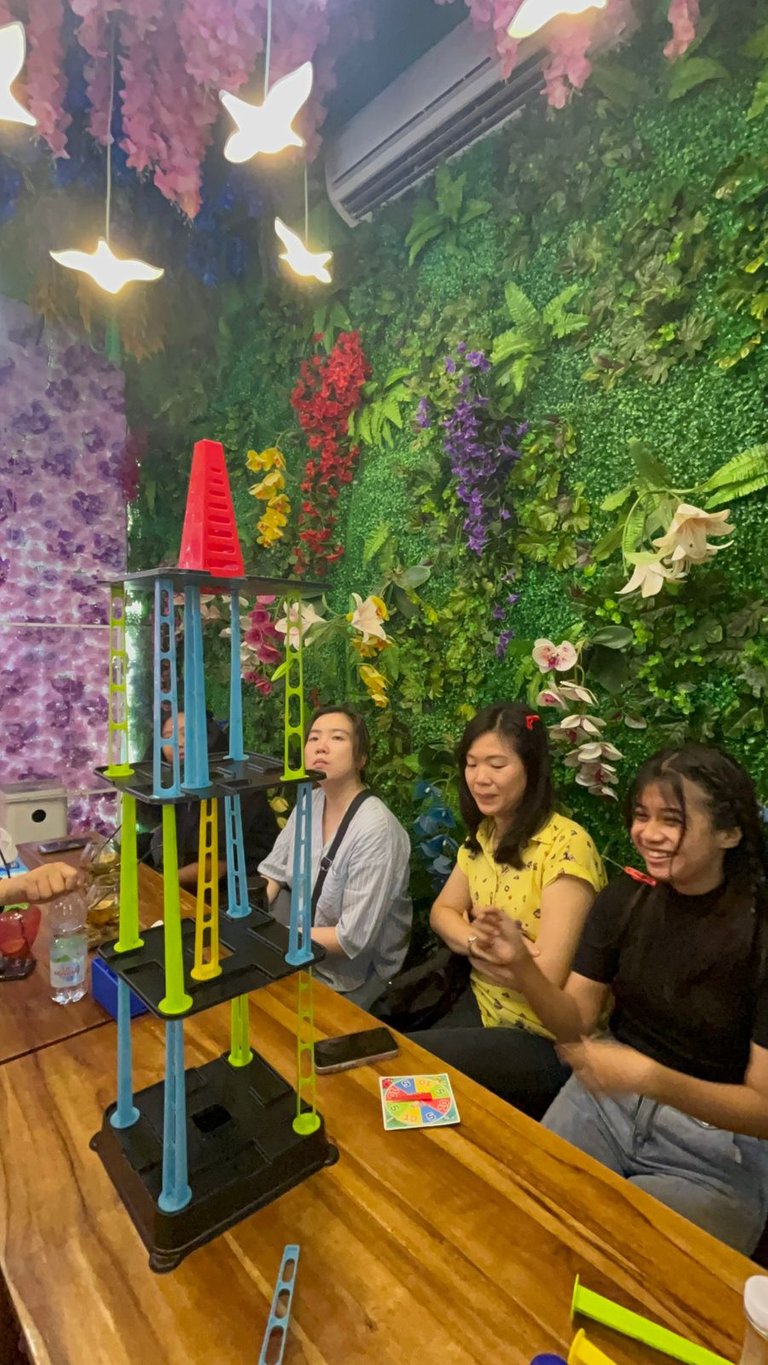 This game was cool and we really need patience and sincerity to pass it.
---
Last game we played was to guess the card put at our head in just 1 minute. In 1 minute we could guess and ask about the clues of the card answer.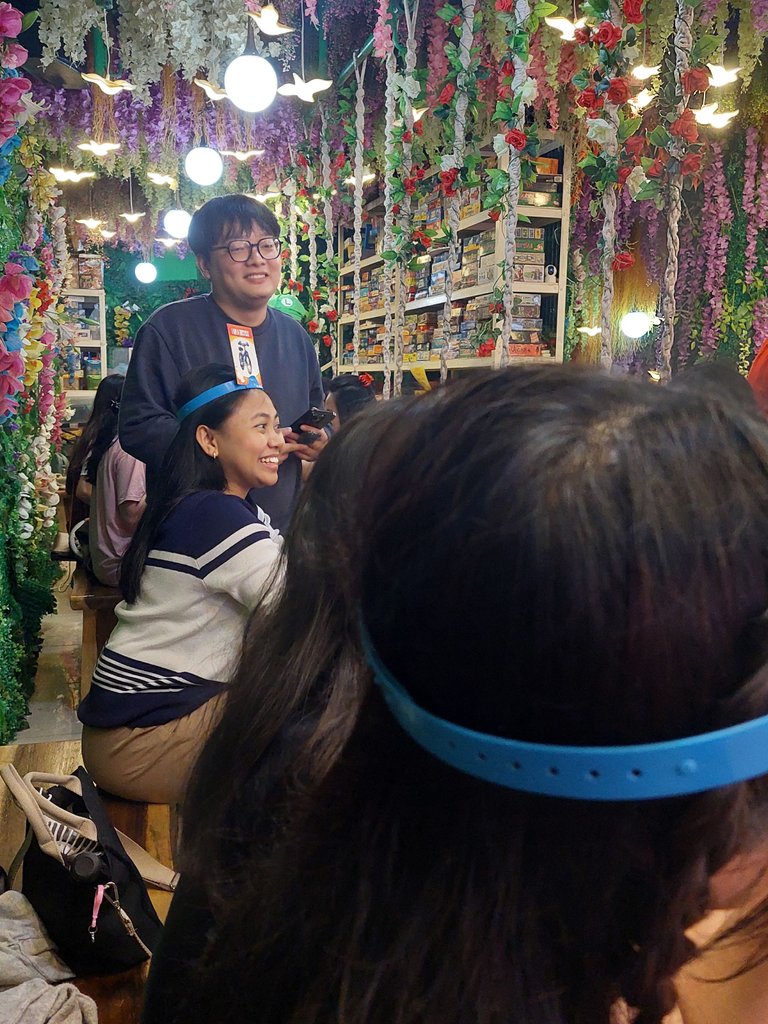 But it was so difficult so that i couldn't even answer 1 from 2 turns that i got!
---
One of my friend ordered of making the ice cream by himself. It was quite easy to make, just poured the cream then stirred it together. Crushed the oreo to it, wait a minute, then put any other biscuits to it.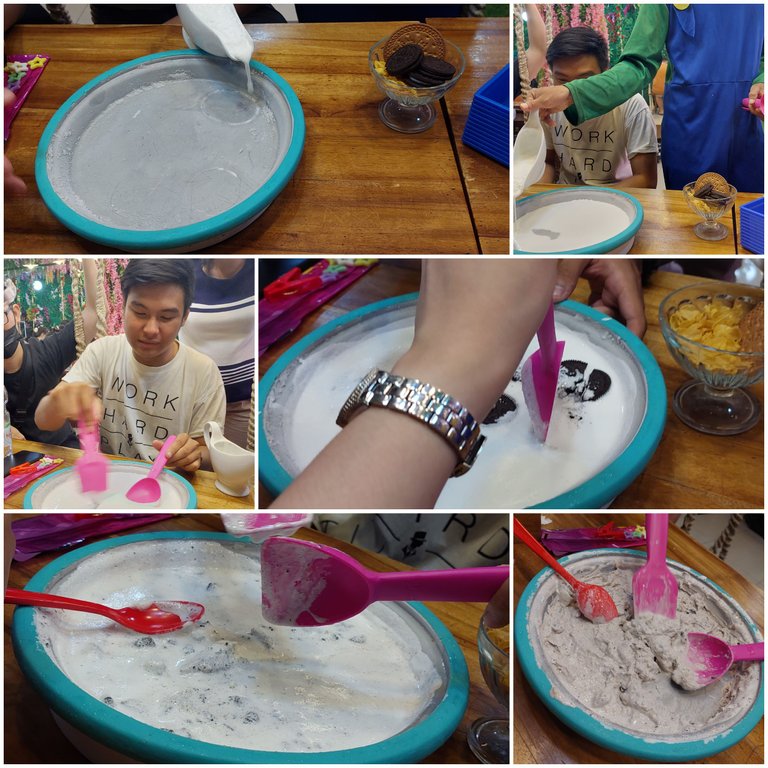 The flavour of the ice cream was tasty in vanilla with oreo topping like Mc Flurry and my friends liked it much.
---
When we had our food together!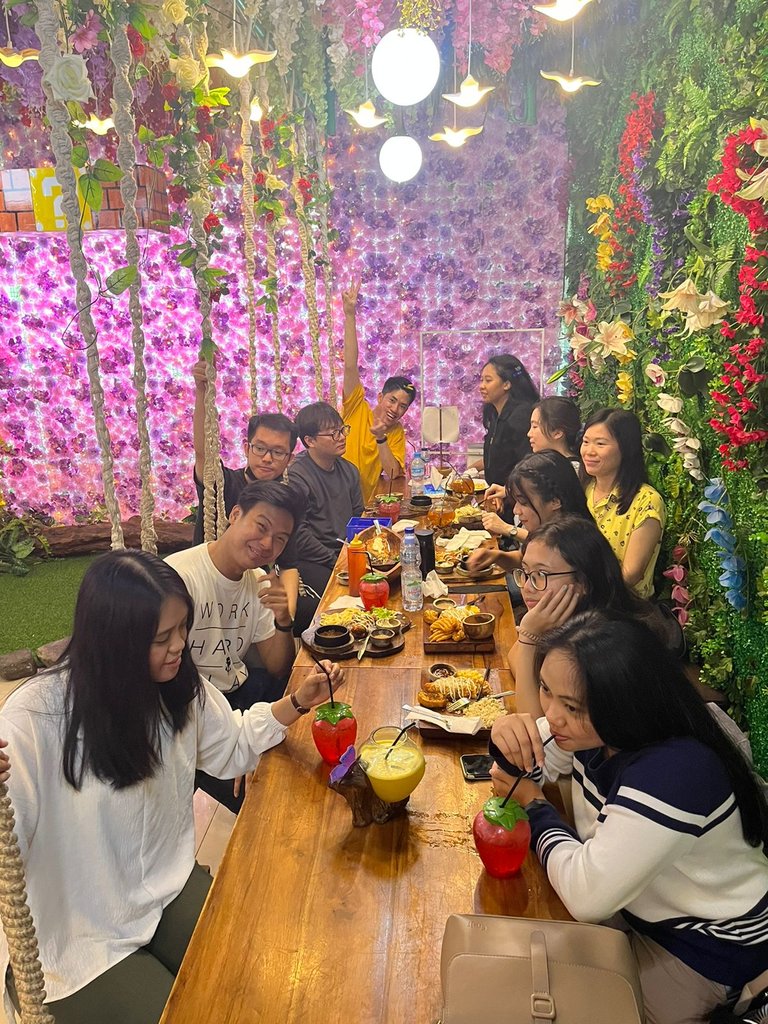 ---
Me before the flower wall.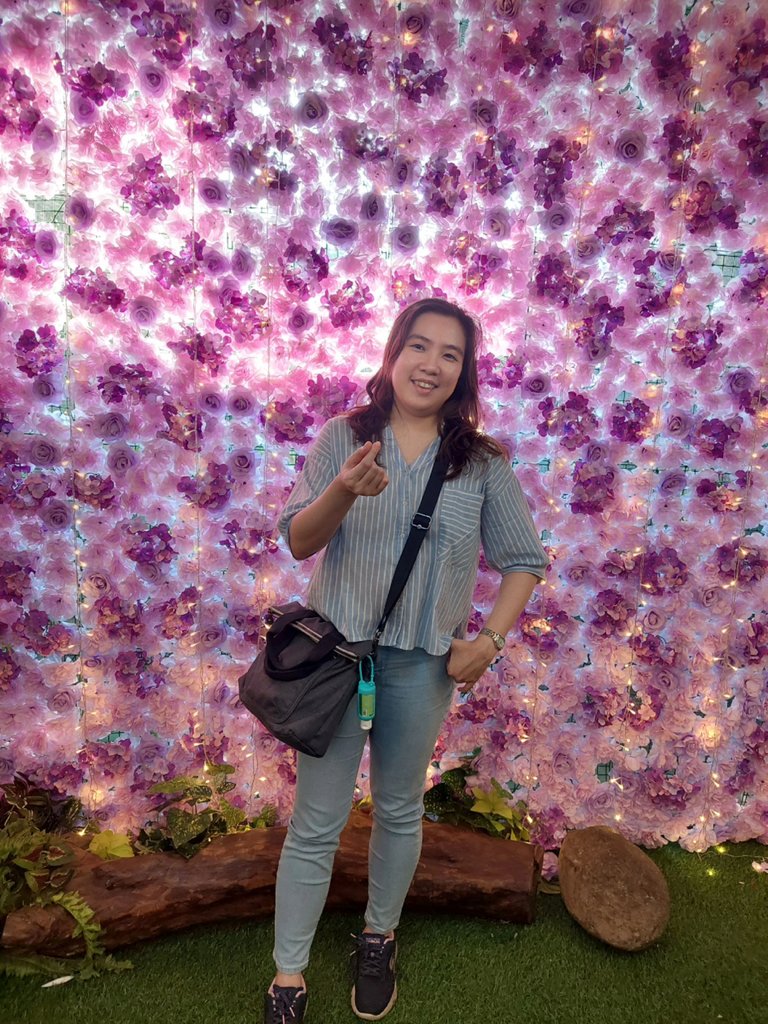 ---
The hanging artificial flowers on the ceiling, so pretty!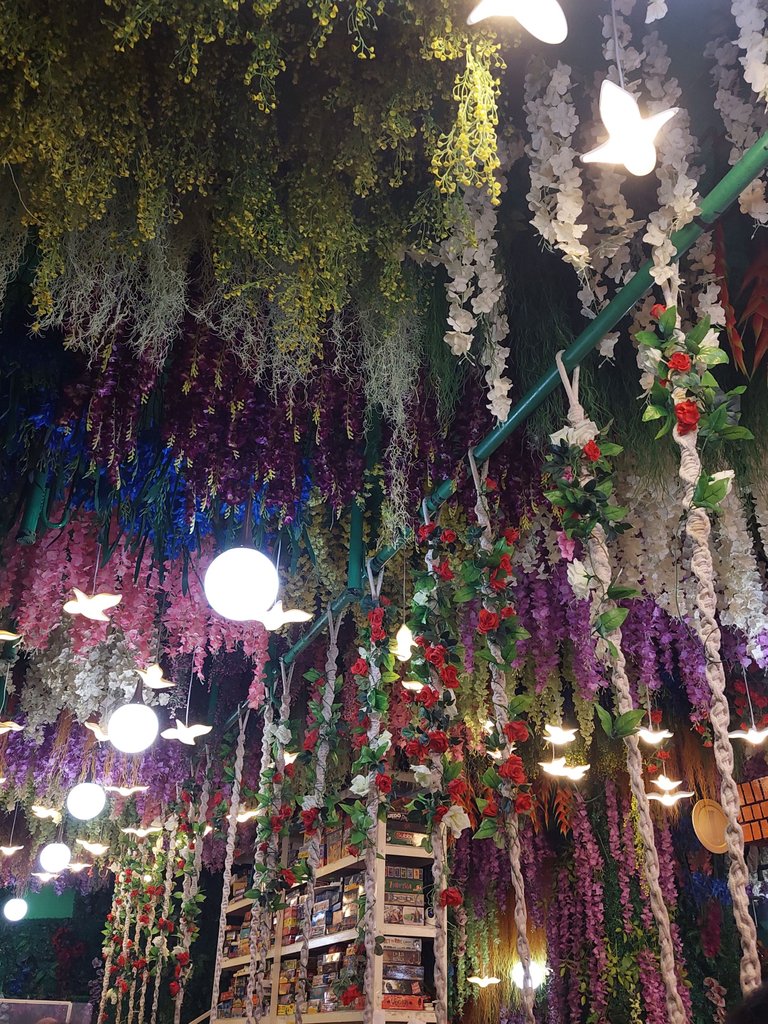 ---
Our today lunch was unforgettable and fun, we got tasty food and cool games in one place!
---
Business Information
Strawberry Cafe
9AB, AY Block
Green Ville
West Jakarta
Open daily 12 am - 10.30 pm
---
All of the photos are mine. The article cover picture edited in Canva.
---
Thanks for having me, if you like my article please upvote, reblog and follow me for more foodie articles!
---
---
---