Breakfast at Amen Express, Puncak - West Java | a Foodie Review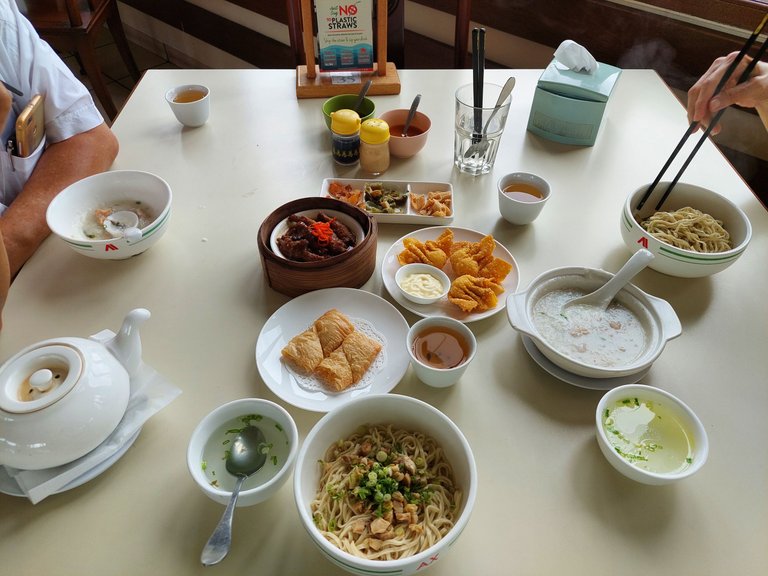 ---
Hello, friends especially foodies!
---
Yesterday was a public holiday in my country, beside it was also saturday, i wasn't working as well as my aunt and her husband. So they took me to our villa in West Java. On our way to the villa, we passed through an area of the restaurants where we had our breakfast.
---
The area of the restaurants was large, at front they had chinese food restaurant named Amen restaurant.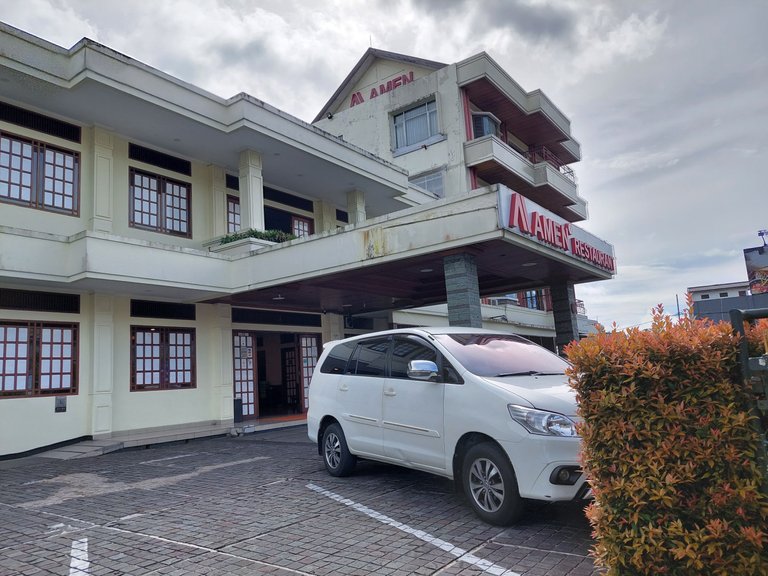 ---
And here was the restaurant where we had our breakfast. The restaurant named Amen express served dimsum and more.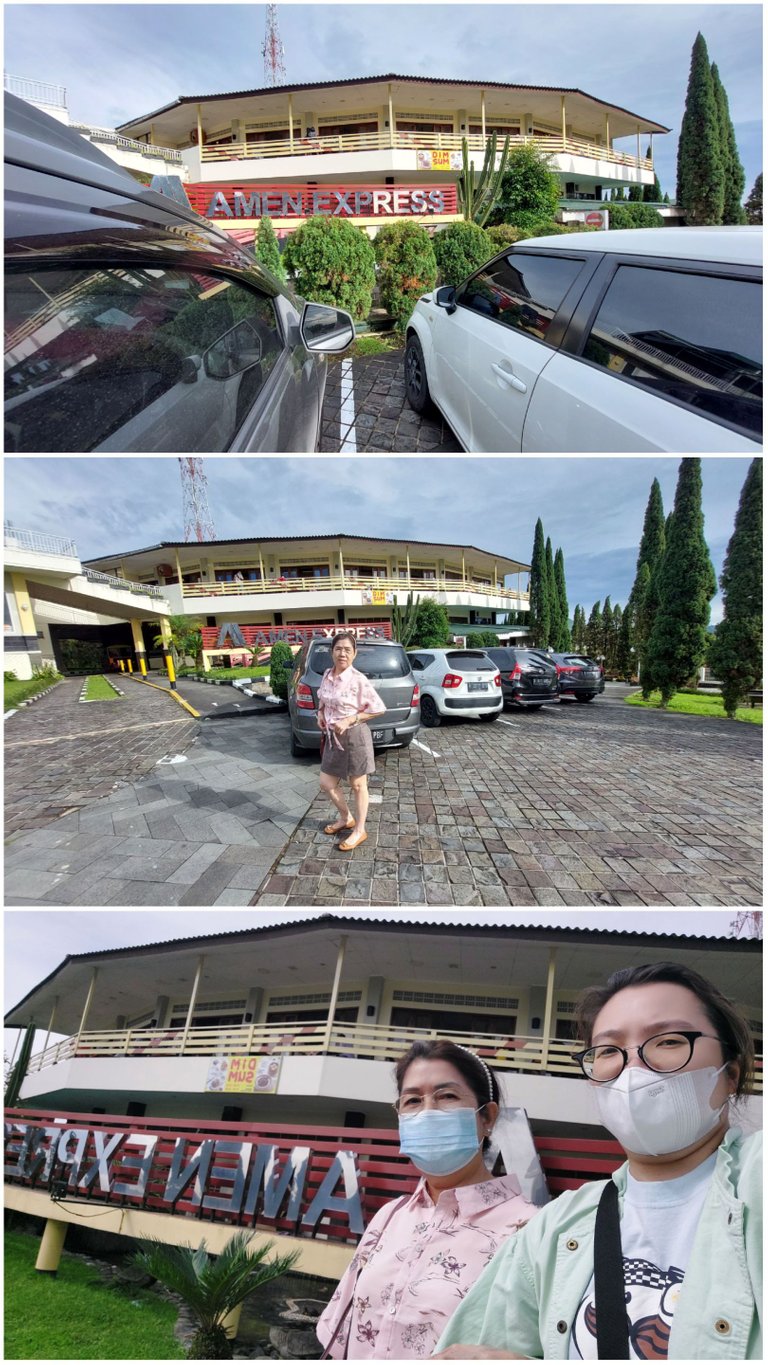 ---
This area of restaurant also had function hall, large parking lots, and also some buildings around, included hotel. This area maybe included hundred acres because it was vast.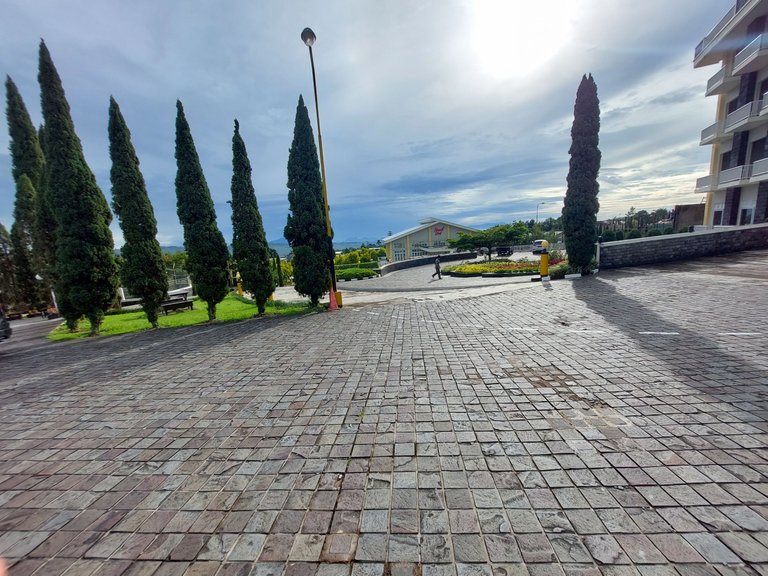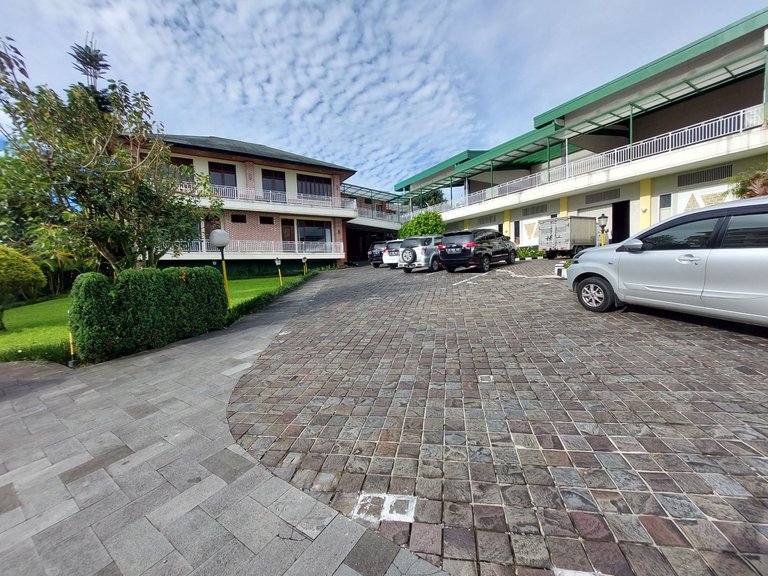 ---
And at its' front there was a bridge with large fish pond on its' under.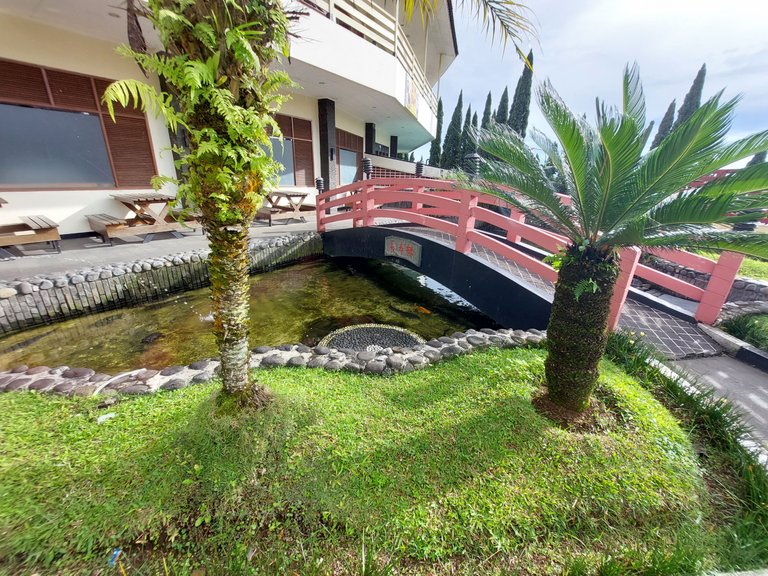 ---
When we wanted to enter the restaurant there was a large old open orange color car at its' front. It had yellow roof and pink color near the wheels.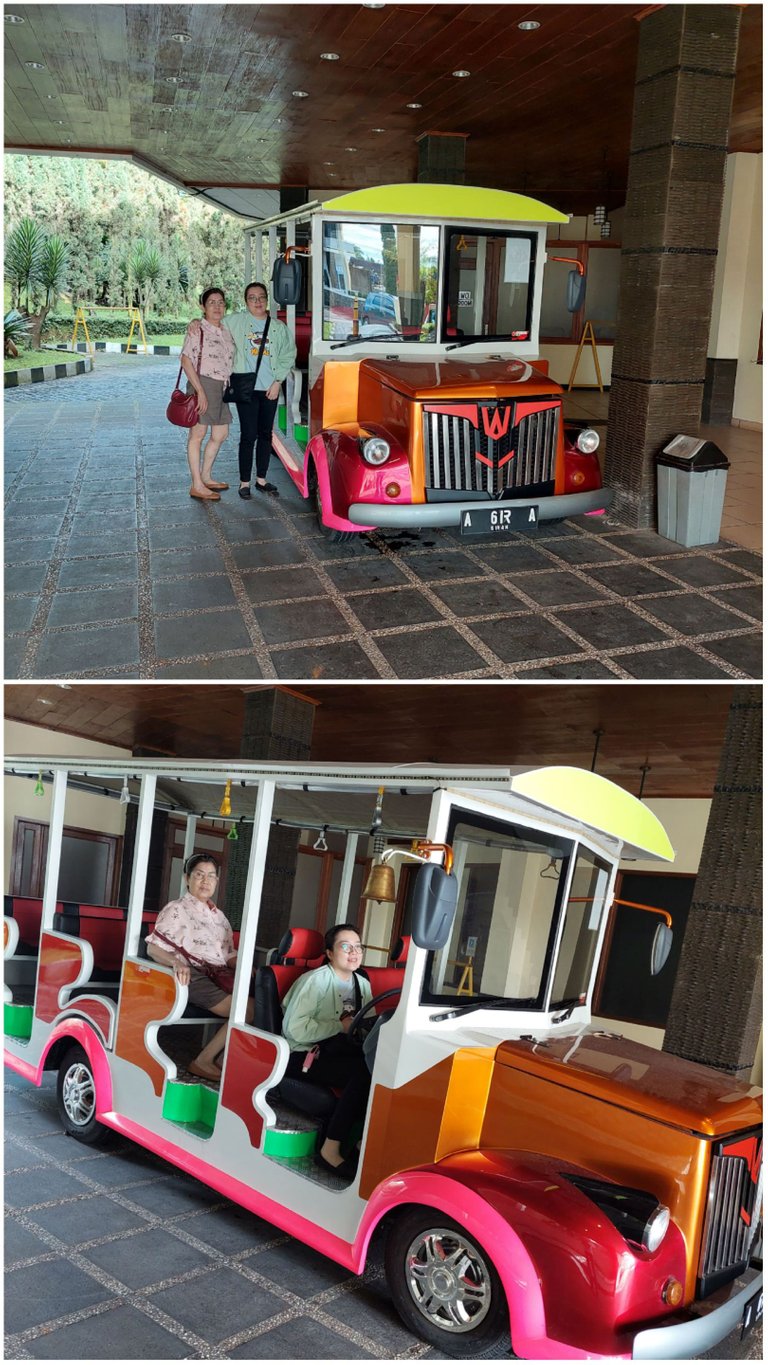 ---
Also they had an antique clock on one wall.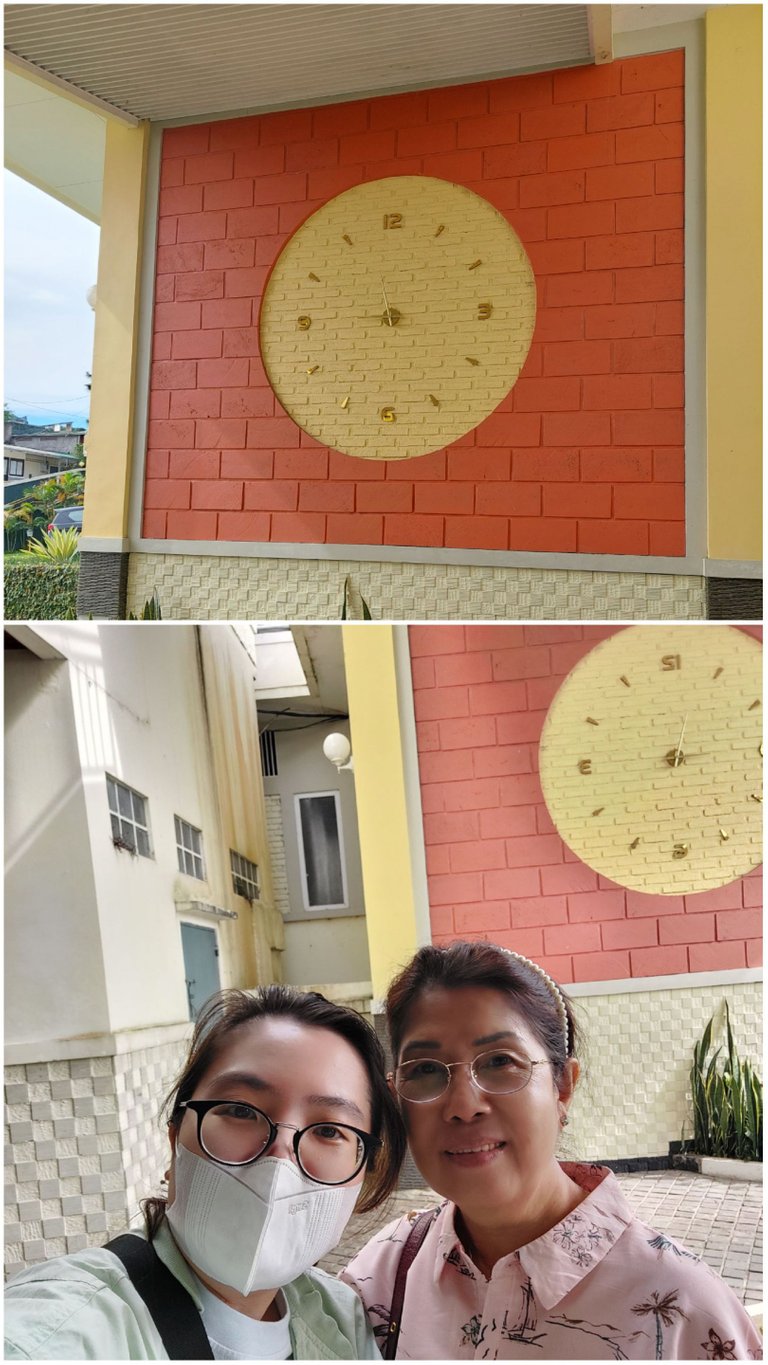 ---
Their dining area was located on their 2nd floor. The dining area was clean, neat and large. The area didn't need any air conditioner because the weather there was cool. They had indoor and outdoor area there.
Here was their indoor area.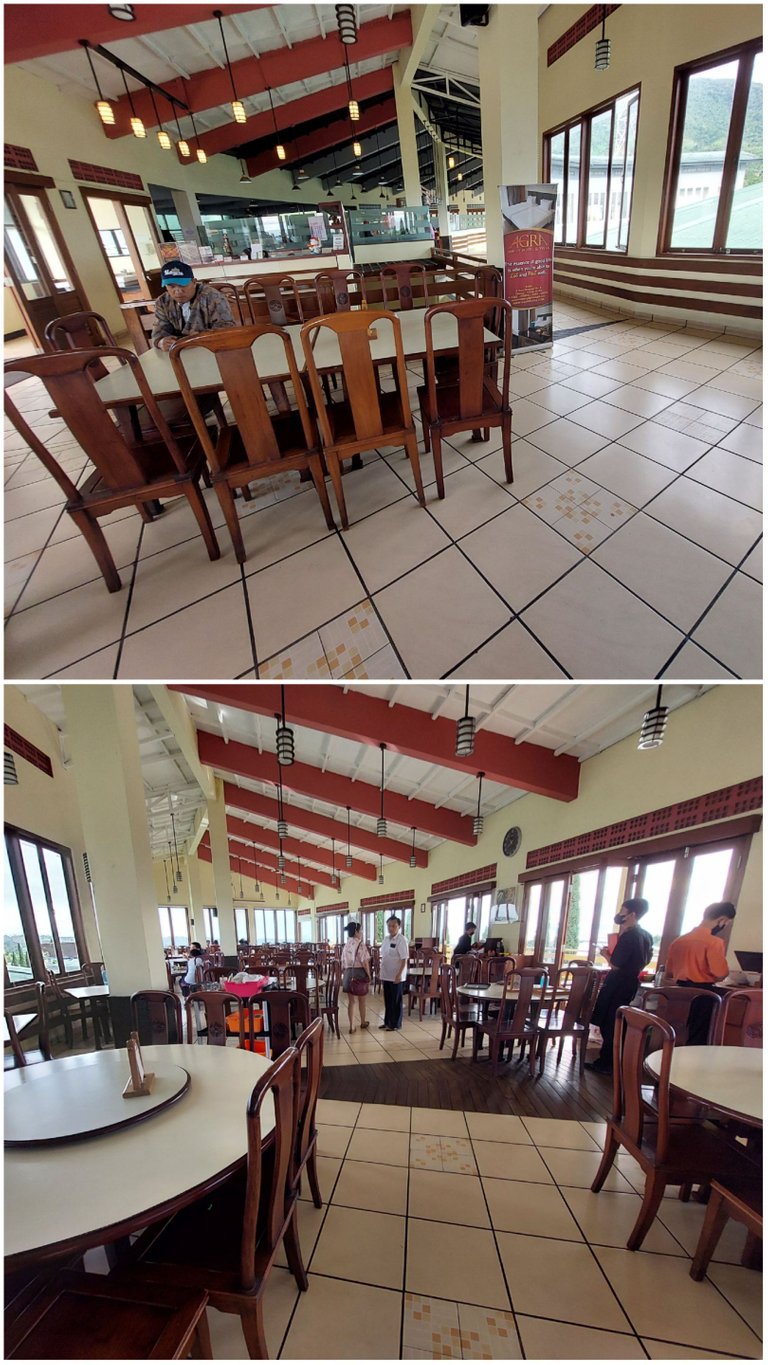 ---
Here was their outdoor area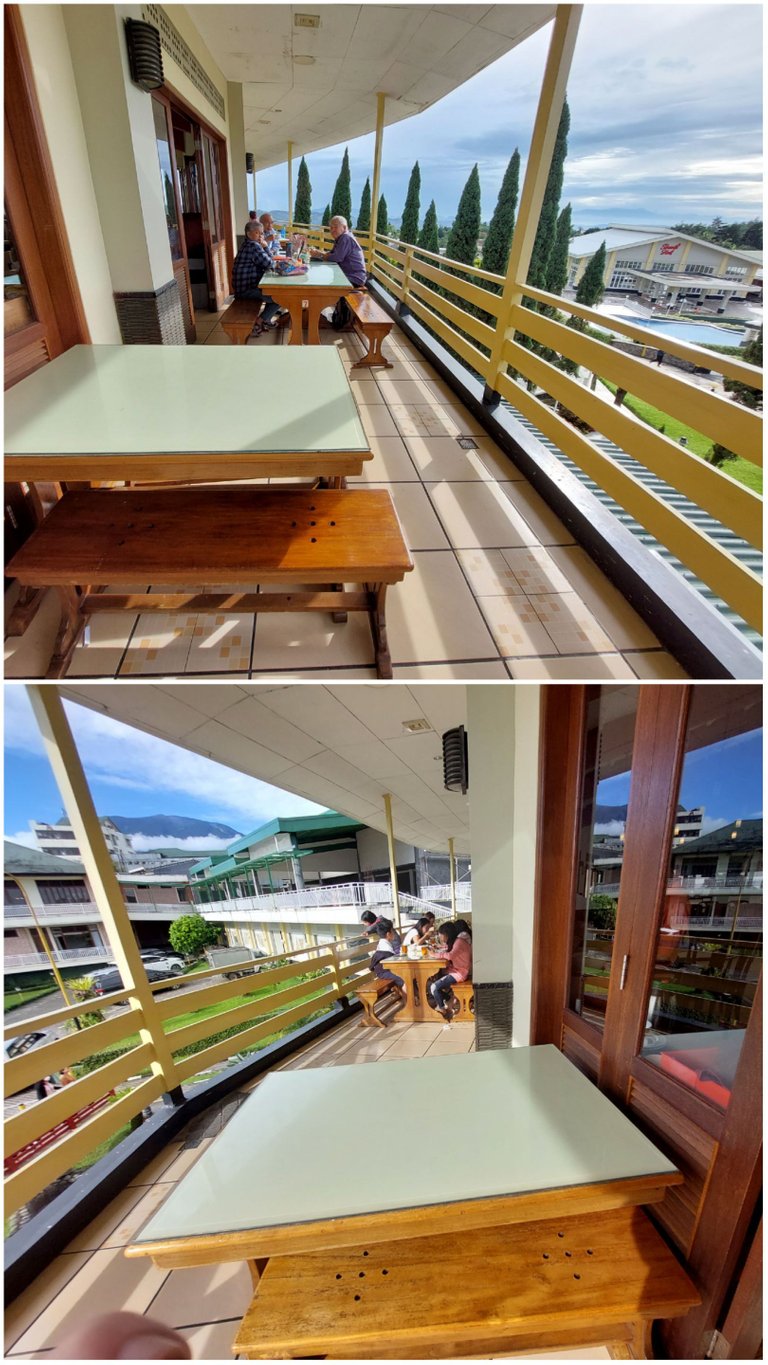 ---
From the outdoor area you could see the view around. Like they had large fish pond with hotels around it. They called it family hotel and villa.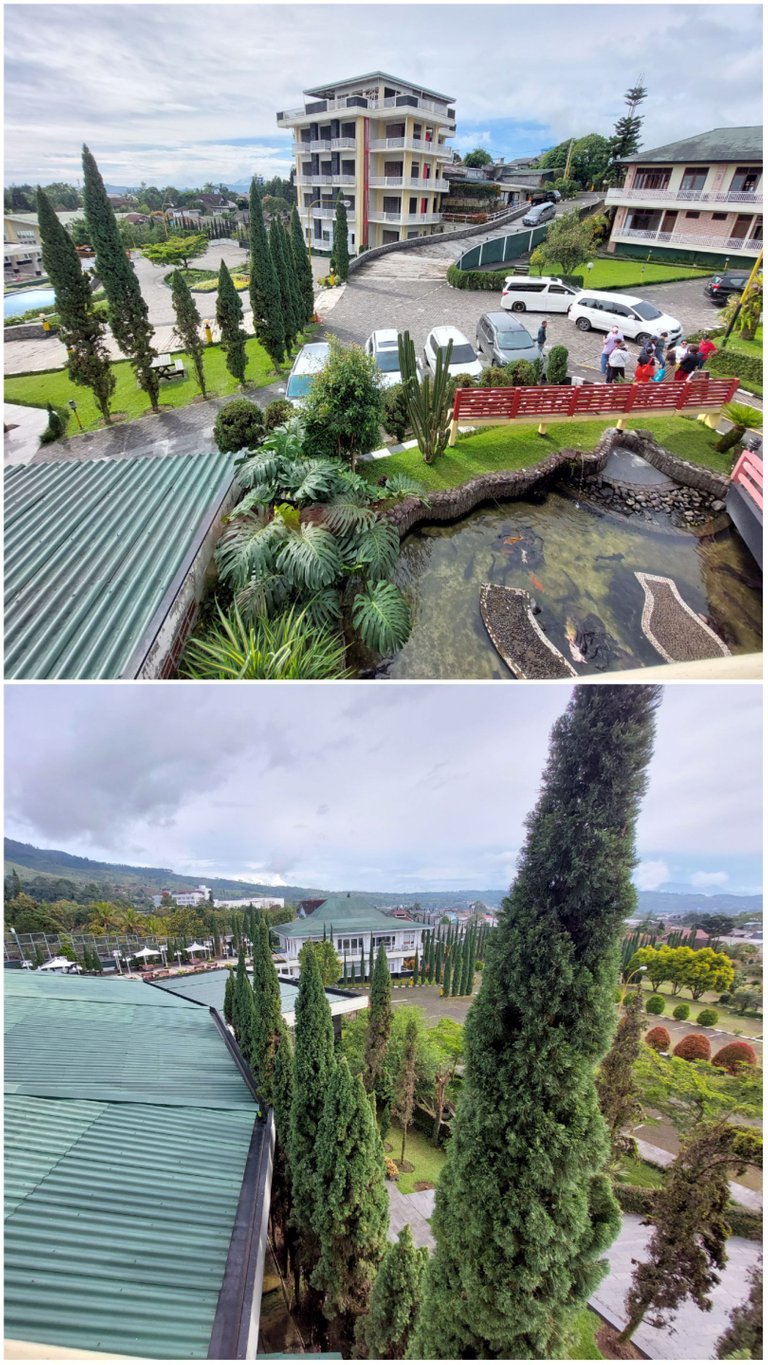 ---
Because it was located in height, we could take picture with the high mountain and also the mist there. Like what we did.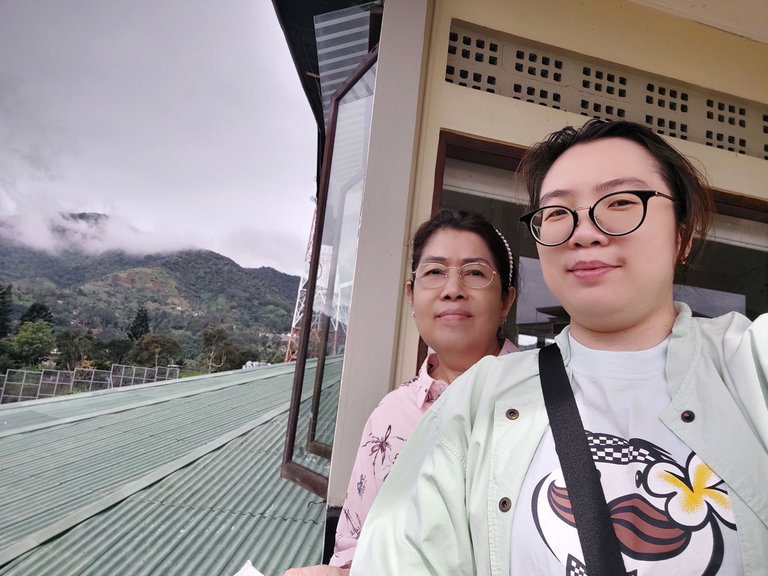 ---
Some menu that this restaurant had were kind of noodle or flat noodle. As you could see on the pictures at their menu that they had chicken rice mushroom flat noodle, special chicken noodle, shrimp suikiaw (kind of dumplings), complete noodle, chicken noodle, chicken mushroom noodle, pork noodle and pork mushroom noodle. Also they had some kind of other noodle.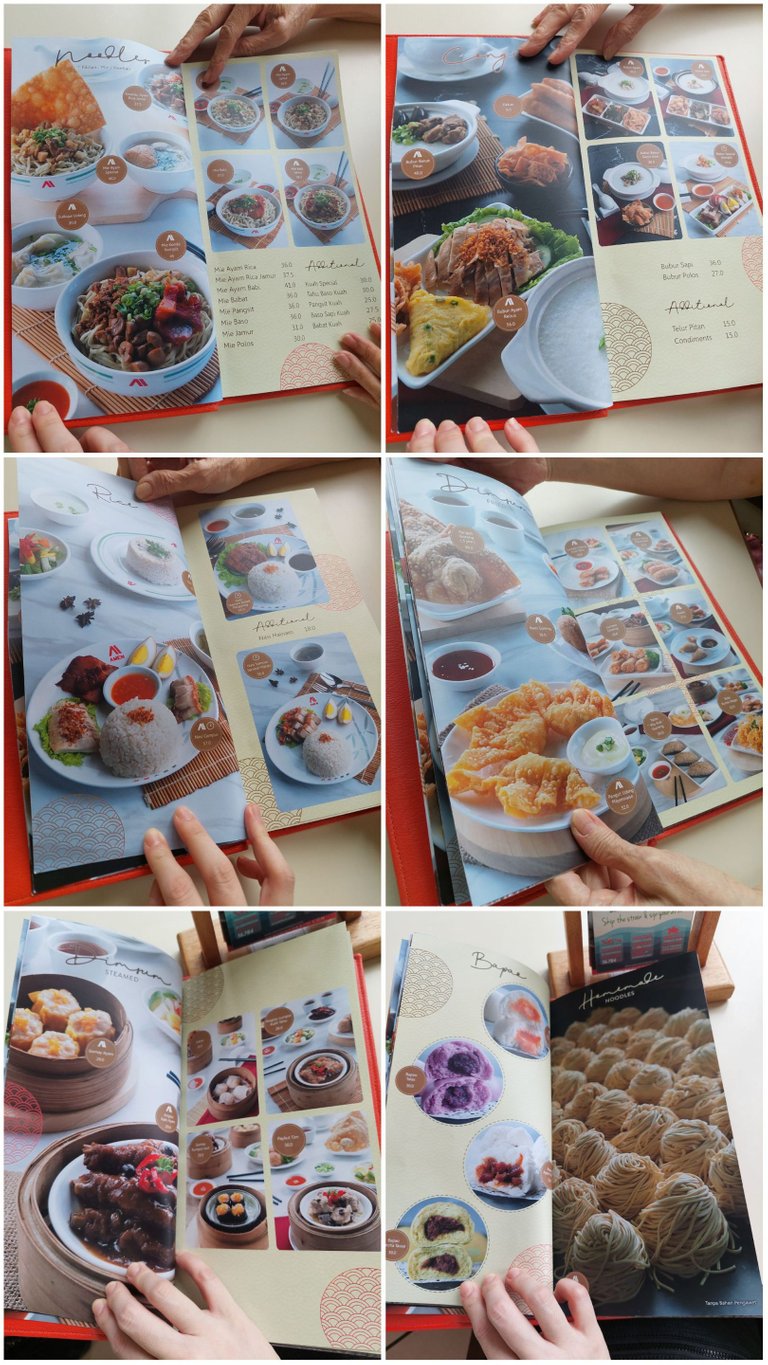 For the menu also they had deep fried dough stick, pork rib thousand years egg porridge, steamed chicken porridge, chicken porridge, fish porridge, savory lettuce pork rib porridge and special complete porridge.
They still had hainanese rice with barbeque pork there, duck rice or even pork belly rice.
For the dimsum they had fried dumplings, fried balls, mayonaise shrimp dumplings, shrimp beancurd springroll, shrimp deep fried dough stick, springrolls, kuotie, crispy fried yam dumplings, and dragon whiskers ball.
While, kind of steamed dimsum they had were chicken shewmay, angsio chicken feet, shrimp hakau, angsio beancurd springroll, seaweed shewmay, and steamed pork rib.
Still they had steamed buns, like salted egg buns, yam buns, chicken barbeque buns, and black nut buns. Unique thing there was they had their authentic handmade noodle, and they sold it whether they were cooked or not.
---
After had ordered we were waiting around 15 minutes to get our food to be ready to serve. Three dishes that came first were their chicken porridge, mayonaise shrimp dumplings, and fried beancurd springroll. And of course the drink we ordered came first, jasmine chinese tea.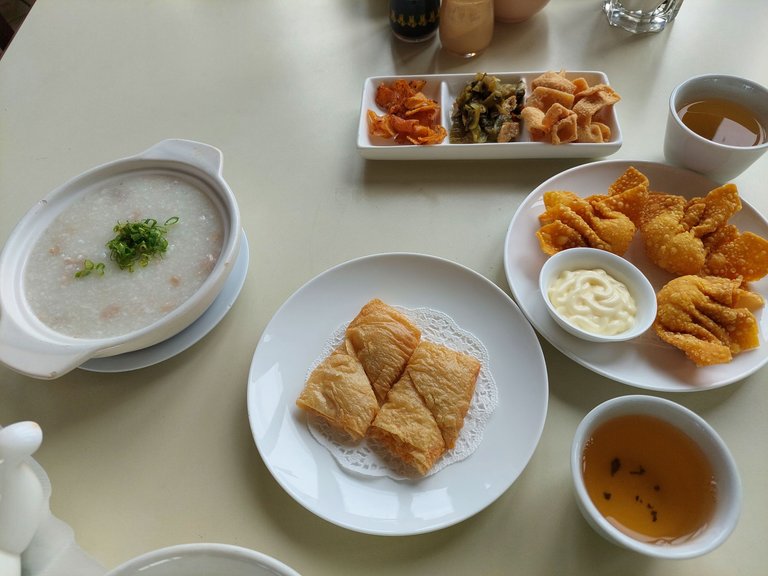 ---
We were not waiting for too long until all of our rest order delivered to our table. They were 2 portions of chicken noodle and chicken feet. This was how our food look.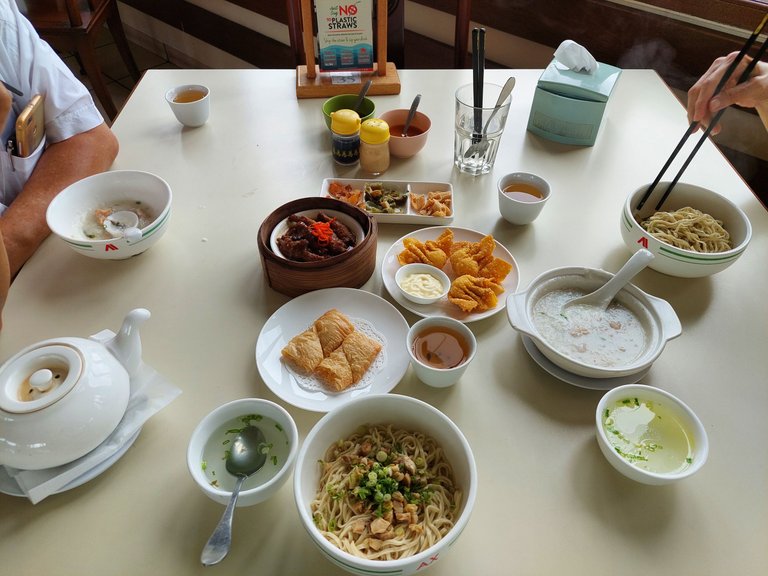 ---
For the taste of each dish we ordered..
---
Chicken Porridge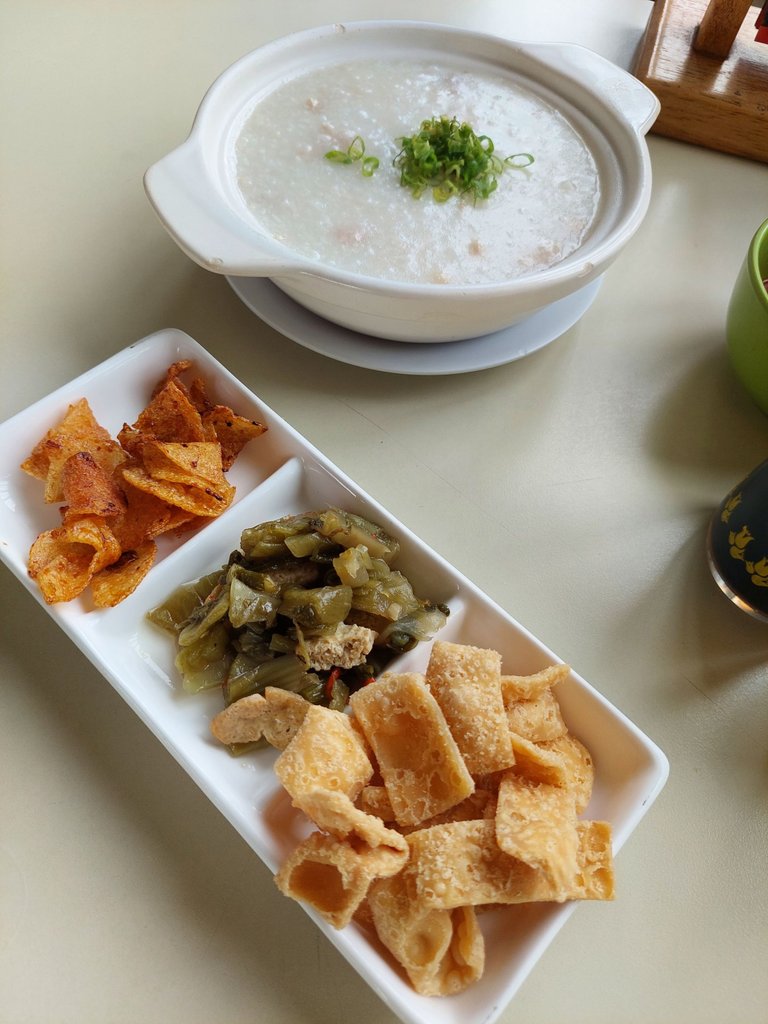 Tasted savory chicken porridge had chicken toppings on the porridge. It served with separated potato chips which had sweet flavour in crunchy texture, fermented mustard which had sour savory flavour, and also fried skin which had light savory flavour in crunchy soft texture.
---
Chicken Noodle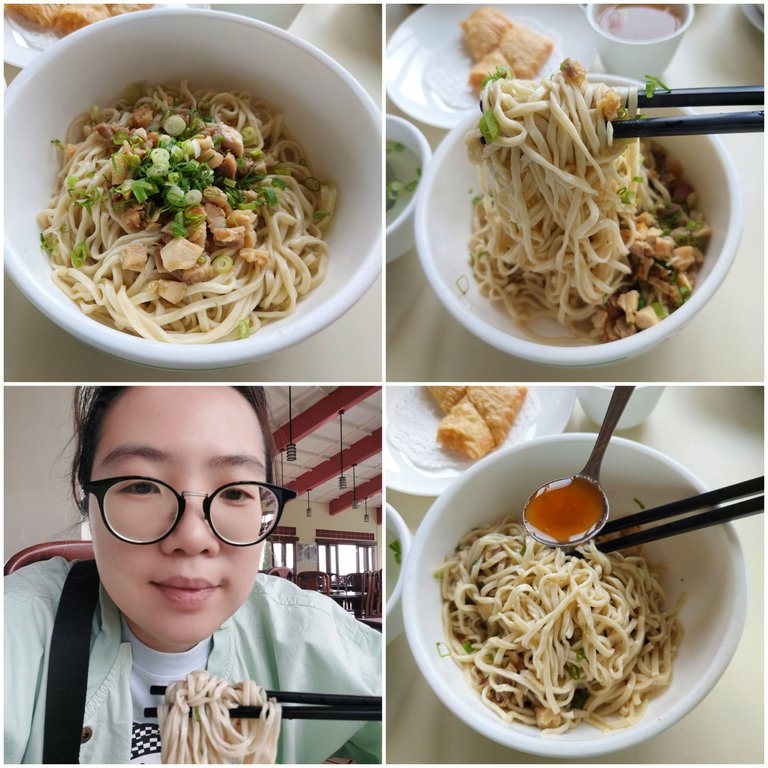 Their chicken noodle had light savory flavour with chicken that tasted savory. The noodle had soft chewy texture. You could give it the chilli sauce like we did so it would have a bit spicy flavour.
---
Beancurd Springroll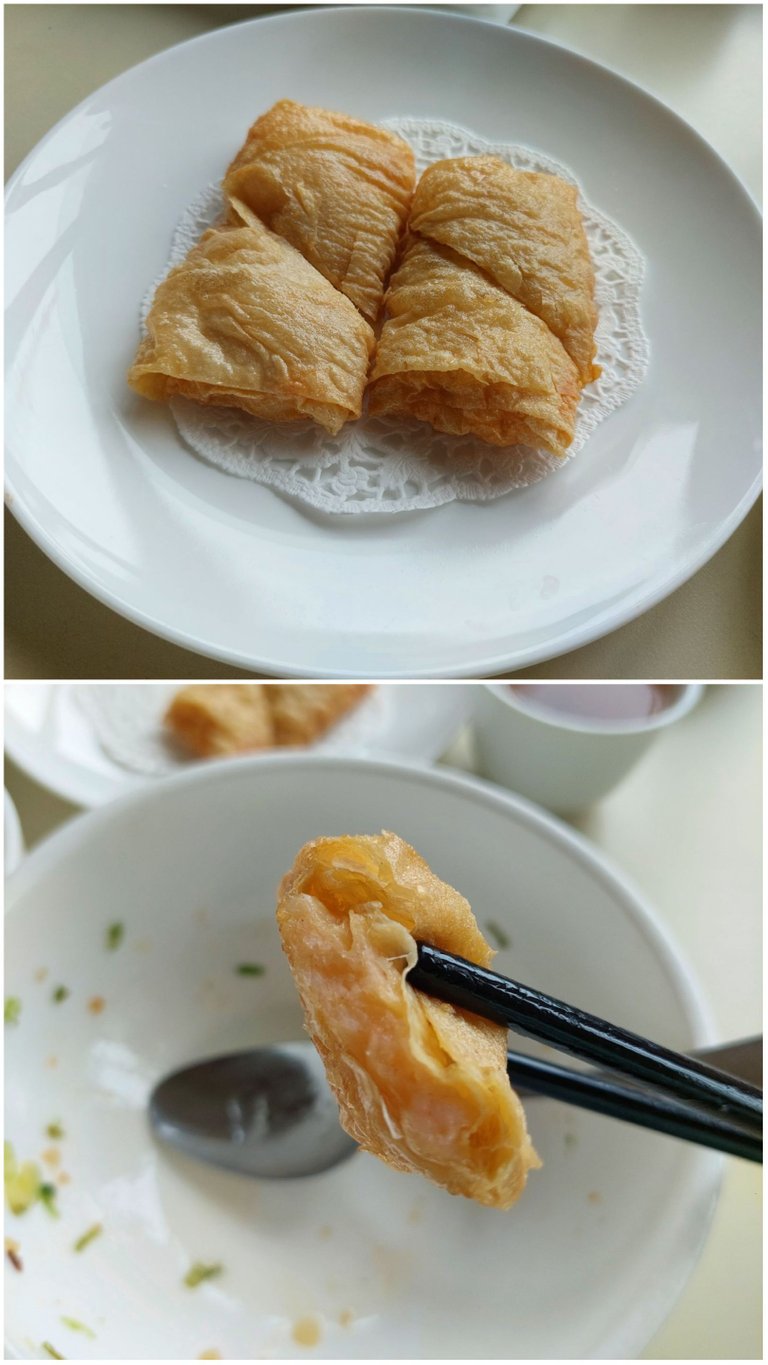 It had soft texture with shrimp filling. It had light savory and a bit sweet flavour. Quite tasty.
---
Angsio Chicken Feet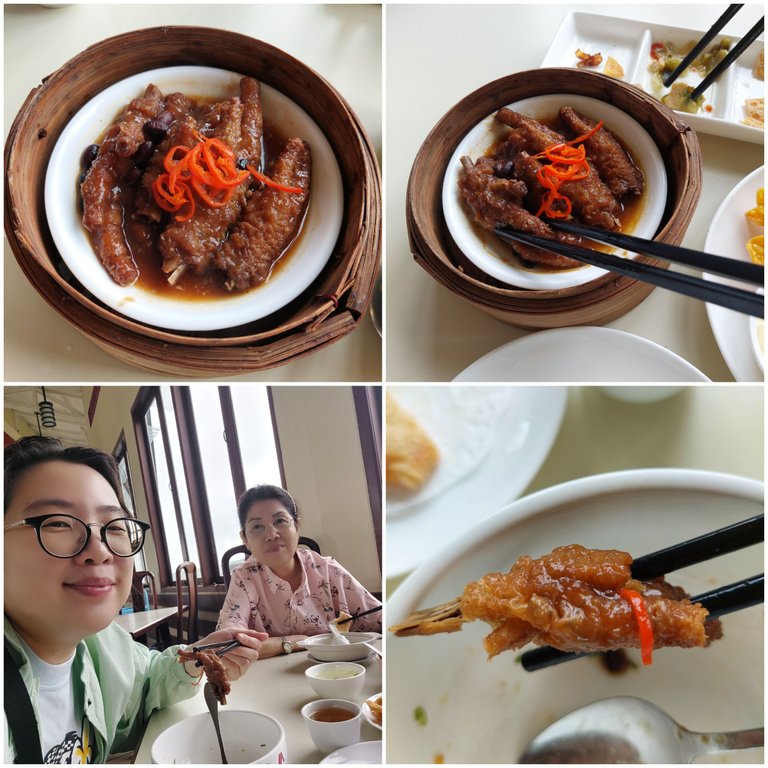 The chicken feet had soft texture with savory angsio flavour. So authentic..
---
Mayonaise Shrimp Dumpling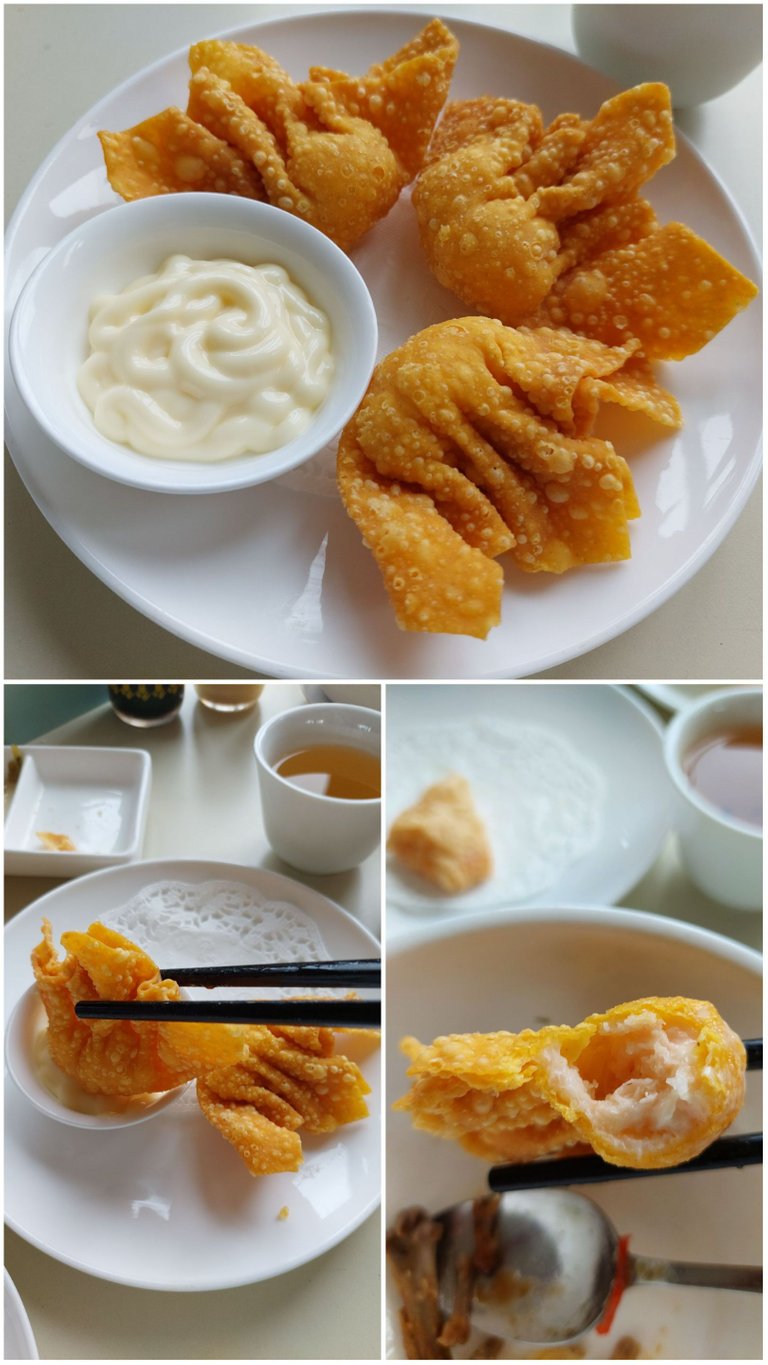 Here was one of the best we ever had, with savory flavour, the dumplings had soft crunchy texture with shrimp filling. It also served with sweet mayonaise that increase the tasty flavour.
---
For all the food we had, the one that is more than delicious was their mayonaise shrimp dumplings and their other menus also all not bad, quite tasty, and they offered nice place there.
---
So when will you try to eat there too?
---
Business Information
Amen Express
8th, Raya hanjawar street
Cipanas, Puncak
Open
Weekday 7 am - 3.30 pm
Weekend/public holiday 7 am - 10 pm
---
---
The photos were taken with my samsung a52.
---
A bit about the author
---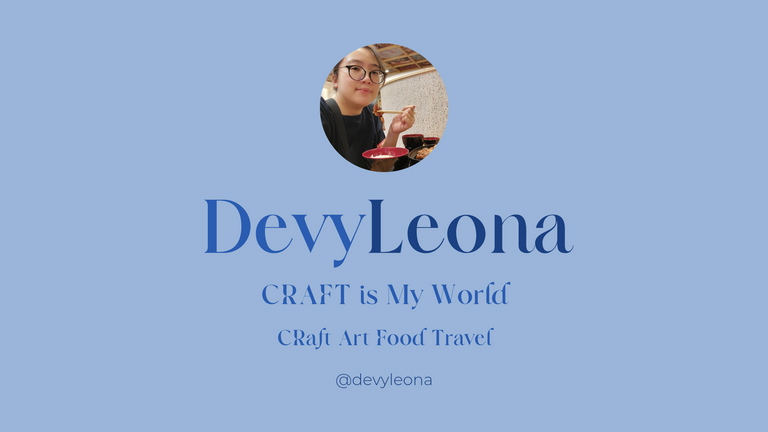 ---
---