HiveBloPoMo Day 18: In Spite of Myself, I Continue... Throwback Thursday
So, we have reached day EIGHTEEN of HiveBloPoMo, and even though I missed a day due to a lack of electricity in our corner of the world, I'm not going to just quit.
You can read more about HiveBloPoMo here, if you feel so inclined.
Today's writing prompt is "Share 3 phone photos from 3 years ago for Throwback Thursday!"
Well... not gonna do that, for the simple reason that there's nothing from my phone from three years ago; my current phone is new as of this spring... aside from which, I rarely store photos on my phone at the best of times.
But I will share three photos "from the past," with a little commentary. That'll have to do.
On the Beach, Spain, 2009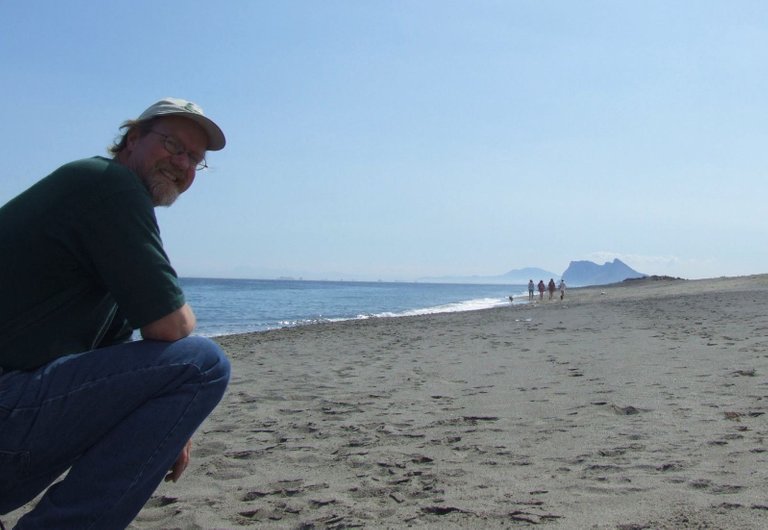 It's a picture that brings back many memories.
I'm on the beach in southern Spain where I walked so many times as a teenager; the nearest mountain you see is actually the famous Rock of Gibraltar; the slightly fainter mountains beyond (above the people's heads) is the northernmost part of the Rif mountain range in North Africa.
My mom and stepdad lived there (on and off) since 1973 and I would go visit them from time to time... aside from having lived there (mostly) from ages 13 to 20, myself.
What also makes the photo part of my memory bank is that it was the last visit I made there before my mother passed away.
It's doubtful I will ever go there again; as the saying goes "there's nothing for me, there." There really isn't. I went back a year later to empty and close down the apartment after my mother passed and I really tried to find some kind of... belonging... but any feelings I might have had were gone, not because the place had changed, but because I had changed.
Big Sur Sunset, 2009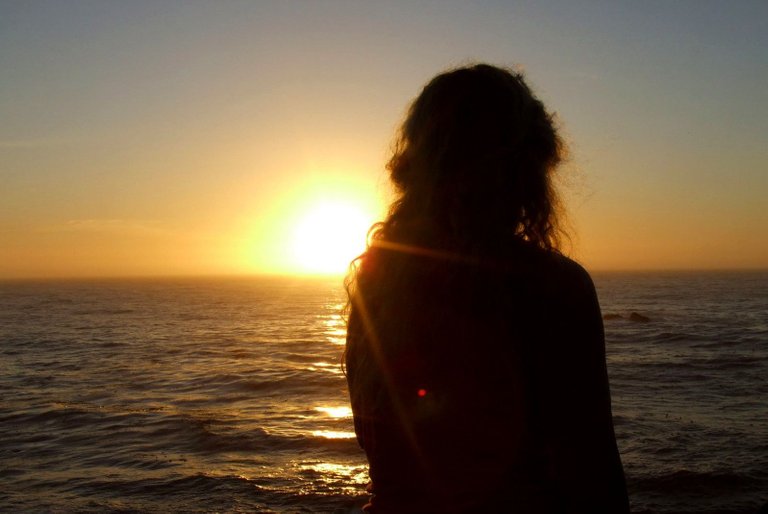 Mrs. Denmarkguy watching the sun set into the Pacific Ocean from the bluffs at Pacific Valley, in Big Sur, California.
Feels like it might have been the last time we were somewhere and not totally stressed to the gills from overwork and life beating on us from every possible direction. Perhaps also the last time we were stable enough that buying a $3 bag of snacks wasn't "a major financial decision."
The following year, Mrs. Denmarkguy had the first of two shoulder surgeries... which taught us just how badly the US health "care" system financially rapes people... even when you have medical insurance."
The Gallery, 2016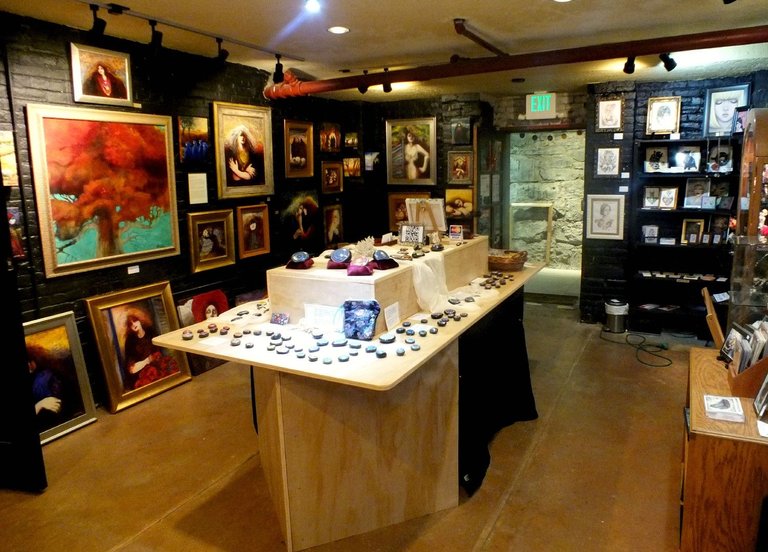 The front part of our small art gallery/gift store, not long after we opened here in our downtown, back in mid-2016.
We were pretty hopeful it could be a long-term way of life; this is a great tourist town with loads of swank visitors every year.
Things were just starting to take off when a freak ("100-year event," according to the local paper) rainstorm caused massive flooding and we had to close for 3-weeks. What was worse, our insurance didn't cover the cost of the damage because it was caused by "an act of God."
Now struggling mightily but hanging by our fingernails, about 4 months later the city started a major road and utility project on the main strait downtown... which made the building all but inaccessible for 7 months.
In some ways, it was a stroke of fortune that we closed in July 2019... just 6 months before the Covid debacle!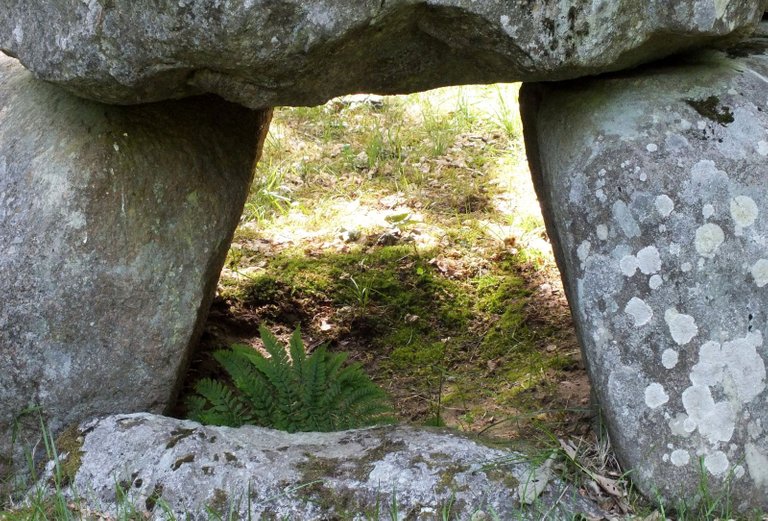 And That's About All, Folks!
I decided that I still wanted to try to keep up with posting every day for HiveBloPoMo, even though a couple of days went down the toilet. 28 of 30 won't be all bad, right?
Of course, we still have to negotiate Thanksgiving!
Thanks for stopping by, and have a great week ahead!
How about YOU? Any favorite photos that capture the essence of "turning points" in your life? Comments, feedback and other interaction is invited and welcomed! Because — after all — SOCIAL content is about interacting, right? Leave a comment — share your experiences — be part of the conversation!

---
(As usual, all text and images by the author, unless otherwise credited. This is original content, created expressly and uniquely for this platform — NOT cross posted anywhere else!)
Created at 20211118 23:27 PDT
0410/1654
---
---