fire meet gasoline animation ENG-ESP arte NFT
hi hivers! Today I will share you a new animation I've done.
It is inspired by the song "fire meet gasoline" by Sia.
Here I'm writing you a part of the song, it talks about desire and passion.
"So come on now, strike the match, strike the match now
We're a perfect match, perfect somehow
We were meant for one another, come a little closer
I can barely breathe, when you're here loving me
Fire meet gasoline"
ahi hivers! Hoy les compartiré una nueva animación que hice.
Está inspirado en la canción "fuego y gasolina" de Sia.
Aquí les escribo una parte de la canción, habla sobre el deseo y la pasión.
"Así que vamos ahora, enciende el fósforo, enciende el fósforo ahora
Encajamos de forma perfecta, perfecta de alguna manera
Estábamos hechos el uno para el otro, acércate un poco más
Apenas puedo respirar cuando tu estas aqui amándome
El fuego se encuentra con la gasolina "
Ok, let's start the improvisation on Adobe illustrator! I wanted to do two figures close to each other. When they are so close, almost kissing, they will turn to fire. so let's start drawing two silhouettes.
Ok, ¡comencemos con la improvisación en Adobe illustrator! Quería hacer dos figuras juntas. Cuando estén tan cerca, casi besándose, se volverán fuego. así que comencemos a dibujar dos siluetas.

This is a song about gasoline, so I will make them with this texture of liquid, like if both them are made of gasoline or something shiny like mercury.
Esta es una canción sobre gasolina, así que las haré con esta textura de líquido, como si los dos estuvieran hechos de gasolina o algo brillante como el mercurio.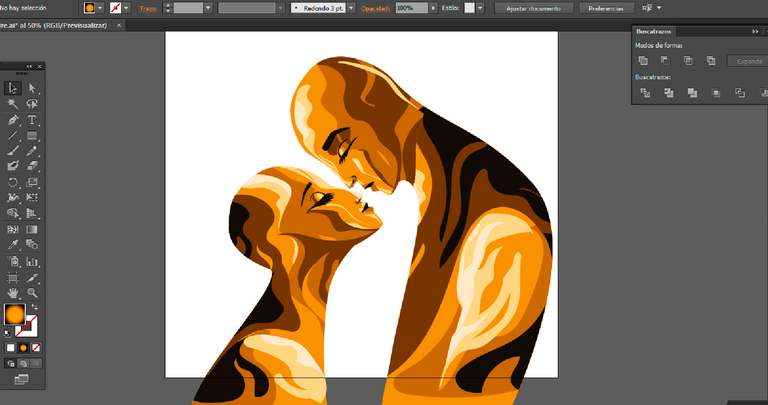 We have the gasoline, we need the fire! time for drawing flames with the pencil tool, I'm also adding a gradient for flames color.
¡Tenemos la gasolina, necesitamos el fuego! tiempo para dibujar llamas con la herramienta de lápiz, también estoy agregando un degradado para el color de las llamas.
we have all the objects on different layers, so now is the fun part, time for animation! let's go to Adobe After Effects. I'm animating the flames, adding some shaking to the scene and some lights. The flames will spark all the animation for a while, and then they will turn off again, I will use a mask layer to show and hide the flames.
tenemos todos los objetos en diferentes capas, así que ahora es la parte divertida, ¡es hora de la animación! vayamos a Adobe After Effects. Estoy animando las llamas, agregando algo de temblor a la escena y algunas luces. Las llamas encenderán toda la animación por un tiempo, y luego se apagarán nuevamente, usaré una capa de máscara para mostrar y ocultar las llamas.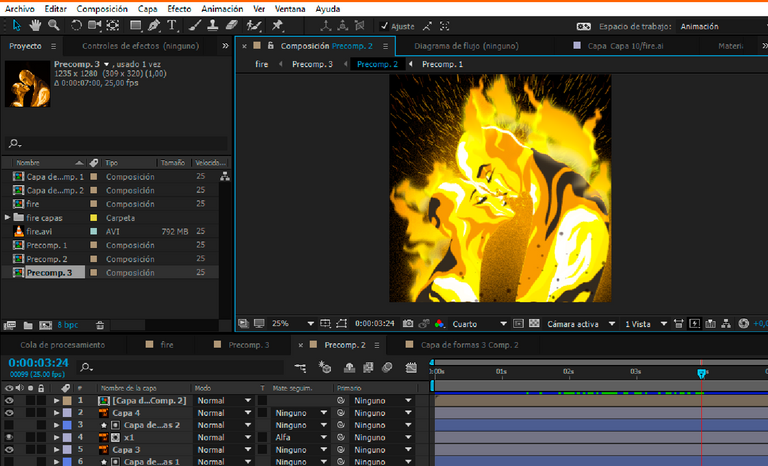 and this is the result! you can collect the HD NFT video here in the link too
y este es el resultado! puedes coleccionar el video HD NFT en el link:
https://hicetnunc.art/objkt/580227
for tezos collectors / para coleccionistas de tezos
11 editions - 0.9 tez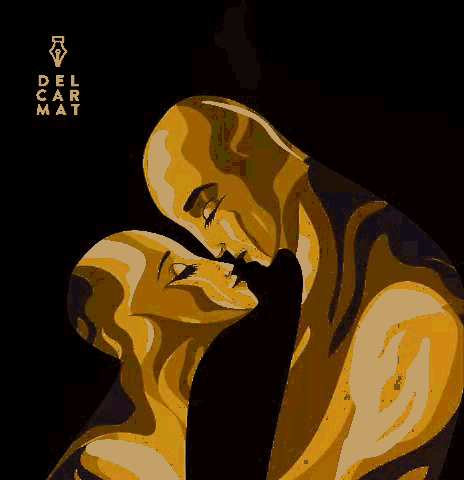 I hope you like it! / espero les guste!
@delcarmat
---
---