Jura / Jurrasic Highlands [#87] PL/ENG
Przeszedłem (dosłownie) wczoraj samego siebie. Do rywalizacji #macfit podchodzę bardzo ambitnie, podobnie jak do pierwszej edycji Poprzeczki, w której wziąłem udział. Idealnie zbiega się to w czasie z poprawą warunków atmosferycznych i moim powrotem sił.
Yesterday I managed to beat my personal record of registered daily steps. I approach #macfit eliminations with very ambitious goals. There is a great timing of this competition with spring and my physical strenght coming back from a covid oblivion.
Pomysłów miałem kilka, ostatecznie jednak wybrałem wycieczkę na Jurę Krakowsko-Częstochowską, umówiłem się z kolegą Darkiem i jeszcze przed południem byłem w pociągu do Zawiercia. Na swojej bucket-liście w jednym ze scentralizowanych portali z mapami miałem umieszczone w tej okolicy kilka miejsc. Poniżej panorama Zawiercia.
I chosen this trip out of few possibilities. I contacted with my colleague Darek and together we decided to get to Jurassic Highlands. In my personal geographic bucket list on the popular, centralized maps app I had few points in this area. We managed to get to Zawiercie around 12, and here is panoramic view of this town.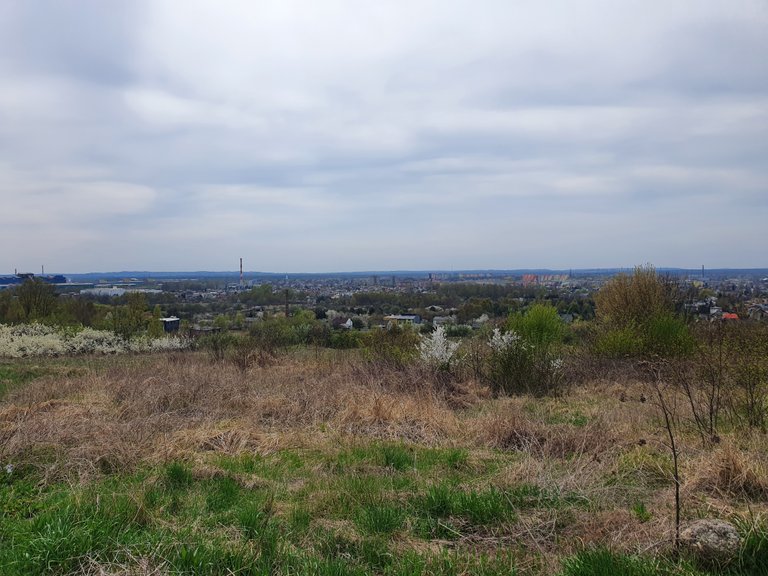 Początkowo do pierwszego punktu chcieliśmy dostać się autobusem, tak aby oszczedzić siły na chodzenie w terenach bardziej atrakcyjnych niż centrum Zawiercia. Czytelność rozkładów, częstotliwość przejazdów i sieć połączeń szybko doprowadziły jednak do decyzji o niezwłocznym ruszeniu z buta w kierunku północno-wschodnim. Naszym pierwszym celem była skała znana jako Okiennik Wielki (zwany też dużym).
At the beginning we have considered choosing public transportation to get around our first goal, but due to low quality of connections we decided to walk straight to Window Rocks.
Nieco ponad dwie godziny później byliśmy na miejscu. Szybko stało się jasne skąd pochodzi nazwa formacji skalnej.
Little more than two hours and we were there. I think it's obvious where this particular rock formation derived its name from.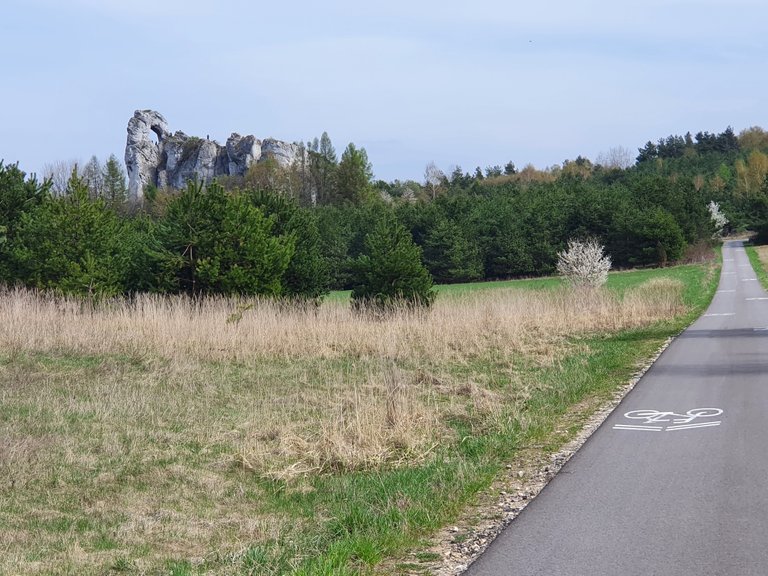 Wejście do rzeczonego okna było dość proste, tylko w jednym miejscu byłem zmuszony skonfrontować się ze strachem przed upadkiem. No bo nie wiem czy można tu mówić o lęku wysokości. Kiedy patrzę w dół z niestabilnej pozycji lub wyobrażam sobie jak spadam, to miękną mi nogi i odruchowo kieruję się w bezpieczniejsze miejsce. Natomiast koncentrując się na punktach podparcia lub kierując wzrok na horyzont czuję się dość pewnie. Czy ktoś z Was mierzy się z lękiem wysokości? Jak to u Was wygląda?
Walking into said window was relatively easy. There was only one spot where I had to confront the fear of falling down. Looking at the horizon and focusing on points of contact with a rock helps in these situations. Do you experience fear of heights? How does it work for you?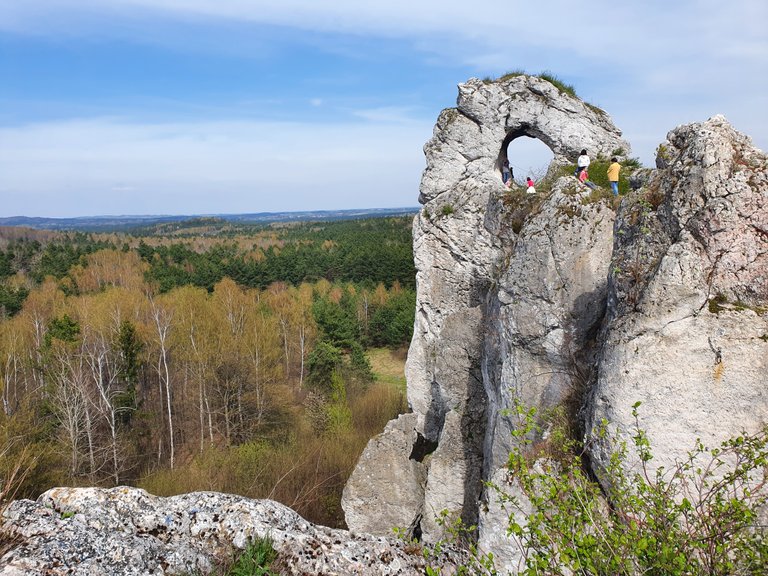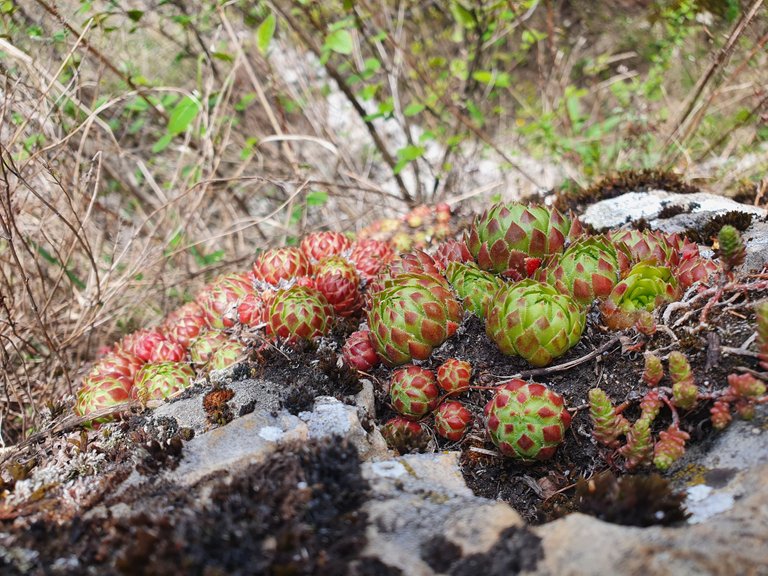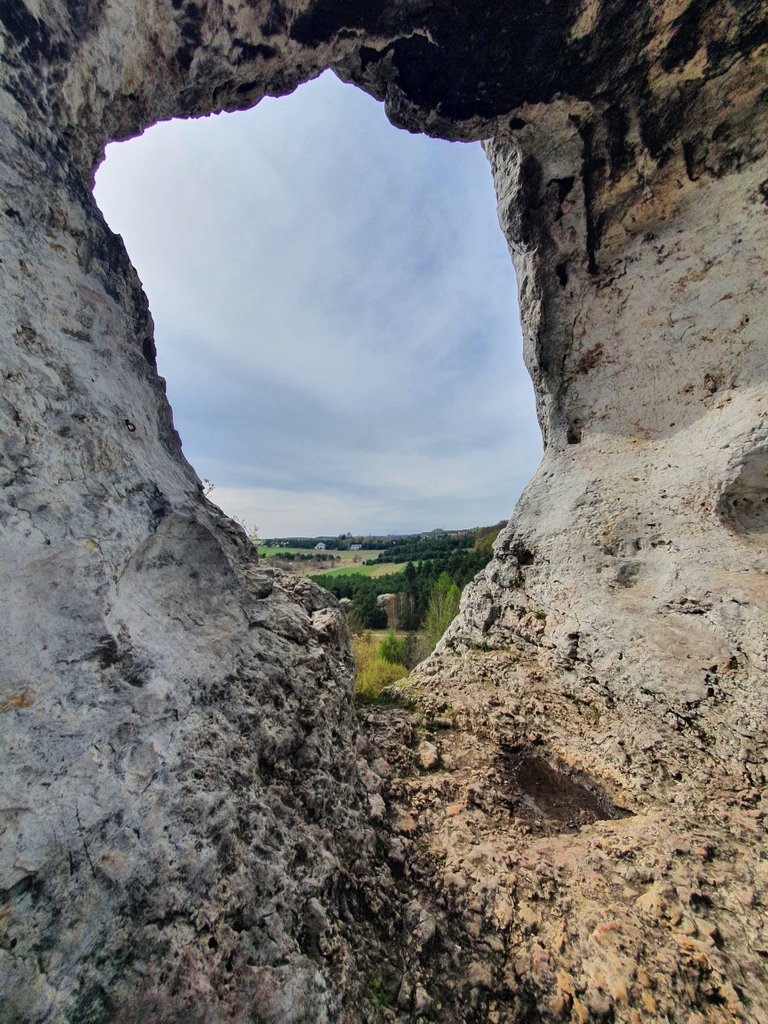 Tutaj zrobilismy sobie pierwszą przerwę. Darek poczęstował mnie wybornym kakao, ja dodałem od siebie parę kropel oleju CBD i niedługo potem ruszyliśmy w dalszą trasę.
Here we had our first break. Darek shared with me delicious cocoa, I added few drops of CBD oil and soon we were back on the way.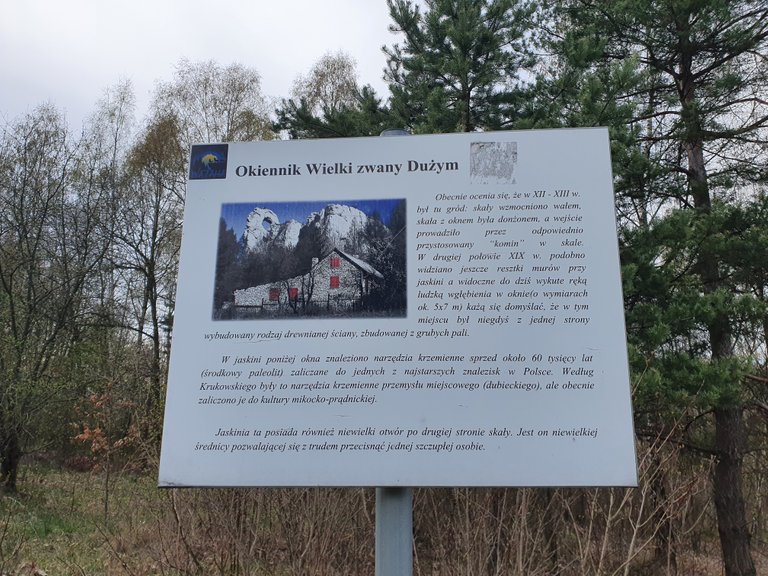 Następnym przystankiem były ruiny zamku Bąkowiec w Morsku. Wstęp na sam zamek był niedostępny, natomiast zatrzymaliśmy się w okolicznej restauracji, żeby naładować telefony. Byłoby szkoda gdybym miał bić swój rekord kroków, a w połowie drogi stracił możliwość ich rejestrowania. Przy okazji zjadłem frytki i zupę krem z groszku, jedyne wegetariańskie pozycje w menu. Chciałbym mieć wskaźnik baterii w power banku, albo przynajmniej zawsze pamiętać, aby naładować go przed jakąś trasą...
The next stop was at Bąkowiec Castle ruins. Entering the castle was forbidden so we stopped at nearby restaurant. I wish I'd remember to charge my power bank when needed, it'd be a shame to loose ability of counting steps while trying to beat a personal record. We charged our phones and I ordered the only vegetarian food avaliable there. The whole Jurrasic Highlands area is dotted with medieval castles built there to create observation and fortification network.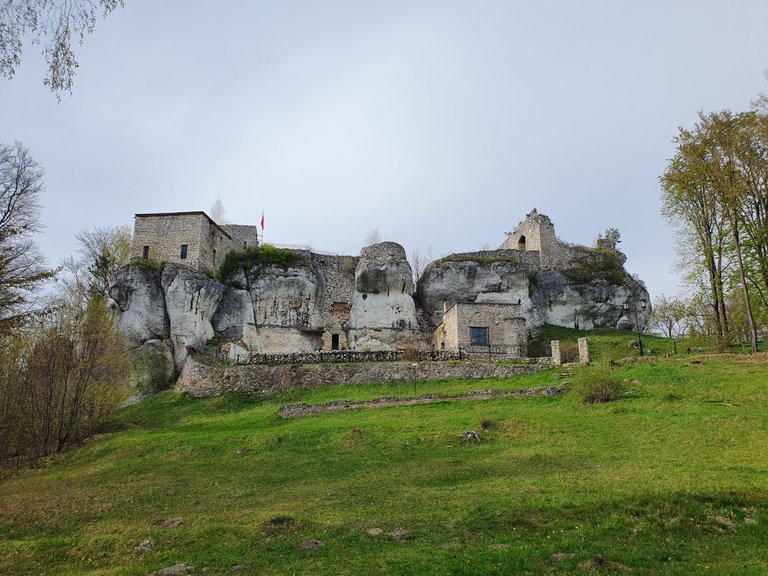 Niewiele dalej, ze wzgórza na szczycie stoku narciarskiego, było widać nasz kolejny cel. Skałki widoczne na horyzoncie to Góra Zborów. Znaleźliśmy się tam około 17. Droga pomiędzy ruinami zamku, a kolejnym przystankiem była najbardziej urokliwą częścią trasy. W pobliżu Góry Zborów zlokalizowana była też ciekawa jaskinia. Po środku miała "dziedziniec", do którego dostać można się tylko od góry, a okno widoczne na drugim zdjęciu prowadziło w przepaść. Aby wyjść trzeba było wspiąć się z powrotem.
A little bit farther, at the top of ski slope we saw the next attraction we wanted to visit. You can see rocky Zborów Mountain on the horizon. Here started the most scenic part of our trip. Close to the Mountain was located a very peculiar cave. It formed some sort of caldron with the exit to an abyss. The only way out lead up by climbing back .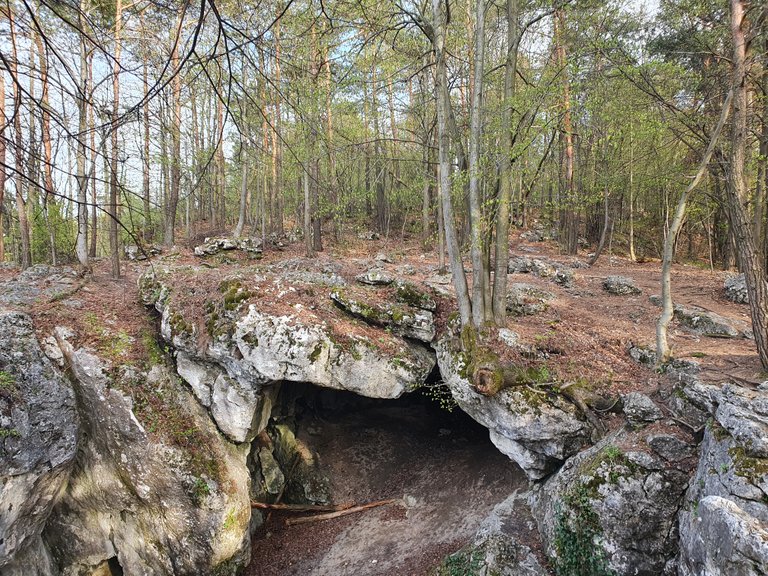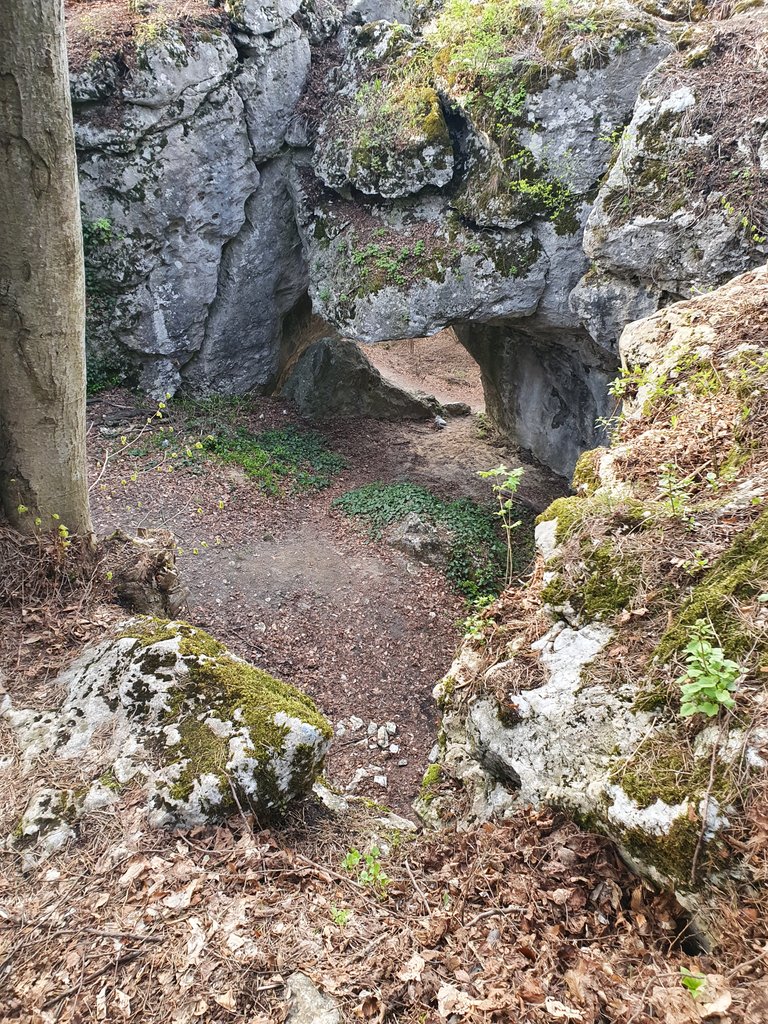 Lubię Jurę za mnogość i dostępność różnorodnych formacji skalnych.
I love Jurrasic Highlands for multitude and variety of easily accessible rock formations.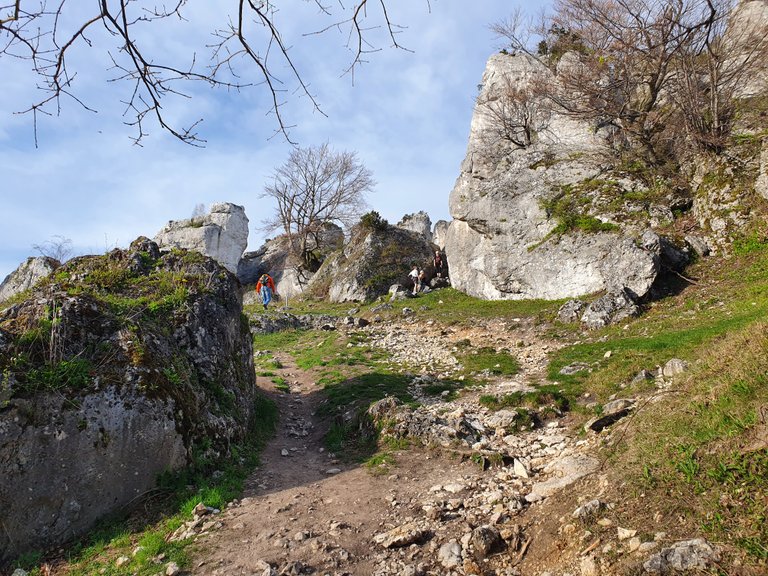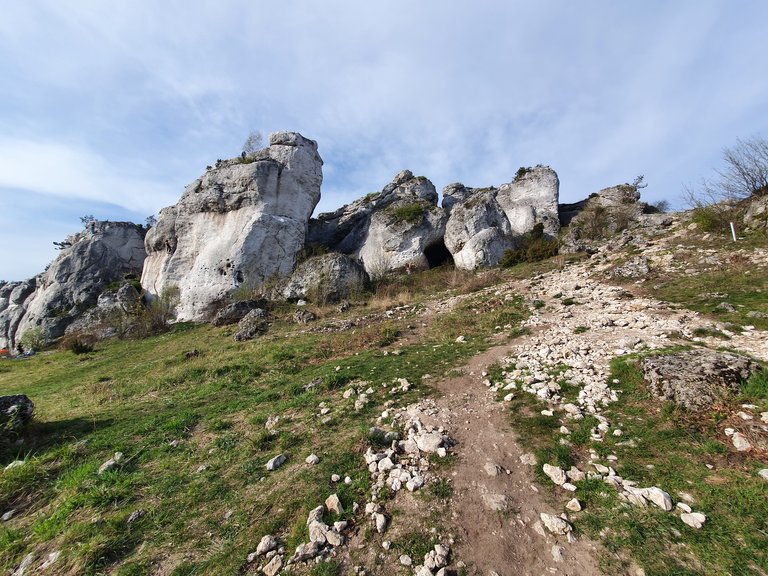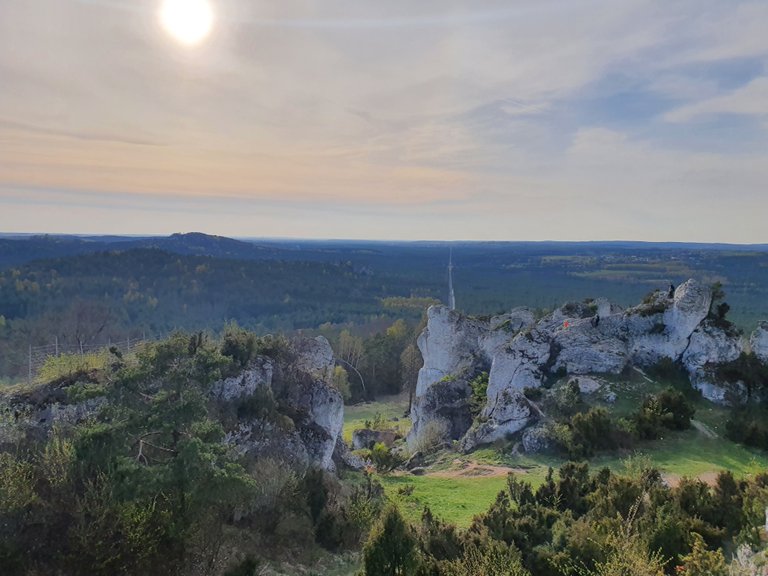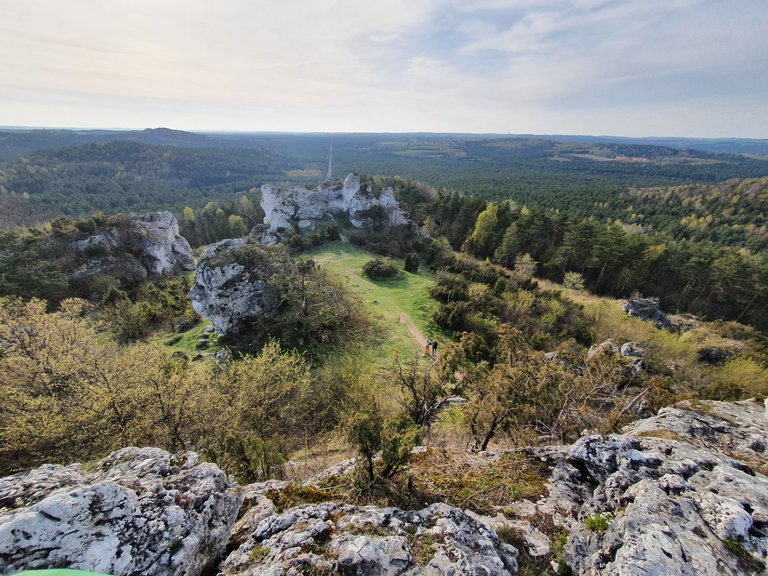 Sił było juz coraz mniej i powoli zaczęliśmy planować powrót, nie było mowy o autobusach w sobotę o tej porze, trzeba więc było dostać się na jedną ze stacji kolejowych. Po drodze mieliśmy jednak jeszcze jeden ciekawy przystanek. Były to Skały Rzędkowickie, znalazłem siły aby wdrapać się już tylko na jedną z nich. Wiedziałem, że czeka mnie jeszcze mniej więcej 12km marszu do stacji kolejowej pod Myszkowem.
At this point we started planning our way back home. Bus was not an option here, we had to get to the train station. On our way there we had one more significant spot to see. Following pictures show Rzędkowice Rocks. I managed to hike on the top of only one of these, besides, we had not much time and another 12km to walk.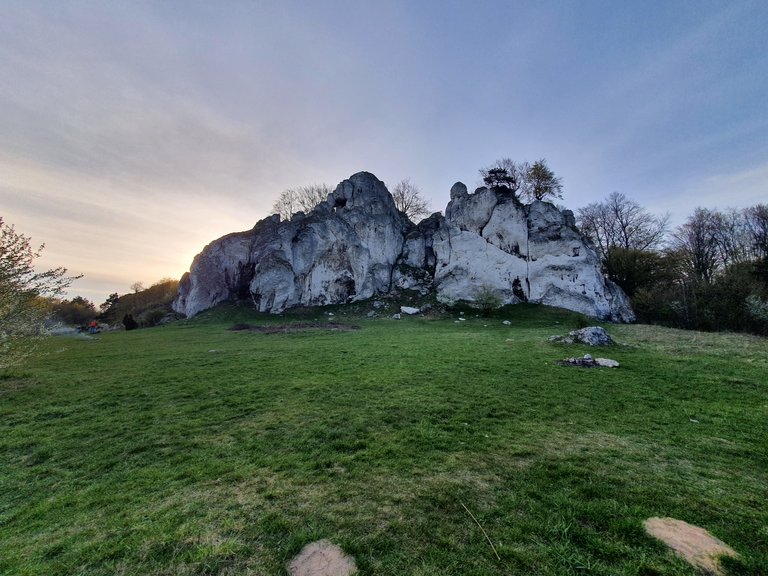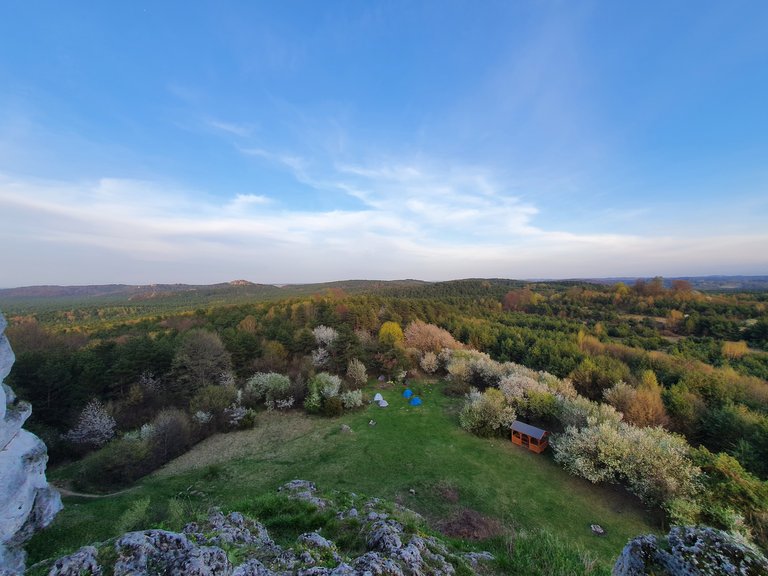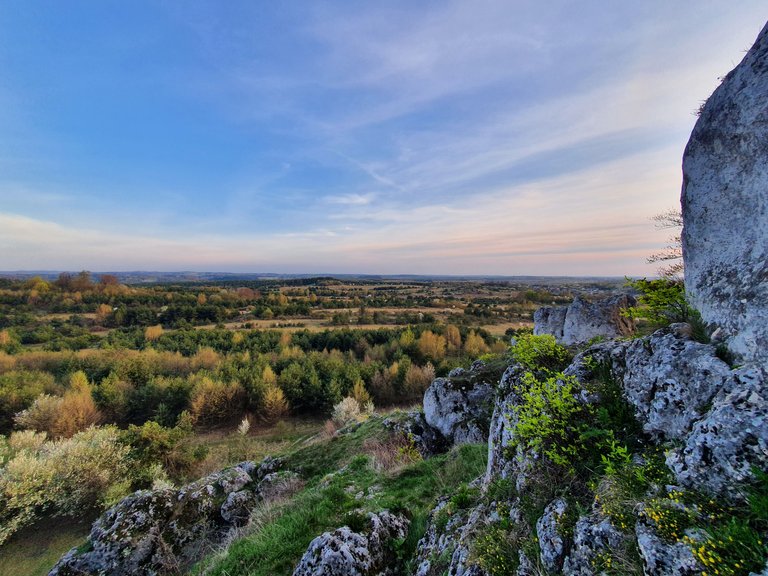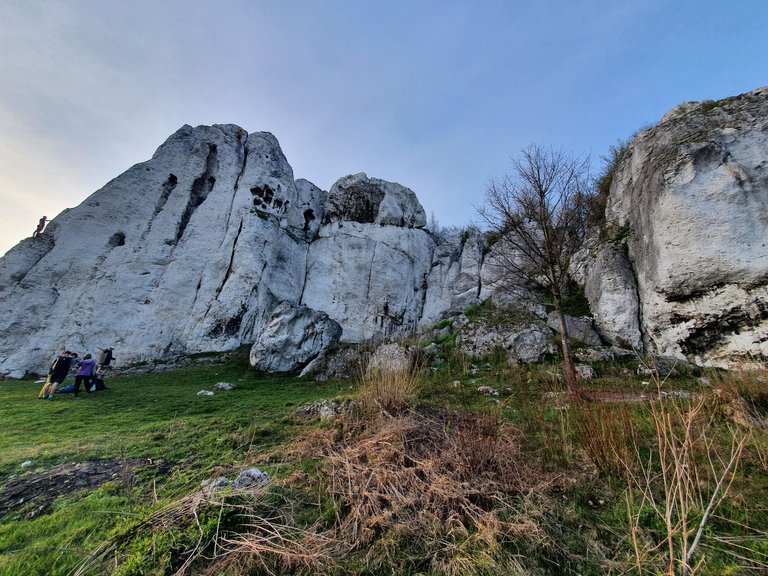 Ostatnie kilometry to był marsz asfaltową drogą, mijaliśmy jedną wieś za drugą, tylko trzy kilometry podjechaliśmy autostopem co pozwoliło nam zdążyć na wcześniejszy pociąg. Taka forma przemieszczania się to zupełnie inny rodzaj przyjemności, pojawił się ból w stopie, czułem też kolana i stawy biodrowe, nie było jednak mowy o zmęczeniu. Trasa jest monotonna i po jakimś czasie idzie się w swego rodzaju transie. Niedługo po zmroku siedzieliśmy już na peronie stacji Miechów Mrzygłód, chwilę przed przyjazdem pociągu relacji Częstochowa-Gliwice.
Last kilometres of our way involved fast paced walking in trance-like state, I felt my legs, but pain was distant feeling. Flat and monotonous asphalt way allowed to just go farther without thinking about anything else. We managed to get into earlier train thanks to help of another tourists. We hitchhiked with them around 3 kilometres out of around 12.
Po wyjściu z pociągu w Katowicach czułem już tylko błogość w nogach i satysfakcję z pobicia swojego rekordu. Dzisiaj odpoczynek, tak, aby jutro zaliczyć kolejną wycieczkę, tym razem może rowerem, a po weekendzie będzie trzeba zaopiekować się nogami na zajęciach jogi.
After leaving the train in Katowice where I live, I felt only bliss in my legs and a lot of satisfaction. Today is the restday, I'm gathering strenghts for the last day of #macfit eliminations to score highly tomorrow. And after the long weekend I'm going to work on my legs in yoga classes.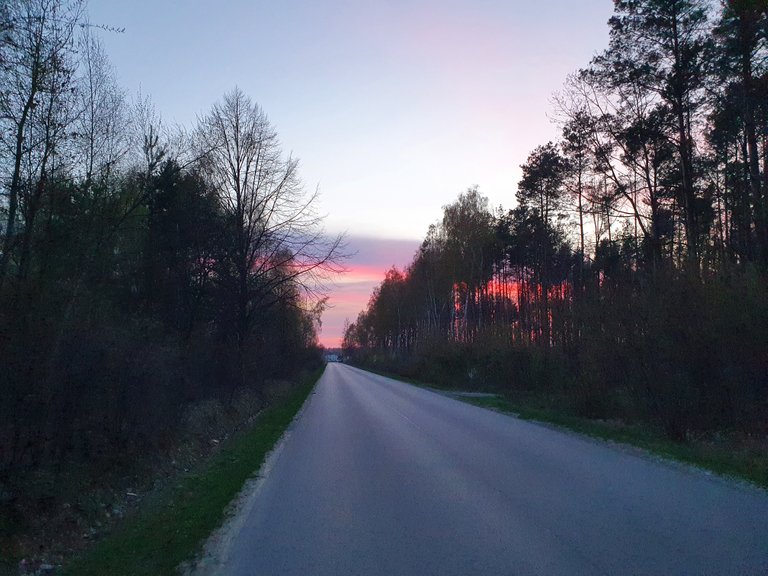 This report was published via Actifit app (Android | iOS). Check out the original version here on actifit.io




30/04/2022

72036

Daily Activity, Hiking, Walking
---
---