Reward NFTs - Ores and Materials Update is Live!
As announced in our last post, from the current season onwards (Season #27), players will start receiving NFTs in addition to boosters when they open their reward chests from quests.
NFTs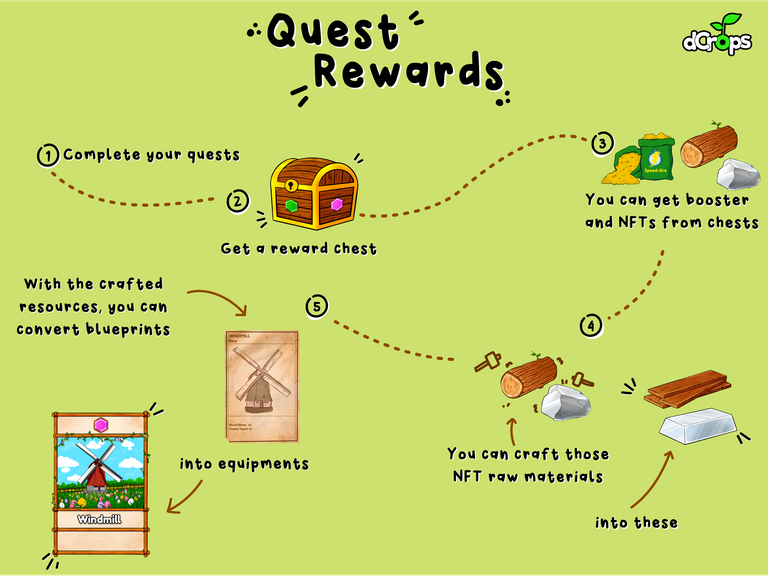 These NFTs will be in the form of ores and materials. These materials will be crucial to building processing plants, equipments and buildings that will be introduced in the BETA expansion and other future editions.
The aforementioned equipments and such items in BETA packs will be in the form of blueprints when they are minted. More info about blueprints will be given out in an upcoming post.
In order for them to be operational, those blueprints will need materials to be crafted.
These ores themselves will need to be smelted into ingots, the wood will need to be sawed into planks and the stone needs to be crafted into bricks before you can use them to craft the equipments/buildings on your land.
Since these resources will be given out as quest rewards, the economy associated with them will be in the hands of the players.
Drop rates
The drop rates for the previous set of reward items were equally distributed between the boosters - Mystery Seeds, Speed-Gro, and Ferti-Plus.
Going forward, there will be a 75% chance for a reward item to be a booster and a 25% chance for it to be an NFT.
Out of the 25%, the drop rates for the NFT themselves are as follows:
| NFT | Rarity | Drop Rate |
| --- | --- | --- |
| Wood | Common | 75% |
| Stone | Common | 75% |
| Copper Ore | Rare | 20% |
| Iron Ore | Epic | 4% |
| Gold Ore | Legendary | 1% |
The reward chests prior to the current season will continue to only have booster items in them and not the NFTs. Thus only the new reward chests will contain these new NFTs and will not provide an unfair advantage to the people who didn't open their previous reward chests.
---
Crafting FEE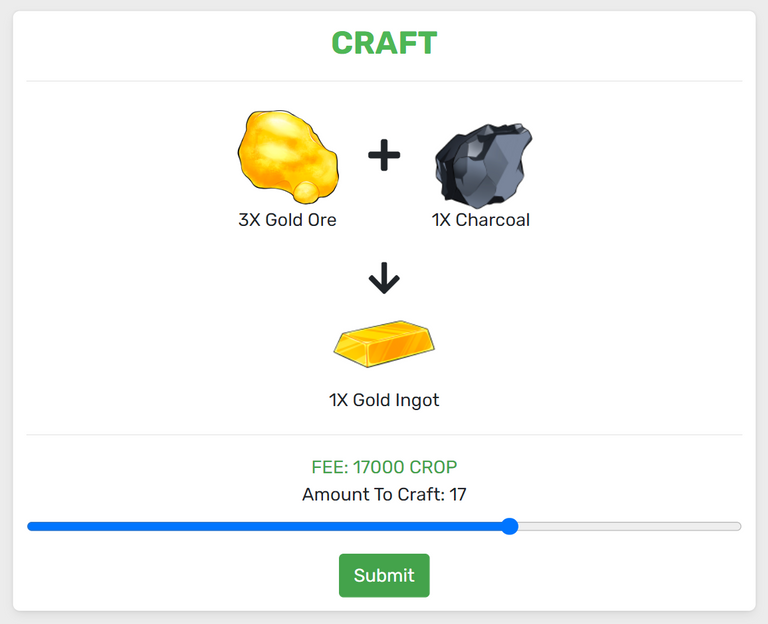 There will be a fee for crafting these NFTs. The fee will be dynamic based on what rarity the crafted item is. The crafting fee will be payable in $CROP tokens only.
The fee will be as follows:
| Rarity | Fee |
| --- | --- |
| Common | 100 CROP |
| Rare | 250 CROP |
| Epic | 500 CROP |
| Legendary | 1000 CROP |
The 50% of the fee used to craft the NFT will be locked as the burn value of the resultant NFT. For example, this means that a Gold Ingot will be worth at least 500 CROP tokens. The locked CROP tokens will be obtainable if the NFT is burned. However, if the NFT is further used to craft a blueprint, these locked tokens will not be released back to the player.
Note: The crafting system will be released at the same time as the BETA updates.
The locked CROP tokens will also contribute towards your crop power for the holding rewards.
The remaining CROP tokens will simply be put out of circulation and may be used later in some form of reward.
The base items i.e the items received from quests will have a burn value of half of the ALPHA edition cards which is given in the below table:
| Rarity | Burn Value |
| --- | --- |
| Common | 1.5 CROP |
| Rare | 2.5 CROP |
| Epic | 5 CROP |
| Legendary | 25 CROP |
---
Contribution to Holding-Rewards
In case you didn't know, you can earn Hive daily just by holding dCrops assets(cards, packs, or CROP tokens) with a min total value of 20,000 Crop Power. Read more about Holding Rewards and Crop Power here. The Alpha NFTs only contribute half of their burn value towards your Crop Power if they are inactive and when 100% of their burn value when they are active.
The reward NFTs however are not subject to such restrictions and 100% of their burn value will contribute towards your Crop Power.
---
Play Now: https://www.dcrops.com
Join our discord: https://discord.gg/zeJShKkF7K
Twitter: https://twitter.com/d_crops
---
---