@W-T-FI 's Travel Summary: Vol : 21 (DBuzz Official Guest Post)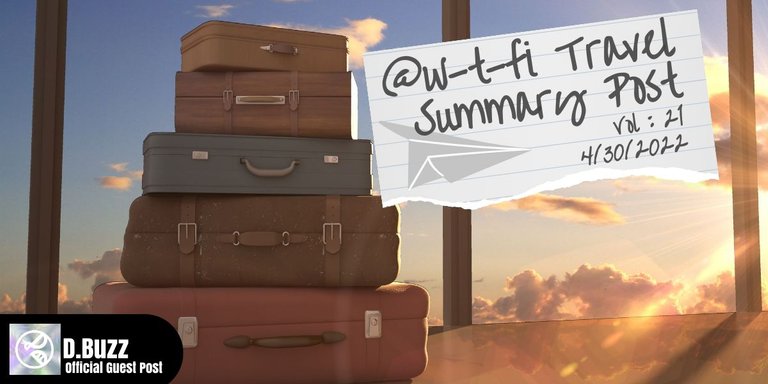 # NOTE:
The following article was written by the D.Buzz guest blogger, @w-t-fi
The views expressed are not directly from, or endorsed by D.Buzz.
Let us know if you have any concerns or questions in the comments, or reach out to us on Discord.

---
---
@W-T-Fi's Travel Summary: Vol: 21 - @D.buzz Official Guest Post


April, 30th 2022
---
Hello Hivers! I'm back with another amazing travel post. My week has been filled with work, new experiences, and study. I was tasked with coaching basketball at my International School here in Bangkok, and I reluctantly accepted the gig. Unfortunately my professional basketball dreams came to a screeching halt in the gym of my hometown's middle school, but I still was able to remember a few things. Fortunately I'm taking on more of an assistant coach role (aka 'Clipboard holder'), so the pressures low.
Well that's enough about me. Let's get into some amazing travel post. This week's post come from all parts of the globe including: Vietnam, Japan, Greece, Thailand, and Turkey.
If you would like to be featured in this post in the future, drop a link to a recent travel post in the comments below.
Thanks to the original authors of the 5 articles below:
@thaocherry @justinchicken @xarabista @nathen007 @rsntpl
You will receive a 50% curation from the @dbuzz account as well as any additional exposure from this post.
---
| 1. Hue, Vietnam @thaocherry does a fantastic job of bringing us into the life of being a language student in Vietnam. This realistic point of view walks us through the beautiful campus of @thaocherry 's university. The author narrates with clear crisp writing. Thank you for sharing! Check out the full post here. | |
| --- | --- |
| 2. Oshino, Japan Wow! This post he filled with the true beauty of so many of Japan's natural resources. @justinchicken introduces enchanting photos of Mt. Fuji, ponds, and pagodas. There were even photos of some modern architecture. Thank you for sharing! Check out the full post here. | |
| --- | --- |
| 3. Greece I would like to personally thank this author for displaying a side of Greece that I didn't know that existed. The beaches, ancient artifacts, lodges, and sunset makes this post a must read. @xarabista over delivers with a visually stimulating piece of content. Check out the full post here. | |
| --- | --- |
| 4. Bangkok, Thailand As a resident of Bangkok I love seeing post about places that I've never been before. @nathen007's post about the Royal Thai Air Force Museum is about a place that I didn't even know existed. It is near a the airport which I frequently travel to at least once a month. I definitely plan on travel to this museum, thanks for sharing! Check out the full post here . | |
| --- | --- |
| 5. Zonguldak, Turkey This article sheds light on a city in Turkey that typical tourist would have never visited. The post is packed with beautiful phots of sunsets, architecture, and beaches. Thanks for sharing! Check out the full post here. | |
| - | - |
I hope everyone has am amazing week! Please give your loved ones a huge hug and cherish the time that you have with them.
See you all next week.
---
***This post is authored by @w-t-fi who writes content about travel, financial independence, and life as an international expat. Check out more post similar to this at @w-t-fi 's blog. ***

---

---
---
Is a censorship-resistant short form micro blogging platform that empowers you to share your thoughts in 280 characters or fewer.
Censorship resistant and built for the community with love.
---
We strive to have a fun and neutral stance on topics. If you have any concerns with the content, please contact @jacuzzi, who writes and generates the content for our articles, or the @dbuzz team for clarification.
---
D.Buzz Online At:
Join us on Discord at : https://discord.gg/BKg5Ptg9ss

---
---