Recap of this Week's Posts by D.Buzz Vol.70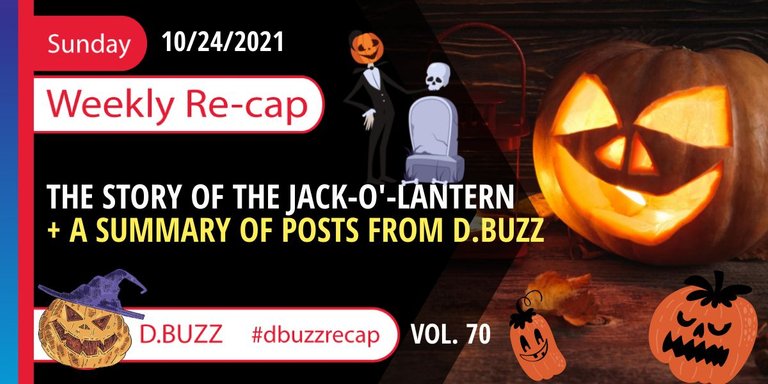 ---
Recap of this week's posts by D.Buzz
For the week ending on 10/24/2021 | Vol. 70
---
What's buzzing, friends!
Many of us carve the iconic jack-o'-lantern for Halloween. We find a giant pumpkin, carve a face on it, and put a candle inside. A lot of us do this without realizing what the story is behind the jack-o'-lantern. Today's story might not be a fact, we did however want to tell a story that is interesting for Halloween.
This story starts with a drunkard known as "Stingy Jack".
Long ago in Ireland, Stingy Jack was known for being a con man and grifter, along with being a drunk. The devil was curious about his skills, and went one day to claim his soul. Jack was clever, however, and tricked the devil into turning into a silver coin, Jack then trapped the devil in this form by placing him next to a crucifix in his pocket. Jack made a deal for 10 more years of life to set the devil free.
After 10 years the devil returned to claim the soul of Jack, but again Jack tricked the devil into an apple tree, and caught him up there with crucifixes at the base. Again, Jack made a deal with the devil, this time to never go to hell, and the devil agreed, and he was set free.
Eventually Jack did die. He went to heaven, however Jack was denied entry because of his evil ways. He then went to hell and asked to be let in, however, the devil honored his agreement with Jack and said no. The devil did give Jack a little ember of light, to light his way in the darkness, as he wandered for eternity between heaven and hell.
Jack put that ember in a large rutabaga, and now wanders in darkness looking for a place to call home, with only his large rutabaga to light his way.
The fascinating story of the jack-o'-lantern and Stingy Jack is contested by some. You can read more about it on Wikipedia HERE, and judge for yourself. However, before you do, we recommend you get caught up with all this week's updates from D.Buzz by reading the article below.
The best part is, no deals with the devil are needed to be made. Phew ~
Dancing Jack!
---
Last Sunday
Here's a link to the previous recap post from last Sunday. >> 10/17/2021 <<
---
Monday
Halloween is just around the corner, and we want to start talking about costumes. Share with us your costume ideas for a chance at winning some $Hive!
---
Tuesday
A new option currently in testing is the multi-draft feature. With this, you will be able to save ideas for future buzzes! Learn about this new development and others at the link.
---
Wednesday
There are many ways to sort and view content on D.Buzz. One method is to view the latest posts. This is a good way to discover authors you might not know (yet). Learn how to use this feature by watching the video at the link.
Read it here:
---
Thursday
@reidenling90 is our community highlight this week. They like to travel, they like to eat amazing food while traveling, and they like to share those experiences with our community. Discover who they are at the link!
---
Friday
Learn how to turn off and on the embedded videos feature on D.BUZZ. Check out the tutorial and watch the video at the link.
Read it here:
---
Saturday
Celebrating one year of the spot-on rewards program! Discover the authors this week who were rewarded. Also, a loving shout out to the extraordinary @iamraincrystal, for sponsoring week 52 of this program!!!
(*YOU ROCK!)
---
Thanks for spending your Sunday with us at D.BUZZ!
Thanks for being an active reader here on our blog.
As we move forward, we aim to build a stronger community.
If you have any suggestions on what we can do better, please let us know.
See you all on Monday!
---
---
A censorship-resistant short-form microblogging platform that empowers you to share your thoughts in 280 characters or fewer.
Censorship-resistant and built for the community with love.
---
We strive to have a fun and neutral stance on topics. If you have any concerns with the content, please contact @jacuzzi who writes and generates the content for our articles, or the @dbuzz team for clarification.
---
D.Buzz Online At:
Join us on Discord at https://discord.gg/BKg5Ptg9ss

---
---