Recap of this Week's Posts by D.Buzz Vol.66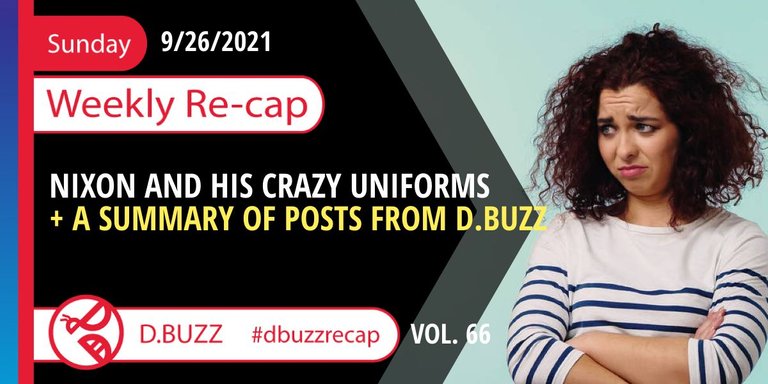 ---
Recap of this week's posts by D.Buzz
For the week ending on 9/19/2021 | Vol. 65
---
What's buzzing, friends!
It seems when people take power, they have a tendency to let their crazy ideas become reality. Sometimes this works out in good ways, sometimes in bad ways, and other times, just in odd ways.
Today we will be talking about Richard Nixon. Nixon was the 37th President of the United States, who served in office from 1969 to 1974. He was also involved in the Watergate scandal, which defined most of his career and how the majority of people remember his time in office.
If you were part of the Secret Service at that time, you will probably remember Nixon as the president who made you wear a stupid uniform.
Nixon wanted his Secret Service to look like palace guards, the type of which you would see guarding royalty in other countries. With white topped uniforms, and gold Chevron's, complete with bedazzled edges... It is no surprise these were not a smashing hit with the Secret Service.
After a short tenure in these less-than-dashing uniforms, they were retired and eventually sold to a marching band, an Iowa marching band in fact. You can read the full story about this debacle HERE.
Not to worry though dear Buzzers, we don't have Secret Service, nor do we require uniforms, or even pants to read this week's updates from D.Buzz. Scroll down and enjoy the news in whatever outfit you wish to wear.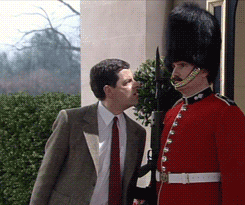 The Bean has got it right this time!
---
Last Sunday
Here's a link to the previous recap post from last Sunday. >> 9/19/2021 <<
---
Monday
This week, we are talking about those bad movies that are so good, those movies aren't even "B" movies, but you love them because they're such a train wreck. Play the game and potentially win 15 $Hive.
---
Tuesday
On Tuesday, we continued on our mission to vanquish bugs from our platform, along with updating the main site with the latest builds. See the complete notes at the link.
---
Wednesday
To make an error is human. We understand this. That is why we have a built-in method for editing your Buzzes or Comments with ease. Explore this feature at the link.
Read it here:
---
Thursday
@flordecar26 is this week's Community Highlight. They come from the Philippines and they bring positivity to our community. Discover who they are in the article.
---
Friday
There's a built-in system on D.Buzz that enables you to switch between multiple accounts that you own with 2 clicks. This makes the job of managing multiple social media accounts a breeze. Watch the video to learn about this helpful feature.
Read it here:
---
Saturday
47 weeks of rewarding exquisite content on D.Buzz. We hope one day to include you on our list of reward recipients as well. That means get out there and post some great buzzes!
---
Thanks for spending your Sunday with us at D.BUZZ!
Thanks for being an active reader here on our blog.
As we move forward, we aim to build a strong community.
If you have any suggestions on what we can do better, please let us know.
See you all on Monday!
---
---
A censorship-resistant short-form microblogging platform that empowers you to share your thoughts in 280 characters or fewer.
Censorship-resistant and built for the community with love.
---
We strive to have a fun and neutral stance on topics. If you have any concerns with the content, please contact @jacuzzi who writes and generates the content for our articles, or the @dbuzz team for clarification.
---
D.Buzz Online At:
Join us on Discord at https://discord.gg/BKg5Ptg9ss

---
---