Recap of this Week's Posts by D.Buzz Vol.65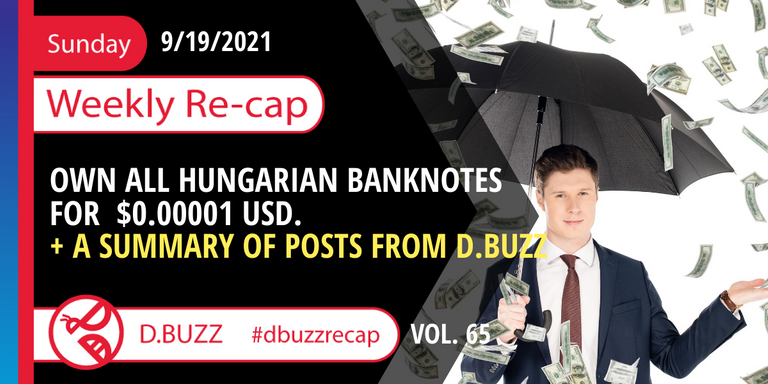 ---
Recap of this week's posts by D.Buzz
For the week ending on 9/19/2021 | Vol. 65
---
What's buzzing, friends!
What if you could buy all the banknotes in a country for less than a penny? If you are in Hungary in 1946, you potentially could.
Let's talk about inflation... Inflation is no joke and it's actually really bad. We all know the government prints more money to try to make up for lost money, but that causes problems. The more money the government prints, the more money there is in circulation, but prices are still the same. #CryptoCurrency_MyHero
One of the highest inflation rates ever recorded was in the Hungarian nation. The year was 1945 through July 1946. The local currency, the Pengő, was valued in 1944 to be 1,000 Pengő, to $1 USD, to in about the middle of 1946, 100,000,000,000,000,000,000 Pengő to $1 USD.
When it hit its high point of inflation, you could have bought all of the Hungarian Pengő in circulation for $0.00001 USD. Now that's how one would "buy the dip", right?
This is actually quite a fascinating story you can read more about on Wikipedia, HERE. Another fascinating story to read about right here is the list of weekly updates from D.Buzz. Scroll down and be informed.
Excuse me for a moment, just gonna print off several zillions of these...
---
Last Sunday
Here's a link to the previous recap post from last Sunday. >> 9/12/2021 <<
---
Monday
Mario Brothers came out many years ago with the rise of video games. These virtual worlds are exciting to say the least. We want to know what video game you would live in, and why. Let us know in a Buzz for the chance to win 15 $HIVE.
---
Tuesday
A big update today with lots of different fixes, along with the rollout of our "Image Grid" feature. This new feature makes use of our custom image rendering system, and is the first of a few different updates we will be implementing into the image handling on our platform.
---
Wednesday
Our platform comes with a number of different built-in themes. These different themes could help save your eyes if you work in dark environments, or help you read better in light environments. Learn about these themes and how to change them, then discover the one you like best.
Read it here:
---
Thursday
@asterkame is a paper craft artist, who folds, paints, and glues together some remarkable artwork, using only paper. Follow this artist today. :D
---
Friday
Earlier in the week, we rolled out the "Image Grid" feature. Check out our tutorial video reviewing this new feature.
Read it here:
---
Saturday
47 weeks of rewarding exquisite content on D.Buzz. We hope one day to include you on our list of reward recipients as well. That means get out there and post some great buzzes!
---
Thanks for spending your Sunday with us at D.BUZZ!
Thanks for being an active reader here on our blog.
As we move forward, we aim to build a strong community.
If you have any suggestions on what we can do better, please let us know.
See you all on Monday!
---
---
A censorship-resistant short-form microblogging platform that empowers you to share your thoughts in 280 characters or fewer.
Censorship resistant and built for the community with love.
---
We strive to have a fun and neutral stance on topics. If you have any concerns with the content, please contact @jacuzzi who writes and generates the content for our articles, or the @dbuzz team for clarification.
---
D.Buzz Online At:
Join us on Discord at https://discord.gg/BKg5Ptg9ss

---
---