LITE progress, price feeds and more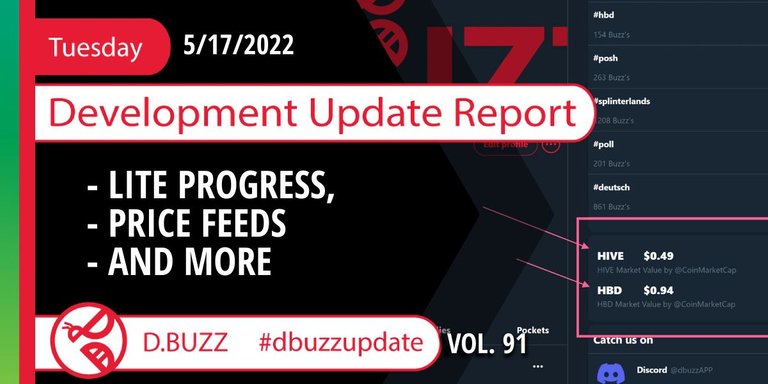 ---
LITE progress, price feeds and more
---
Hello, D.Buzz development enthusiasts!
It's a joy to bring you these development notes each week, as behind the scenes at DBuzz, progress is moving at a good speed towards bringing the LITE framework to life. Today, let's talk about some progress, what we are working on, and why we are so excited.
First, if you are not up to speed, LITE is the next evolution of DBuzz. LITE will enable users to join and post on DBuzz without needing a Hive account. They can log in with MetaMask and engage on the DBuzz platform… almost like a Hive user.
We believe that in an age of censorship, protecting our right to express ourselves is important. Our right to free expression is enshrined in the First Amendment to the United States Constitution, and is a fundamental human right. This right is important not only for artists and writers, but for all citizens of the globe. Censorship stifles creativity and inhibits open dialogue. It is our responsibility to stand up for our right to free expression. By making DBuzz easier to use, at least in our humble option, can help protect those voices.
Today, you can login and use the LITE testing platform (pre-beta).
To try it out, you can head over to https://lite.d.buzz/.
(*Just a heads up - it's not a 'LIVE' site. Things may not work, and data will be wiped. It's for proof-of-concept and active development).
This being said, we are aiming for the first week of June to push LITE onto the Next.D.Buzz public testing server for wider community testing before rolling it out to D.Buzz. It will help with full production that is aimed to be at the start of August.
After LITE is live on the main site, we will move into the $BUZZ token development and integration/airdrop of $BUZZ as well. WOOT!!
Goals for this week for LITE
Finish working on Following Feeds for LITE.
Finish working on Follow/Unfollow Feature.
Push another beta update on DBuzz LITE with more functionalities and fixes.
Even though we are rocking on LITE, we are still pushing work onto the main platform as usual. This week, we will be doing the following:
DBUZZ:
Shift DBuzz backend to a new server.
Push additional bug fixes and updates onto DBuzz.
Lastly...
If you missed it, we now have live price charts for HIVE and HBD on the sidebar!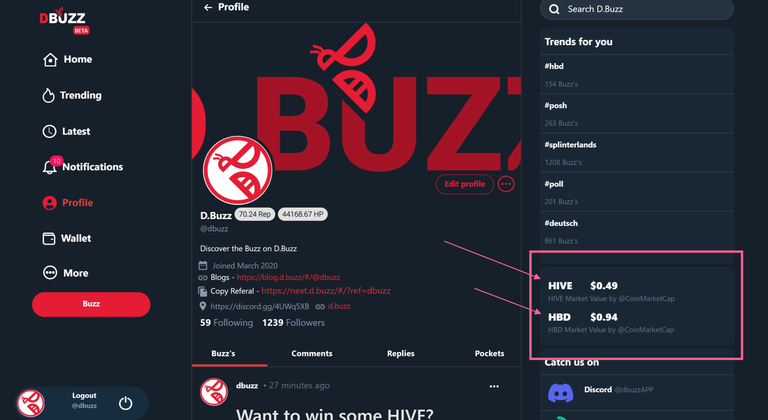 We have many good things planned for the near future. Stay tuned for more updates soon!
Cheers!
---
---
A censorship-resistant short-form microblogging platform that empowers you to share your thoughts in 280 characters or fewer.
Censorship-resistant and built for the community with love.
---
We strive to have a fun and neutral stance on topics. If you have any concerns with the content, please contact @jacuzzi who writes and generates the content for our articles, or the @dbuzz team for clarification.
---
Join us on Discord

---
---