D.Buzz gets a new Dev, D.Buzz Lite updates, and more!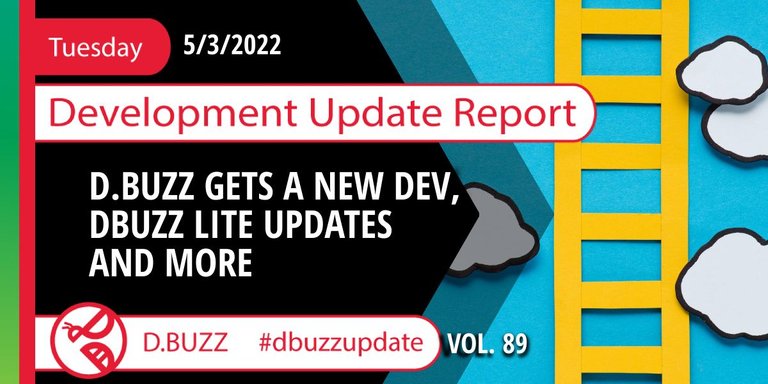 ---
D.Buzz gets a new Dev, D.Buzz Lite updates, and more!
---
Hello, D.Buzz development enthusiasts!
Let's start this development update with some great news. For the last few weeks, we have been interviewing people to join our development team. Today, we are thrilled to say that we have taken on a new Dev here at D.Buzz.
This new developer brings with them a 6-year development history, solid work history and a nice personality. Also, they are located in the Philippines and in the same city that most of our team lives as well. Nice!
The current task for them is to get up to speed with the D.Buzz code base, overall Hive terminology, and work on API integration of a HIVE price chart on the sidebar. We feel this initial assignment will allow them to get into the code and help start to add cool features. We are targeting about a month for them to get up to speed, and to start developing efficiently.
---
Big Announcement at the End of this Month
This morning, the management team had a meeting. We came to a decision that would distally alter the future path of D.Buzz (for the better - you will love it, trust us), and help Hive and other Hive projects grow. Stay tuned for the announcement date, but it is big news, like HUGE NEWS that we feel will help everyone on Hive in many ways. :D
---
D.Buzz Lite
Just in case you forgot, we are developing a way to login to D.Buzz without the need for a Hive Account. Today, we are happy to say you can start to test this login feature.
A few things to note before you get started.
1 : This is all pre-alpha / stability testing.
2 : All content posted with Metamask log in will be removed when we go live with this feature.
3 : Lite is NOT connected to Hive (yet) - data only exists on the Ceramic database.
4 : Think of this as a working proof-of-concept.
5 : We push updates to the code for testing when they are ready, so things may stop working or change without notice.
6: Data may get removed without notice as well as we work to make things work.
If you test the Lite login, please let us know in the comments about your experience.
---
To round out this week's development updates, here are the changes and improvements to D.Buzz for the week. :D
Improvements
Some design improvements on the UI.
New same-sized icons to match our theme and design in navigation and buzz options.
You can now view full images by clicking on them.
Bug Fixes
Fixed HiveAuth login authentication request timeout to show correct value.
Fixed video thumbnails on other frontends that show permlink as null.
Few minor bug fixes to make D.Buzz even better.
---
Stay tuned for more updates soon!
Cheers!
---
---
A censorship-resistant short-form microblogging platform that empowers you to share your thoughts in 280 characters or fewer.
Censorship-resistant and built for the community with love.
---
We strive to have a fun and neutral stance on topics. If you have any concerns with the content, please contact @jacuzzi who writes and generates the content for our articles, or the @dbuzz team for clarification.
---
Join us on Discord

---
---